Once upon a time, there was a little girl who wanted to move into the room at the end of the hall, far away from her older sister.  In this room, she would read and dream and play Legos to her heart's content.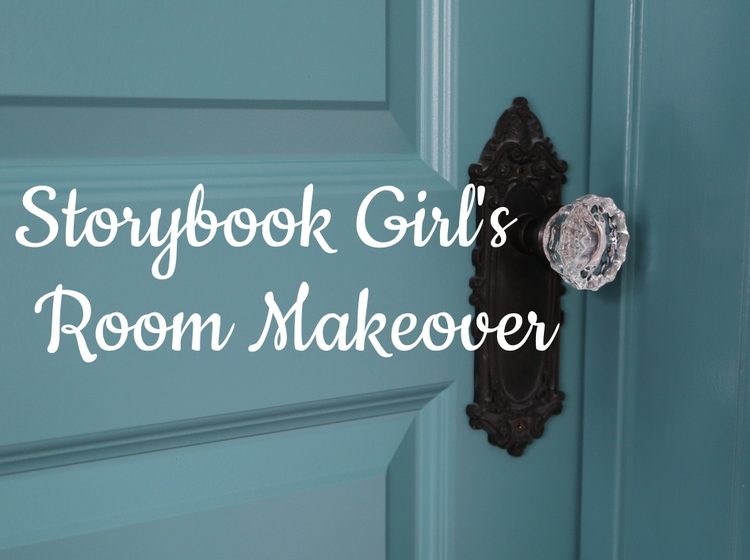 The room once belonged to her father, Mr. Man, who decided to move his office downstairs into a larger space to accommodate himself and Lego Allen.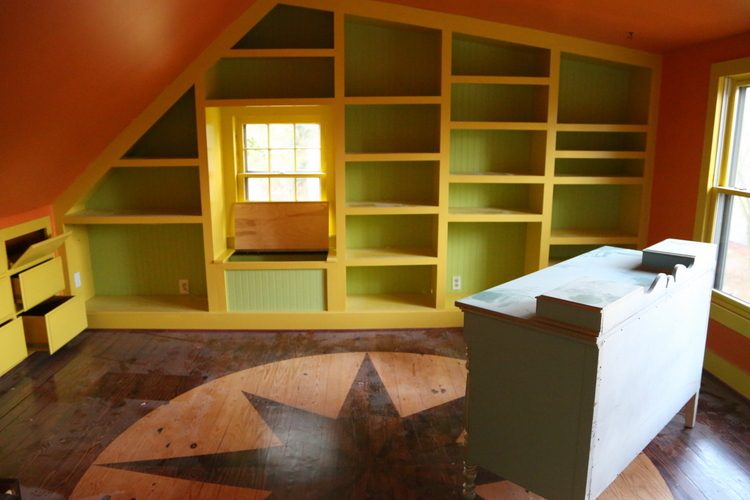 The little girl's mommy had special powers to transform manly offices into a girl's storybook getaway, and so the planning began. You may remember this Inspiration Board: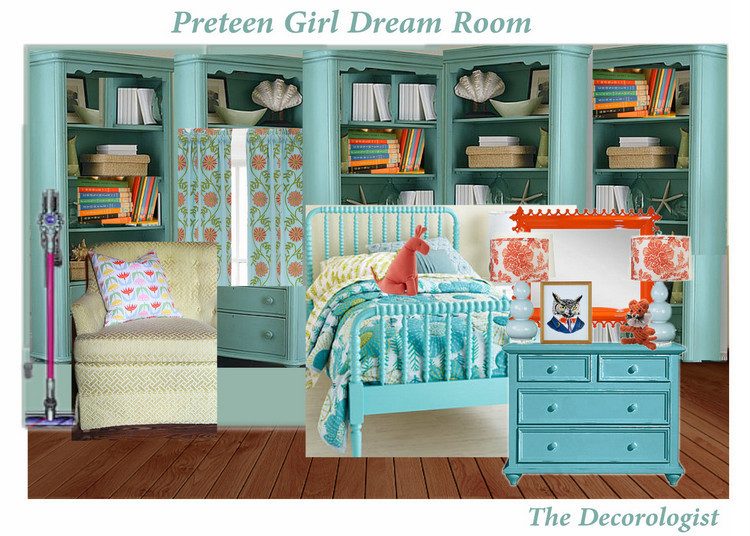 The mommy brought in her magical painters who sprayed the trim and bookcases with the most lovely oil-based paint she had ever seen.  Benjamin Moore Azure Water coated the bookcases, while Benjamin Moore Palladian Blue was rolled with perfection on the walls and ceiling of the storybook room.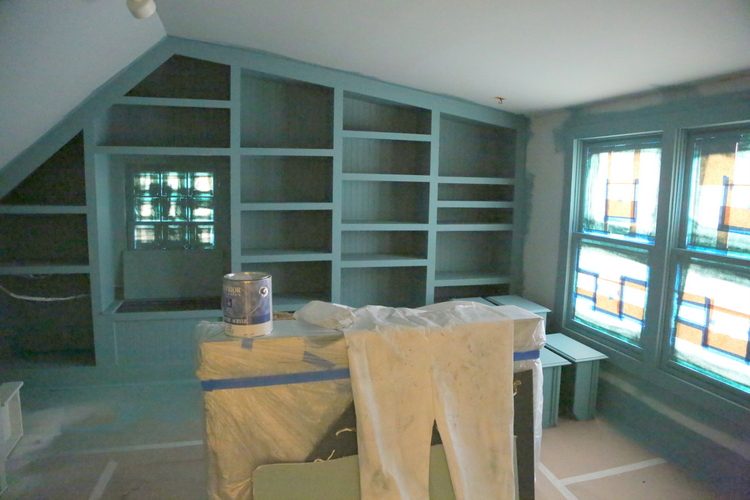 The little girl saw the new colors in the room and was fearful that it would be too dark and dreary. Her mother assured her to wait and see how the room would soon transform. "Tick-tock" went the clock . . .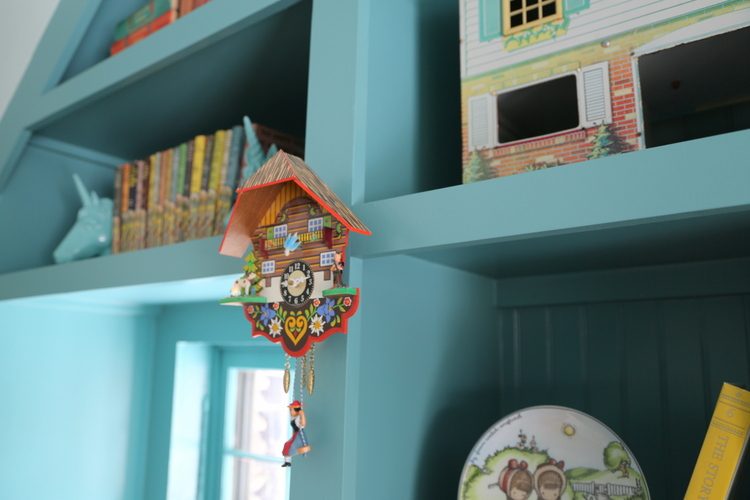 The little girl waited outside the room while her mother waved her magic wand. "Come in, dear child, and see your new room!" said the child's mother.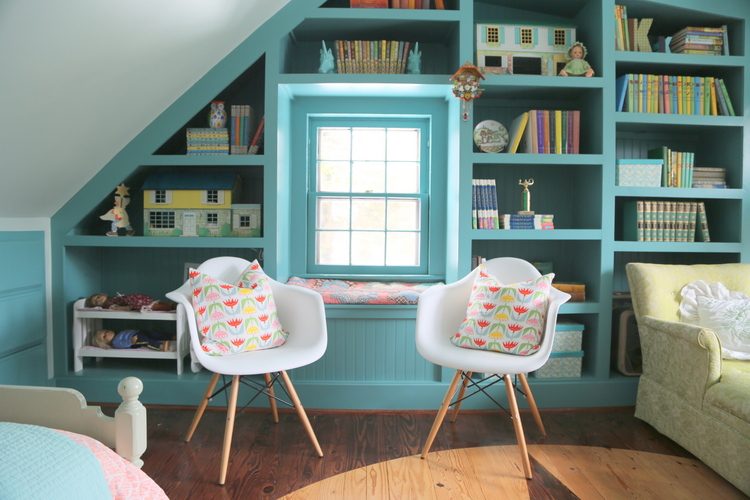 The little girl was delighted to see the dreary room come to life. Her books and toys adorned the bookcases, and there were many places to curl up and read her favorite stories.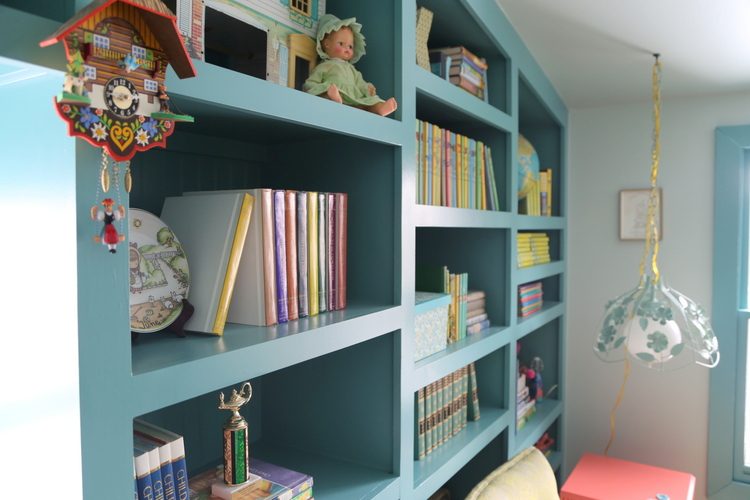 bookcases by master carpenter, Mr. Man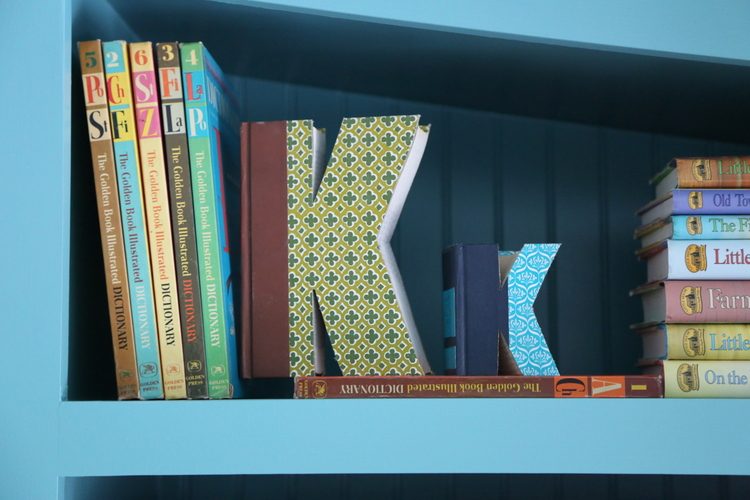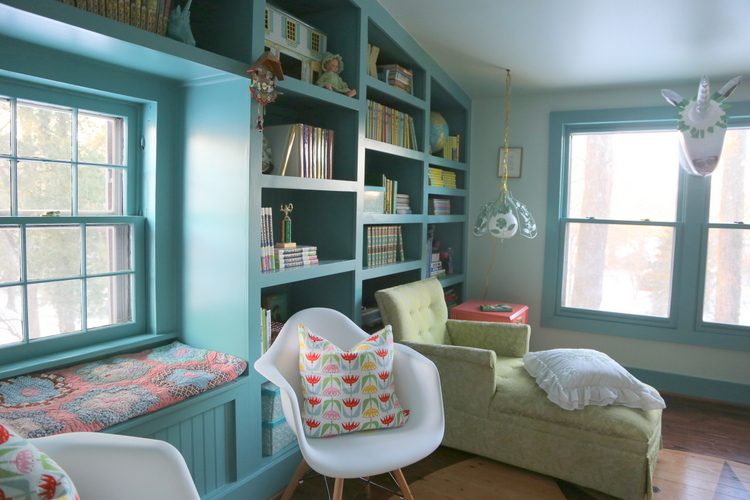 The special window seat became her favorite place to read and to watch the birds in the trees outside. She could lift the window seat to find her dress-up clothes beneath for when she wanted to pretend to be a pretty princess or a ninja warrior.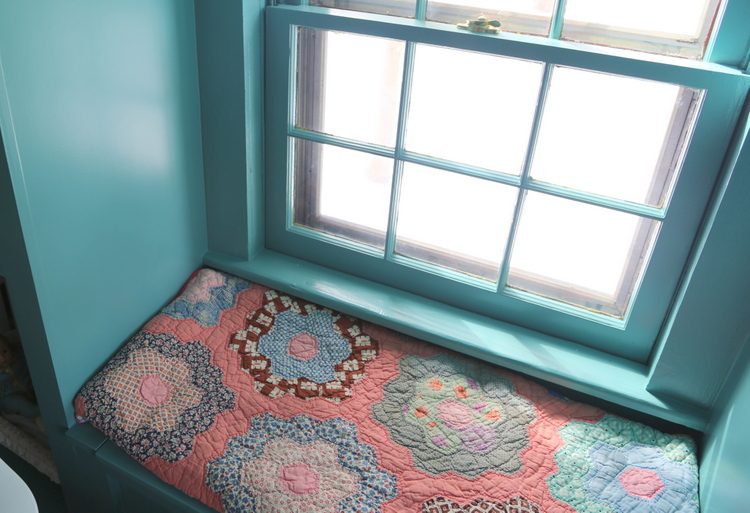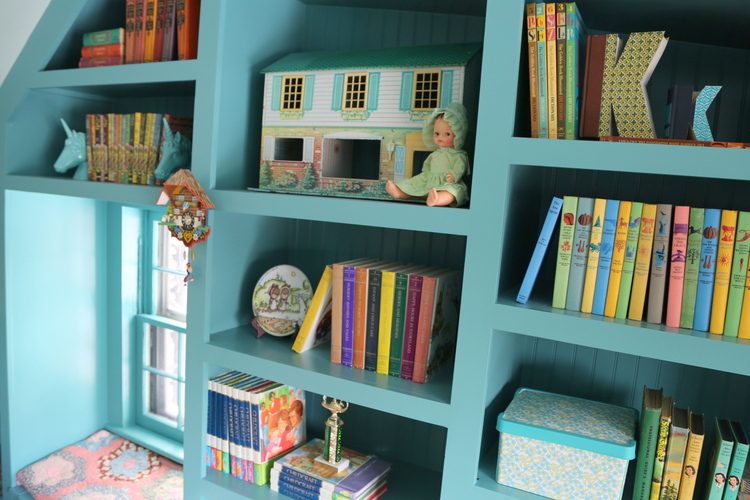 Her bed was tucked beneath a slanted wall, making it cozy and warm. The bedding, pillows, and lamps were found at the magical land called Home Goods, while the vintage reading light was discovered in a lovely nearby shop called Dreaming in Color (why yes, she wanted to dream in color!).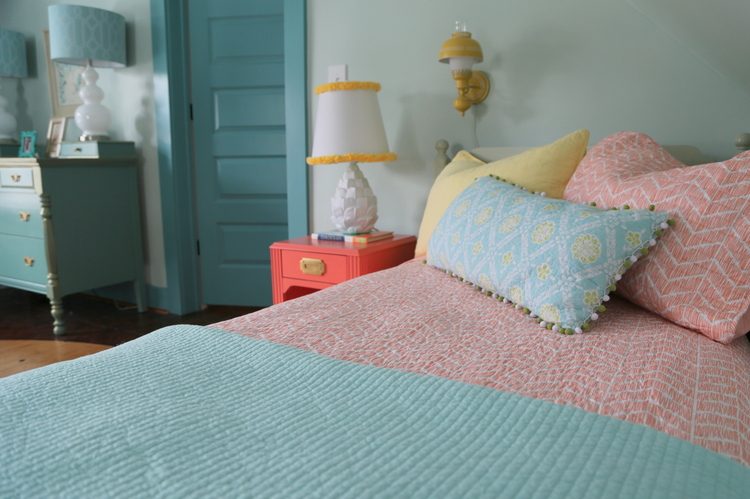 The side tables were painted Sherwin-Williams Coral Reef, and the spindle bed found at a yard sale for $10 was painted Benjamin Moore's Prescott Green.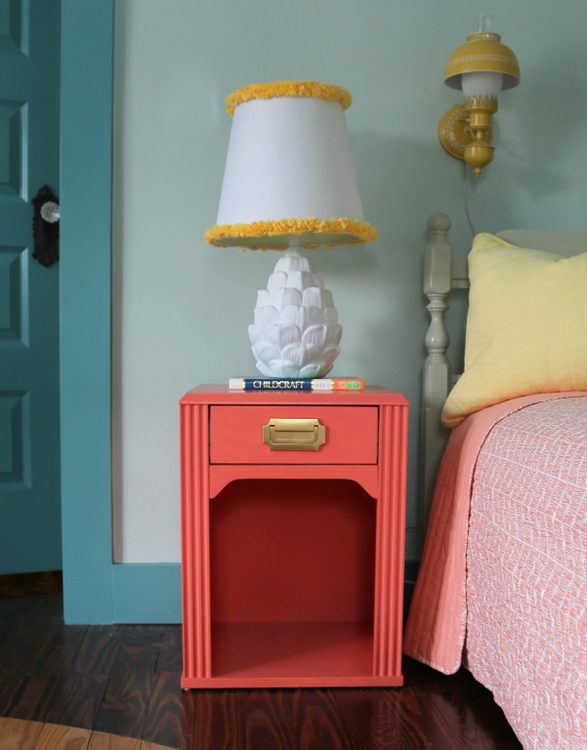 The little girl's mother had painted all the pieces of furniture in the room with great care, even adding golden handles to every drawer.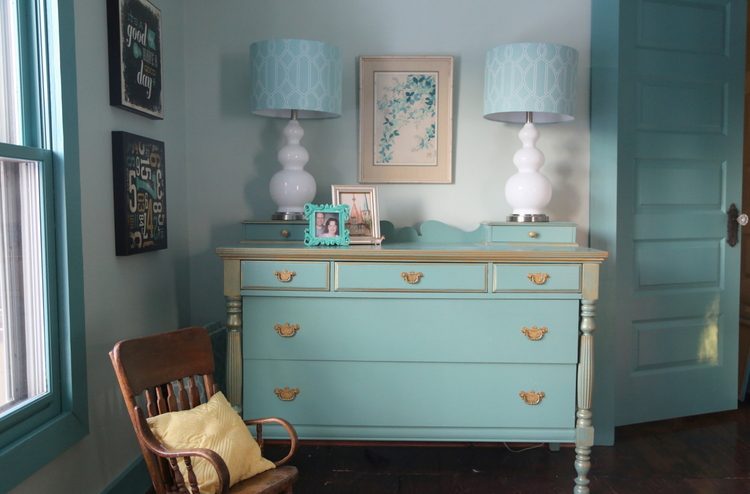 Sitting on her chaise longue, the little girl could watch the babbling brook beneath the windows and the squirrels in the hundred-year-old trees that sheltered her home.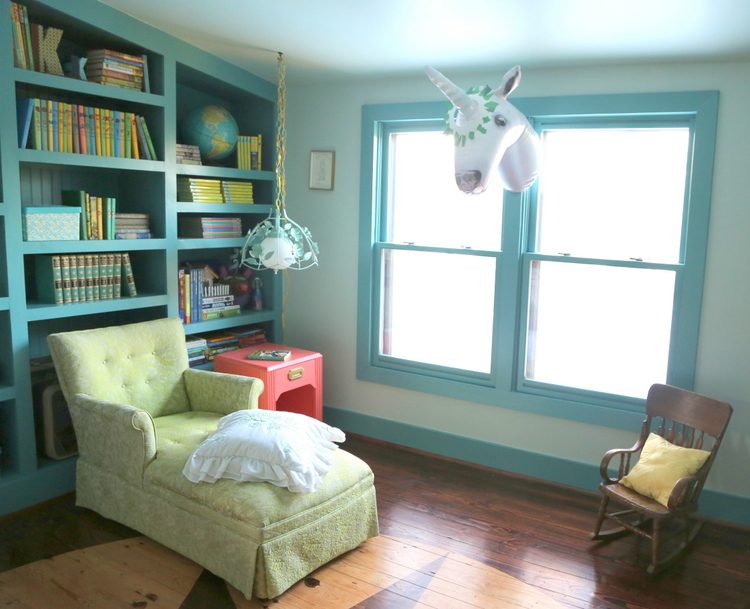 And of course, her enchanted unicorn lived in the storybook room with the little girl, guarding over her dreams at night.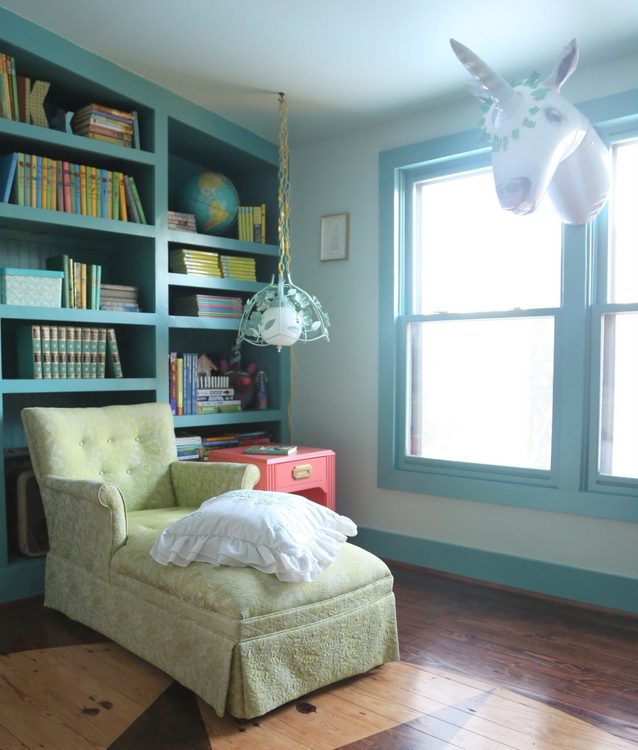 And as you might guess, the little girl lived happily ever after.