This week I was invited to attend an invite-only media preview of the 2019 House Beautiful Whole Home Concept House, which is featured in the November issue of the magazine. These kind of showhouses are so inspirational, and I'm dying to share the top trends I saw there! I took soooo many photos, y'all. I narrowed it down to the top 5 design trends that emerged, and the last one will REALLY SURPRISE YOU!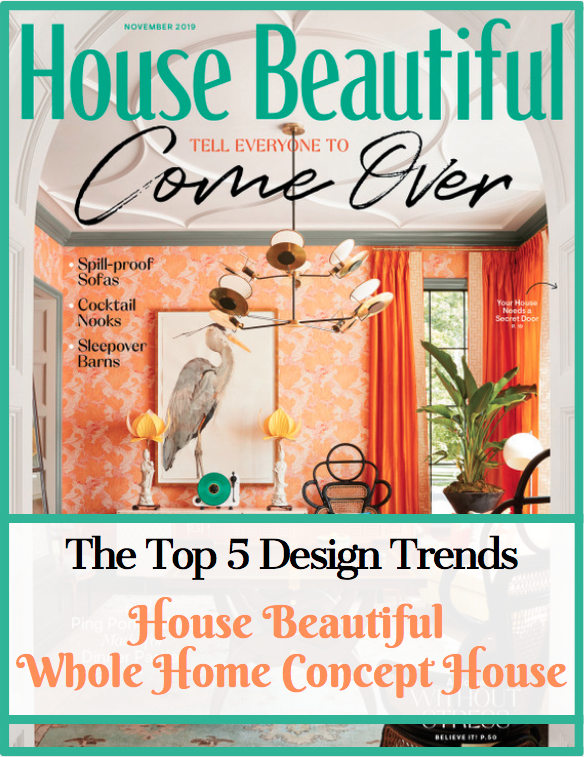 And keep your eyes peeled for the hidden Easter egg bonus trend I'll reveal at the end …
Before we get started, you have to keep in mind that this is a designer showhouse. The designers don't coordinate amongst themselves, and they have full reign to design their own space in whatever design or colors they choose. Each room has its own distinct personality and color scheme and doesn't necessarily create any sense of flow or cohesiveness throughout the home. Ok, now we're ready:
1. Fearless, Juicy Colors!
This is one happy house. Castle Homes of Nashville built a beautiful home in the heart of the upscale, old-money side of town called Belle Meade. The amazing architectural design is by C Kevin Coffey. But the interior designers knocked it out of the park with their use of fearless, juicy color! There is nothing better than walking into a room that puts a smile on your face, and fabulous color design can certainly do that. Corals, oranges, pinks, and yellows have their moments in the 2019 House Beautiful Whole Home Concept House.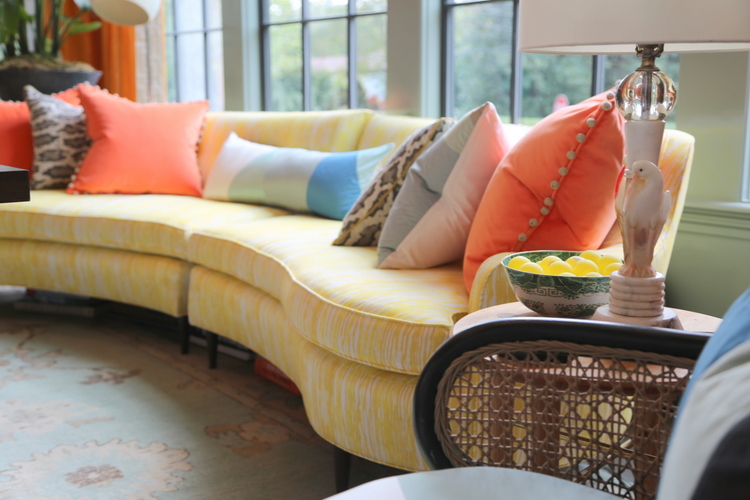 Chenault James Interiors
Barclay Butera designed the colorful outdoor living area that featured rich blues and oranges and furnishings from Castelle.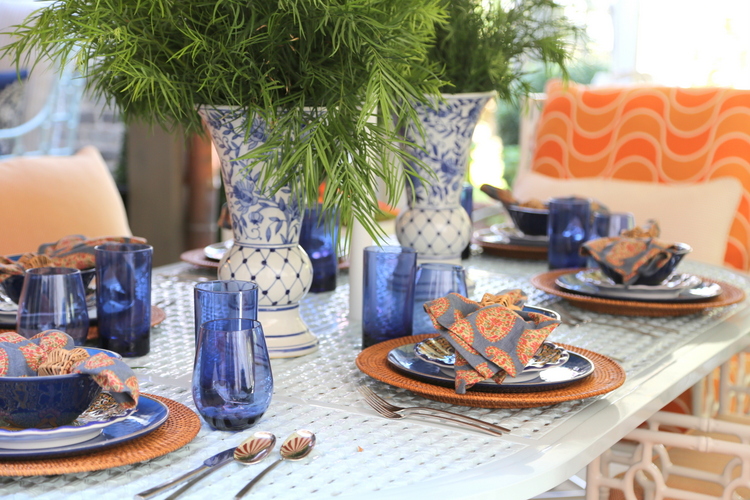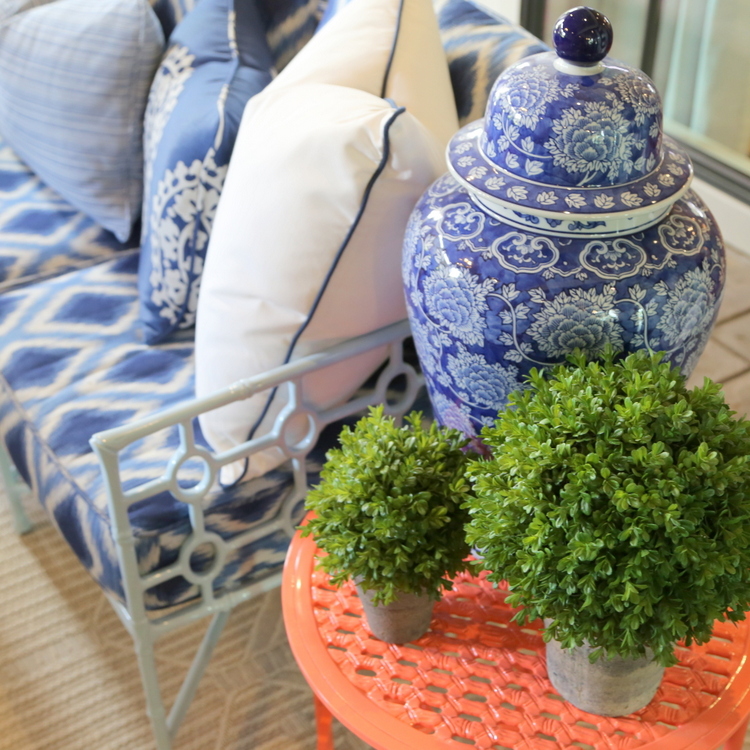 Barclay Butera
Barclay's licensed collection with Castelle offers an impressive variety of colors, finishes, and fabrics. The colors above are similar to Benjamin Moore Woodlawn Blue and Tangerine Fusion.
His media manager snapped this photo of my design besties with Barclay: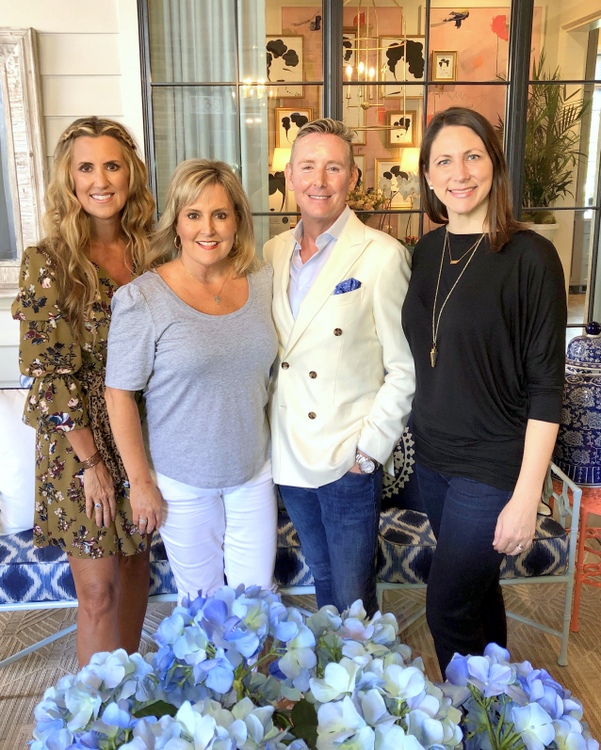 Kristie Barnett, Elizabeth Scruggs, Barclay Butera, and Amanda Carlson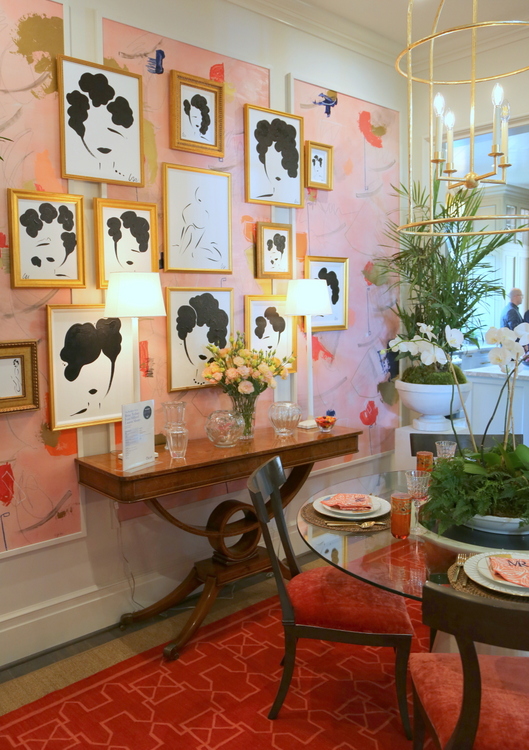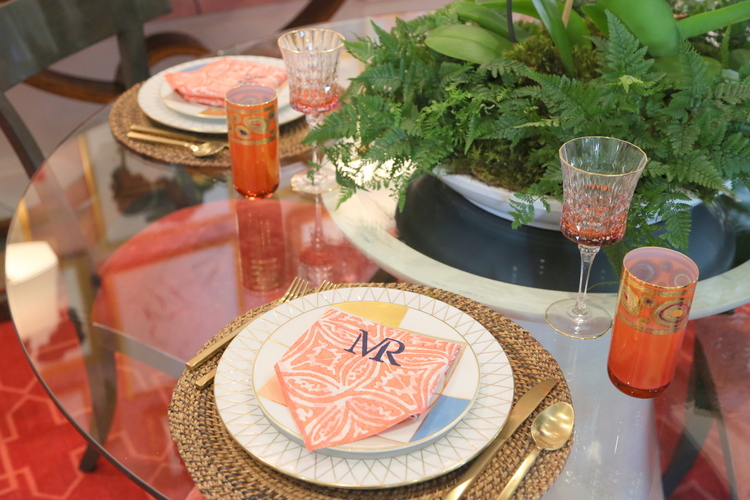 Modern Remains
I loved the complex, unexpected color combinations in the master bedroom by Kristine Paige: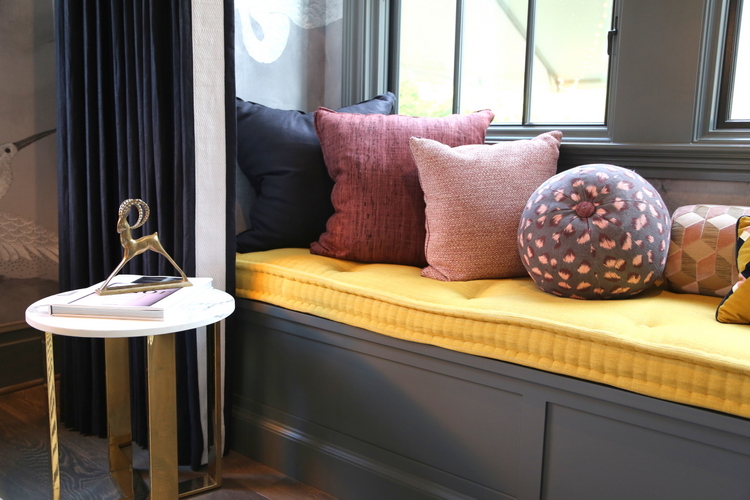 Jackson Paige Interiors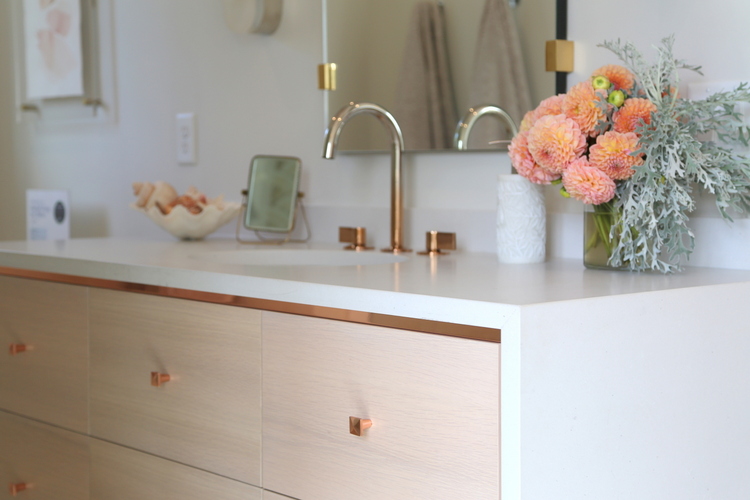 Rachel Haag and Joy Huber, Castle Homes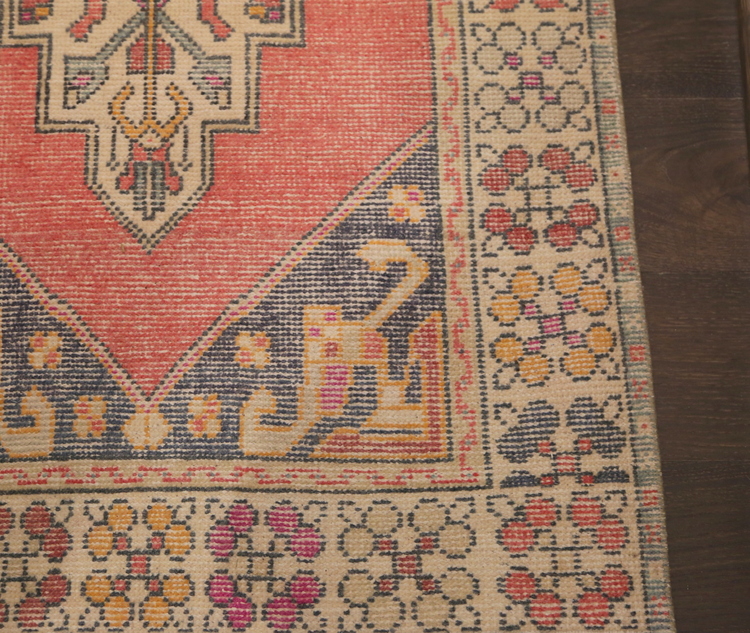 2. Wonderful Wallpapers
We all know that wallpaper is back in a big way, and there was no shortage of it in the 2019 House Beautiful Whole Home Concept House. Just take a look!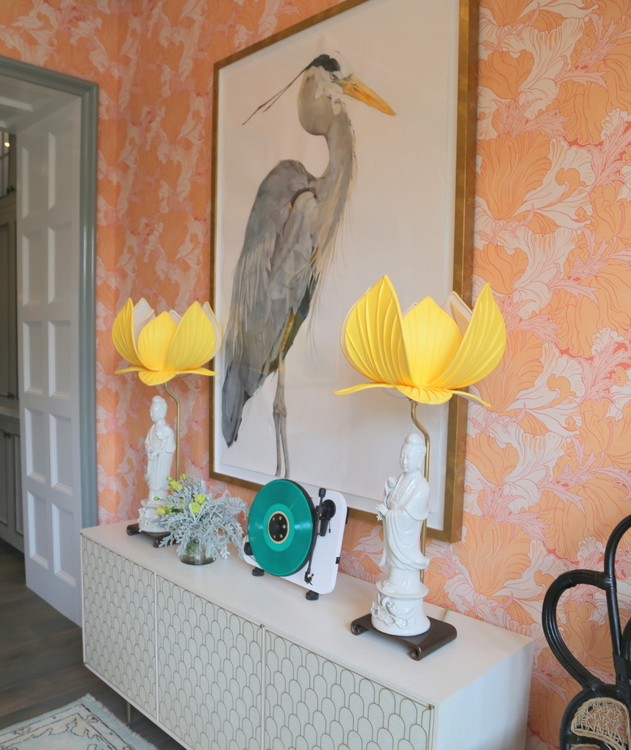 Chenault James Interiors
This grand staircase in the entry of the home is absolutely stunning, due in large part to this gorgeous wallpaper by Vern Yip. Wallpaper is a great option for soaring walls like these, as arranging art on them can be quite a challenge!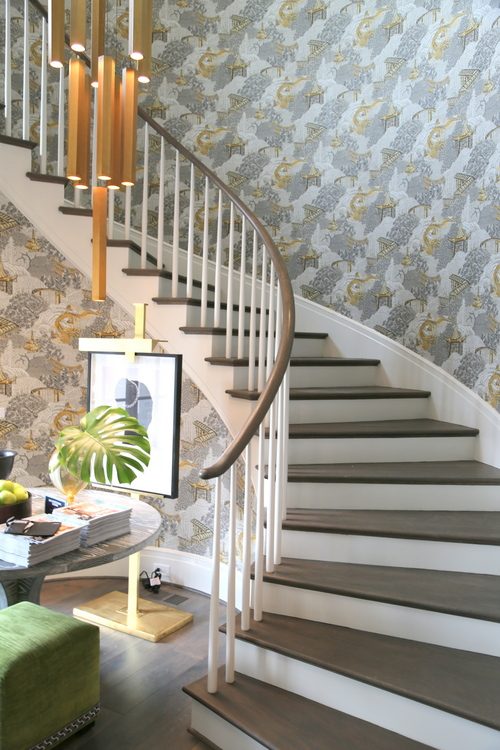 Vern Yip
Vern has licensed collections of wallpaper and fabric through Fabricut that he used in the entry and living room that he designed for the 2019 House Beautiful Whole Home Concept House. I was fortunate enough to get to chat with him during the tour!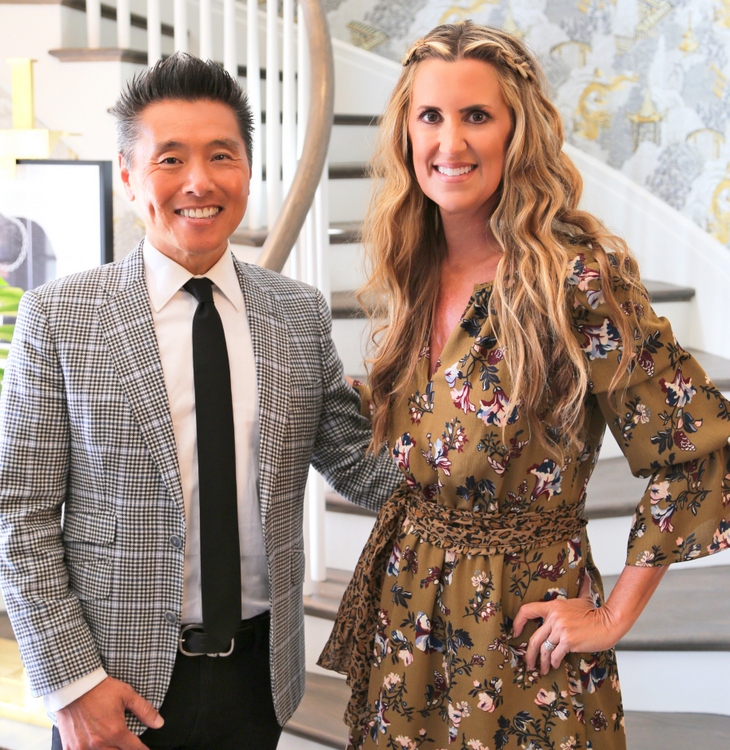 This a-mazing historical mural from Mural Sources in the boys' room designed by Amy Berry took my breath away!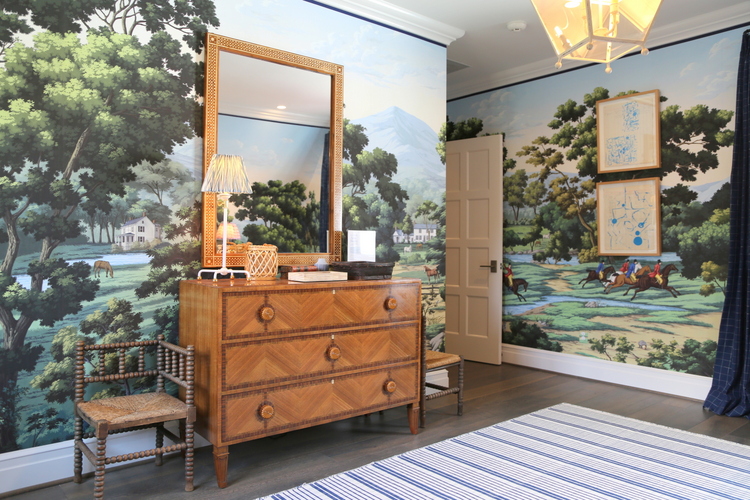 Amy Berry
And this crane wallpaper – oh my! So amazing in person (you've GOT to go see it).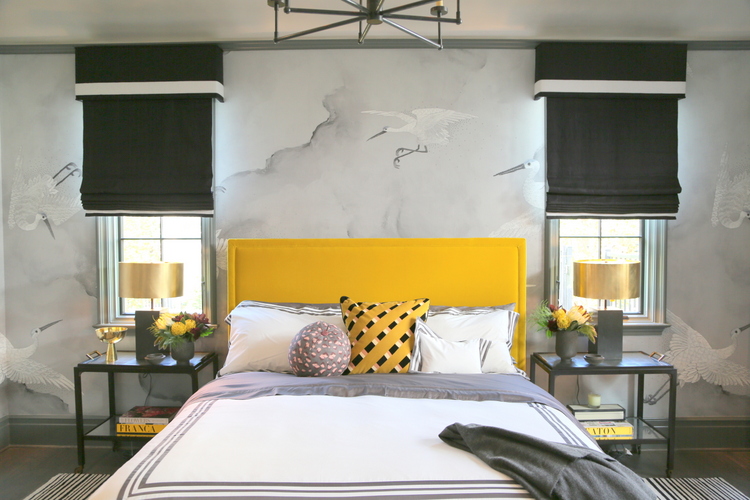 Jackson Paige Interiors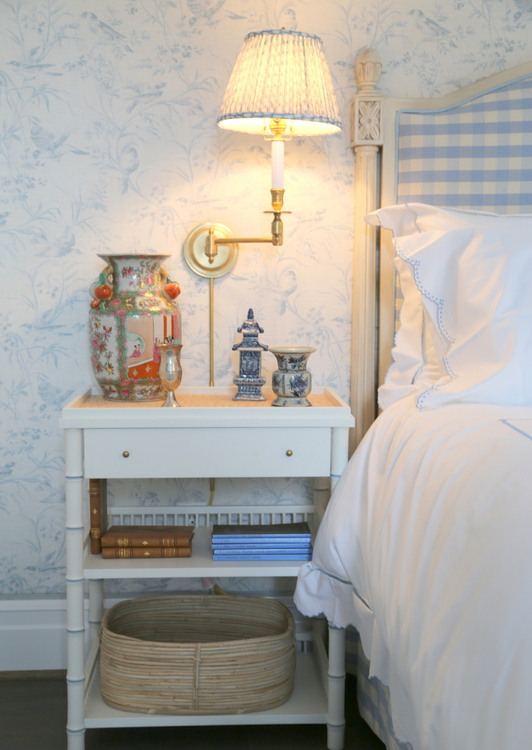 Amy Berry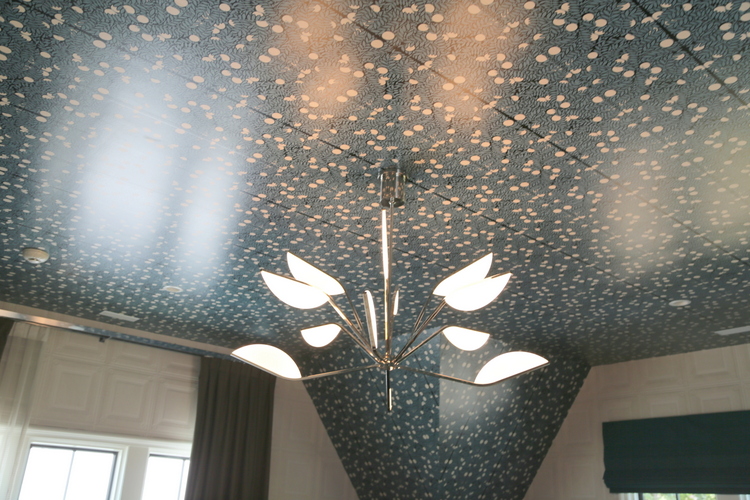 Forbes + Masters
3. Colored Trim & Ceilings
The showhouse featured a lot of COLORED trim work, as well as beautiful ceilings. The glossy grayed-green/blue trim in this room is gorgeous and really brings attention to the moldings and windows. Although this ceiling is white, I think it would have been brilliant painted out like the rest of the trim.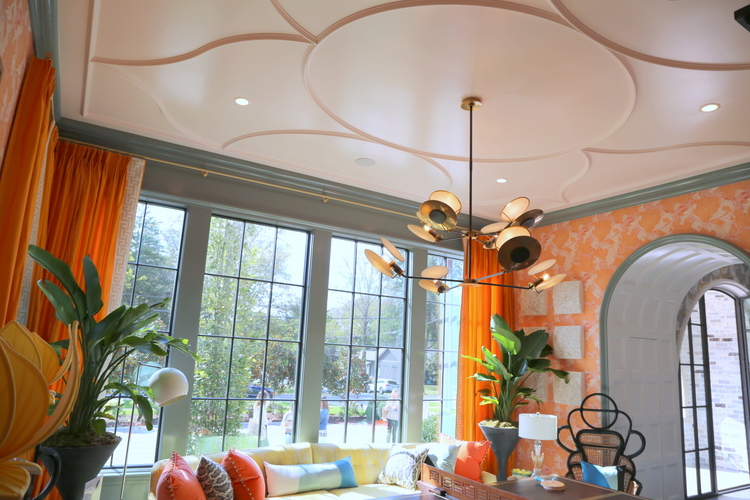 Chenault James Interiors
This dark, moody powder room uses the same color (I think it's Benjamin Moore Quarry Rock) on both the walls and trim, but in different finishes. Other rooms featured darkly painted trim, as well, including the master bedroom.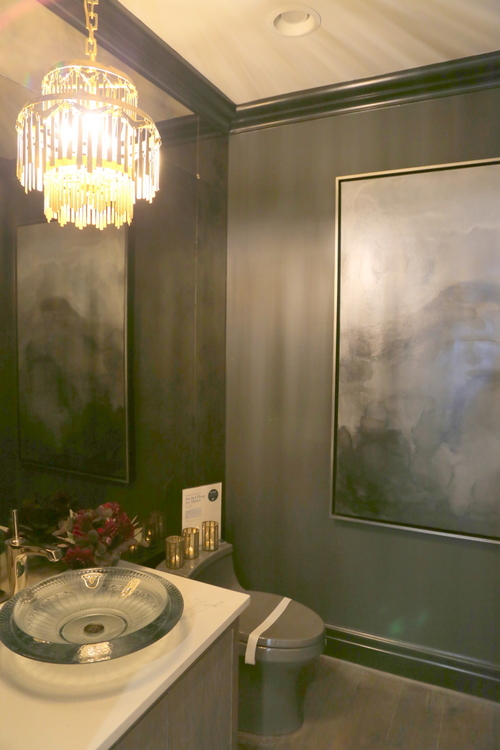 Benjamin Moore Morristown Cream on the ceiling was the perfect choice in this bathroom with gold and rose gold finishes and tile (which you'll see more of in a moment).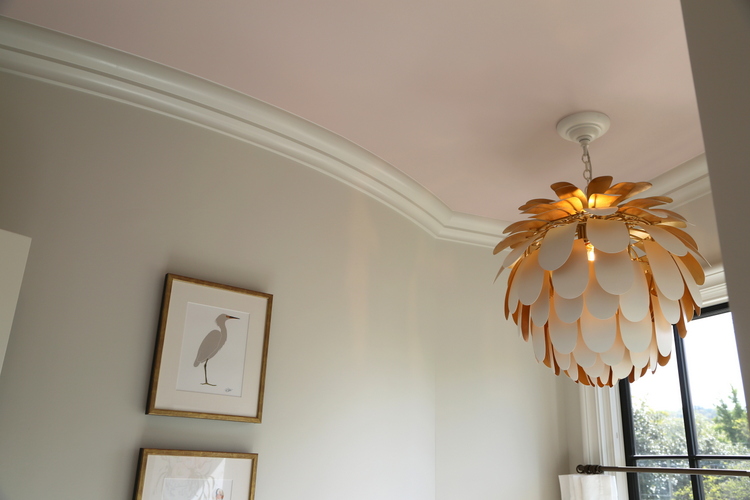 Benjamin Moore Greyhound on the laundry/mudroom ceiling draws your eye up and keeps the white in this space fresh.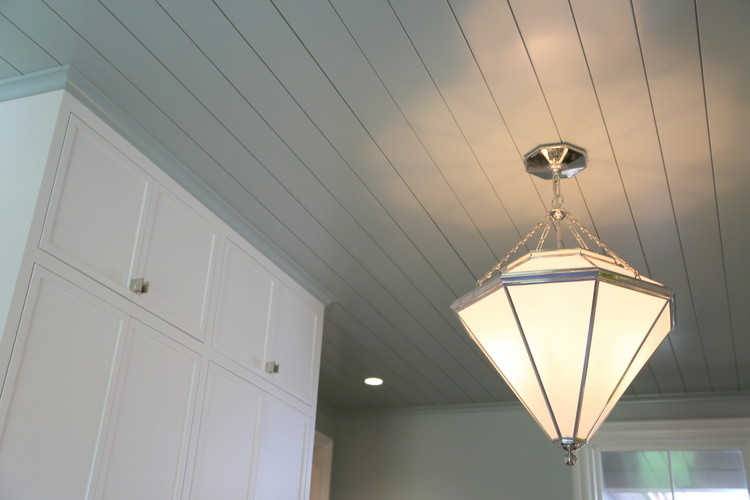 bathrooms and laundry rooms by Rachel Haag and Joy Huber, Castle Homes
4. YELLOW GOLD
There are no yellow painted walls, but LOTS of fabrics and decor in bold, golden yellow in the House Beautiful Whole Home Concept House. Gold lamp shades are all over the house!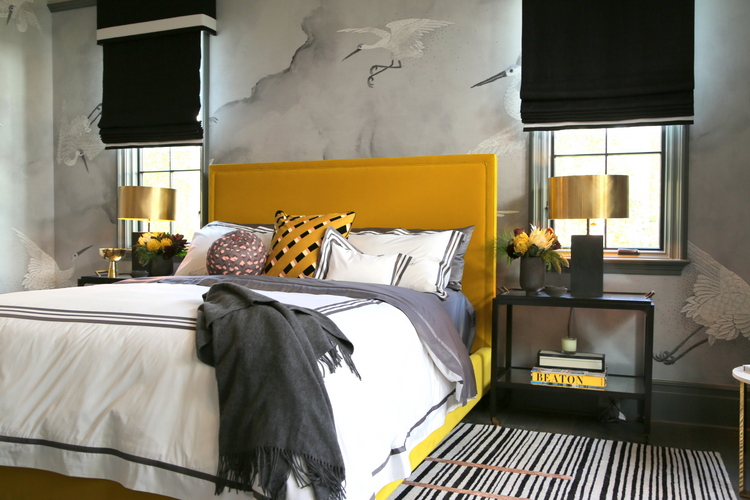 Jackson Paige Interiors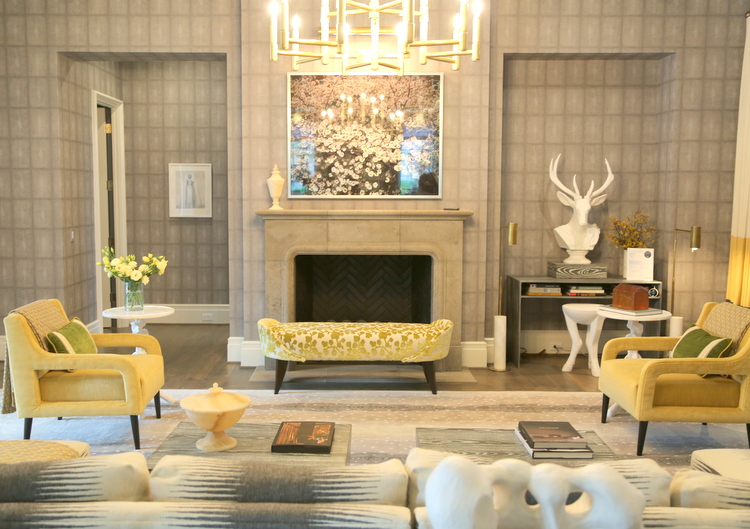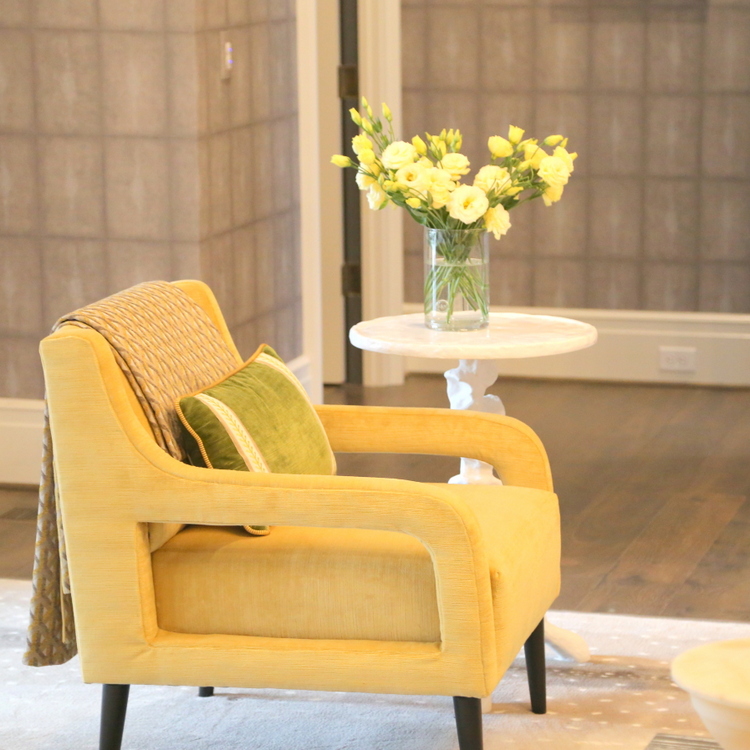 Vern Yip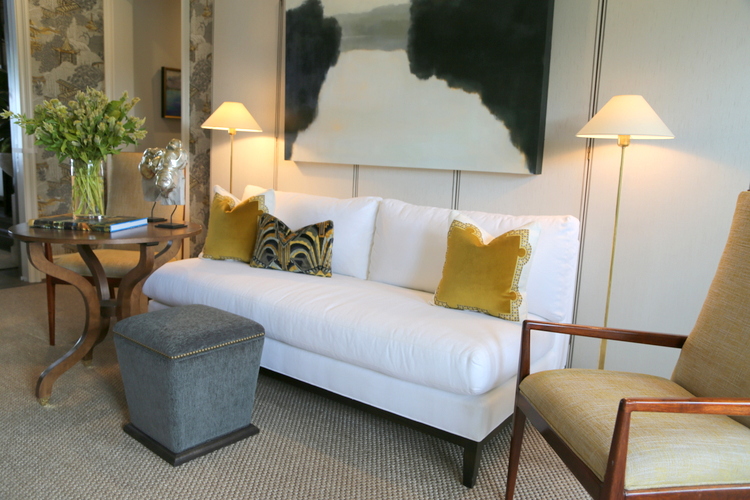 Modern Remains
There is plenty of gold hardware and even gold edging on shelves in the butler's pantry: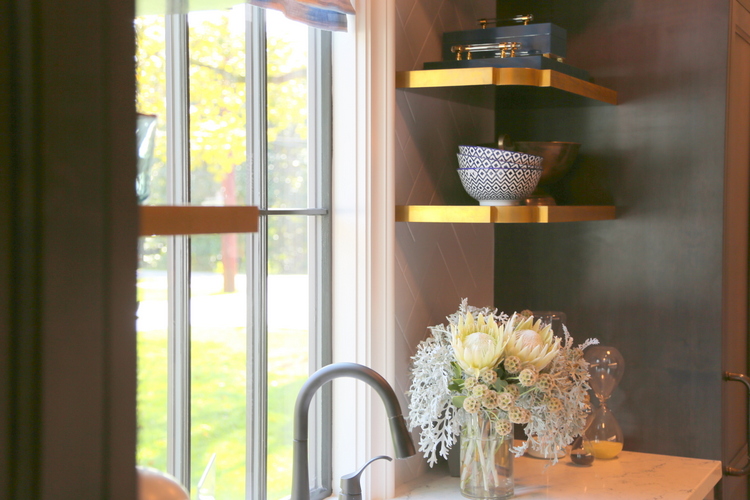 Matthew Quinn
The final trend might surprise you – it certainly does me! What do you think about the idea of . . .
5. Accent Walls in Showers???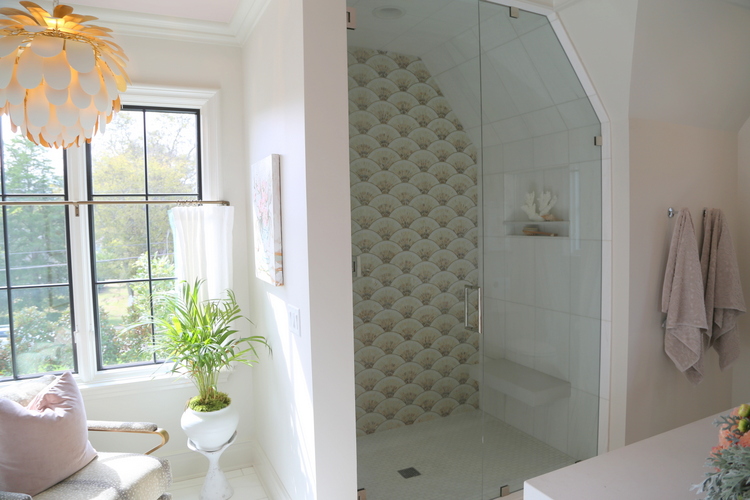 It's definitely a thing, guys! Most of the bathrooms in the House Beautiful Whole Home Concept House featured an accent or focal wall of "special" tile. The subtle shell motif above paired with simple white tile is my favorite. The custom mosaic tile in the boy's bathroom was really amazing, as well: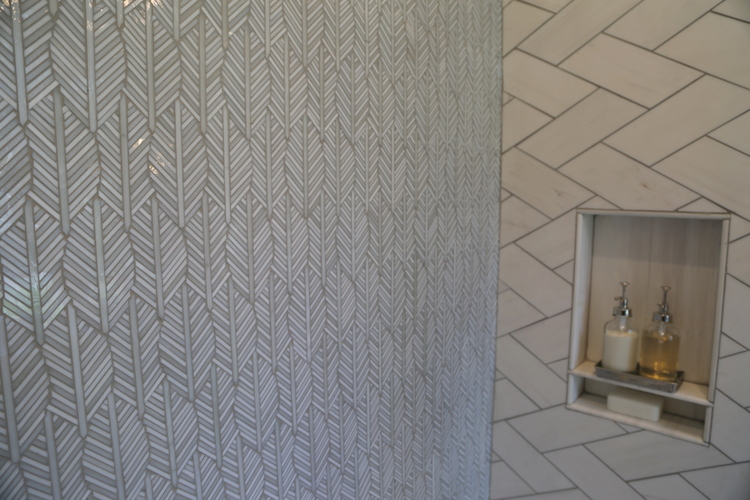 This next tile focal wall looks like a snakeskin, doesn't it? What do you think about this trend, guys? Do you think it'll take hold in the mainstream?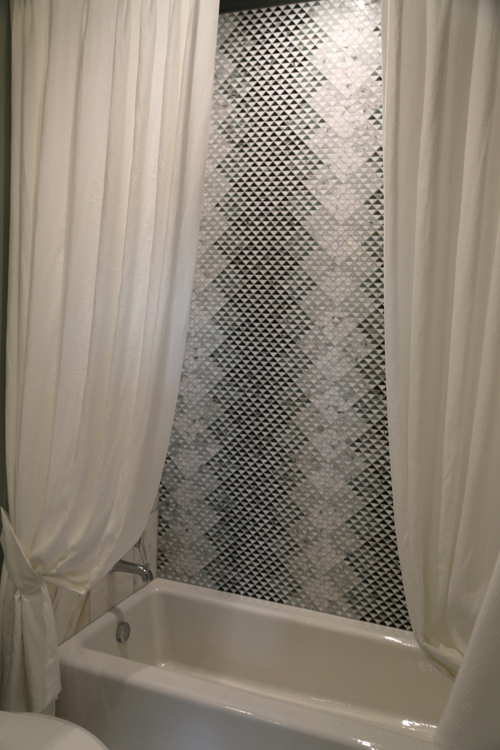 It just might, but my concern is that it's hard enough to create great tile combinations for a bathroom. Adding yet another coordinating tile to the mix could result in a lot of poorly-executed bathroom designs!
Believe it or not, I have MORE to share of this inspiration-loaded showhouse. Stay tuned to my next post to see my favorite room in the home!
Did you spot the Easter egg bonus trend? Put your guess in the comments and let me know what you think about the 2019 House Beautiful Whole Home Concept House!
The 2019 House Beautiful Whole Home Concept House is open to the public TODAY through Nov 3
$20 per person, proceeds benefit the Nashville Symphony
Mon-Sat 12-5, Sun 1-5,
725 Westview Avenue, Nashville  37205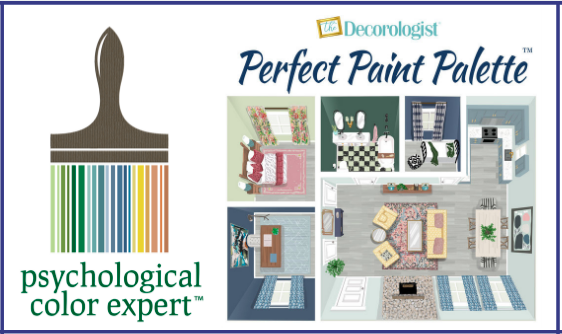 Find out more about my certification course in paint color specification!