After giving birth to her 4th daughter, my client (and long-time friend) needed to rethink her home's floorplan.  The former den was about to get a makeover – with a little help from The Decorologist and IKEA.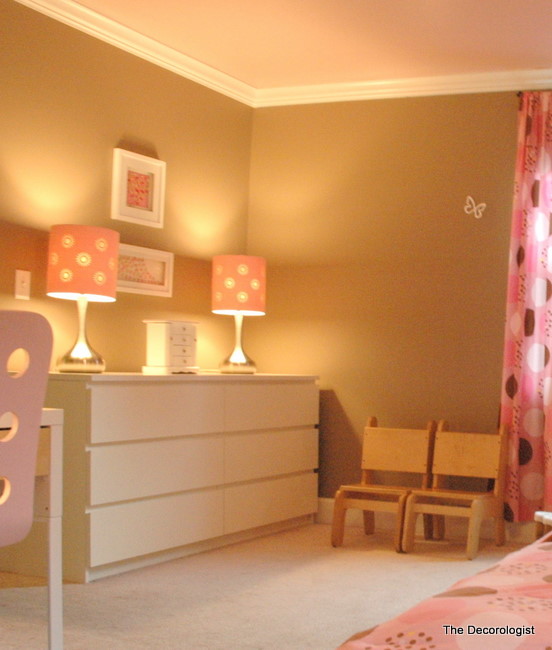 Design by The Decorologist
The idea was to convert the former den into a bedroom for the two oldest daughters so the baby and toddler could each have their own rooms (very necessary for successful naptimes!).  They already had twin beds and wanted to make a list for the upcoming trip to the modern decor mecca, IKEA, in Atlanta.  We took measurements and worked up a solid furniture arrangement, determining what the girls needed and what would fit into the new space perfectly.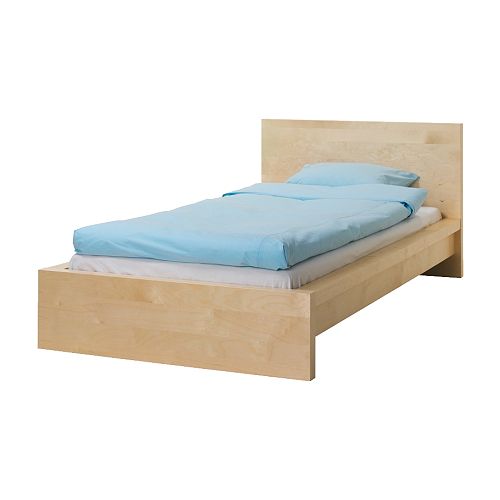 The kicker was determining the perfect color for the room.   In the end, the color scheme was  a compromise that met the desires of both daughters and momma.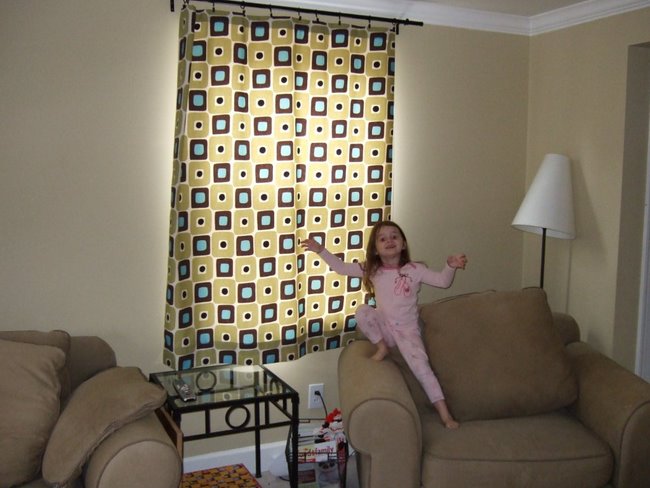 Before – Room as Den
You see, momma is NOT a pink kind of girl.  Of course, that's the paint color the daughters were begging for!  Initially, everything was pretty much beige on beige – beige carpet, beige walls, beige sofas.  Here's the "before" of the area where the beds would ultimately be placed: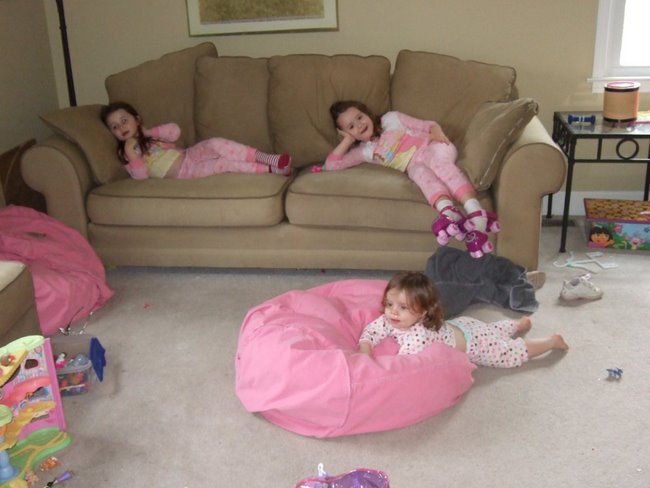 These cutie-pies obviously favor pink!
The answer to the color conundrum was obvious – a warm, neutral wall color plus the perfect pink on the ceiling.  Below is the same area of the room "after."  The darker brown makes the pink more sophisticated and keeps it from being tooo bubble gum sweet.  Although, it's still pretty sweet for two sweet little girls!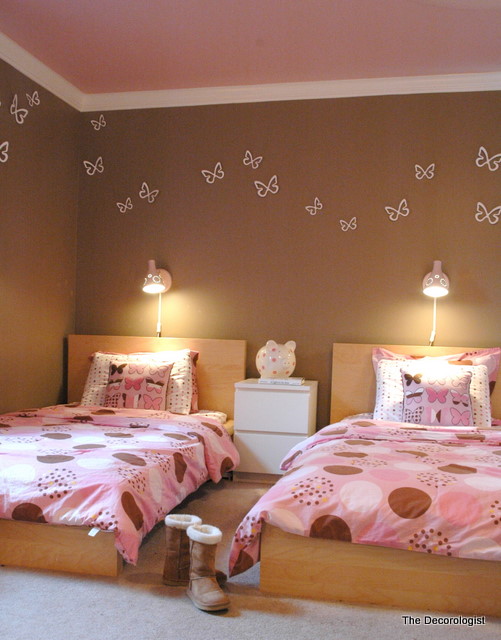 Pinkalicious!
One trip to IKEA for everything on the list, and we were ready to set up the room!  All the furniture in this design is straight from IKEA – the bedding and curtains are from the Dwell line at Target.  The butterflies that flutter around the room are the Umbra Papillon set from Target.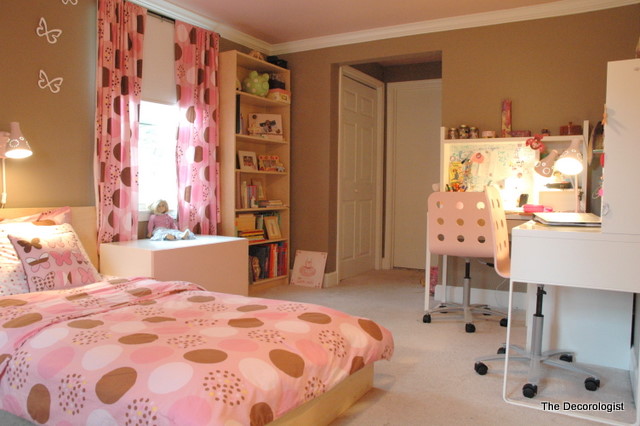 Dwell Studio Polka Dot Bedding & Curtains
The walls were painted Benjamin Moore's Alexandria Beige HC-77.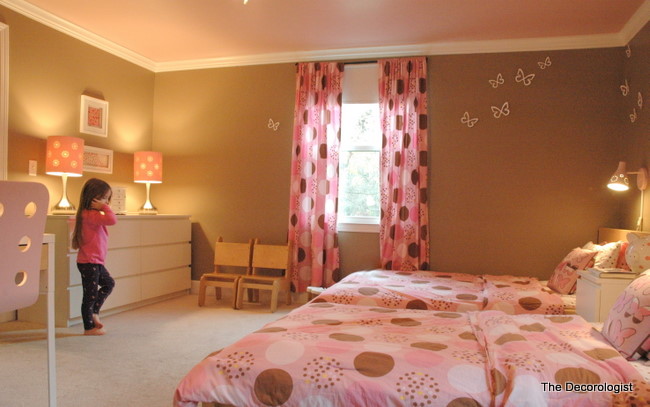 Benjamin Moore's Alexandria Beige
This is the ideal space for homework!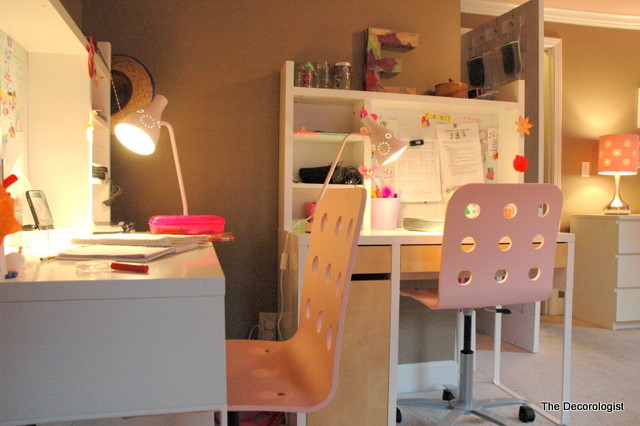 IKEA Desks and Chairs
The ceiling color is Benjamin Moore's Rose Blush 037.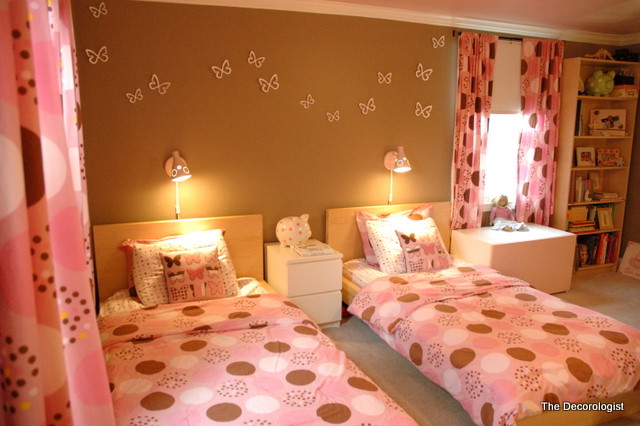 Polka Dots & Butterflies!
Starting with careful measurements and a good plan, everything fits in the room perfectly.  I'm happy to say, mother and daughters all love the new room!  Let's just hope we don't have to convert the dining room into a bedroom next . . .