Last Thursday evening, I had the privilege of teaching a class for Habitat for Humanity of Greater Nashville to help their newest homeowners make wise choices for budget-friendly furniture and decor.  Most of us could use a class like that, don't you think?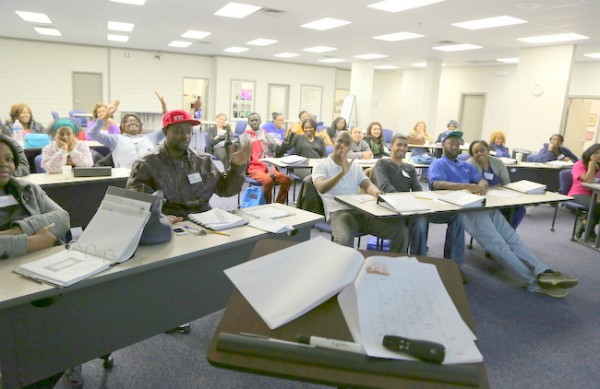 Making Your House a Home on a Budget attendees
There was a time when I purchased most of my home furnishings and decor from consignment stores, antique malls, and yard sales.  I always tried to look beyond the finish and function of any given piece and find a way to make it better or more personalized with paint or a little creative upcycling.  As I shared with the class last week – even though I can now afford to do otherwise, I still find many of my favorite furnishings stored in someone's basement or on a high shelf in the back of a roadside antique mall.  You never know what treasures you might find!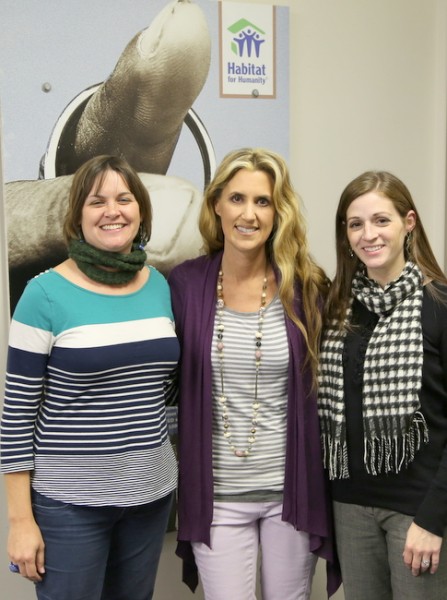 with Amanda Frick, Family Services Program Mgr, and Casey Hawkins, Family Services Director
I enjoyed sharing how defining your style, choosing the right colors, arranging furniture, utilizing storage solutions, and finding inexpensive home decor can make it possible to create a home your family will love – even on the tightest of budgets.  Since so many of you shared ideas for sourcing inexpensive furnishings and accessories, I wanted to share with you the list of decorating bargain sources I compiled for my Making Your House a Home on a Budget class.  This list is specific to the Nashville area, but some of the sources may also be found in your own hometown:
Where to Find Decorating Bargains in Nashville
➢ ReStore – 1001 8th Ave South; 908  Division Street;  7115 Bakers Bridge Ave, Brentwood
➢ Nashville Hotel Liquidators – 29 Hermitage Ave
 ➢ Essex Bargain Hunt– 3760 Nolensville Road
 ➢ Southeastern Salvage – 2728 Eugenia Avenue
➢ Mallory Station Consignment – 6346 Nolensville Rd at Holt Rd;  600 Church Street East, Brentwood;  7102 Bakers Bridge Ave, Brentwood
➢ Finder's Keepers – 778 Rivergate Parkway, Goodlettsville;  8105 Moores Lane, Brentwood
➢Classy Cat Consignment – 91 Seaboard Lane, Brentwood  
➢ReMix Furniture Store – 1004 8th Avenue South
➢Nadeau Furniture – 2104 Crestmoor Road
➢ Tuesday Morning – 4108 Hillsboro Pike
 ➢ Norberts – 701 Craighead Street
 ➢ Costco – 6670 Charlotte Pike
 ➢ HomeGoods – 330 Franklin Pike; 401 S. Mt. Juliet Road, Suite 60; 1026 Glenbrook Way; TJ Maxx – 719 Thompson Lane
➢ Marshalls – 6806 Charlotte Pike; 3135 Lebanon Pike
➢ Graceworks Thrift – 104 Southeast Parkway, Suite 100, Franklin
➢ The Shopping Bag -1417 Charlotte Pike
➢ Inner City Ministry Thrift Store – 136 Rains Avenue, 608 Shelby Avenue
➢ HumanKind Thrift Store – 604 Gallatin Pike #206
➢ World Market – 6728 Charlotte Pike
 ➢ Burkes Outlet – 690B Nashville Pike, Gallatin
 ➢ Big Lots – 1142 Gallatin Pike South; 5702 Nolensville Road 
➢  Goodwill – 780 Berry Road; 5412 Charlotte Avenue; 613 Gallatin Road, 6708 Nolensville Pike
 ➢ Southern Thrift – 5010 Charlotte Avenue; 2701 Gallatin Pike;  7110 Old Lebanon Pike
 ➢ This 'N That Thrift Shop – 5007 Georgia Avenue
 ➢ Our Thrift Store – 1018 Columbia Avenue, Franklin
➢ ThriftSmart – 4890 Nolensville Road
➢ Craigslist.com
➢ Nashville Flea Market – open the third weekend of every month, Friday through Sunday.  Attend Friday for the best selection, and Sunday for the best prices.
➢ Robinson Flea Market – 1202 Gallatin Pike, Nashville
➢ Antique Malls – 8th Avenue (area near Zanies), Downtown Antique Mall (612 8th Avenue S), Tennessee Antique Mall (654 Wedgewood Avenue), Gaslamp Antique Mall I & II (100 Powell Place), Nolensville-area Antique Malls (downtown Nolensville), downtown Franklin-area Antique malls
 ➢ Estate and Yard Sales – Sign up for weekly notices in your area on estatesales.org and yardsales.net.  You can even specify the estate or yard sales within a specific mile radius of your home!
If you have any others you'd like to add to my Nashville-based list, please do so in the comments below.  If you'd like to find out more about Habitat for Humanity and how you can donate or volunteer to help build homes for low-income families, click here.
If you aren't already an email subscriber to my blog, sign up today.  Only email subscribers will be offered a special discount on the upcoming launch of my Furniture Arrangement Workshop Video next week!
Share this Post