I'm a Home Stager, and I've staged all kinds of homes over the last 5 years – from small condos to multi-million dollar mansions.  Did you know that staged homes sell for 10-17% more in 1/3 of the time of unstaged homes?  Good staging is a must in today's difficult real estate market.  You have only one chance and about 15 minutes to make a prospective buyer fall in love with your home.  With fewer eligible buyers, you have to make every showing count – bigtime.
| | |
| --- | --- |
| The following photographs are "befores" of some of my client's homes.  All of my clients are wonderful and talented people – but everyone needs a little help to make the sign in the front yard go from "For Sale" to "Sold."  Names are withheld to protect the innocent and the unstaged.   | |
It doesn't matter how much money your house is "worth" –  it isn't likely to sell if you do the following things:
1.  Ignore the architecture.   Placing a big screen television and all its components in front of the fireplace is NOT the way to emphasize the positive features your home has to offer.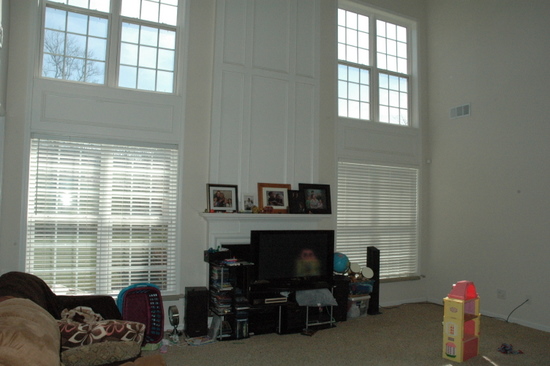 2.  Turn your living room into a playroom.  If you want buyers to see your house as a place they'd like to entertain adult friends, it's not a good idea to set up Romper Room in your formal living area.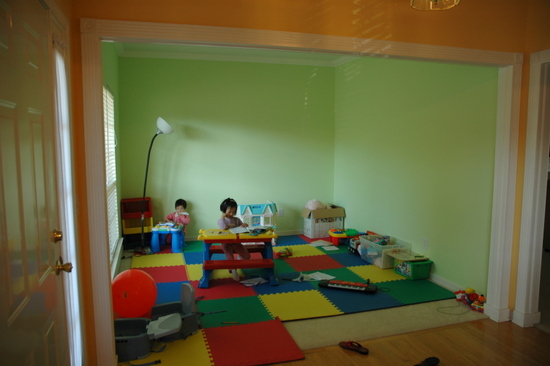 3.  Hang blankets or sheets over your windows.  Draw attention to the views, not your poor choice of window dressings.   It's better to have NO window coverings than makeshift, bad ones.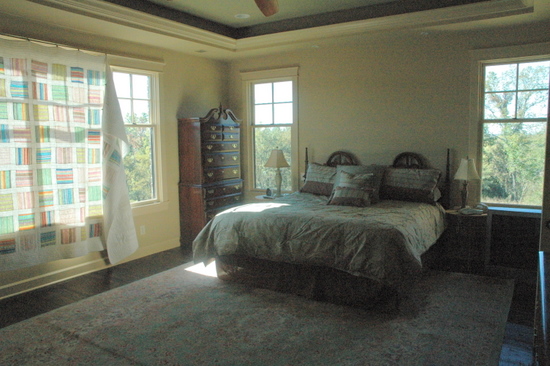 4.  Store extra beds, exercise equipment, or your ping pong table in the master bedroom.   A master bedroom should be a retreat, not an obstacle course.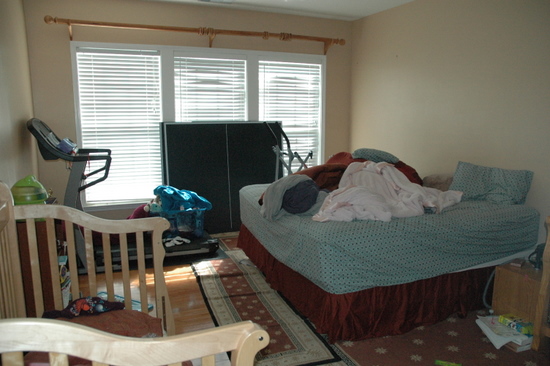 5.  Hang on to dated furniture and accessories.  Unless you're trying to sell to the someone who's obsessed with "That 70's Show,"  you're better off than no sofa in your living room than one like this.  And please, no microwaves in the living room.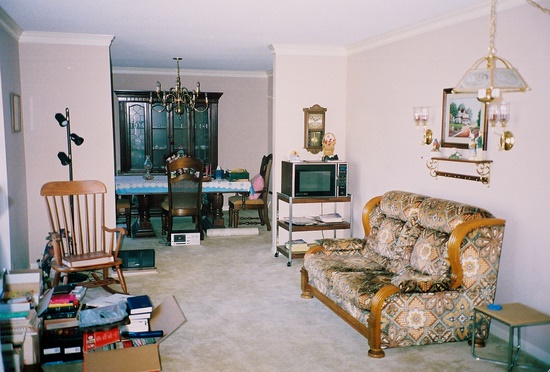 6.  Embrace bad wood paneling.  Ok, get over it already, guys.  Bad wood paneling is simply bad.  In the name of all things good and holy, paint it already!!!  If you need justification to convince your husband of this, click here.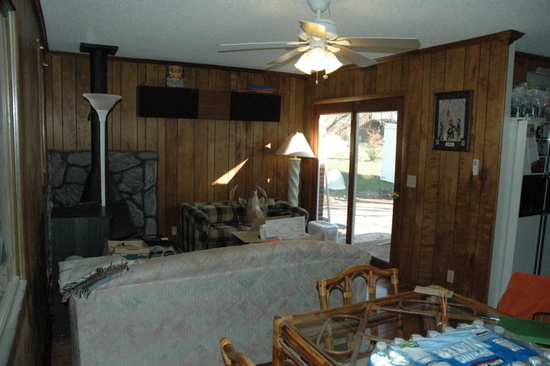 7.  Overlook your master bath.   A good master bath can sell a home.   Leaving a dated bath in dated condition may make a buyer turn and walk away.  Sorry, but peach paint is dated.  That cactus isn't helping things, either.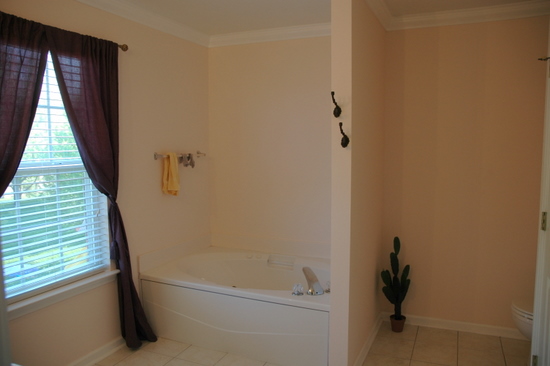 8.  Block windows or doors with furniture.  There is nothing that makes a space look smaller or more cluttered.  If the room is too small for your furniture, a prospective buyer will automatically draw the conclusion that it's too small for theirs.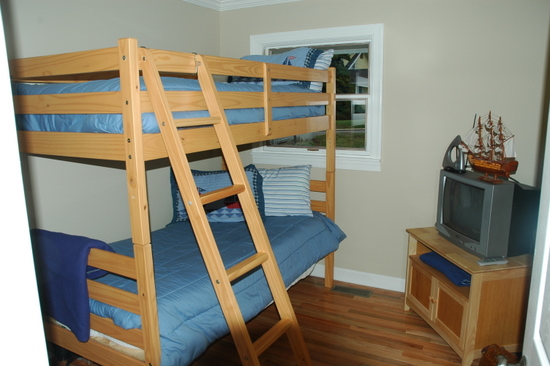 9.  Paint your rooms in neon.  Ok, it's fine when you are living there if that's what you love – but paint over it before you put it on the market.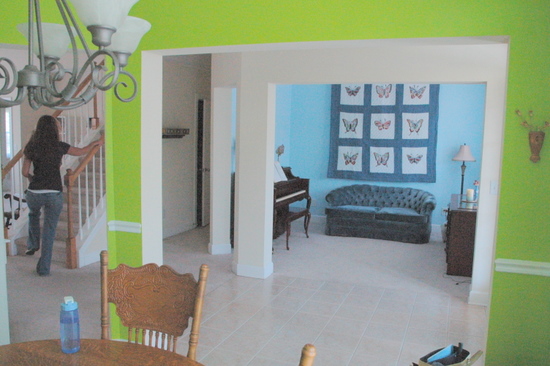 10.  Decorate with ducks.   It's hard to see them on the television in this photo but, believe me, they are the first thing you notice when you walk in this room.  Remove any other overly personal collections, as well.  Keep it neutral, people.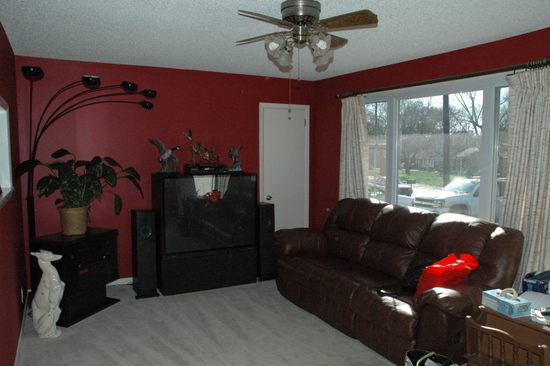 11.  Showcase your gun safe.  This and the boxes of ammo might freak someone out a little.  Doesn't reflect positively on the the safety of the neighborhood.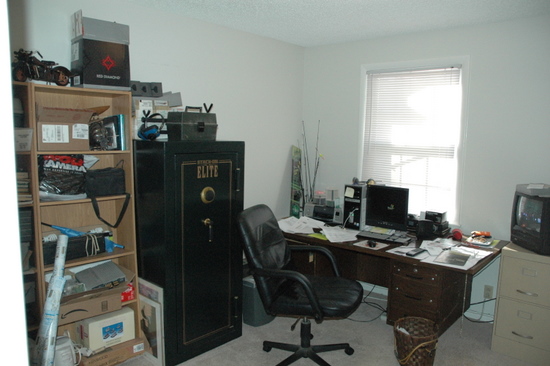 12. Use patio furniture indoors.   Must I explain?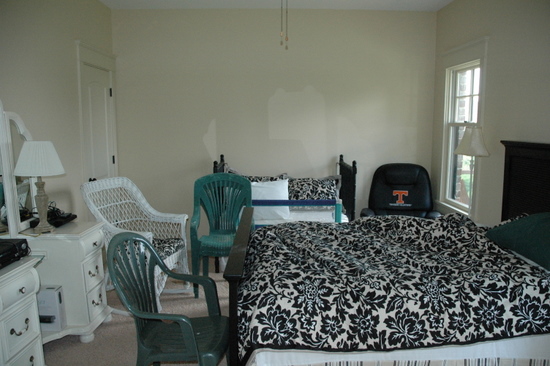 13.  Don't let clutter ruin the vibe.  Do not allow your personal taste to dominate the property for sale.  You are attempting to sell the house, not the furnishings or your personal style.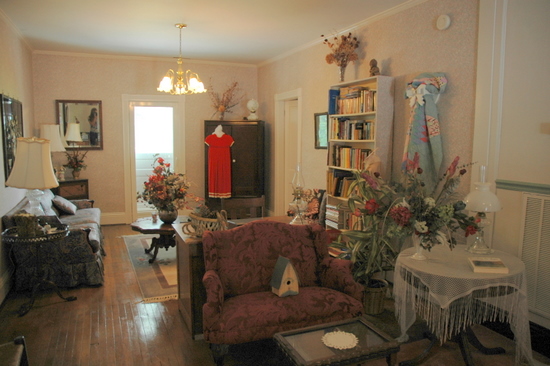 Any questions?  If you need help staging your home to sell, contact The Decorologist for a Property Staging Consultation.  Homes don't always sell themselves, but good staging does.
Photo Credits:  Kristie Barnett .