There are so many things to consider beyond "do I like this piece of furniture?" when designing a room from scratch, and most people don't consciously consider the shape of furniture they are including in their room. But this is a very important thing to consider, especially if you are working on a small space. Like when you are considering a rectangular coffee table.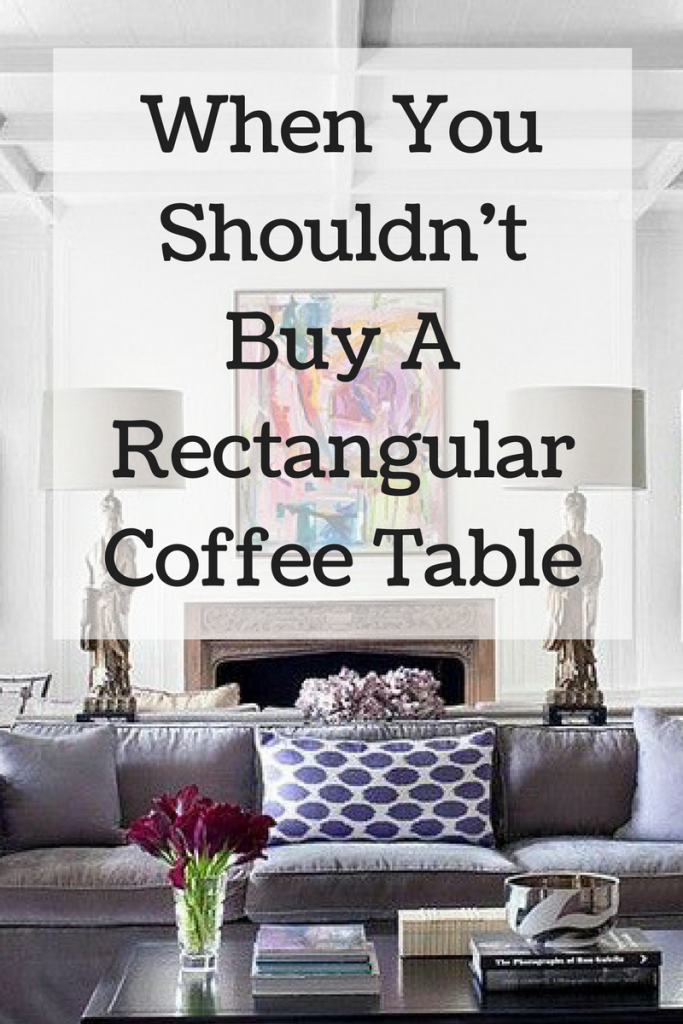 I recently began working with a single professional guy on his Nashville townhouse. While many living rooms I work in are rectangular shaped, this living room is a small square shape. It's open to the dining room, which is a smaller square space. We have decided to do a clean-lined, mid-century inspired sofa with chaise. This will be a much better alternative to the oversized puffy sofa currently in the space! I love the longer bench seat, rather than the traditional three-cushion scenario.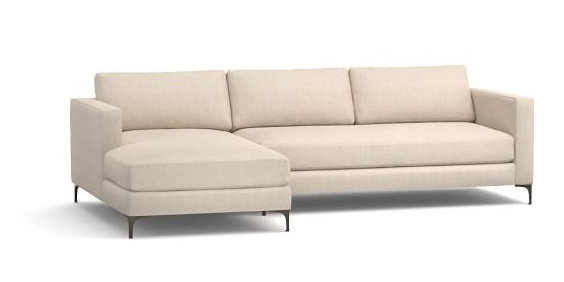 My client was initially thinking of purchasing a rectangular coffee table – one that was large, traditional, and visually heavy. This is similar to what he's been accustomed to seeing with the puffy leather seating he currently owns: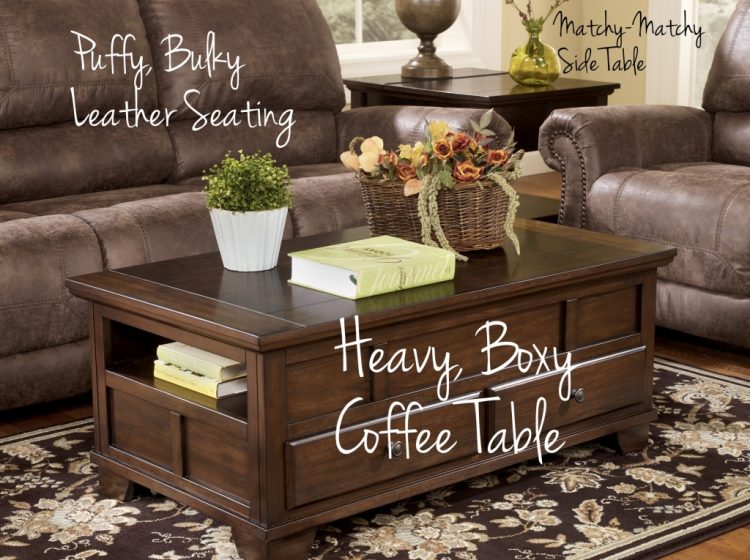 We discussed how he really needed something smaller, less boxy, and more leggy to increase the sense of space in the small room. Plus, the sofa chaise would already be covering a good deal of the fabulous new rug we were eyeing, and a piece like the one above would obscure that even more. When he saw this rectangular coffee table, he fell for it hard: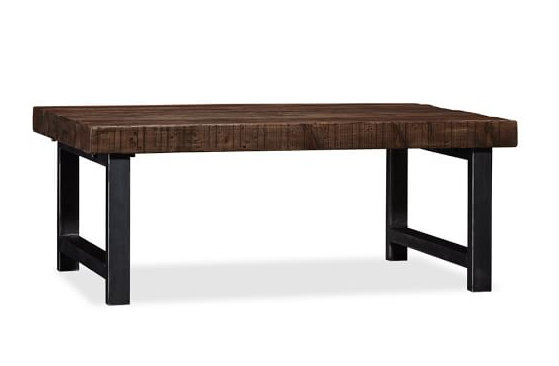 While this wood and iron table from Pottery Barn is much better than the former coffee table option, it still isn't the best option.
First of all, when you have a sectional or even a sofa with a chaise that stretches out one end, a rectangular coffee table is really going to box you in the space. You're going to have less leg room and it's a bit more difficult to navigate yourself in and out of the seating area.
But there are deeper, psychological reasons why a rectangular coffee table isn't the best option here. Did you know that time and time again, when people are asked to choose between an object that's linear and one that's curved, they prefer the curved object?  While many people like clean, linear lines in most furnishings, rooms with too many sharp edges are seen as unattractive, uncomfortable, and unwelcoming.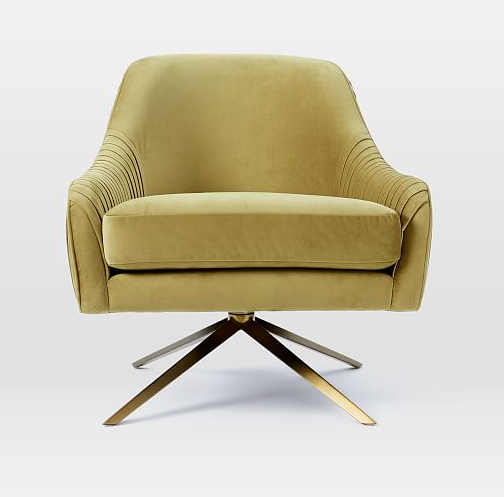 Scientifically, why would this be?? The theory is that we are hard-wired to prefer curves because they signal lack of threat – in other words, curves signal safety. We subconsciously tend to avoid things that may stab us, like sharp edges!  I don't know about you other ladies out there, but I have incurred many a bruise when moving quickly through a space and not compensating for the swing of my hips – OUCH.
When we enter a room that feels "safe," we subconsciously feel more relaxed and restful. That's why I'm careful where I place pointy-edged furnishings in a space, especially if the room is small and square like this one. Tables against walls or out of the line of traffic can be square or rectangular, but when your conversation area is floating in the room (i.e., not up against walls), you may want to consider using curved tables – particularly when then are made of wood, iron, or glass. Because upholstered pieces are inherently softer than those materials, sofas and chairs that are fairly linear are less likely to cause any dis-ease to you or your guests.
Here is a Vision Board I put together for my client to help him visualize the new space when complete. Although the overall look is modern and clean-lined, you will notice that I included several curved/rounded elements to soften the hard lines. This makes the space seem more comfortable and welcoming upon first sight, as well as minimizing the threat of shin or hip injury when passing by pointy edges! Also notice that I distributed them throughout the space in a balanced manner.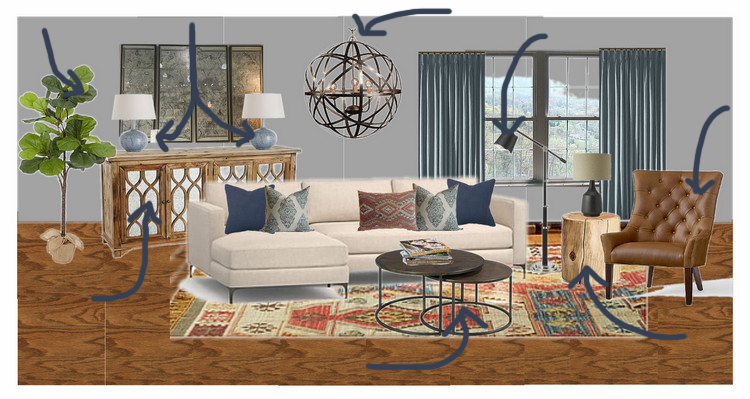 Even the chair has a curved back and curvaceous tufting. The curved items I chose still retain a masculine feel because of the materials used, like leather, wood, and metal.
The round light fixture is plenty manly with its strappy metal and bolts: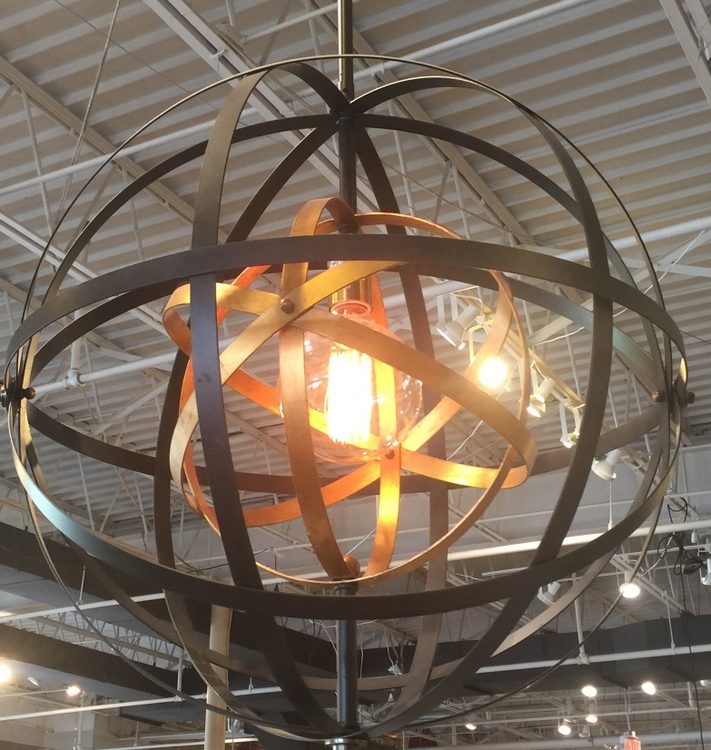 This would be a good size and option for a coffee table with the new sofa with chaise, and the interesting wood top and metal base are anything but soft: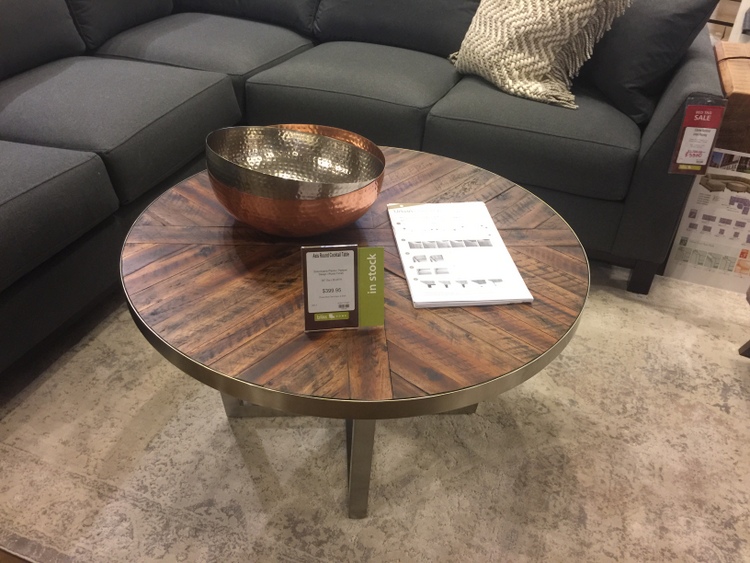 My top choice (the one on the design board) is more functional in the space, since the smaller of the two nesting tables can be pulled out and used for the nearby chair as an ottoman. I've used this version with lighter tops (see below) in a couple of designs over the last year due to its versatility and low maintenance: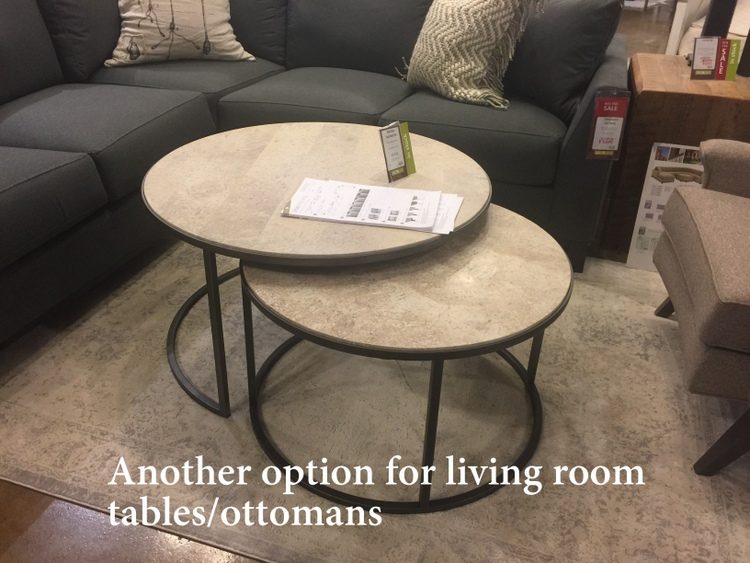 Nobody will be hitting their shins on these nesting tables! Here's the Vision Board without all the arrows pointing to the rounded pieces. I think it's a good combination of linear and curved pieces for a small, square room.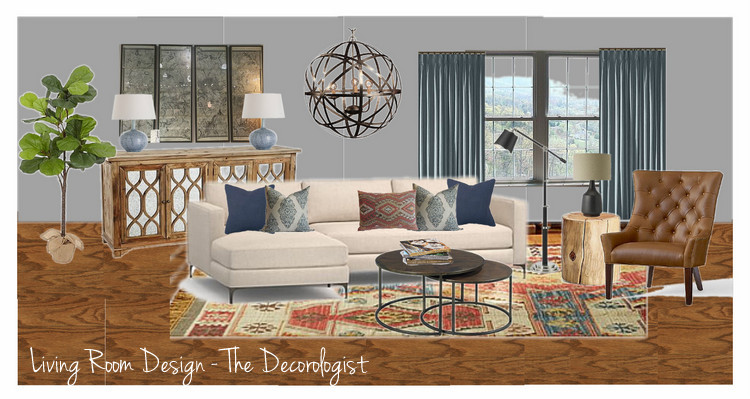 Hopefully, we will be moving forward with ordering some of the furnishings this week!  Have you ever considered the shapes of your furniture in this way or made a mistake by not doing so?
UPDATE: See the final reveal of this space here: https://thedecorologist.com/designing-for-men-what-men-want/
Learn my rules for arranging furniture in every room here!