So I'm sitting in church a couple of weeks back, and a friend came over and told me she was getting rid of a chandelier and wanted to know if I might like to have it.  It seems the word has gotten around that I have a thing for chandies.  I have 16 hanging in my home, and I'm not the least bit ashamed of it.  She described it as sparkly and big with lots of crystals.   She had me at sparkly.
Anywho, I met her in the church parking lot last week to take my new baby home.  It rattled around the backend of my Pathfinder, crystals dropping and rolling everywhere.   Here she is!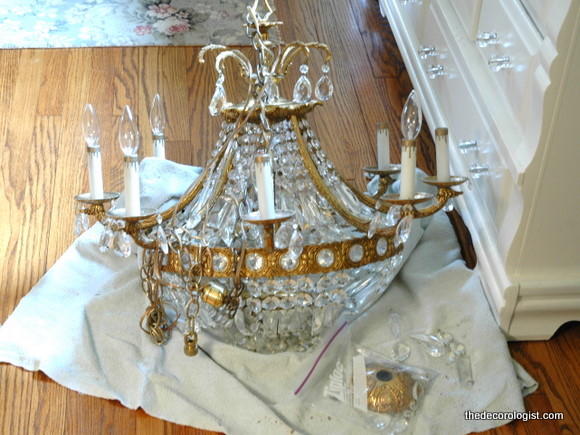 French Empire, baby!  My favorite style of chandelier.  She needs a little TLC, but isn't she a beauty?
So, here's the French Empire chandelier that is hanging in my dining room now.  It has been one of my favorites among my light fixtures for some time now.  It's staying where it is.  And, yes, those are fake owls perched on it – I have an enchanted forest obsession right now, and I'm not ashamed of that either (not very, anyway).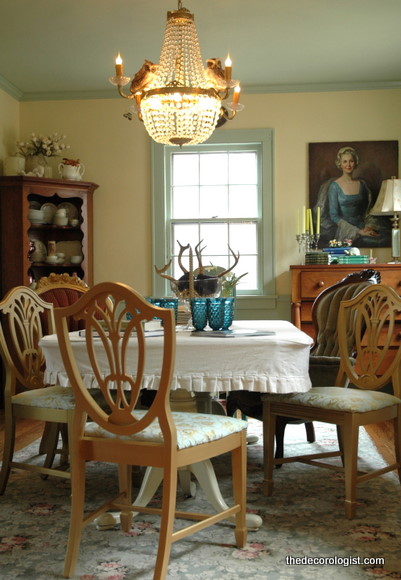 My dining room opens into my living room, like in an L-shape.  I have no wiring in my living room ceiling, so I have this candelier hanging for effect only.  It's ok, but now that I've met my new chandie, I have quite a dilemma!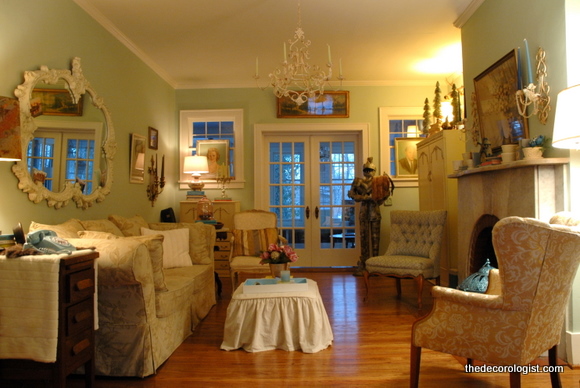 My new chandie is larger and would look better in this room, and it would totally be in keeping with the period style of my house.  But, alas, still no wires in this ceiling!  Two years ago, we had some work done in this room which included some ceiling repairs and repainting the ceiling here.  Now I am KICKING MYSELF that I didn't have wires run up there!  I guess hindsight is 20/20, huh?
My only other option is to remove my bedroom chandelier and replace it with the new one.  But I like this one fine, and I really want the new one in the living room!   There is no place to put another large chandelier in my house – believe me.  And my oldest daughter said, "Don't you DARE put that in my room."