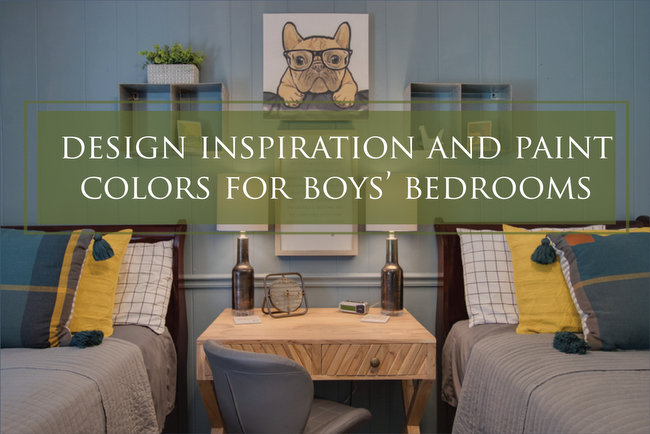 As part of our Greater Nashville Real Estate Staging Association's second annual Meaningful Makeovers project, I am excited to show you the boys' bedrooms and baths in the first of two houses we've been working in over the last few weeks!  I hope these will give you design inspiration and paint colors for boys' bedrooms. As you know, seeing the "befores" help you appreciate the "afters," so here are a few of the spaces in their "before" state: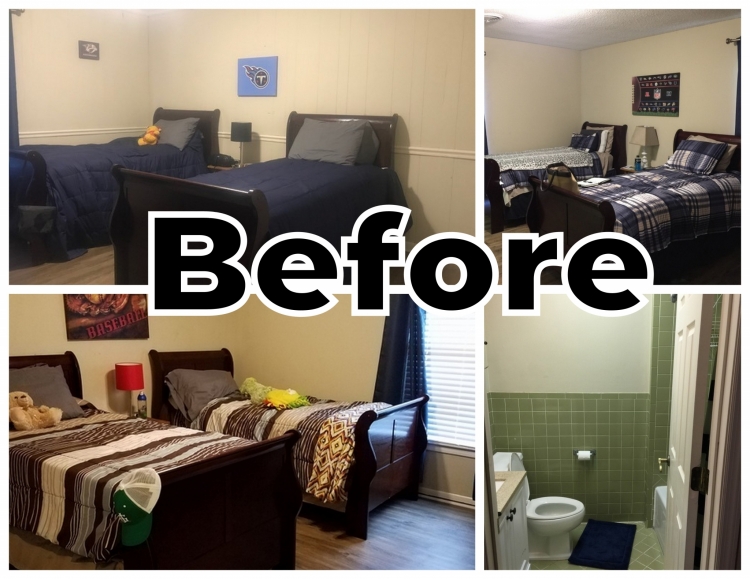 The first bedroom transformation is painted in Sherwin-Williams Blustery Sky SW9140.  This moody grayed blue plays well with blues, greens, yellows, and orange. Check out this fabulous boys' room design by Shelley McCoy of Shelley McCoy Artful Homes and Leigh Ann Portale of Stage South: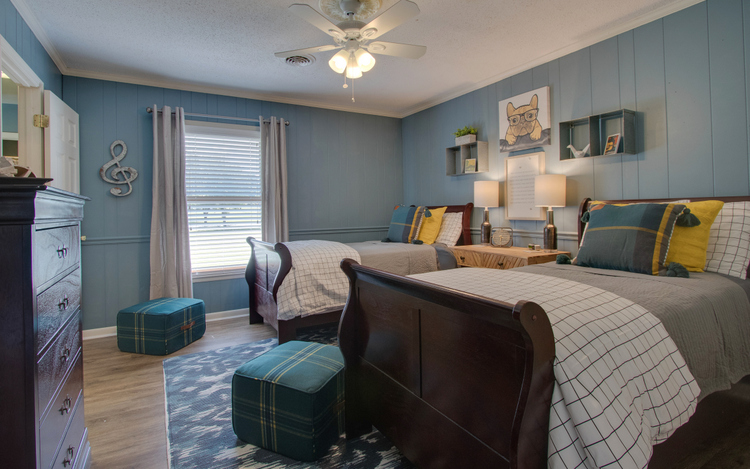 design by Shelley McCoy Artful Homes and Stage South
Here's the money shot! I love how they made a small desk play double-duty as a bedside table: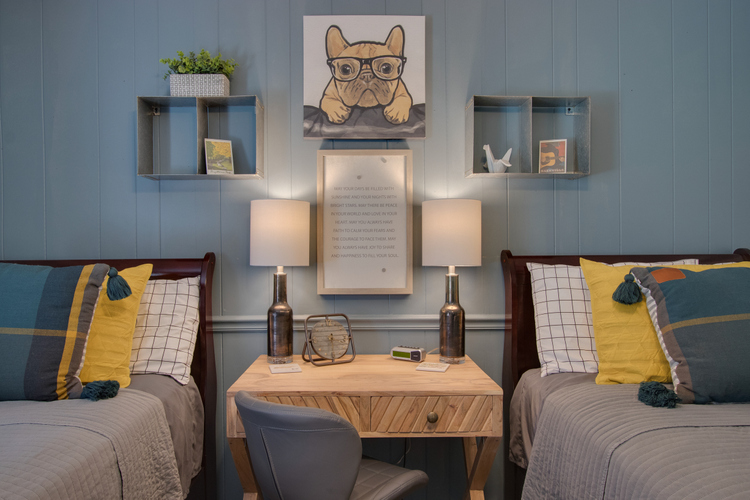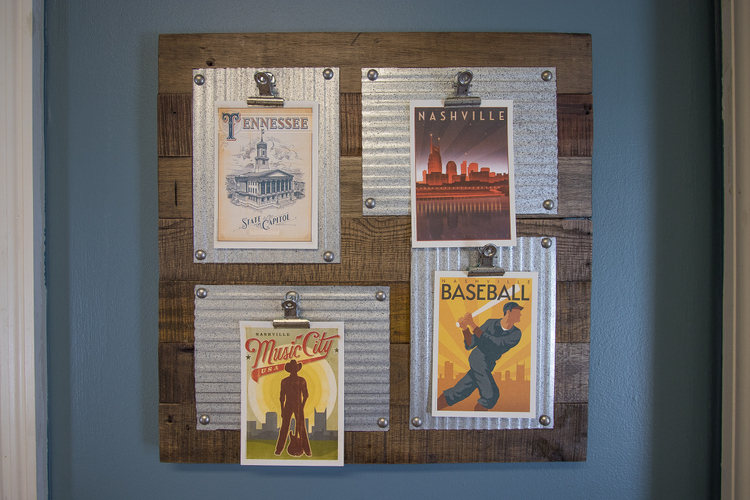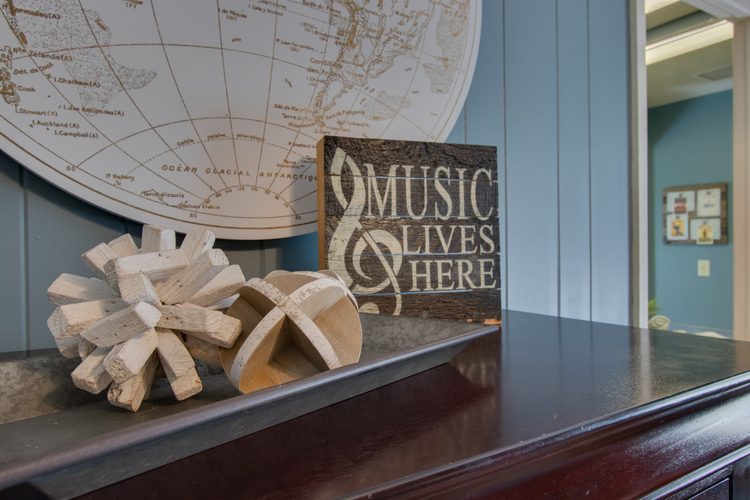 The next amazing space was designed by Suzy Knapp of Hook and Hearth. The wall color here is Sherwin-Williams Wool Skein SW6148. If you follow SW's link, you'll see the digital color representation they use in a room is not nearly as accurate (or pretty) as the photos I'm sharing. The color you see in the room below is much more representative of Wool Skein – trust me!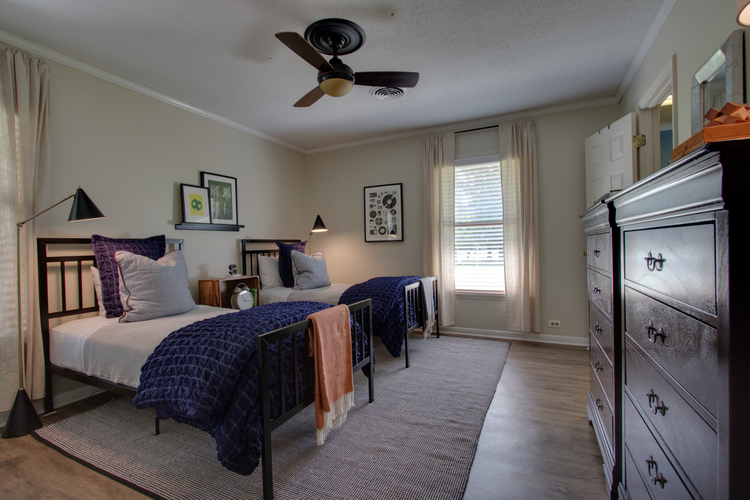 design by Hook and Hearth
For kids sharing a room, the modern floor lamps are great alternatives to a single lamp in between the twin beds.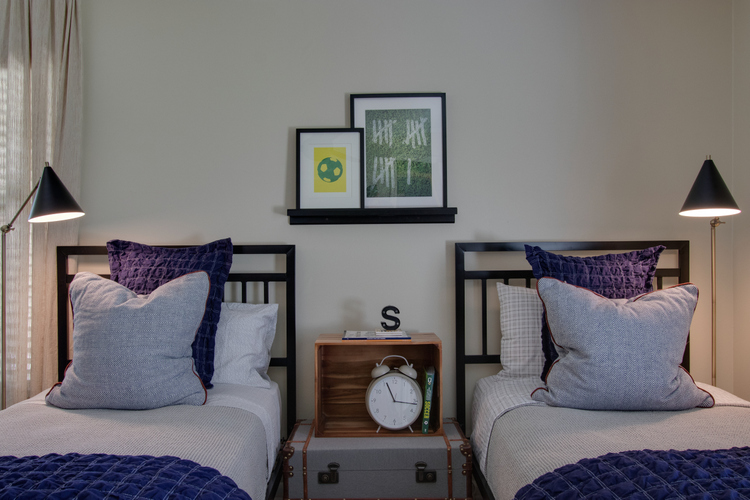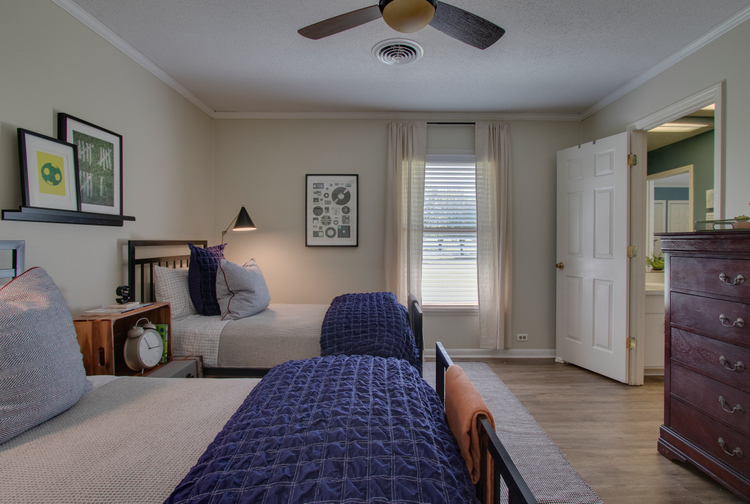 Here's the bathroom adjoining the first and second bedrooms: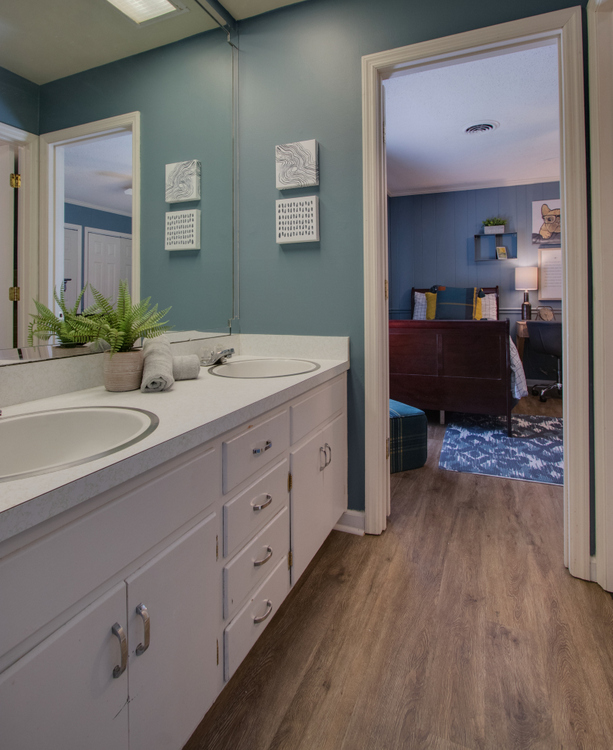 The next boys' bedroom sports a fun space theme. This room is painted Sherwin-Williams Meditative SW6227 and was designed by Fresh Perspectives Staging & Design: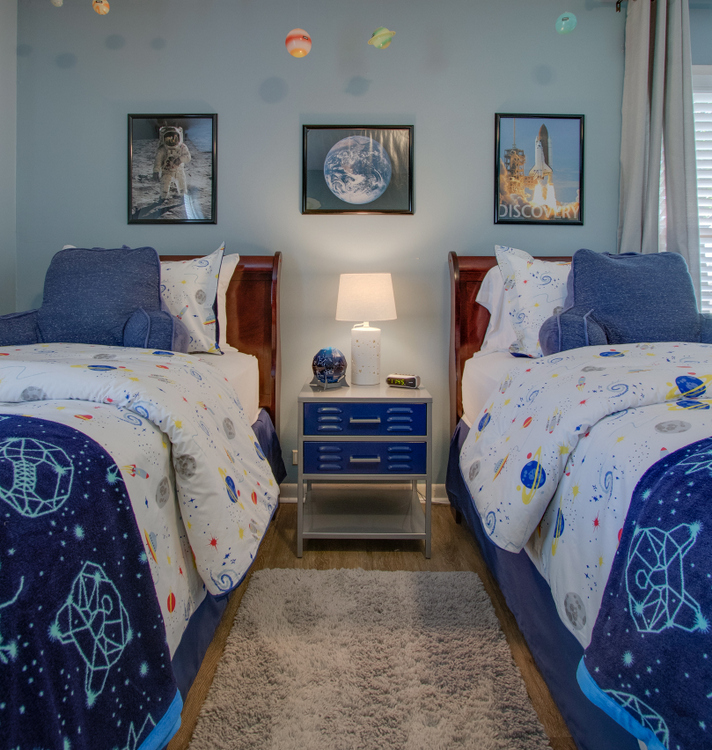 room design by Fresh Perspectives Staging & Design
SW Meditative is another great paint color for boys' rooms, whether they are younger children or teens.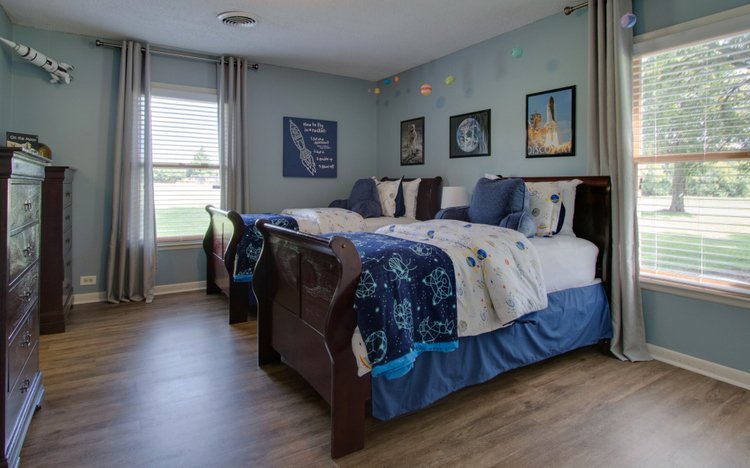 I really love the variations of blues in this fun room!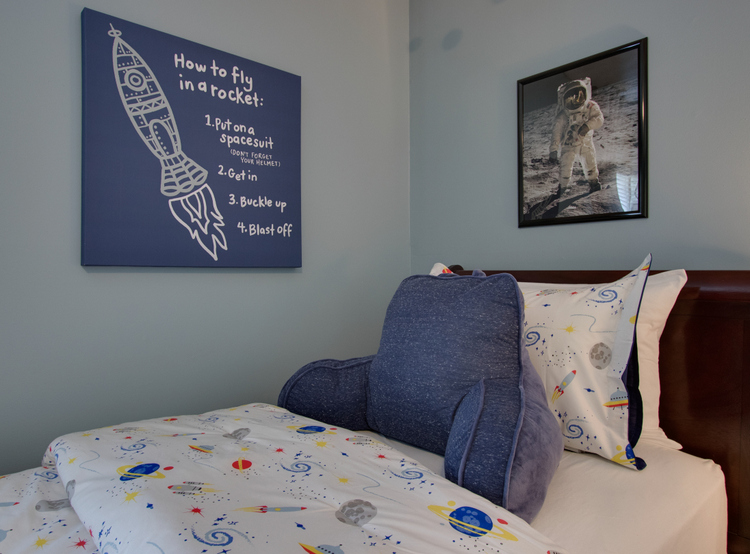 The room designers had to work the existing green bathroom tile in a couple of the bathrooms, and I think they turned out great!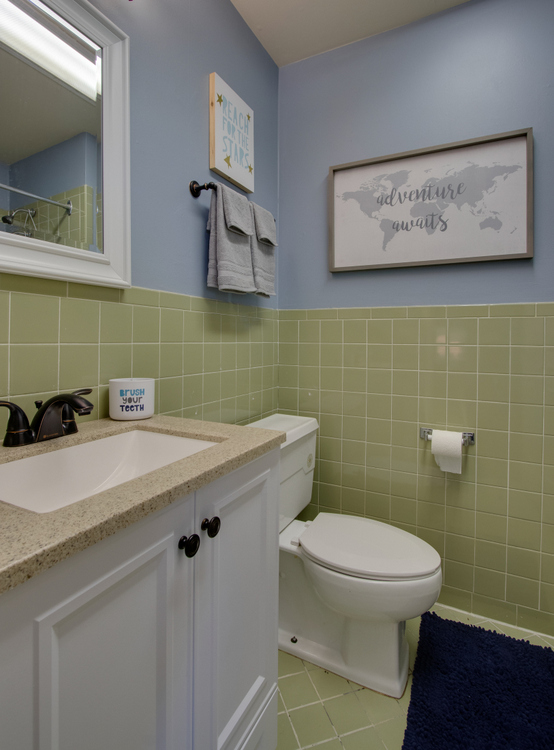 The last of the four boys' bedroom/bathroom combos was designed by Molly Hendrix of Music City Home Staging and Kim Pearse of Center Hill Staging.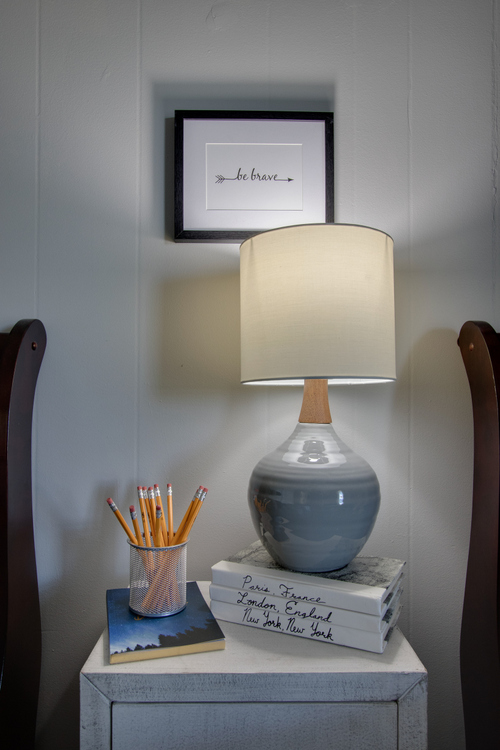 This bedroom is painted Sherwin-Williams Light French Gray SW0055.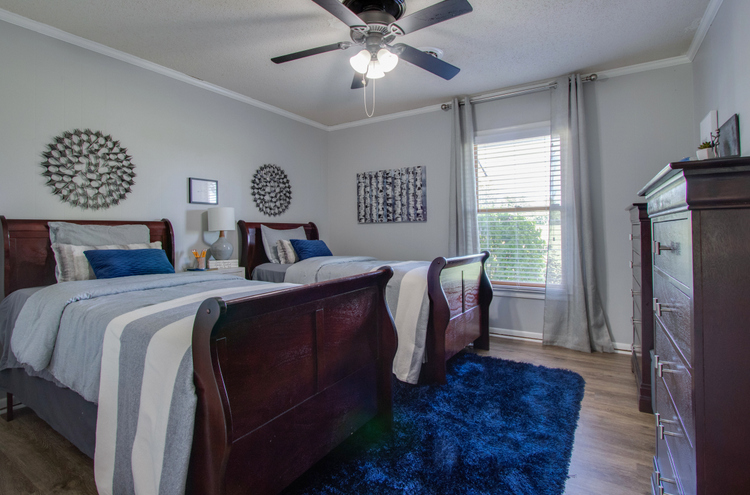 design by Center Hill Staging and Music City Home Staging
I love all the special little details in art and decor. Succulents are great alternative to florals for boys' rooms.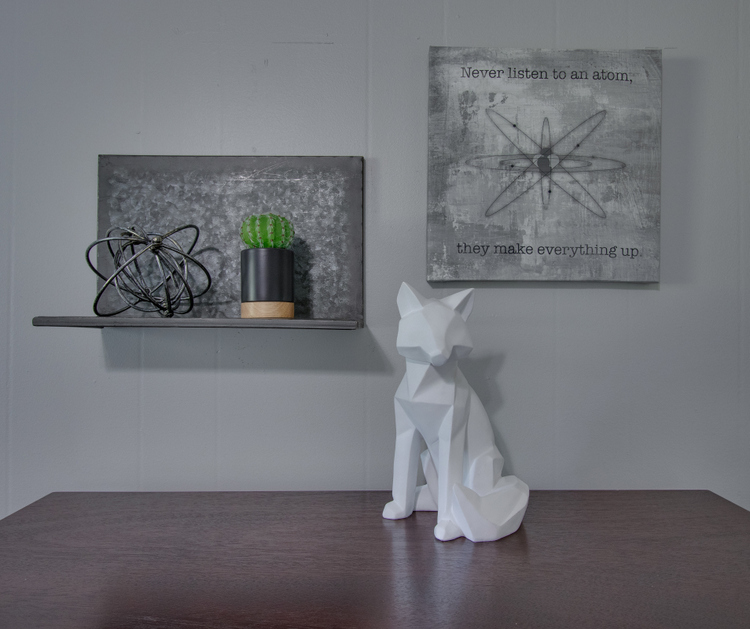 Another fabulous update to the avocado green tile – it' looks totally fresh and new!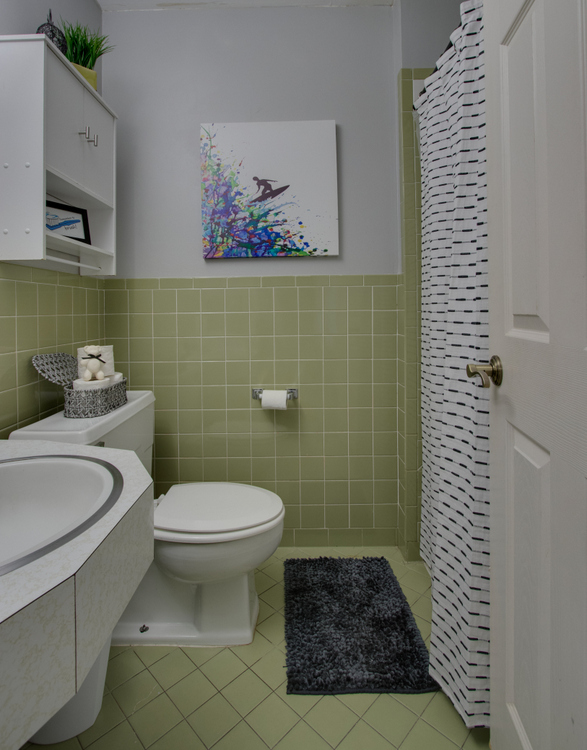 The Tennessee Baptist Children's Home offers nurturing, Christian homes for children in difficult places across Tennessee through compassionate on-campus homes and foster families. Here again is the color scheme for the two boys' homes that our group made over to benefit children in their care: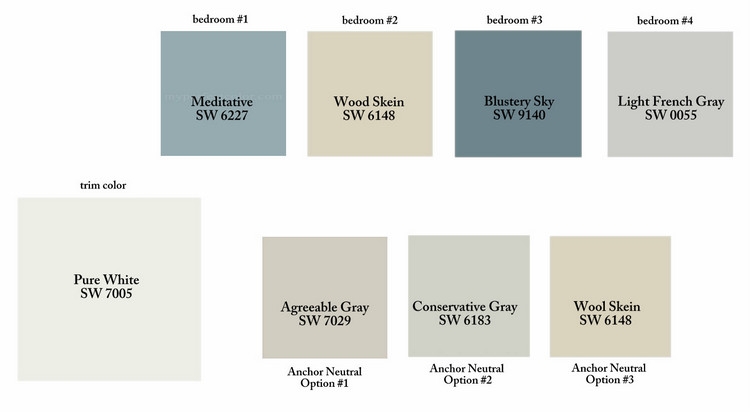 therapeutic paint color scheme by The Decorologist
I've got four more boys' bedrooms and baths to share with you – we are having them professionally photographed tomorrow. I can't wait to show you!
I hope this gave you some inspiration for design and paint color for boys' bedrooms. Stay tuned to my next post, because I'll be sharing some fun DIY take-aways that you may want to try yourself . . .
Overwhelmed with color trends? Want to know how to choose the BEST neutrals, colors, and color combinations? Wish there was a no-fail system that creates cohesive and beautiful color schemes for any home with any finishes?
Now there is! I've been doing this for years, and now I'll teach you how (including all the specific colors in BOTH Benjamin Moore and Sherwin-Williams paints). You can find out more 

HERE

.