Everyone wants to know the best white paint color for walls and trim – I get this question all the time!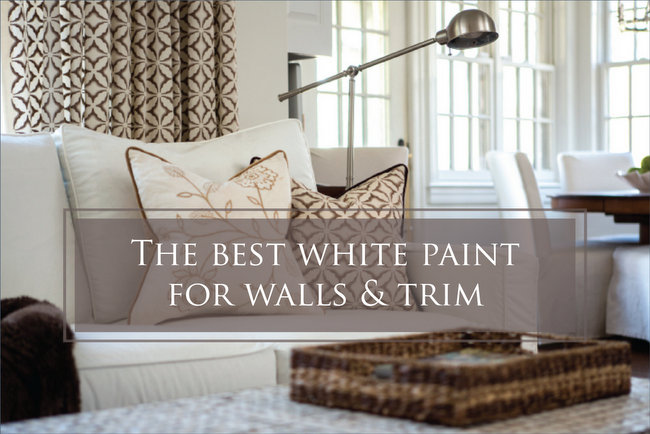 You all know how much I like COLOR, but there is a place and time for everything. And on occasion, it's the place and time for white paint on the walls and trim. This space felt choppy and small because of all the color shifts in the room. Notice all the changes, starting from the top of the photo and going down: yellow family room ceiling, white crown molding (in family room), green room header between family room and kitchen, yellow kitchen ceiling, white crown molding (in kitchen), green wall, white countertop, brown island, orange wood floors.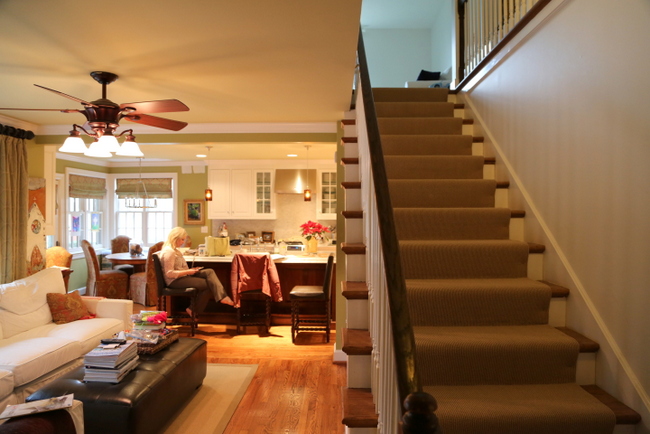 before
By painting the ceilings, trim, and walls out in white paint, we made the space feel open and larger. Now the same color (white) extends from the top of the photo all the way down to the dark island. Isn't it much more pleasant and peaceful to the eye?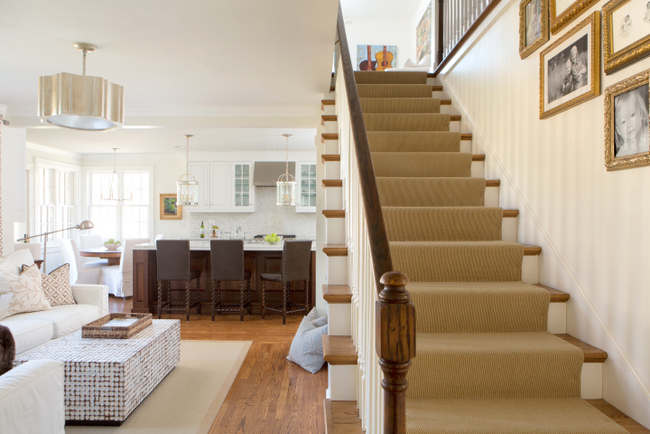 There are other whites I sometimes use, but
the best white paint color for walls and trim is Benjamin Moore White Dove.
It's the perfect warm white – it has a very slight yellow undertone, but it isn't discernable to most. It reads like an ever-so-slightly grayed white. Benjamin Moore White Dove is what we used in this space.
Another reason to use white paint on walls and trim is to downplay odd angles and architecture. Although the area beneath the stairs was a very efficient place to tuck in storage and a television . . .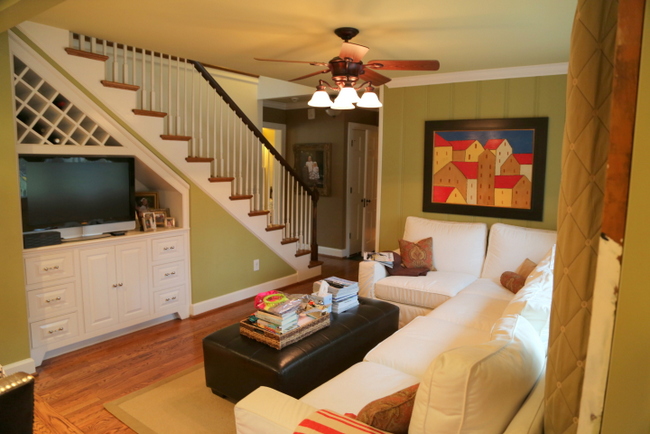 before
it looks so much better when it isn't outlined by all the green wall paint that was around it previously. The change in paint colors drew more attention to awkward angles, and now the best white paint color for walls and trim make the architecture less choppy.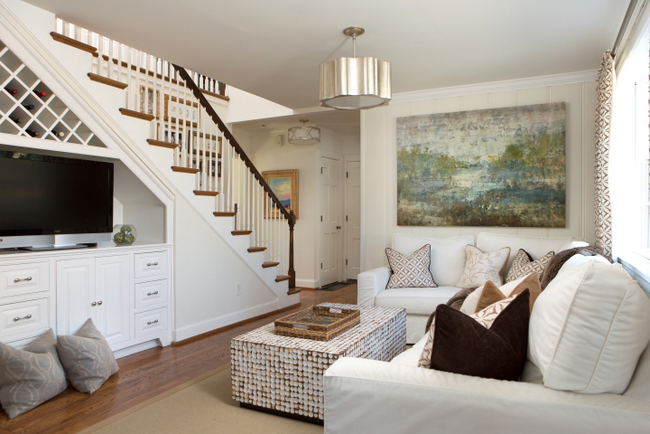 The Decorologist
I hear designers speak of choosing two different whites in the same room – one for the trim and one for the wall. But do you want to know a shocking secret? When you use the same white paint in two different sheens (eggshell for walls, semi-gloss for trim), they don't look the same! That's right, the wall and trim in these photos are the same exact color, only in different sheens. Here's the why: the higher the sheen, the lighter any color will appear. A shiny White Dove will read lighter and whiter than a flatter finish of White Dove. So in most cases, there is really no reason to do two different whites unless you are looking to get more contrast than this: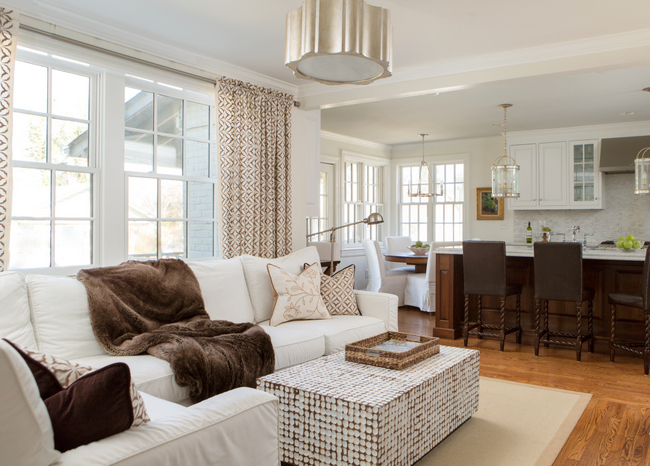 The Decorologist
You'll notice we changed out that ugly ceiling fan. The previous window treatments blocked too much of the natural light, so we freshened the windows with new window panels and nixed the roman shades altogether. Here's the before: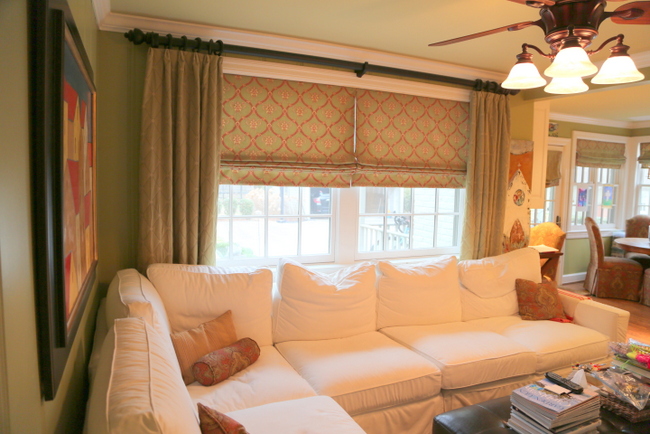 before
White is a great choice if you have a room with lots of natural light. I don't typically use it in rooms with very little natural light, because it can look shadowy and dull. Fabrics with lighter backgrounds and metallics like polished nickel and wintergold lightened up this room, too.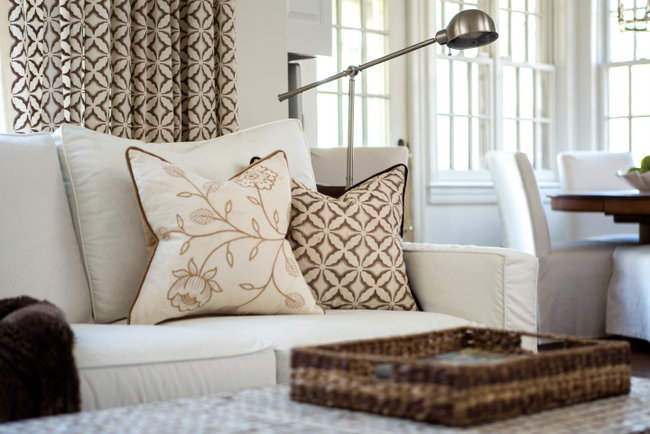 We kept the slipcovered sofa and natural fiber rug, but found a fun coffee table to replace the heavy dark one from before. The new art looks more in keeping with the fresh, new look of the space.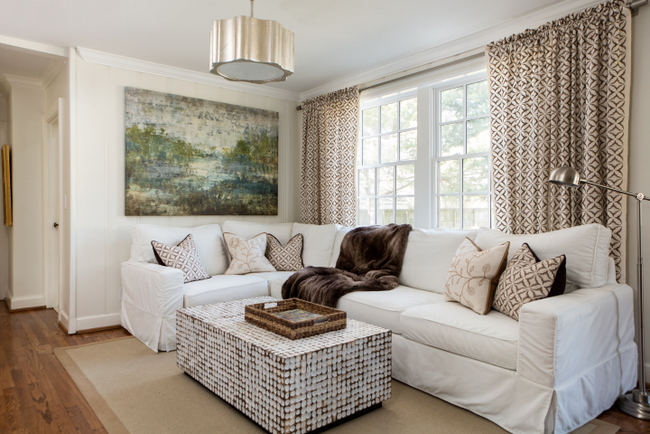 Ok, I know you're dying to see more of the fabulous kitchen. The homeowners upgraded their kitchen with white cabinetry and marble countertops several years ago, but a few tweaks were needed. The island pendants were super-small and dark: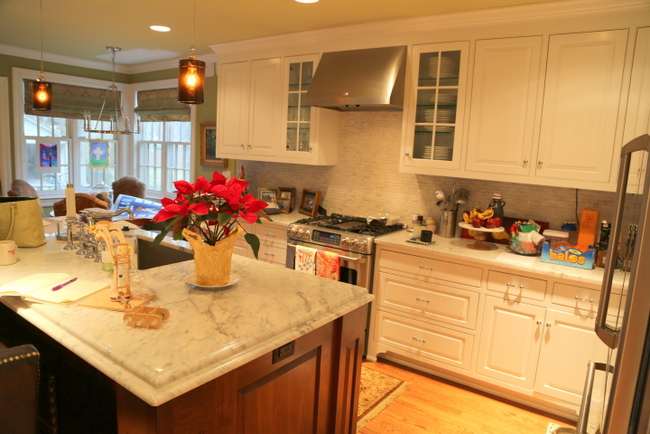 before
I chose these oversized lantern style pendants to take the kitchen up a notch. My client and her husband were initially worried the lights would be too large.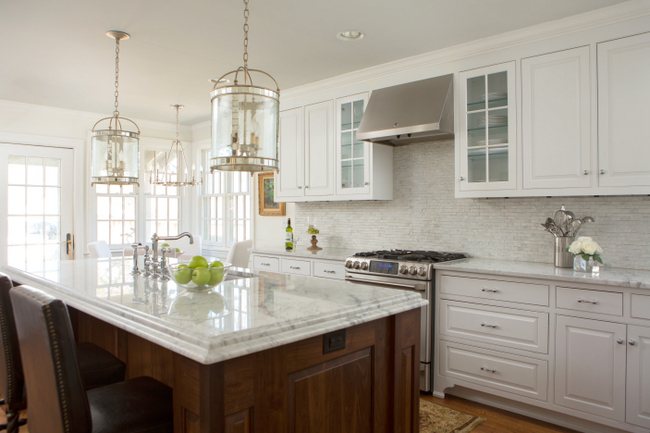 after
They're perfect, right??? Here's the room from the opposite angle. Notice how all the changes in colors look choppy: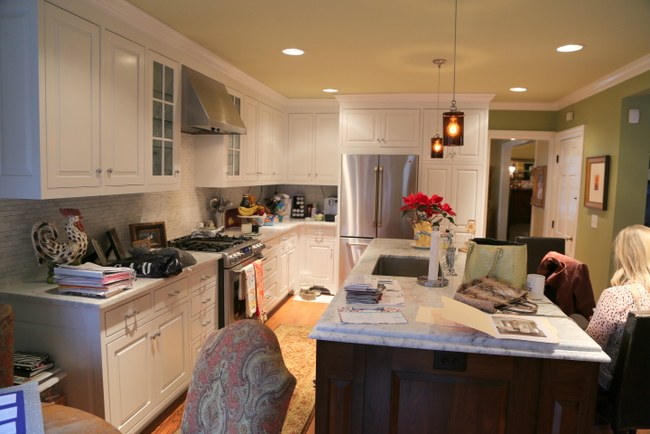 before
But not anymore! Everything blends beautifully in the best white paint color for walls and trim: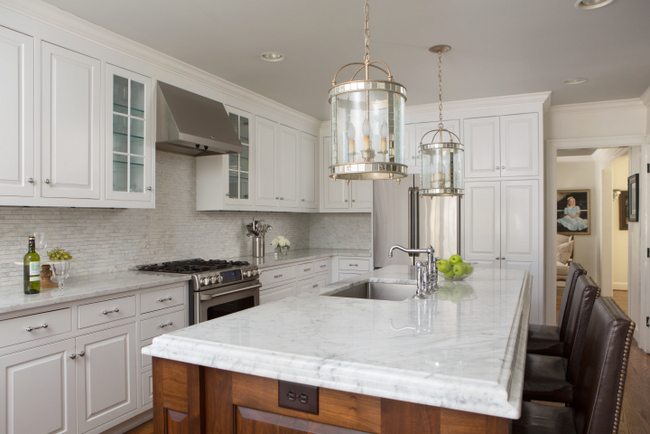 after
The darker fabrics are about to say goodbye: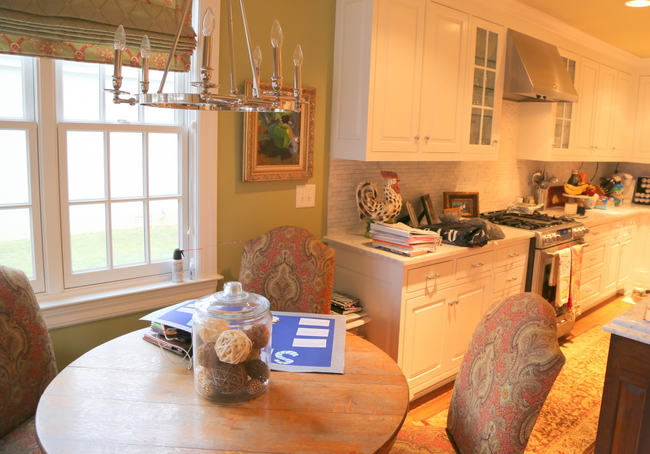 before
To make way for white washable slipcovers and BARE windows. With no privacy or light control issues in the breakfast nook, we opted to keep things as light as possible and forgoing window treatments here.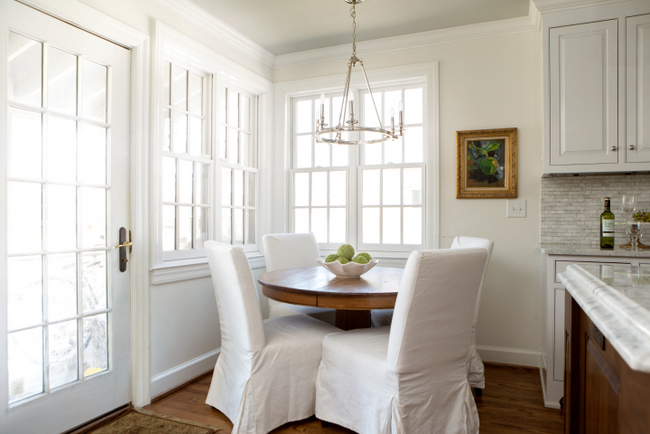 after
Are you all confused now after reading the post dripping with sarcasm about Ben's and Sherwin's Color of the Year? Well, like I said before: there's a time and place for everything, and this house proves it!
So now my clients are moving to a new house, and guess what color they have chosen for their main interior color? White Dove, of course. They must think it's the best white paint color for walls and trim, too! The new owner made an offer after being the first person to view it after staging, and happens to be a famous author whose book was #1 on the New York bestseller's list for OVER A YEAR! That's all I can tell you about that, but let's just say she thinks this beautiful house has some divine secrets . . .
If paint color fascinates you like it does me, there is SO MUCH TO LEARN about how to use it in your home and the homes of your clients. Let me rock your world with color in my new ONLINE color course – and be sure to check out all the 5-star reviews!!!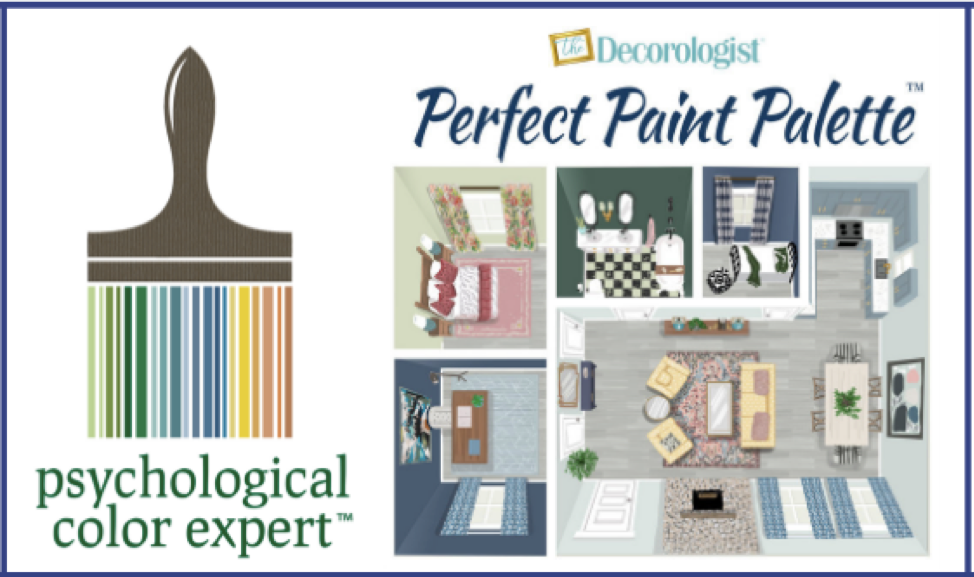 after photos by SqFt Photography