"We need a music room."
This is what one of my lovely clients told me when we began a redesign of her home. Her family lives in a lovely period home, full of historic charm. Unfortunately, space on the main level is limited, and we could hardly get her baby grand piano up the stairs!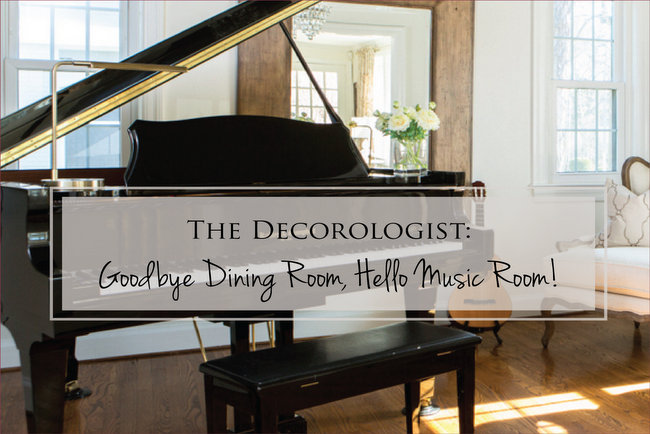 An important part of my job as a Nashville interior decorator is finding solutions, and sometimes those solutions may be a bit outside the box. It was obvious that the dining room was currently being used as a holding area for things to go to their storage unit or Goodwill. When I asked my client how often they use this room for actual eating, she said maybe – maybe – once a year. This is an underutilized room that could potentially be the music room she was wanting.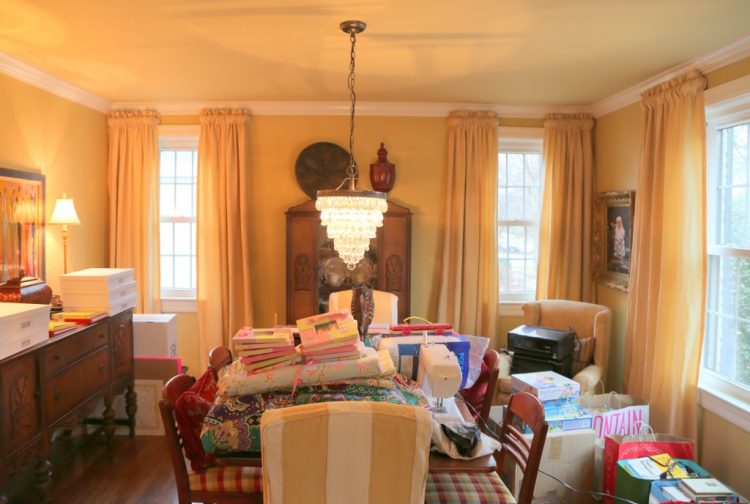 before – dining room/storage area
There is already seating for seven in the kitchen for this family of four, which is where they typically eat their meals. And when they entertain? It's usually a finger food event, where people serve themselves from the kitchen island and sit on the more comfortable upholstered seating in neighboring rooms. No dining table required, really.
So it was decided. Out with the dining room, in with the music room! We already had the instruments, which included a gorgeous baby grand piano and a guitar. I came up with a plan for a new paint color palette, window treatments, and just the right seating for the musician's audience.
Are y'all ready for this? Here's the lovely new music room: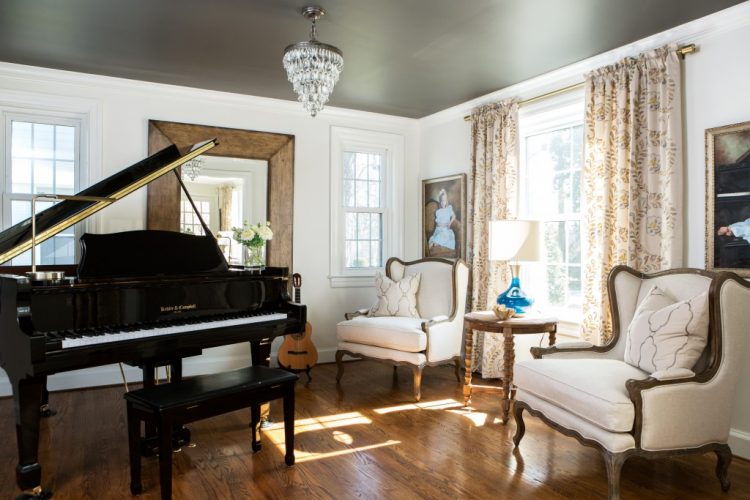 after – music room by The Decorologist
My client was SO OVER the previous golden yellow wall color that in this room for years. The walls and trim were painted the same white, while the ceiling got an extra special treatment of Benjamin Moore Kendall Charcoal HC-166 in a satin finish. Don't you just love how the light bounces off of it?
Below is a shot of the room facing into the adjoining living room in its before state. You'll notice that the piano was previously taking up a large portion of space in the living room.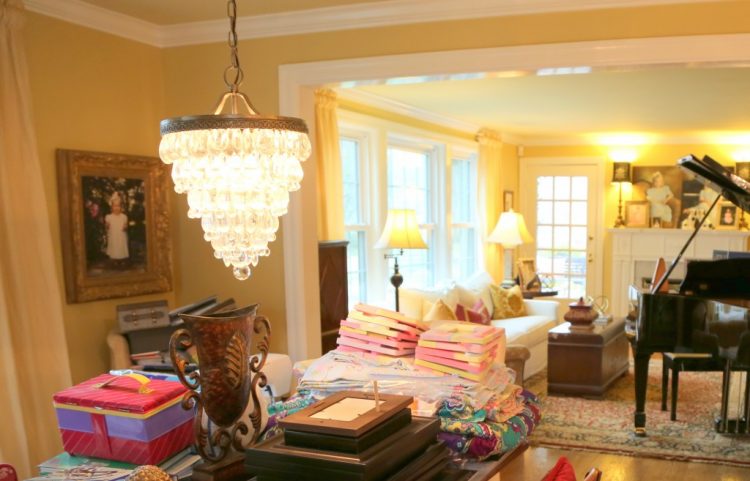 before
In this after photo, you get to see a bit of the transformation in the adjoining living room, as well. I'll show you more of that another day. Notice that we did new draperies in both rooms, which face the front of the house.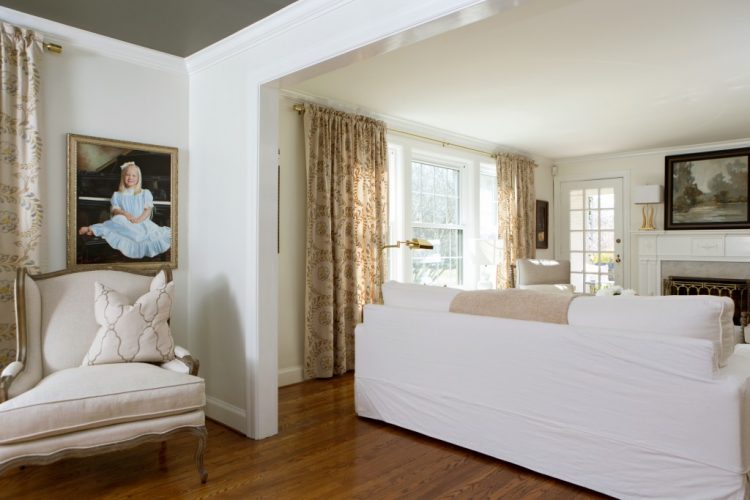 The Decorologist
I decided against curtains on the smaller windows on the side of the house. There isn't a privacy issue there, and the room would have looked much smaller had we put curtains on that end wall.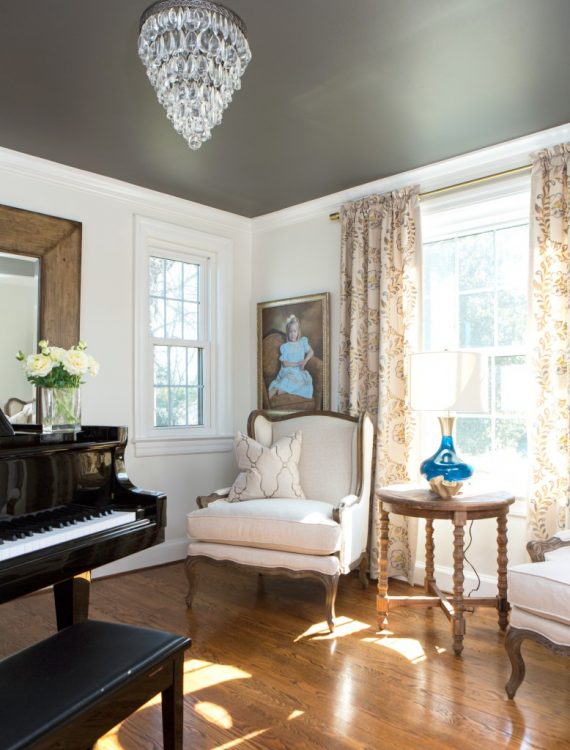 The Decorologist
The blue lamp is really pretty – although it looks peacock blue when the light streams in, it's nearly navy when the sun isn't shining on it.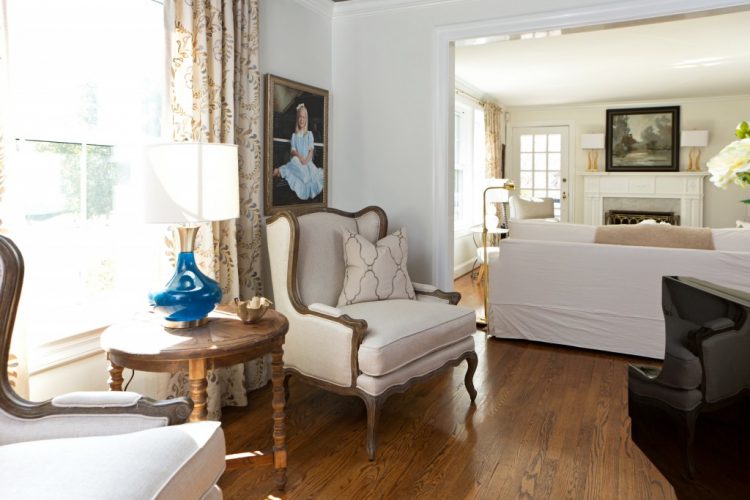 The Decorologist
I only have a photo of it when the room was sunny, but it is beautiful both ways!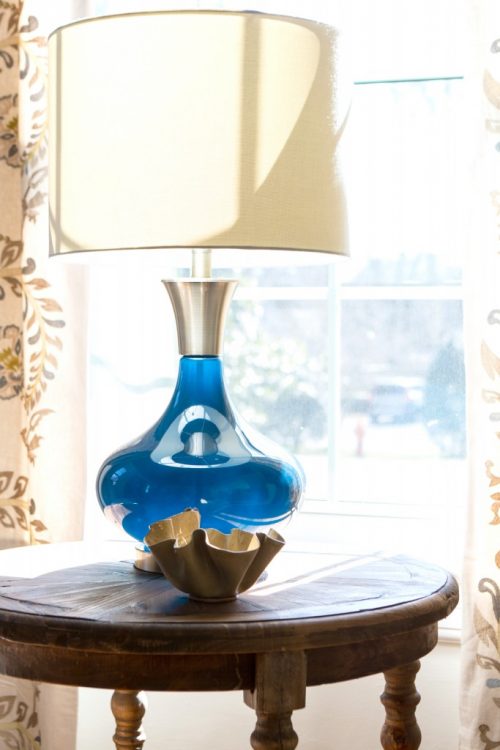 lamp – Home Goods
Would you ever give up your dining room to make it into a music room, a library, an office, or something else more functional for your family?