Many of you know I've been working with a Professional Organizer to get my home in shape.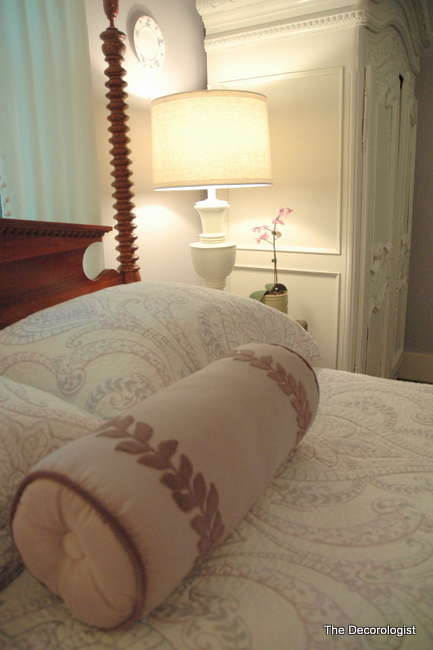 My Bedroom
We've concentrated a good deal of time and effort in my bedroom and closet, which I blogged about here.  I already had one large armoire in my bedroom, which I used to house a television and folded clothes.  I had lots of dark wood pieces in the room – the bed, side tables, 2 dressers, a vanity table, and this armoire: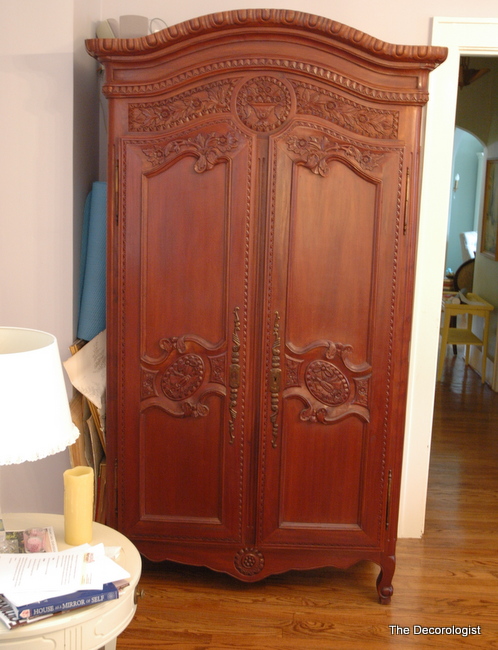 Big Honking Armoire
Too much dark wood for my taste.  I have an identical armoire in the enclosed sleeping porch that I had already painted white a few years back.  We used it for toy storage for the kids, but the plan was to bring it into the bedroom so that I could kick, I mean move my husband out of the tight closet space that we had been sharing for the last 12 years.  This photo shows the switch-over in progress – you can see lots of smaller furniture pieces in the room.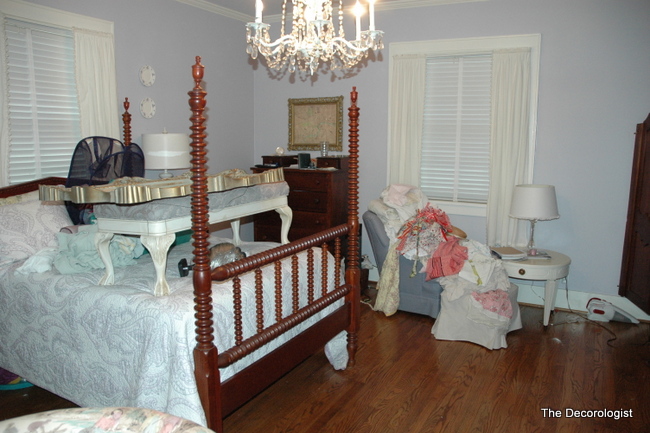 Bedroom Before
Here is the big move of furniture in progress – I had to call in a couple of big guns to move around the larger pieces.  You can see one dark wood armoire and one that had already been painted.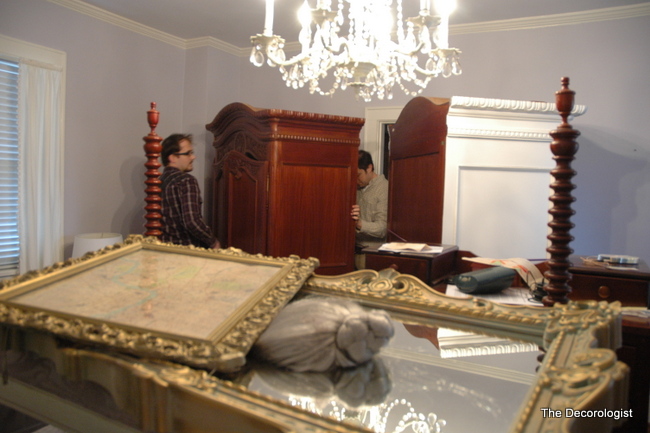 It takes more than one Stager to move all this furniture!
I painted the dark wood armoire to match the already-painted one and placed each on either side of the bed.  Now here's the kicker – bringing in another large armoire (placed correctly) actually makes my bedroom appear bigger. See for yourself: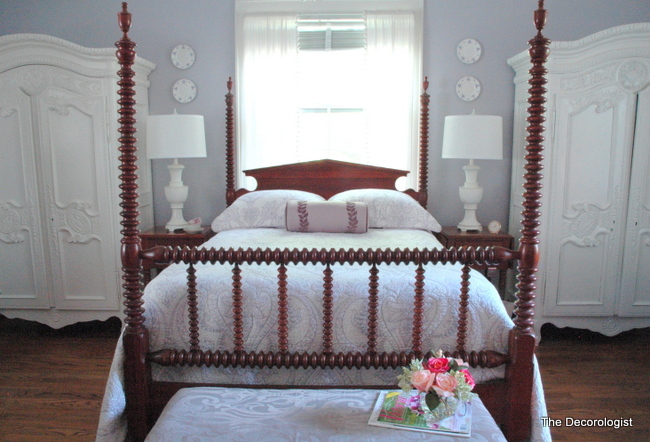 Lavender Bedroom Updated
Here's the 1st trick:  Fewer, larger furniture pieces in a room can actually make it feel larger than more, smaller furniture pieces.  2nd trick:  Light-painted furniture is not as visually-heavy, and is going to make your room feel larger than dark wood furniture.  3rd trick:  Placing tall pieces of furniture in the back corners of the room  will make the room feel more expansive.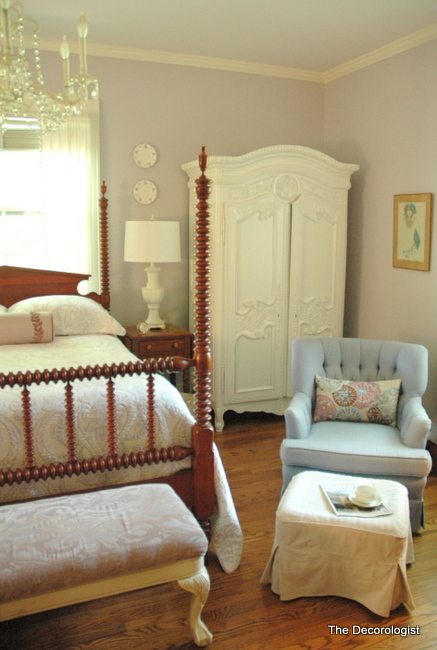 Mr. Man's New Closet
Thanks to the ingenuity of my Professional Organizer, this armoire above has now become Mr. Man's closet, and I get the previously shared single closet all to myself!  I've still got some work to do in there, but here's a little sneak peak of my "new" closet: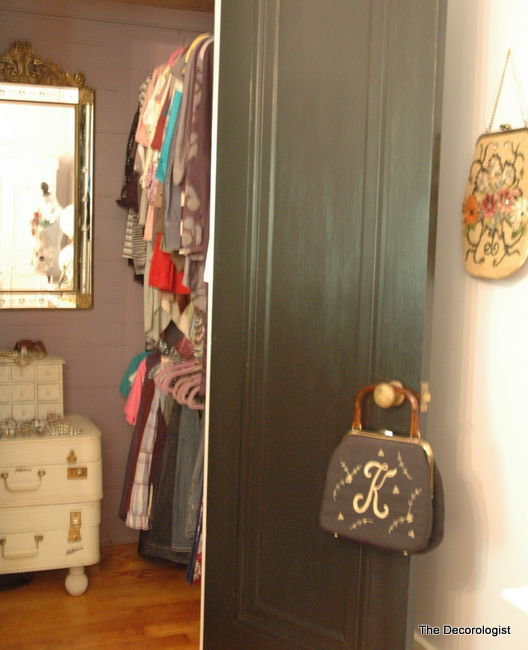 Sneak Peak of New Closet
Ok, that's enough until I get the wallpaper to line my shelves and hang a fabulous little vintage tole chandelier in there! Back to the bedroom –  I created a lovely vignette with some vintage frames,  a handpainted plate, vintage luggage, and a dressmaker's form that holds my vintage pins and necklaces.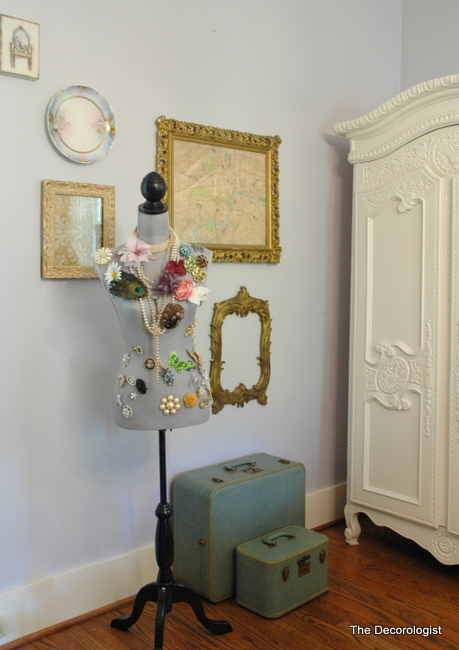 A Little Bit of ME!
Vintage luggage can be a great place to tuck away souvenirs and scrapbook memories, as well as store hats and scarves.
Vintage Luggage
This is a shot of my vanity where I put on make-up in the morning – it also holds my rings and bracelets.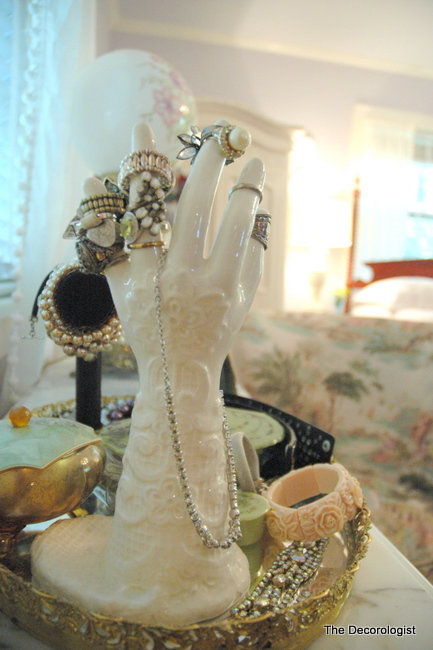 The Hand
I painted this room in Benjamin Moore's Violet Mist over 11 years ago, and I've never regretted it!  This antique lamp that belonged to my grandmother has been in my bedroom since I was 19 years old and was the inspiration for the wall color.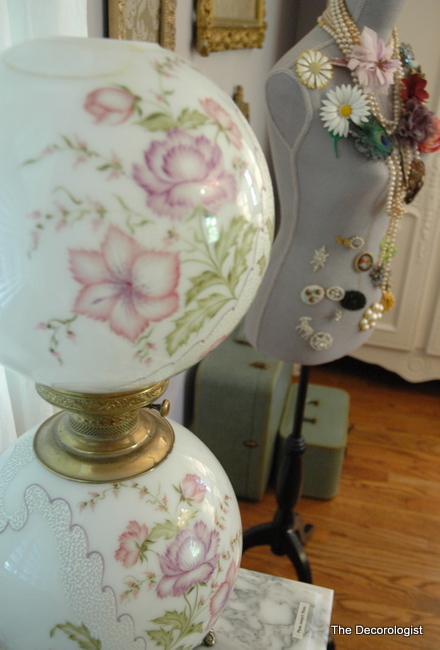 "Gone with the Wind" Lamp
Every bedroom deserves a comfortable chair and a side table to stack your books or put down your coffee cup.  An ottoman is a big plus if you want to make yourself feel comfortable.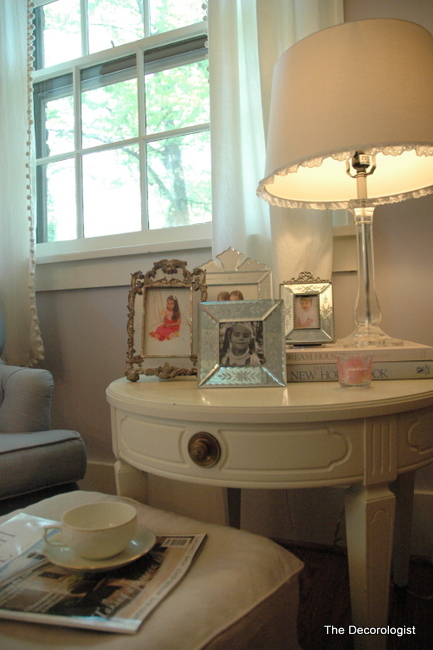 Bedroom Sitting Area
I am thrilled with the improvements we made to my bedroom – it's beautiful AND organized!  What could be better?  If you'd like to organize and beautify our home, contact me about the Professional Organization services we offer at The Decorologist.