I met Gary and Lynda Young a couple of years ago, when they were considering putting it on the market to sell within the year and decided to do some updating. During the course of working with me, they decided to "love it" rather than "list it" – at least for a while longer. Although I wrote an article about their home and their story for The Tennessean over a year ago, I have never shared it here on the blog with you.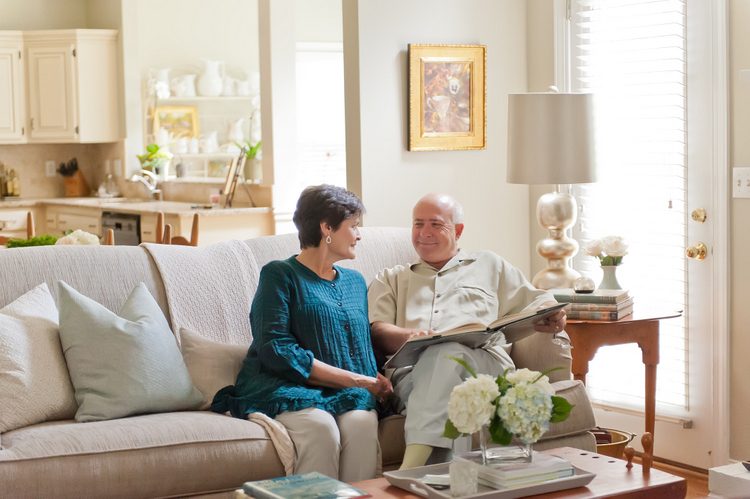 Gary and Lynda Young – Melanie G Photography
During my first visit, I found that the Youngs' home was filled with art.  There were paintings collected from their favorite artists, as well as Gary's own landscapes.  I quickly learned that Gary was a prolific landscape and still life painter.  Although some of his paintings hung on the walls, Gary's studio and an upstairs storage room were stacked with his work.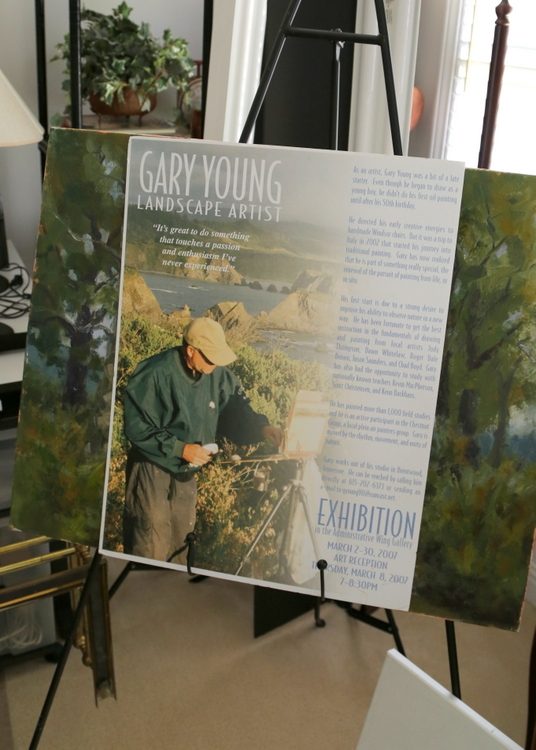 The walls of the home were covered in a paint color that could best be described as the color of peanut butter. Although this orangey-tan color was a very popular paint color 10 years ago, it did absolutely nothing to complement or enhance the art that hung upon it.  I knew that an updated paint color palette for the home would make the house more appealing to buyers, as well.  Changing the paint color was not really what they expected me to recommend, and they were initially more interested in the other suggestions I made for their home that day.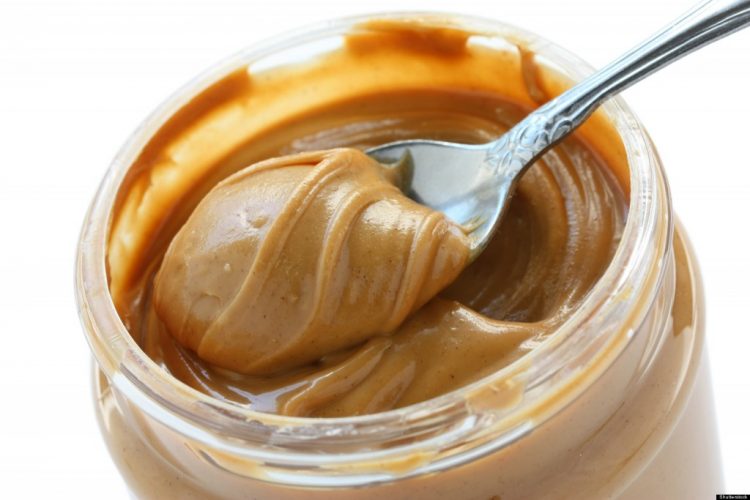 Lynda emailed me a couple of weeks later, asking to book another appointment. It seems that once I had labeled the color "peanut butter," Gary couldn't stop thinking about it and decided they needed to change it after all. Oh, happy day!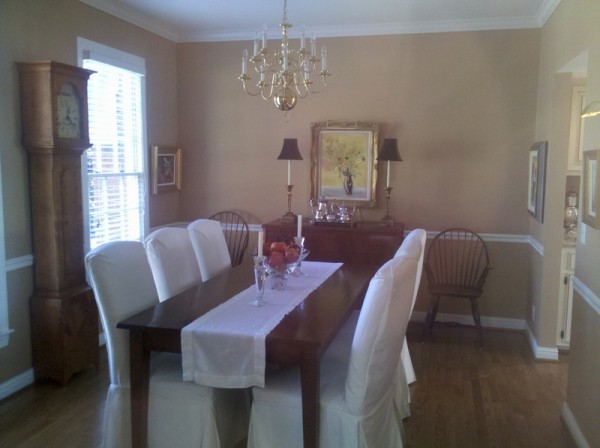 dining room before
With all the antiques and beautiful art I knew we had to work with, the dining room only required the right paint colors, interesting color placement, and minimal styling to completely transform it. Even the existing light fixture was made new with some black matte spray paint specifically formulated for metal.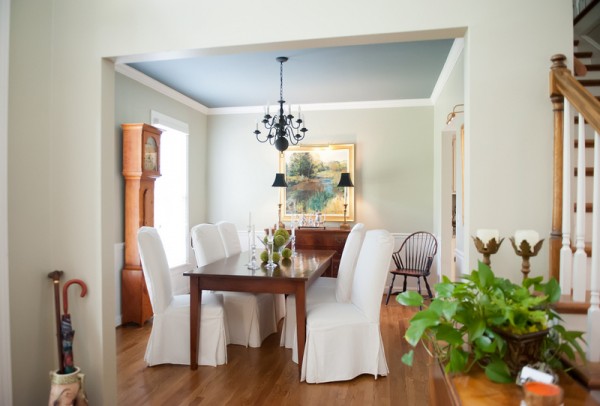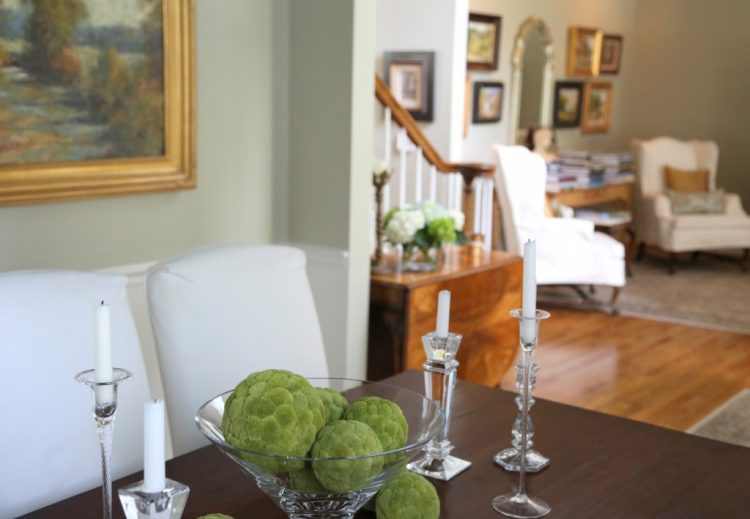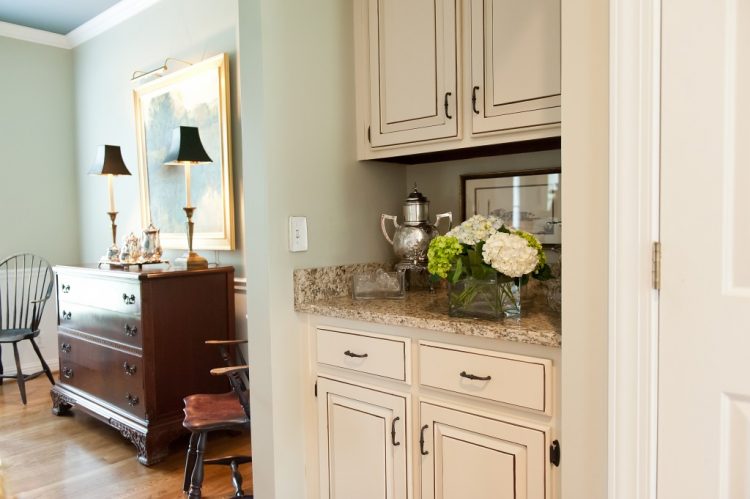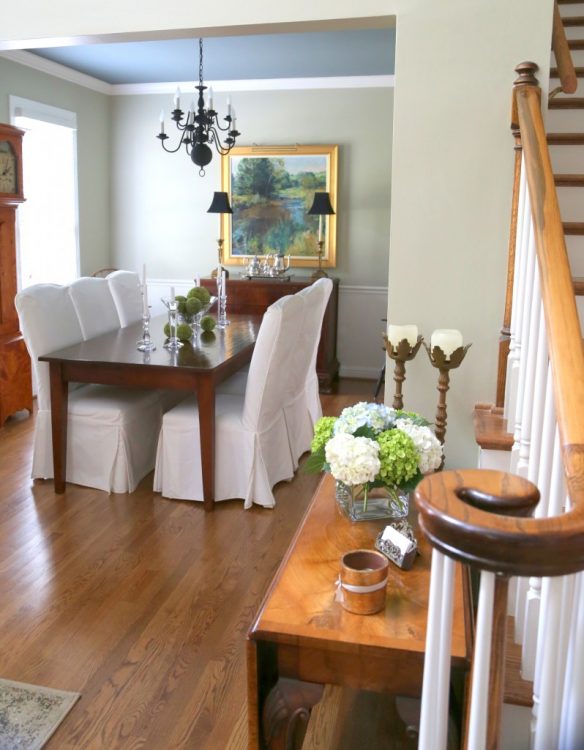 Over the next several months, I helped Lynda and Gary choose new paint colors, update lighting, purchase new rugs, group and hang their art, arrange furniture, style bookcases and stage their accessories.  Here's the before of the living room of the home: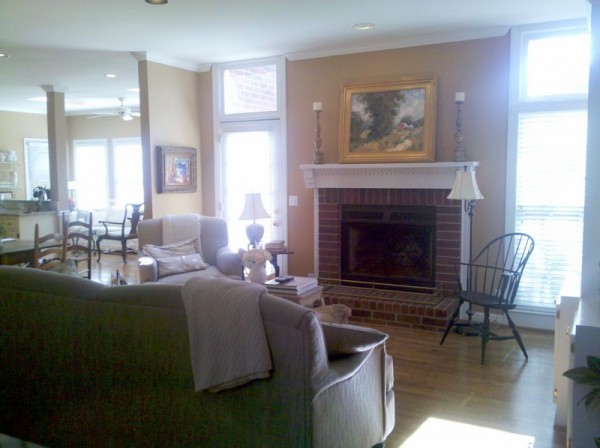 living room before
Lighter paint on the walls and white paint on the brick surround brightened up the living room, and a new furniture arrangement with updated lamps, a new rug, and a few fresh accessories opened up the space in a way that invites you in. You can feel the difference when you walk into the room.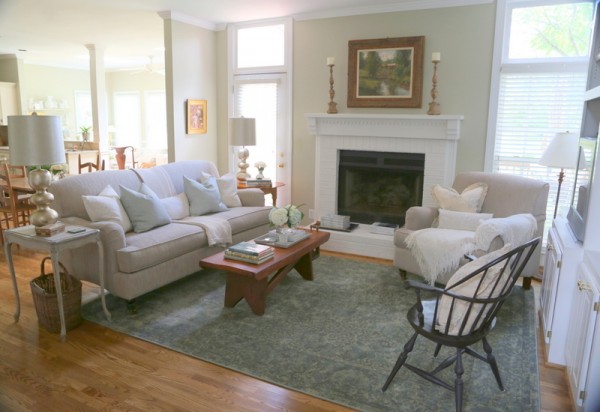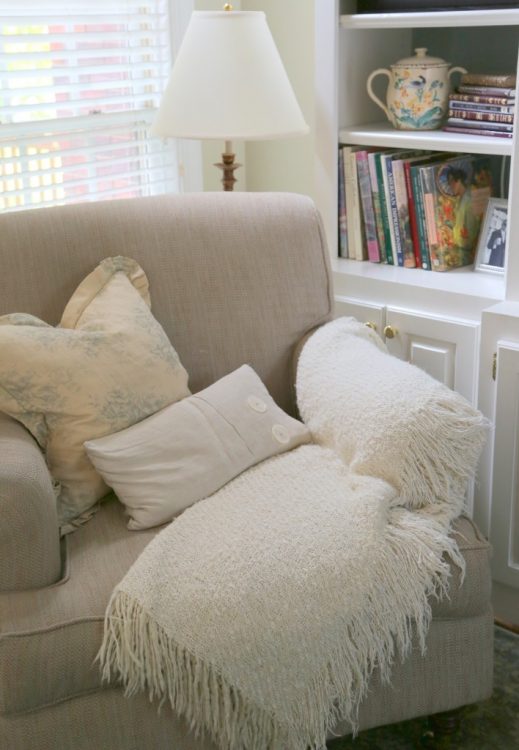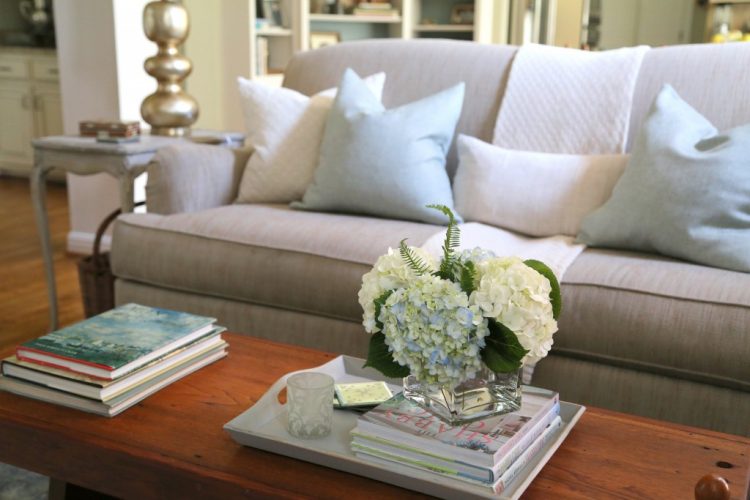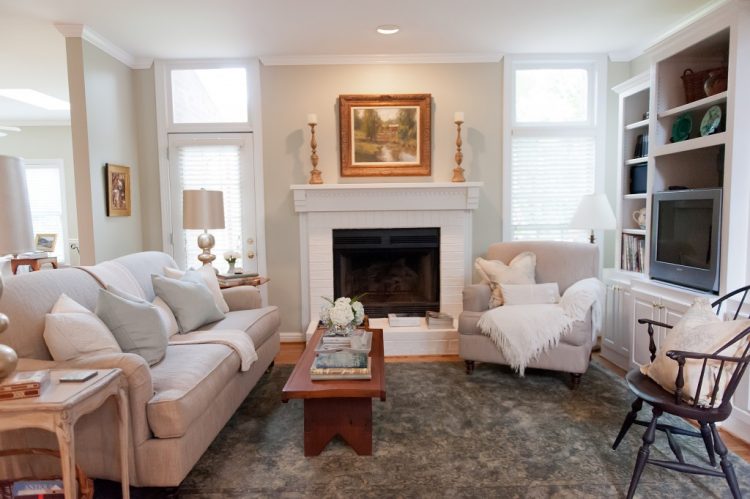 Along the way, I learned more about their story and their lives. Decades ago, Gary Young built a career in medical capital equipment sales and raised a son with his wife, Lynda.  Over time, the couple became art enthusiasts and collectors, and Gary enjoyed building Windsor chairs as a hobby in his spare time. He even made about 30 Windsor chairs by hand over an 18-year period.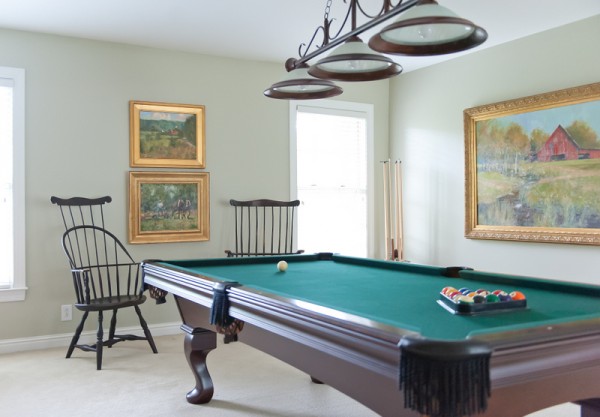 a pair of Gary's handmade Windsor chairs – Melanie G Photography
Then 9.11 happened.  At the age of 50, Gary's perspective on life changed overnight.  He realized he was spending time on things that didn't really bring value to life and desired a real change in his own.  He began studying Betty Edwards' Drawing on the Right Side of the Brain, and completed his first painting at the age of 51.  He and Lynda traveled to Italy in 2002.  As they toured the art museums, Gary remembers turning to Lynda and saying, "I can do this." And with that utterance, his life was about to change.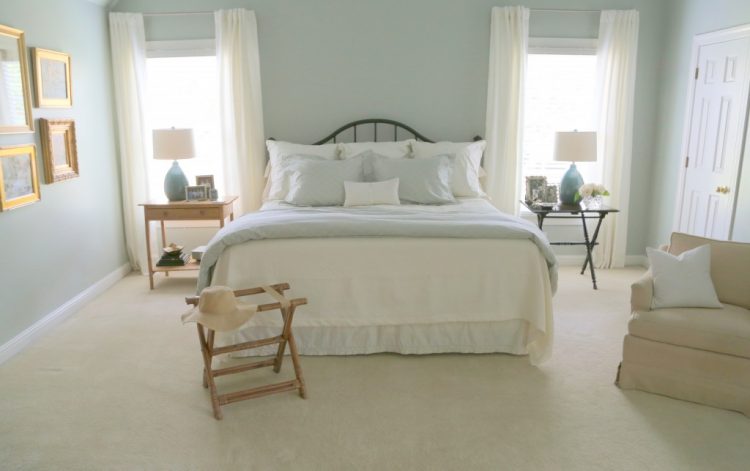 master bedroom after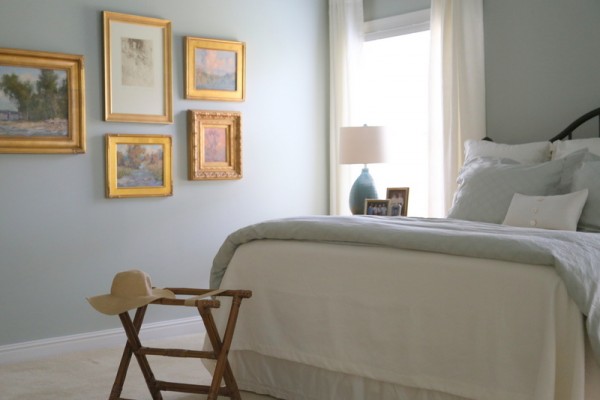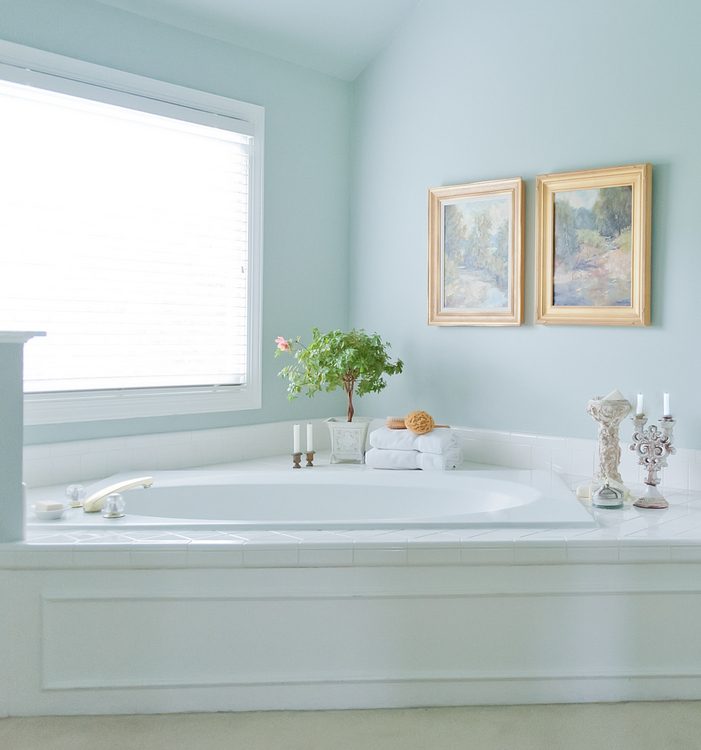 Soon after their return from Italy, Gary signed up for a class in basic drawing and portraiture and began taking workshops from local and national artists.  With the tireless support of his wife, Gary sought out artists whose work he loved, wanting to learn more and pursue this growing passion.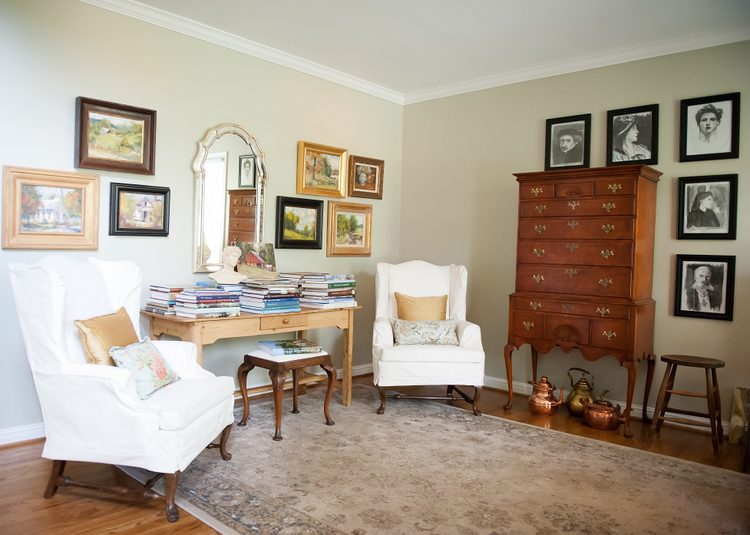 Gary Young's art studio – Melanie G Photography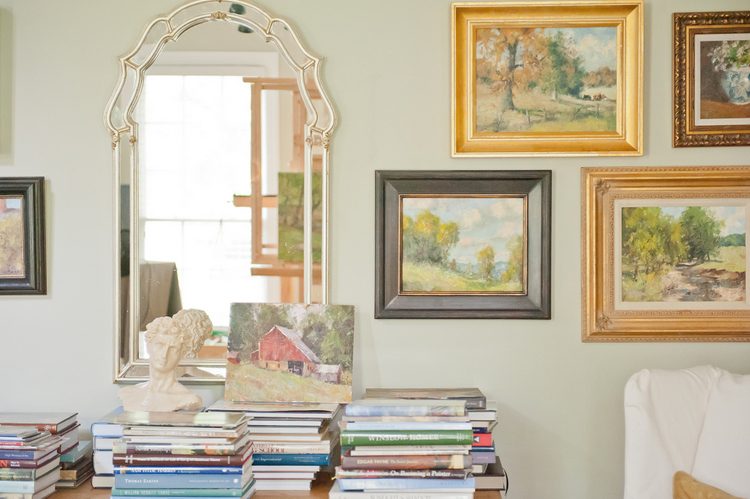 Gary began to study the fundamental science of art and incorporated that into his everyday life. Now his art drives everything else in his life and is woven into everything he does.  Gary feels that his art motivates him in other areas of his life, including his sales career, and that it often becomes a relationship-builder with other people.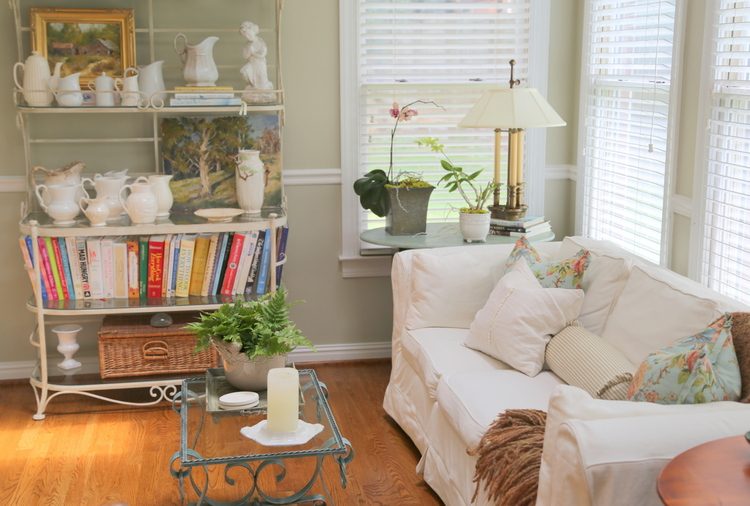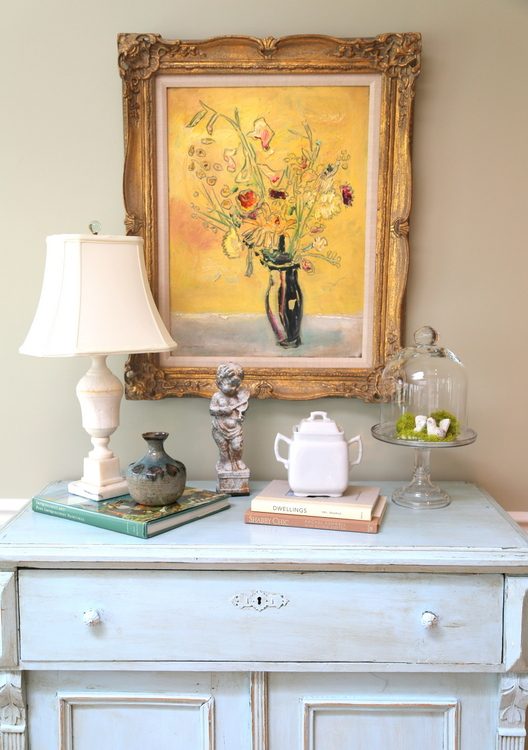 Lynda is her husband's most steadfast supporter and #1 fan.  The couple's devotion for one another has grown through the struggle of Lynda's recent breast cancer and subsequent health issues, as well as through Gary's artistic metamorphosis.  The faith they share and their commitment to learn and grow throughout their lives' journey was evident in every conversation I had with them over the course of the time we worked together.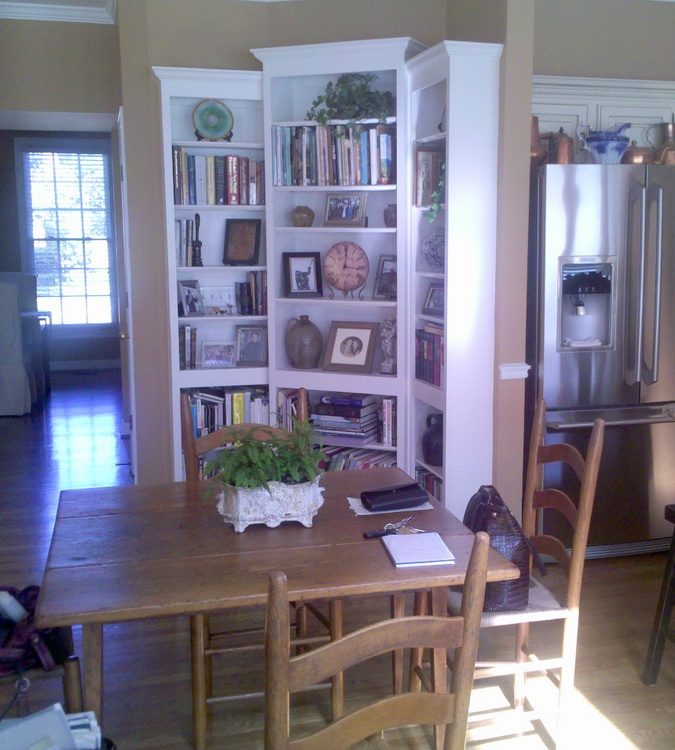 before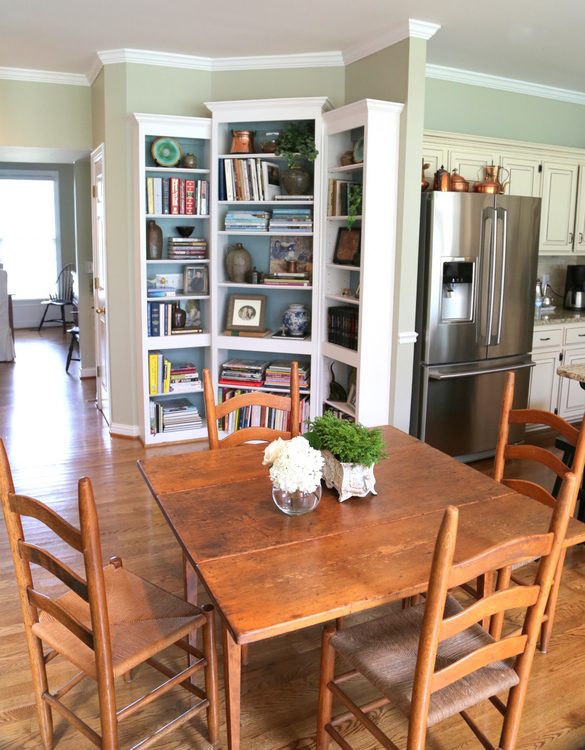 after 
Gary believes that the ability to learn the fundamental science of drawing or painting is in everyone.  He is passionate about the relationships that his love of art has fostered.  Gary speaks of the support and blessings he has received from the artists he has met and the friendships he has developed.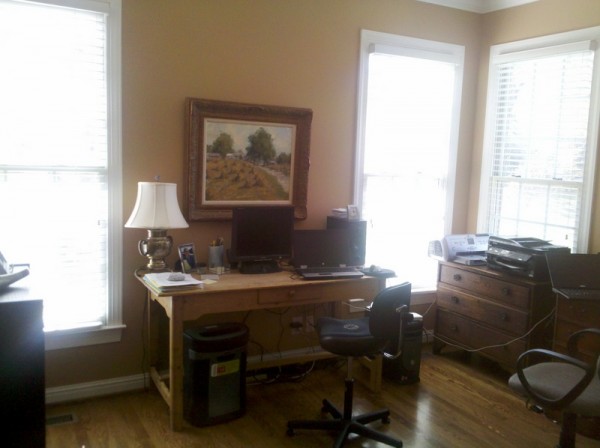 Gary's office before
When I began working in this field, I never anticipated the heartfelt relationships that I would develop with many of my clients. Home is an intensely personal thing, and to be trusted to improve someone's home is a great honor for me.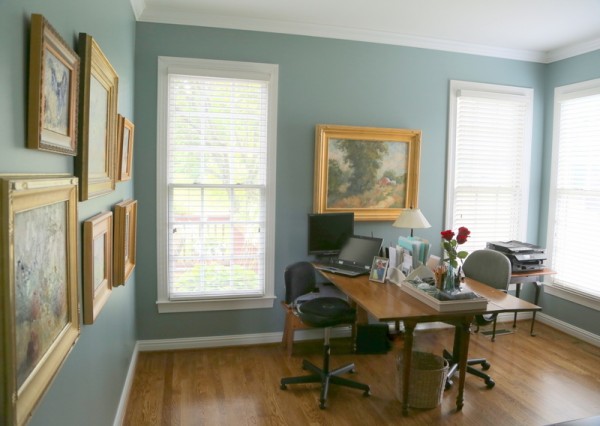 Gary's office after
Gary is an inspiring example of pursuing a dream in the midst of everyday existence, allowing it to complement and enhance one's life and relationships.  Gary taught me something that still sticks with me to this day: the gift is not the "talent," and it isn't necessarily inherent or inborn. The gift is the passion you have for something, and that passion drives you to learn, train, and improve.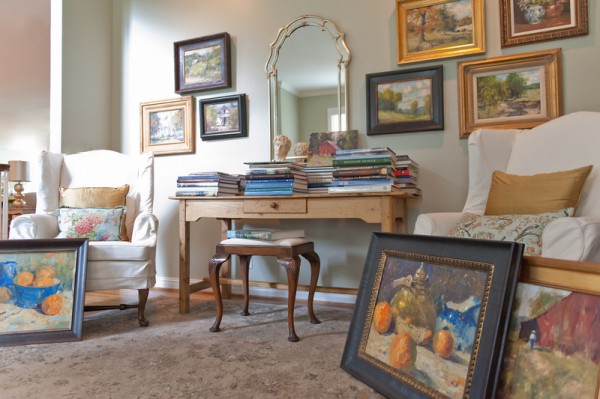 art studio – Melanie G Photography
Those words resonate so much with me because that's exactly how I feel about what I do. If you share that passion with me, I'd love you to join us May 7-9, 2015 in Nashville for my intensive Expert Psychological Stager™ training. Whether you would like to start a home staging business of your own, or if you want to take your skills to the next level in your current design business – this course is for you! I'll teach you how tapping into buyer and seller psychology can change the way you think about staging and marketing a home.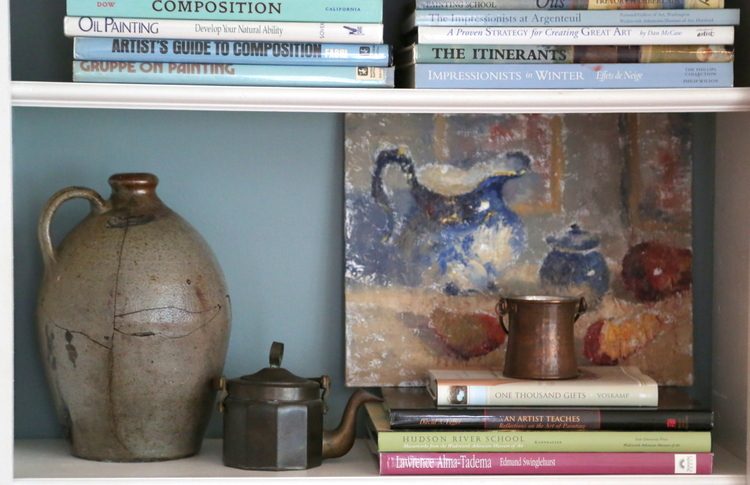 I hope you enjoyed the tour of this home! To find out more about Gary Young and his art, visit his website here.