One thing I really love to do is to figure out the essence of a client's style and make it happen for them in their space.  It's so much fun for me to help create different atmospheres that express who the homeowner is or who they hope to become. So I was happy to help this young Nashville recording artist design a contemporary bachelor pad that reflects his love of music and gives him a place to entertain friends.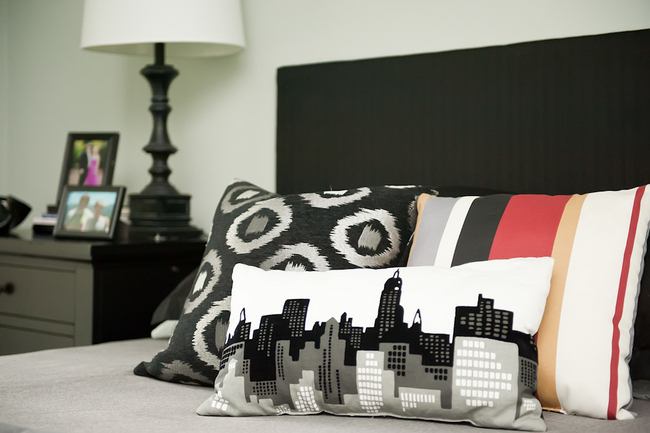 photo by Melanie G. Photography 
After conversing with his mother, a reader of The Decorologist in South Carolina, we scheduled a time to meet at the newly-purchased condo in arty Hillsboro Village of Nashville.  I think I'll save the "before" photos of the 650 square foot space until a bit later.  I just can't wait to show you around.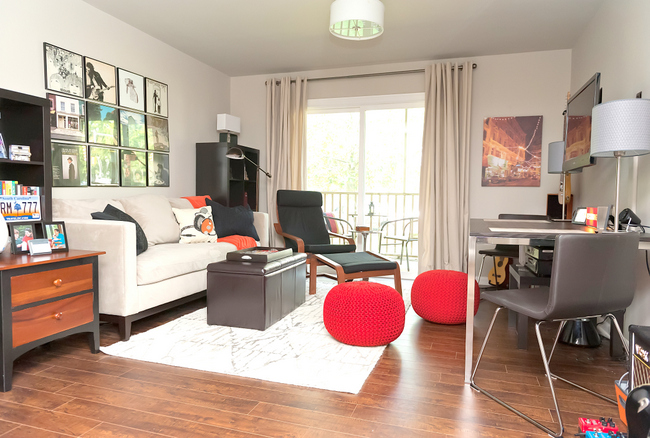 Design by Kristie Barnett, The Decorologist / Photo by Melanie G. Photography
The client's needs included creating a main room that would  be both multi-functional and stylish, where he could lounge, watch television, entertain, dine with friends, study, and work on the computer.  All in the same room!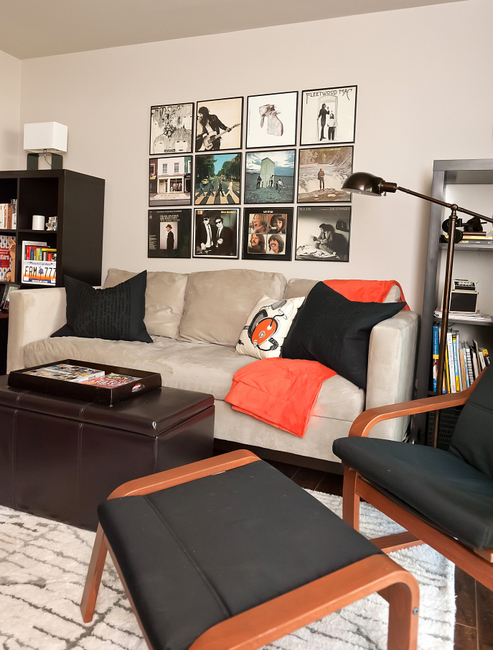 Photo by Melanie G. Photography
This called for some flexible space-planning solutions.  During our first meeting, I came up with a floorplan and dimensions of what was needed to meet the needs of the client and the space.  We agreed on this West Elm sofa and pair of Expedit bookcases from IKEA to flank it.  On the opposite side of the room, we needed a table that could do triple-duty.  It needed to provide space for dining, computer work, and for television components and lamps.  This slender model worked great, and also has room beneath for extra seating in the form of these CB2 ottomans.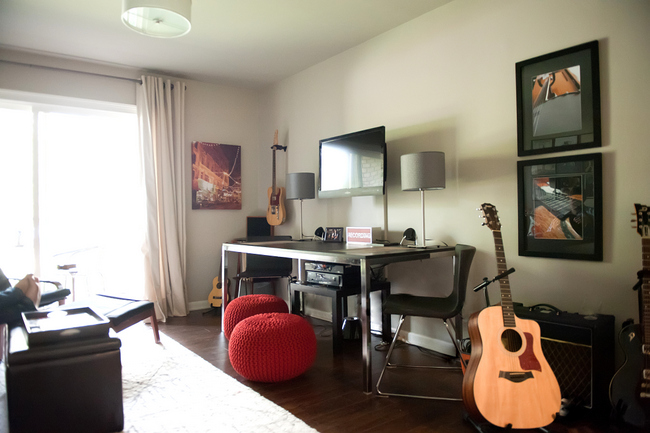 Photo by Melanie G. Photography
Accessories were easy – the client's own musical instruments, speakers, and other musician stuff.  It's all easily accessible and looks really cool, to boot!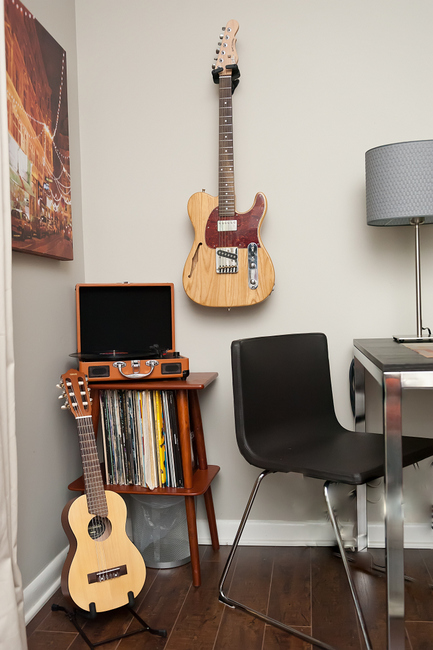 Melanie G. Photography
I loved hanging his collection of iconic albums in a smart grid above the sofa.  It's the perfect focal point for a musician's home, don't you agree?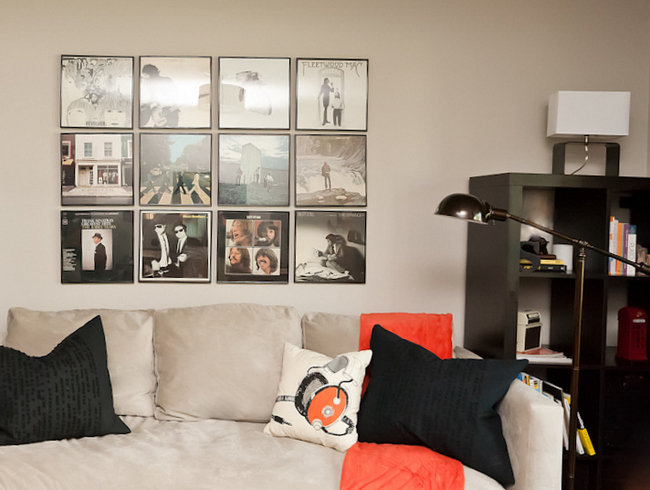 Record Album Art / Photo by Melanie G. Photography 
I hung my client's own framed CDs in his bedroom above the printer and one of his many guitars.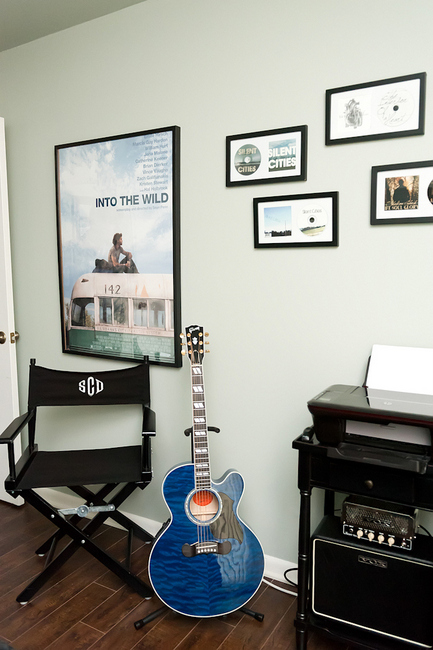 Melanie G. Photography
Maybe you should see some "befores" now.  The walls were a dreary pinky-beige throughout, and the ceilings were popcorn-textured.  And of course, the dreaded ceiling fan – ugh.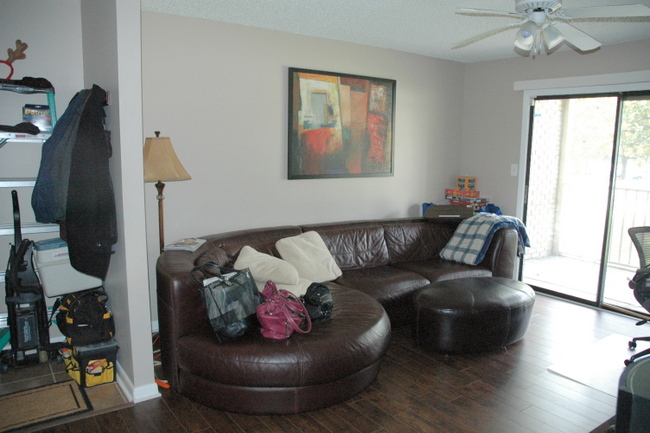 Living Room Before
We had the popcorn removed and wrapped the choices of paint colors on the wall and ceiling to make the small space feel larger.  The color in this room is Benjamin Moore's Revere Pewter.  Following the transformation, complete with new lighting from Lowes and a new rug from West Elm: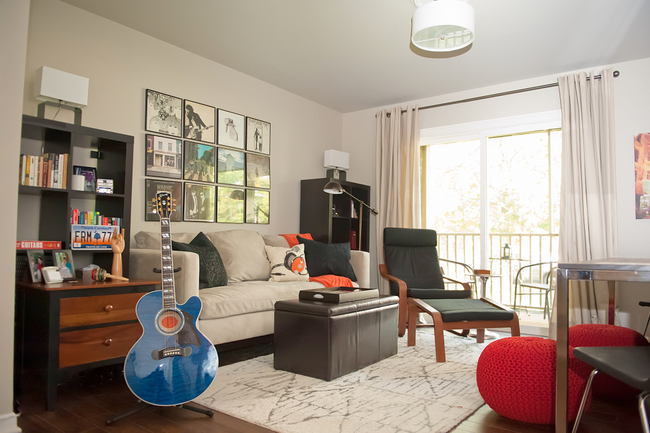 Design by Kristie Barnett / Photo by Melanie G. Photography
This was the previous condition of the bedroom: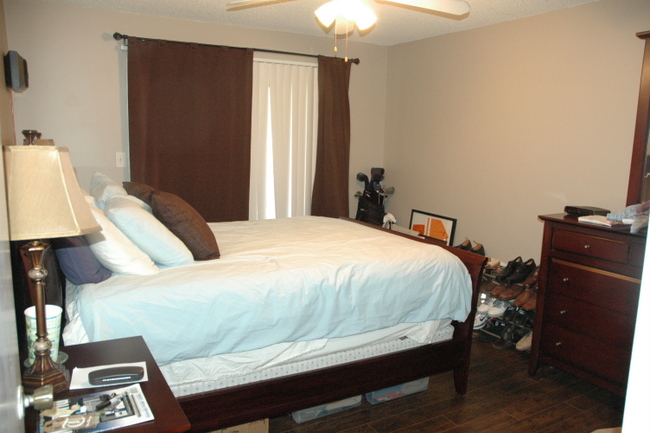 Bedroom Before
We made the bed the focal point, and lightened and brightened the whole room with a light gray-blue for walls and ceilings.  His mother didn't think he'd like the color I chose, but he loved it!  Never met a man who didn't like Benjamin Moore's Gray Wisp.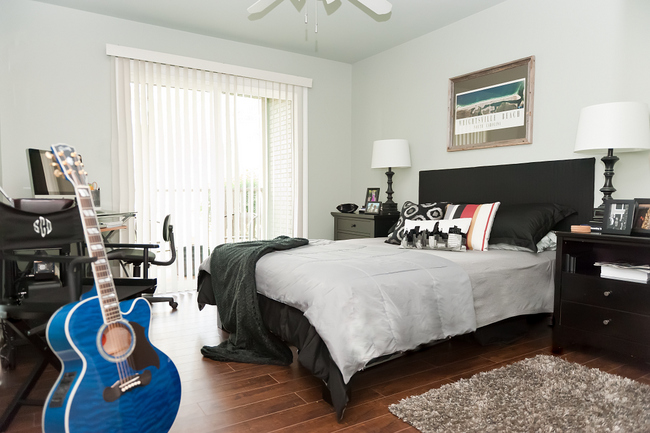 Bedroom Design by The Decorologist / Photo by Melanie G. Photography
Just a quick "before" of the bathroom: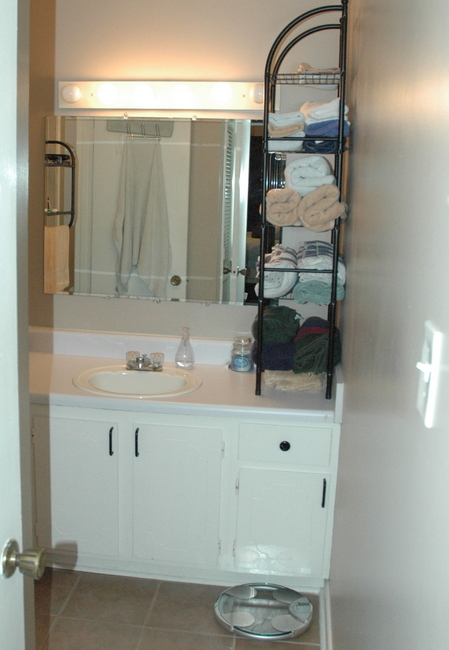 Bathroom Before
New paint, lighting, hardware, a framed mirror, and a base cabinet painted Benjamin Moore's Kendall Charcoal made for a modern, masculine update.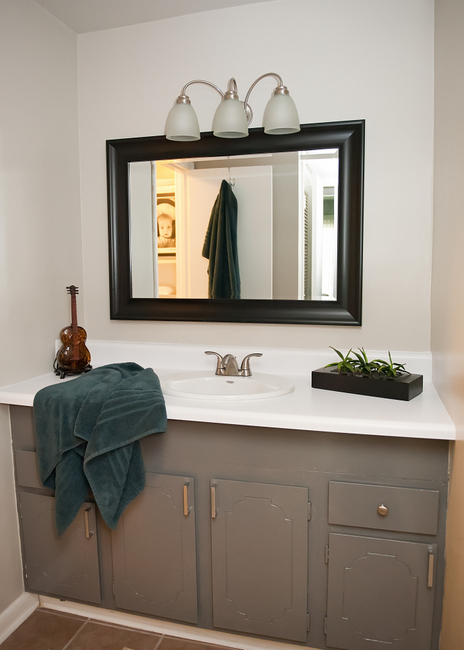 Bathroom After / Melanie G. Photography
The kitchen is super-small and the short cabinets didn't help the storage situation.  But new cabinetry wasn't in the budget.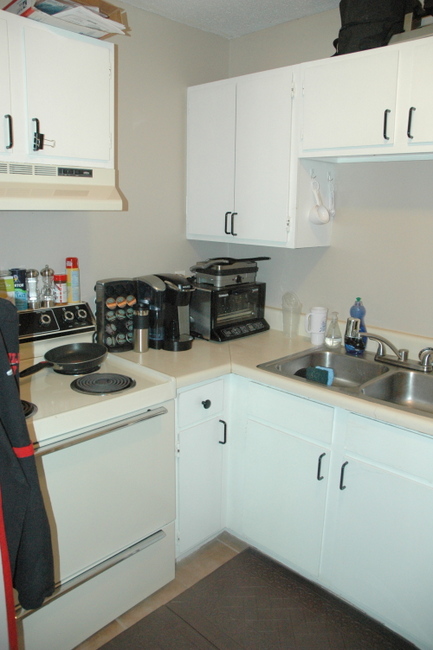 Kitchen Before
Fresh paint, white subway tile, new appliances, a granite-look laminate countertop, and new hardware  took this basic kitchenette from sad to happy.  Notice that we added crown moulding to the cabinets to make them look higher-end.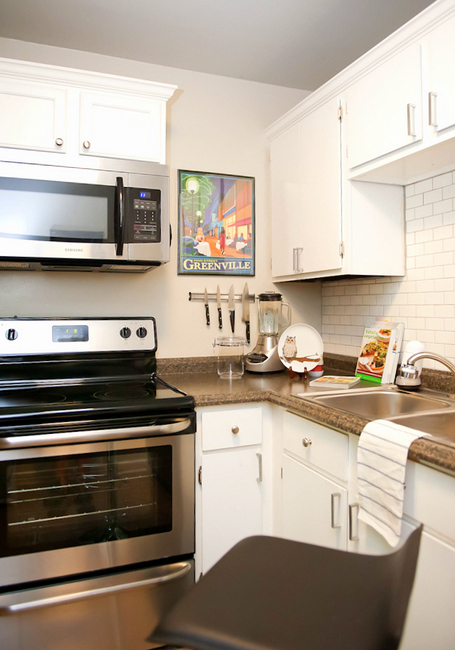 Kitchen After / Melanie G. Photography 
We furnished this entire condo with great bargains from retailers like Lowe's, West Elm, IKEA, CB2, and Target. Good style doesn't have to be expensive, nor does it have to be the least bit feminine.  This dude's gotta save his money for guitars and amps and such.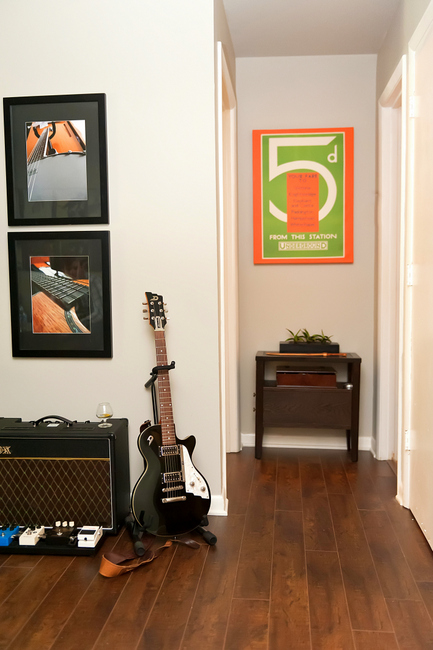 Photo by Melanie G. Photography
And for wooing the ladies who visit his cool condo, of course.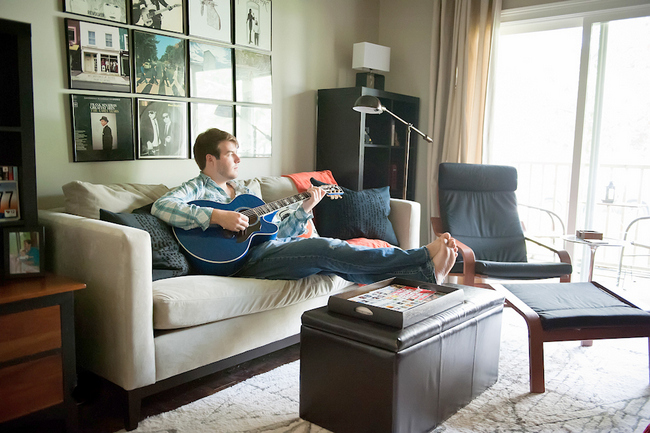 Recording Artist Sheldon Clark in his Nashville condo / Photo by Melanie G. Photography
What do you think of this contemporary style make-over?  If you need help finding your own unique decorating style, contact The Decorologist for a design intervention!