As much time as I spend helping clients update kitchens, I suppose I'm a bit of a hypocrite. Because there's nothing "updated" about my own kitchen.  My home was built in 1939, and the kitchen appears to have been updated in the late 1950s or early 1960s.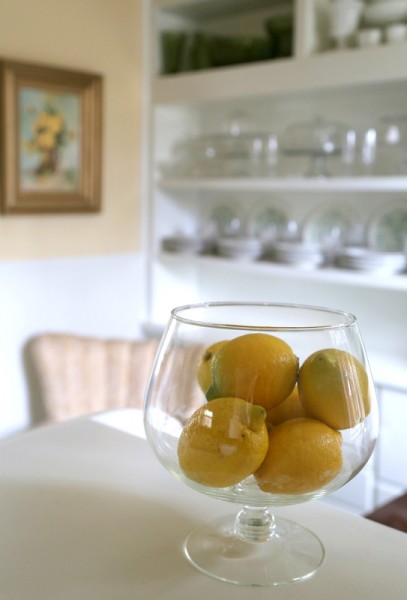 when life gives you lemons . . .
When we bought the house over 13 years ago, it had a 1990s overlay – laminate countertops and creamy vinyl flooring.  Our mission was to peel off the "updating" as much as possible, and even adding things that took it back to a look more appropriate to when it was first built. We replaced lighting, paint, and flooring immediately.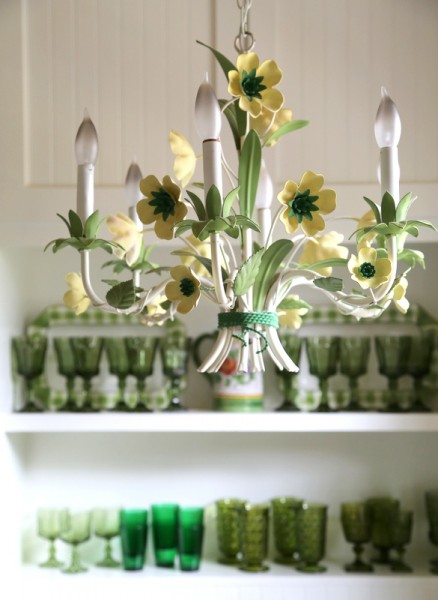 vintage tole chandelier I painted to match the color scheme
But you really need to see what the kitchen looked like from the beginning.  Here's the before of the kitchen, right before we moved in: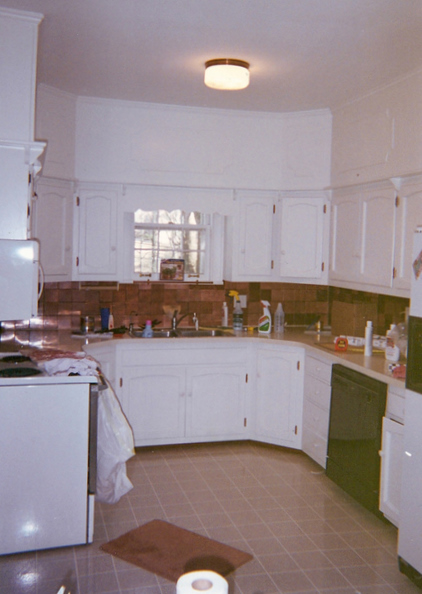 our kitchen before
I can remember staying up all night, on our hands and knees installing the old-school vinyl composite tile in the kitchen so that we could move in our furniture the following day.  I know the look isn't for everyone, but this is the favorite kitchen flooring I've ever had.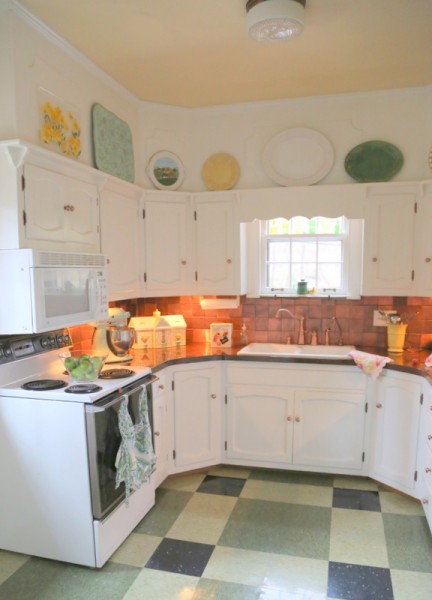 inexpensive and long-lasting VCT flooring
My husband and I couldn't decide on what to do for countertops, until he came up with a "temporary" solution about 8 years ago: glue a mahogany veneer over the existing laminate counter top, stain it dark, and top it with a self-leveling epoxy for a super-shiny and rock-hard finish.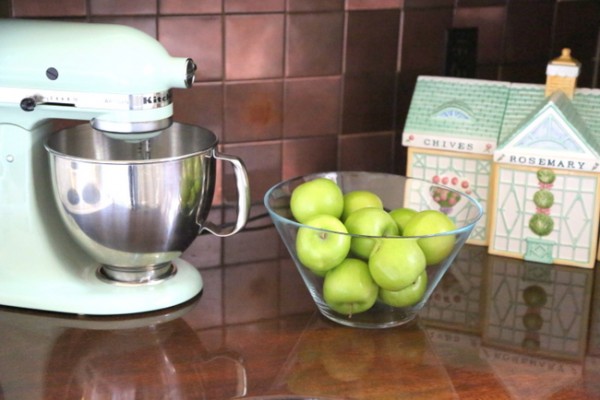 Kitchen Aid mixer on mahogany veneer countertop
This countertop installation is not for the faint of heart – applying the epoxy is messy, noxious fumes are unavoidable, and a small blowtorch is needed to get the bubbles out of the surface (beware of flames near your cabinetry!).  But 8 years later, that temporary countertop still looks amazing with the copper backsplash installed probably 55 years ago.  And it cost less that $300. Continually frustrated with the layout in regards to the kitchen table – often knocking into chairs upon entering – I eventually designed a banquette/booth that nestled into the window.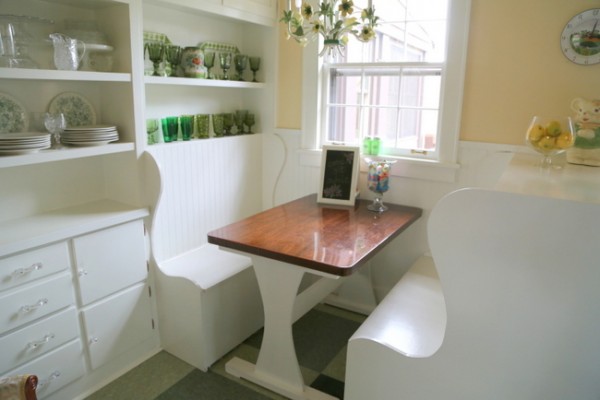 Mr. Man built the whole thing – table, booth, and cabinetry – to look as close to what the original breakfast nook might have.  We were guessing, of course, based on the age and style of the house. More of an upgrade than an update, right?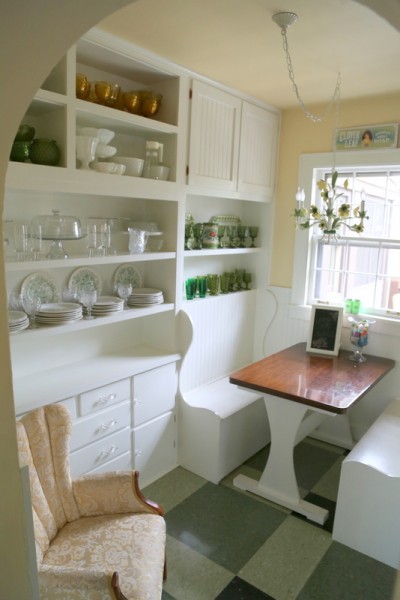 way to go, Mr. Man
When we bought the house, there were some drawers and shelves on one end of the kitchen. But they were kind of wonky – plus there was a big mirror (of all things) in the middle. The doors on the right covered a very narrow broom closet – a virtually wasted used of space. Take a look: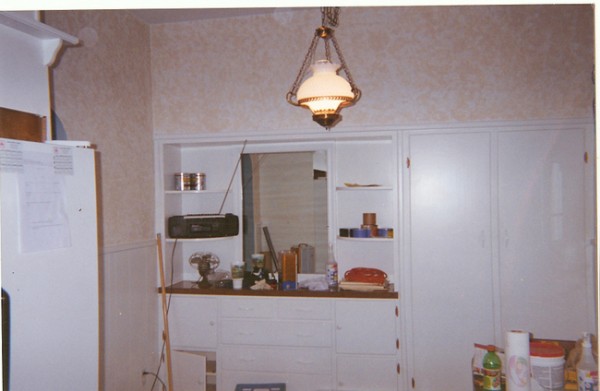 kitchen before
I redesigned this area, keeping the parts we could.  Mr. Man knocked out the soffit above and found additional shelves that had been covered with drywall. Now I have tons of space for my dishes and colored glassware collection.  About 650 people can drink a glass of water in my house without pulling out a single paper cup.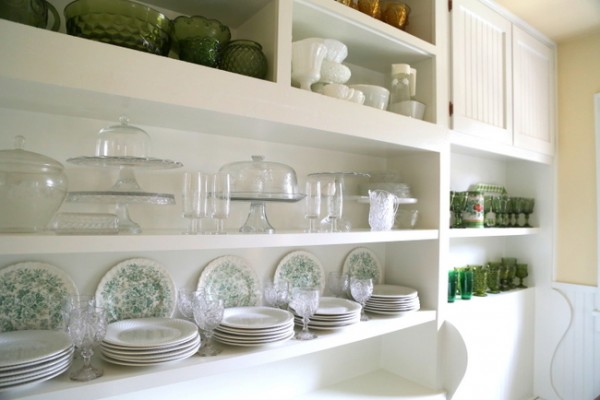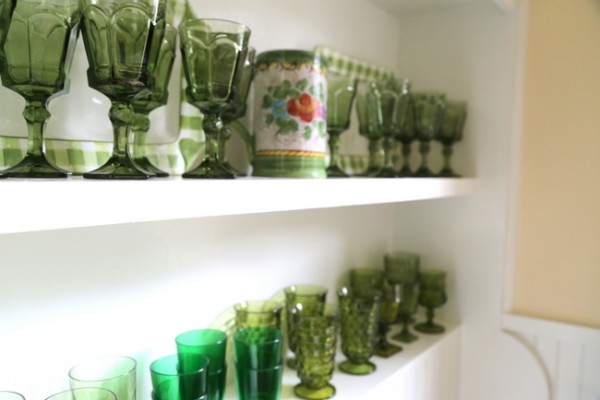 I've thought about wallpapering the backs of the built-in hutch, or even having seeded-glass doors installed over the top portion of it.  What do you think?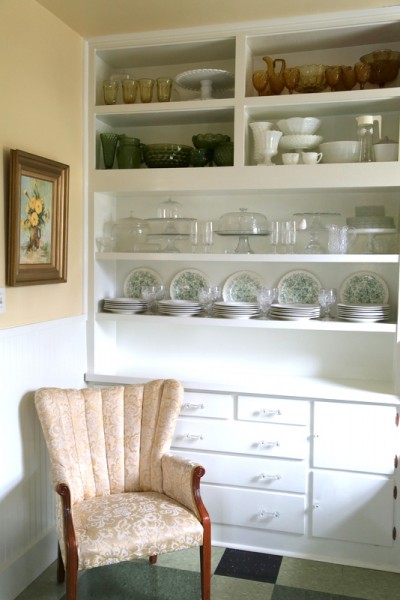 More pressing is the much-needed replacement of the APPLIANCES.  Our refrigerator and stove are about 20 years old and our dishwasher sucks (even though it's only about four years old). The difficulty in replacing appliances in a kitchen like this is choosing what feels right for the era of the room.  And that's definitely NOT stainless steel, my friends.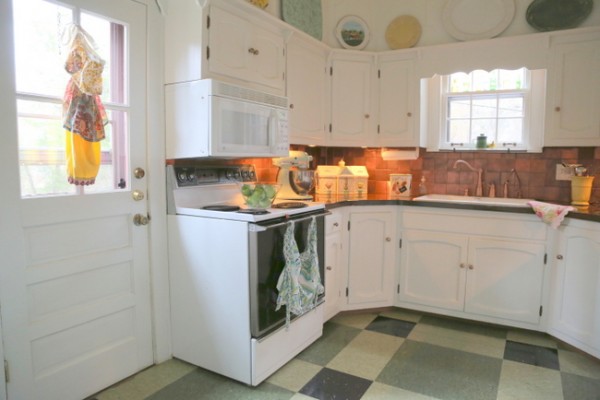 So I'm searching for the perfectly appropriate choice for this kitchen – once we decide, we will replace all the appliances at one time. I'd love to have a "statement" stove, but it has to be a standard-size to fit.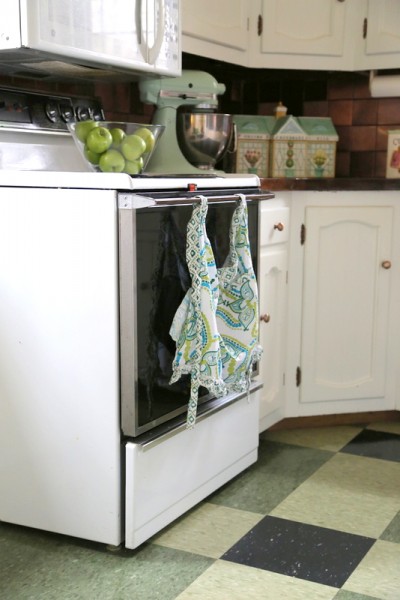 So I'm thinking of doing the other appliances in white, and the stove in black – but if it's going to stand out like that, it's got to at least look retro.  Let me know if you have any suggestions!
UPDATE: WONDERING WHAT I DECIDED TO DO ABOUT MY APPLIANCES? FIND OUT HERE!