The perfect appliances . . . don't you have that ideal set of appliances that you dream about at night? Well, neither do I. But Mr. Man and I have been trying to decide on the perfect appliances for our period kitchen for years now – we've made do with frequent repairs as our old ones have been limping along.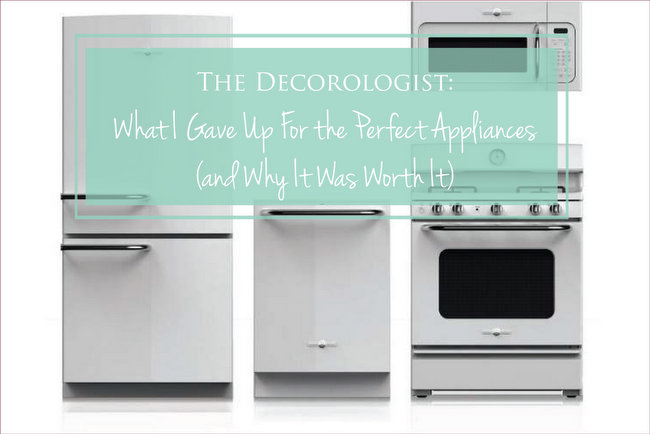 It's not like I wanted the AGA stove that costs more than a nice automobile or a sub-zero commercial refrigerator. I just wanted retro appliances that fit appropriately into our vintage kitchen and didn't cost a stinking fortune like Big Chill and Elmira. So we waited.
And then, one of the those things came up that forces you to FINALLY complete the unfinished projects in your house. You know what I'm talking about, right? Here are two of those things:
1) You're Hosting a Party at Your House
(OR)
2)  A Magazine is Photographing Your House
When the design editor of This Old House magazine called and asked if they could do a photoshoot of our old home's renovation, I grabbed Mr. Man and we went appliance shopping immediately. Here's the old refrigerator that you'll never see in the photos I post of my kitchen: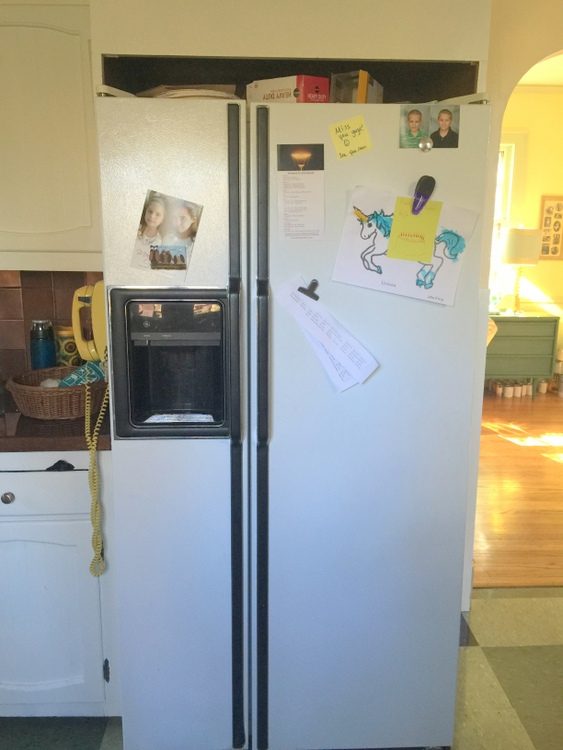 This refrigerator has broken down three times in the last couple of years, and I get tired of ruining good food. Plus, it ain't exactly pretty.
The stove served its purpose, but I've never been crazy about the microwave above it. Oh, and its handle broke off 6 months ago, and hot glue only held it back on for so long. We finally gave up on the handle and sometimes had to pry it open with a butter knife to warm up leftovers.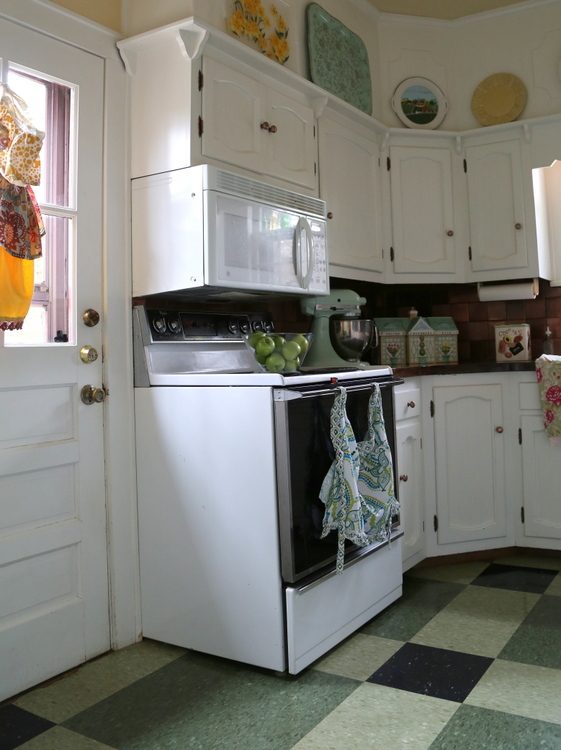 photo taken prior to microwave handle falling off
I wanted to ditch the microwave for a beautiful copper hood to match our 1960s backsplash. It was only THOUSANDS OF DOLLARS, so we looked at the standard ones like this:

Yeah, not very special. I hunted around until I found this more substantial one on Amazon: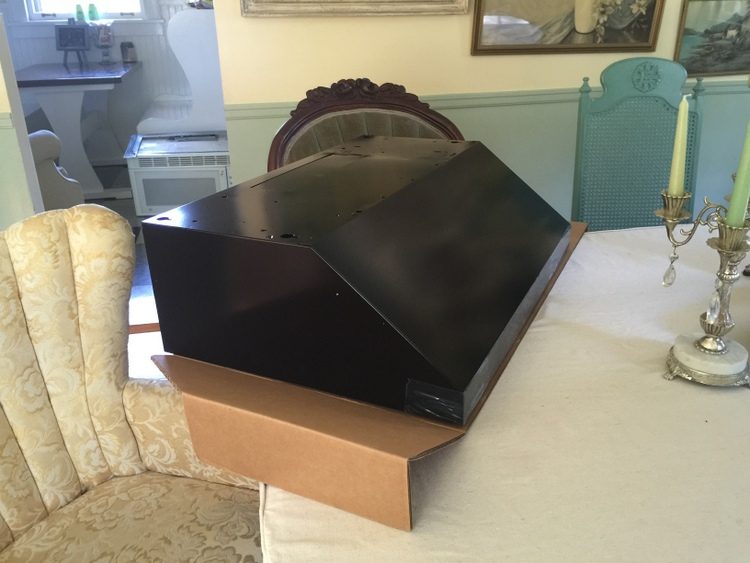 I decided to do the refrigerator and dishwasher in white, but chose a BLACK stove and hood. I also wanted to switch from an electric stovetop to a gas one, mainly because it just looks cooler. But it also heats up instantly, which is a plus! Here's how the new combo worked out: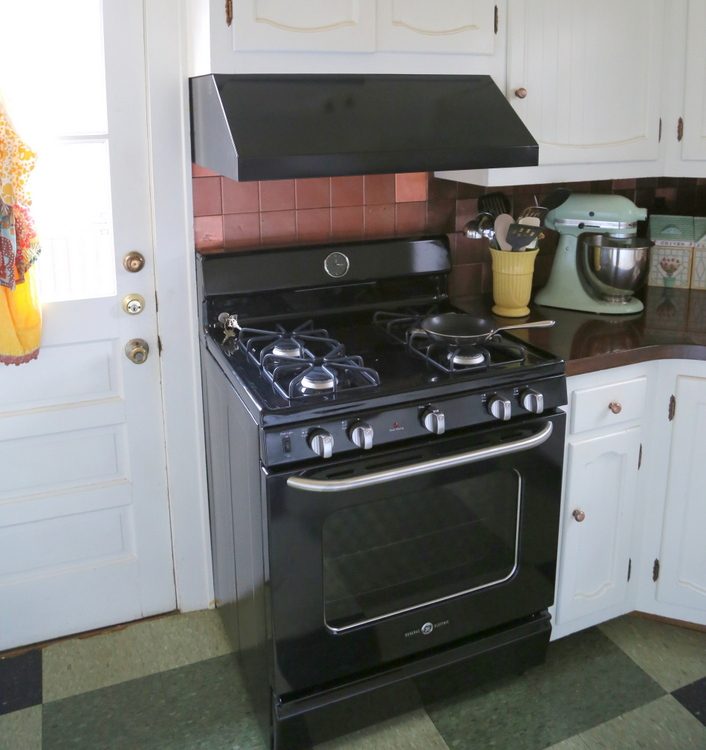 I think I'm in love with it. I chose black because it ties in with the floor tile and because we couldn't afford the jadite green ones that another company sells. And no more ugly microwave! I may eventually add a band of copper on the bottom edge of the hood to customize it for less $$.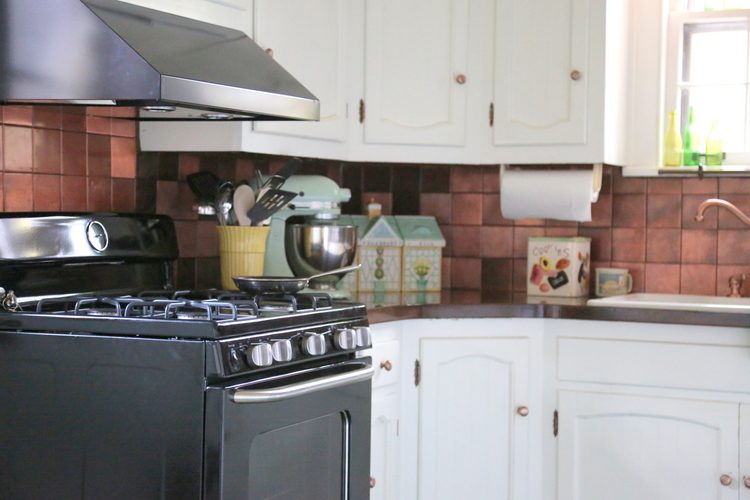 But there was no time to waste – we barely got the retro appliances installed and hooked up the night before the photoshoot with This Old House.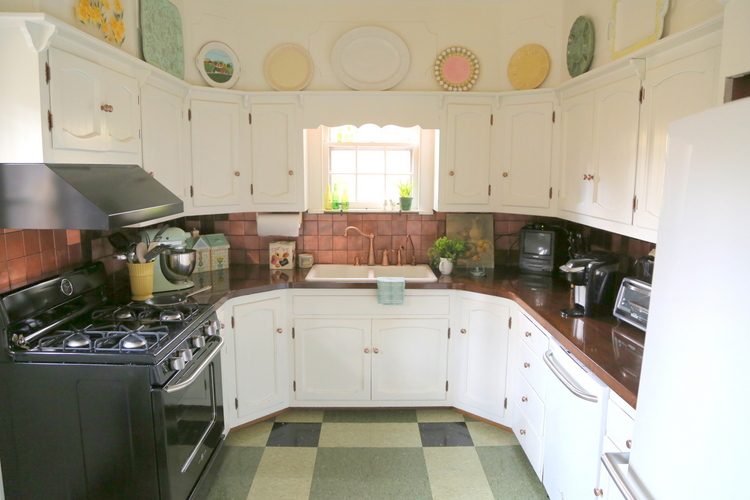 Check out my beautiful new GE Artistry refrigerator and dishwasher!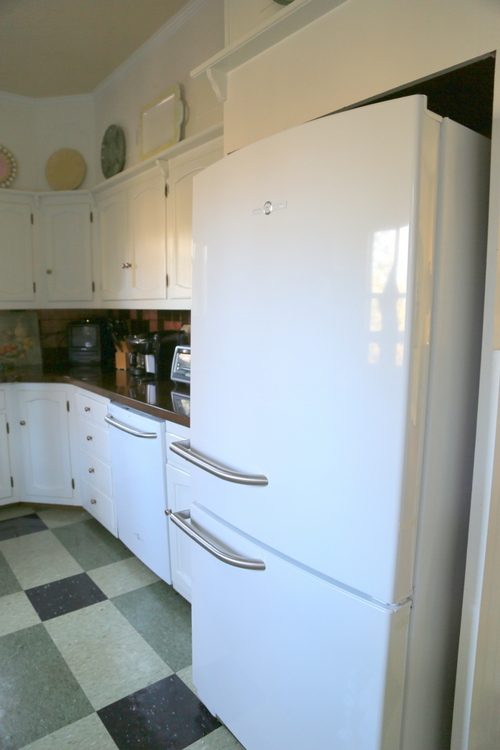 I love the low handle on the refrigerator, as well as the freezer on the bottom. Much cooler vibe than the old side-by-side.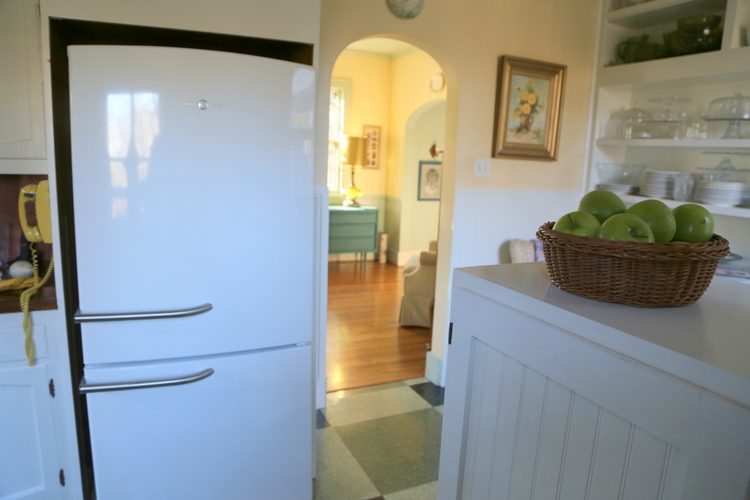 My kitchen feels happy and period-appropriate. It just needed retro appliances, right?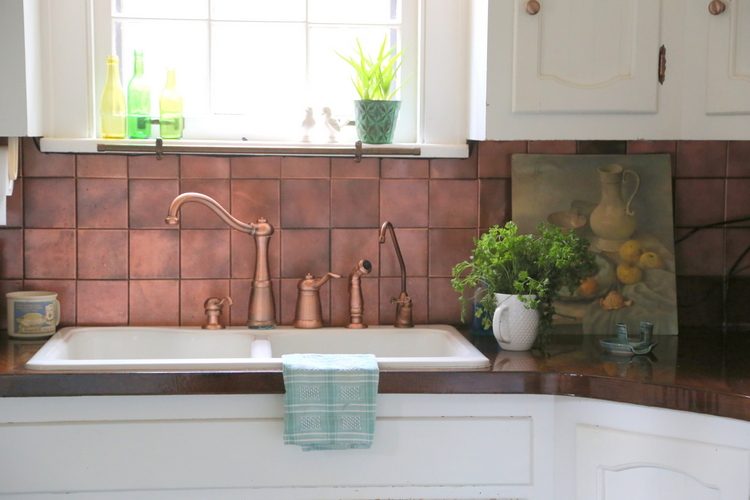 copper finish faucets complement the old backsplash
So, here's what I had to give up to get my dream retro appliances:
1) Counter space (where a new microwave will have to sit)
no problem: we ordered a microwave/toaster oven combo, so we will have some space if we remove our current toaster oven
2) Water/ice in the refrigerator door
no problem: we already have a filtered water thingajiggy at the sink and I prefer room temperature water anyway, plus we bought the add-on ice maker for the freezer
3) Pan storage beneath the gas stove
no problem: this forced us to pare down the infrequently used cookbooks and move the pans to there, which is nearby
You want to know what the best thing about my new appliances? I got the retro look I was hoping for for about 2K. That's all my GE Artistry appliances at half the price of just one appliance from the pricier retro appliance companies!
By the way, we'll be featured in This Old House sometime next year – I'll keep you updated!