I just got an exciting email from my contact at Everything But the House (EBTH) online auction company: to celebrate expanding into several new markets, EBTH is offering FREE SHIPPING on their current auction in Boston. That means that even if you are on the west coast, you can bid on items in the sale (even furniture) and get it shipped to you FREE! I wanted to share this with you guys immediately, because this could mean some serious savings on fabulous finds. Here are some of my favorites from this sale:
Round or starburst mirrors are so hot right now and terribly versatile for decorating your home. I just purchased one for above a client's bed and another for above a dining room sideboard. Here's a real beauty from this sale with FREE SHIPPING: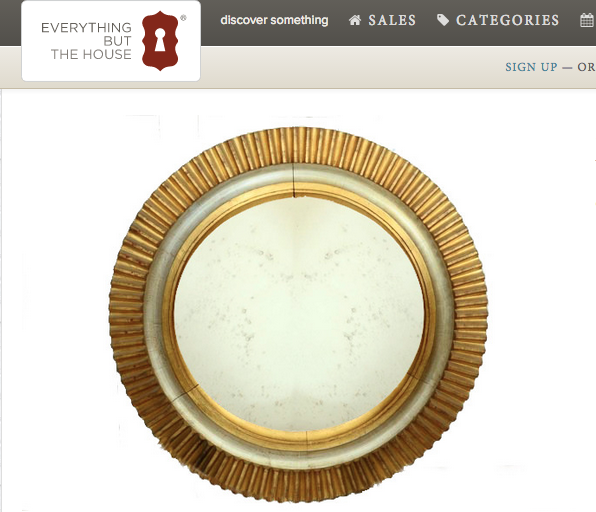 I am in love with this glammed-out brass and blass coffee table!!! If I had a place to put it, I swear I'd bid on it in a hot minute. It's 45 inches in diameter and is a unique find for your living room: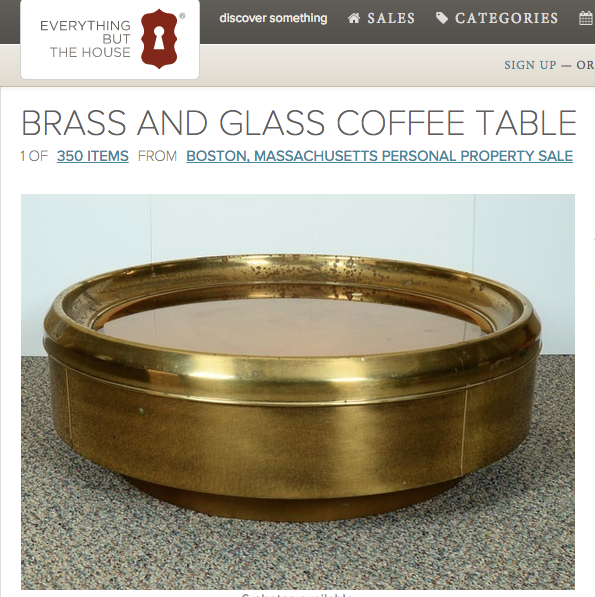 This distressed pine screen can be used in so many different ways, in so many different places.  Screens like this can stand in for a bed headboard or can block an unattractive view in front of a window. I have a gold folding screen behind the sofa in my sunroom to give us a little privacy when Mr. Man and I are hanging out in there at night making out. Haha, just kidding, I mean "watching television."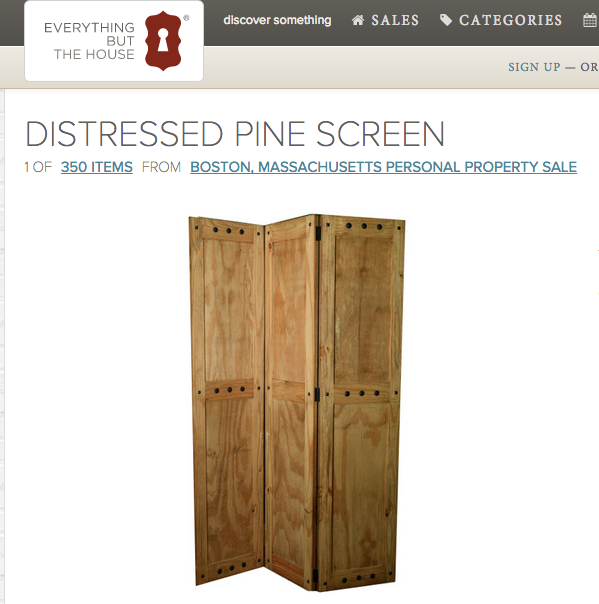 more photos of this screen here
This handmade Tibetan rug is made of 100% vegetable dyed woolen pile. The colors are right on trend and florals are bigtime hot again, so this rug provides the perfect patinaed piece to ground an updated room.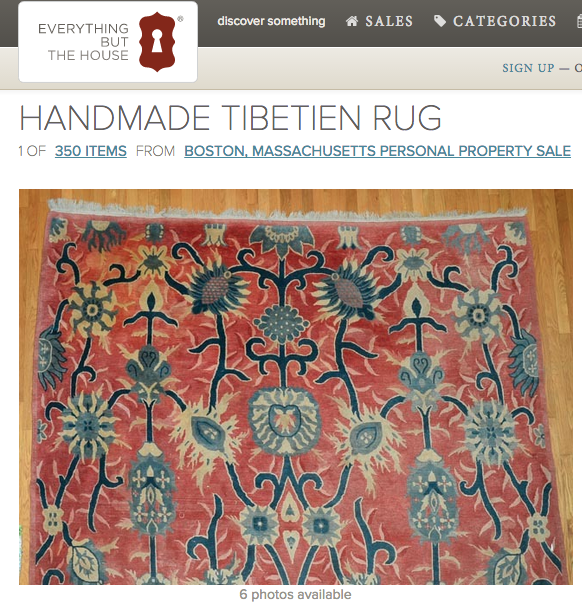 see more photos of the rug here
Displaying collections of glassware or bottles is a great way to bring your favorite color into your home, and this sale has several lots of colored glassware to choose from. My mother-in-law is in love with the color purple, so I think these vintage apothecary bottles would make her heart go pitter-pat.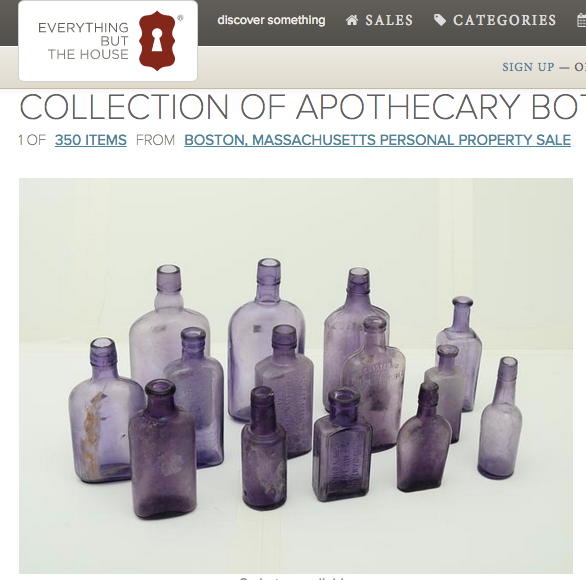 check these out by clicking here
I am always looking for pretty and functional console tables for my clients, and these are two of my favorites from this sale: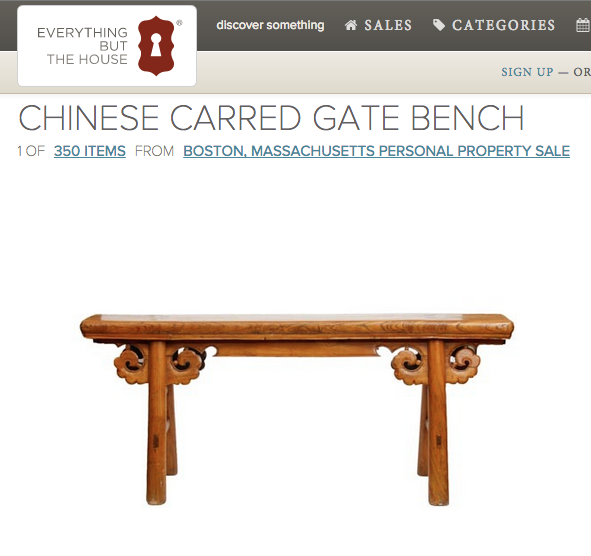 The one above is about four feet long and only 7.5 inches deep. It actually would work well in a narrow space like as an entry table beneath a mirror in a small entry.
The one below is a bit longer (54 inches) and deeper (15.75 inch) so that it could hold a pair of matching lamps on either end behind a sofa.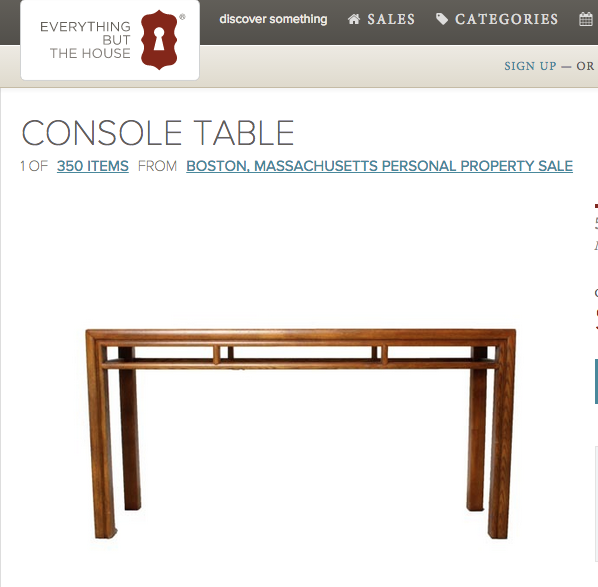 I'm always on the lookout for pairs of interesting chairs, and these faux bamboo chairs are beyond cool! Make sure to read the description, as there are some minor repairs that may be needed, but I'm thinking these beauties are still a score for a lucky someone!
With this set of four gold-framed folding chairs, you'll NEVER go back to using ugly metal folding chairs again! Two of the chairs are upholstered in emerald green and the other two are in dark gray.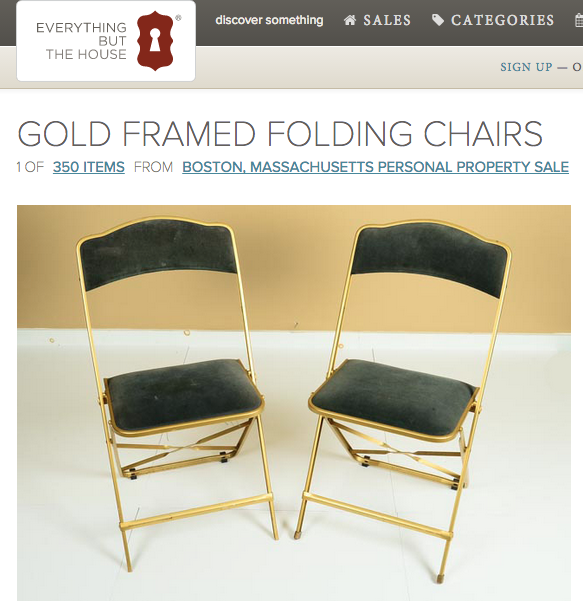 Occasionally, you can even MAKE money on these kinds of sales. I have a collection of Villeroy & Bach's Naif dinnerware that we use as our "everyday" dishes. I spotted one Naif piece in this group of platters that are being sold as a set: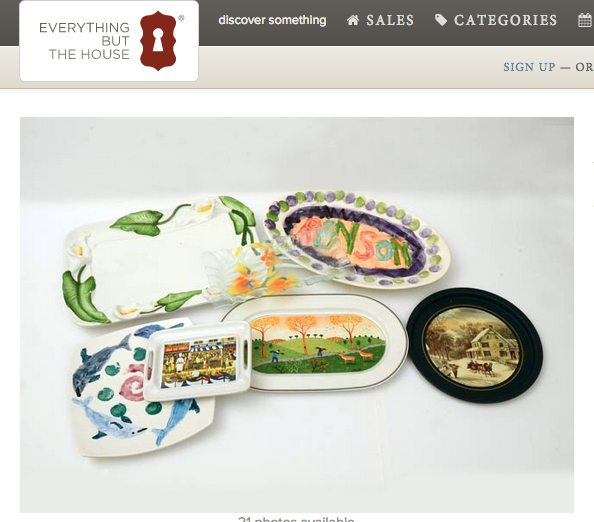 Now honestly, the only ones I'd be interested in are the Naif platter in the middle and the one with flowers around the border. Many people would look past this group of platters because they don't like ALL of the items in lot. But take a look at what I found when I googled "Naif platter":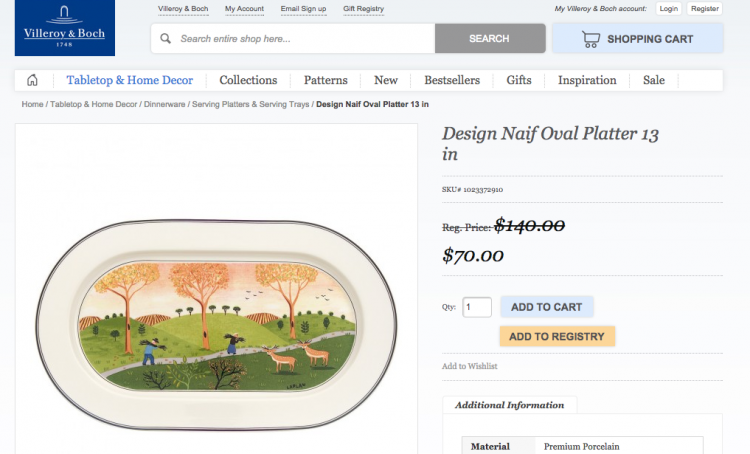 Are you just a bit more interested in that lot of platters now? I certainly am! As of this writing, not one person had bid on this lot!  See how much fun online auctions can be? This auction out of Boston ends Sunday evening, so make sure to look around this auction of over 350 items and bid soon. And as you bid, don't forget that SHIPPING IS FREE for this sale. Isn't that awesome???
I hope to see some of you at the Country Living Fair this weekend in Lebanon, TN, just outside of Nashville. Come introduce yourself if you see me, ok???
This post is sponsored by EBTH, but the opinions expressed are totally my own and the items featured were of my own choosing.