The Country Living Fair is coming to Nashville for the first time, April 24-26, 2015!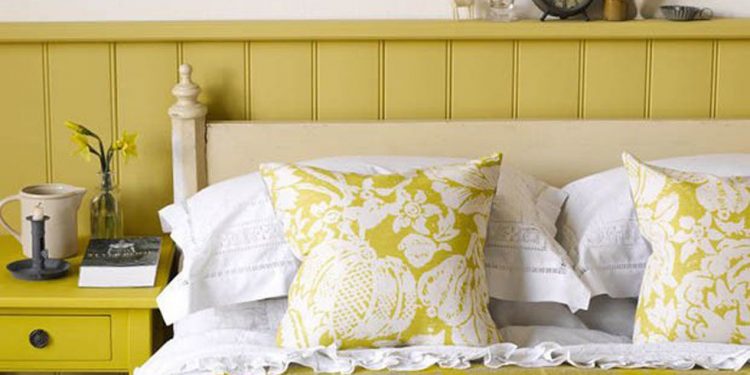 Presented by Country Living Magazine, the event offers visitors the opportunity to fully experience the "Country Living" lifestyle and meet the editors of Country Living just outside of Nashville, TN. A great big show and sale of antiques, vintage, upcycled crafts, art, furniture, home decor, handcrafted clothing and jewelry and so much more. Meet the editors of Country Living Magazine and their guests, attend seminars and how-to's, see artisan demonstrations, hear music, and gather ideas and inspiration. In big barns, tents and outdoors the Tennessee Country Living Fair will be held rain or shine at the James E. Ward Ag Center (AKA The Wilson County Fairgrounds) right at Exit 239 of I-40.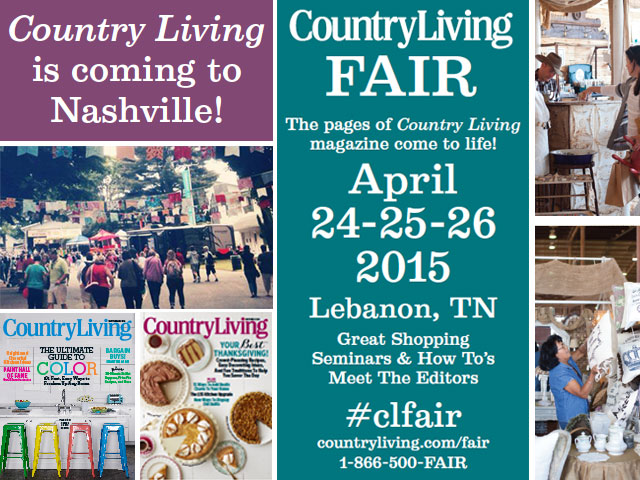 American Picker, Mike Wolfe will be there, too!  Mike will join Country Living editor-in-chief Rachel Hardage Barrett for a discussion on antiques and collecting, followed by an audience Q & A. He will also sign copies of his book, Art of the Pick.
via
Did you know that Mike Wolfe moved to Nashville and opened a store in Marathon Village? He's even doing some songwriting now. Boy, this town is hot-hot-hot! Other Fair guests include Cari Cucksey, star of HGTV's "Cash & Cari" and Joanne Palmisano, contributing DIY NETWORK designer, stylist and author of two Salvage Secrets Designs books.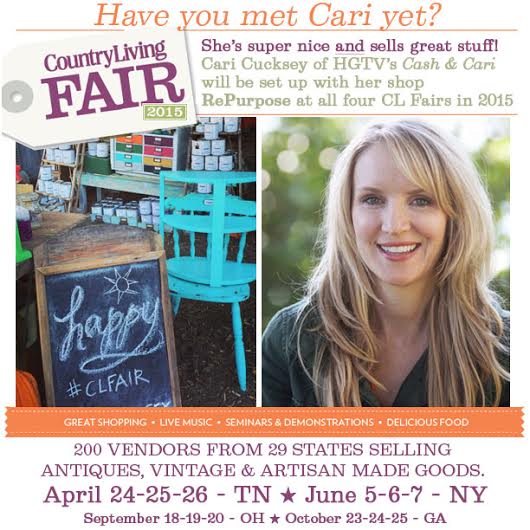 AND, I'm meeting up with some of my home blogger friends on Saturday and would love to see you there! You can't miss us – we'll be the loud group decked out in prairie skirts and cowboy boots with professional cameras. Oh wait – most people will look like that, so it may be more difficult to spot us than I thought!!! Here are some of the bloggers who will be attending with me: Kari Ann from Thistlewood Farms, Jenna from Rain On A Tin Roof, Leslie from Chaotically Creative, Dana from Bella Tucker, Elizabeth from The Collected Interior, Beth of Farm Fresh Vintage Finds, Lori of Canyon Interiors, Beth of Unskinny Boppy, Angie of Altered Past, Kathy of Petticoat Junktion, Angela of Spinach Tiger, and Kathy of Live the Fine Life, just to name a few!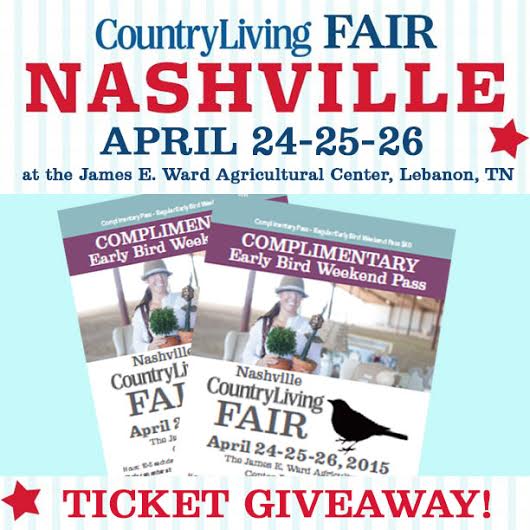 How would you like to go to The Country Living Fair in Nashville FOR FREE? I've got 2 pairs of special Early Bird weekend passes (worth $40 a piece!) to give away to two lucky readers, complements of my friends at Forest Home Media.
I'll notify winners on Monday, April 13, so get your entries in!
The Country Living Fair will be located at the James E. Ward Agricultural Center in Lebanon, Tennessee. Friday, Saturday & Sunday 10 a.m. to 5 p.m.; gates open for Early Birds at 8:30 a.m. Friday & Saturday. $16 at the door for one-day pass, kids under 16 are FREE.
I'll keep an eye out for you! Come by and say, "Hey!"