I was at Home Goods last week and found this fabulous repositionable shelf liner.  Isn't this flamestitch pattern gorgeous???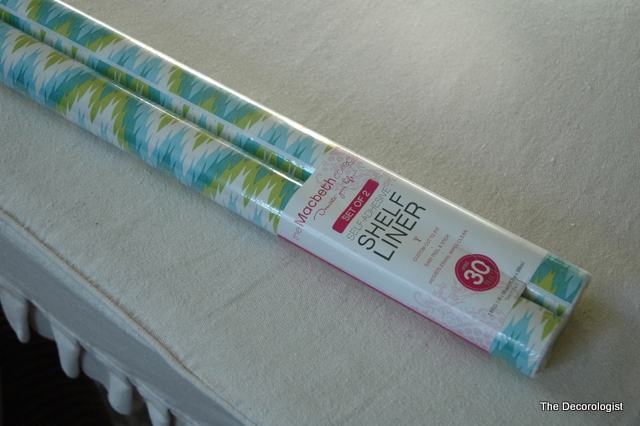 Macbeth Self-Adhesive Shelf Liner from HomeGoods
Recently, I encouraged one of my clients to paper the back of a dark hutch in her dining room with some wallpaper or scrapbook paper to bring in more of the colors in the palette we had chosen for that room and the adjoining room (avocado green and blue).   I knew immediately that this color and pattern might be just what she needed, so I scooped it up.  And then I thought about my own dining room hutch: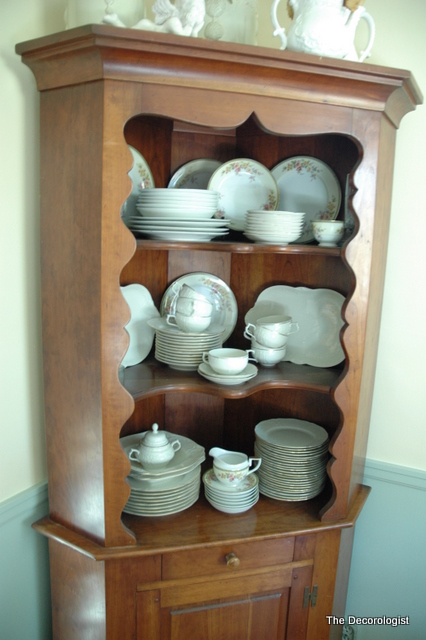 Antique Hutch Before 
Hmmm.  I've always wanted to do something interesting to the interior of this hutch, but it's a family heirloom and I was hesitant.  But the shelf liner is removable, so no big long-term commitment if I don't like it!  Lucky for me, the liner came in a two-pack (one for me, one for my client)!  I emptied out the hutch and took a good look at it yesterday morning.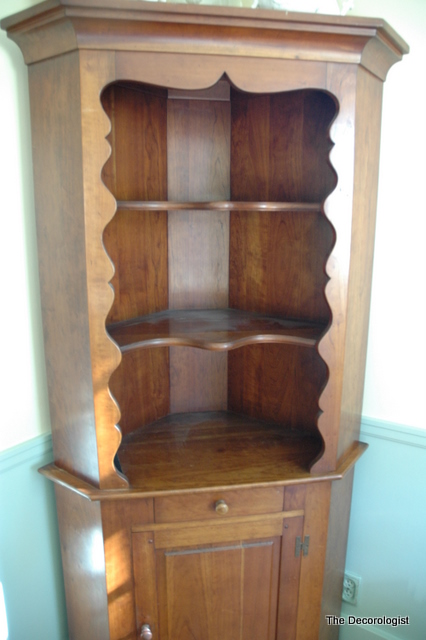 Empty Hutch
I did most of this myself, but it helps to have another person pull the backing off as you smooth the sticky part down. My eleven-year-old helped me (and she took this photo).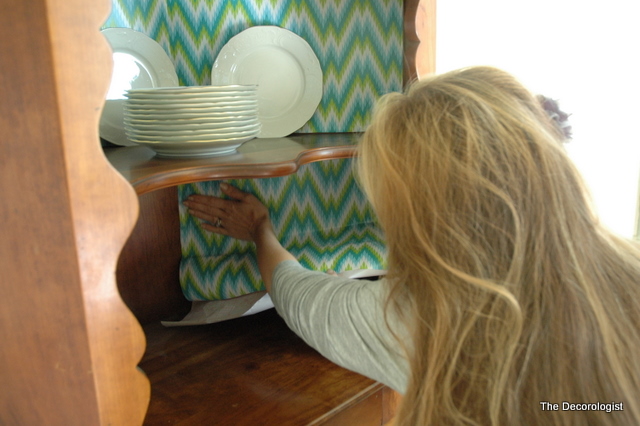 Adhering the Shelf Liner
It was looking kinda crazy at this point.  It's quite a juxtaposition with the antique hutch.  But I have faith and will follow through with this project – I can always peel it back off, right?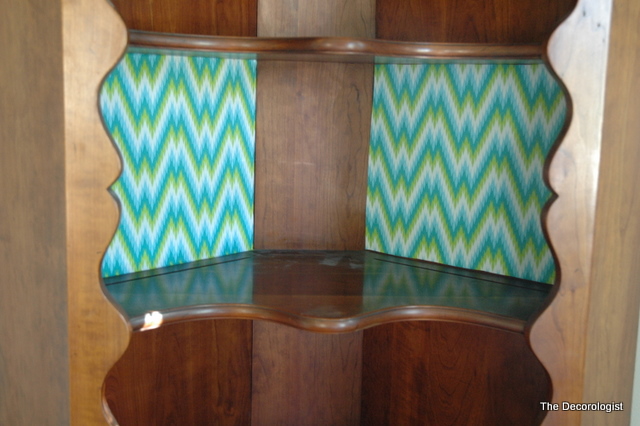 ZigZag A-Go-Go
It may seem a bit much, but it's definitely better with some decorative items in front to tone it down a bit.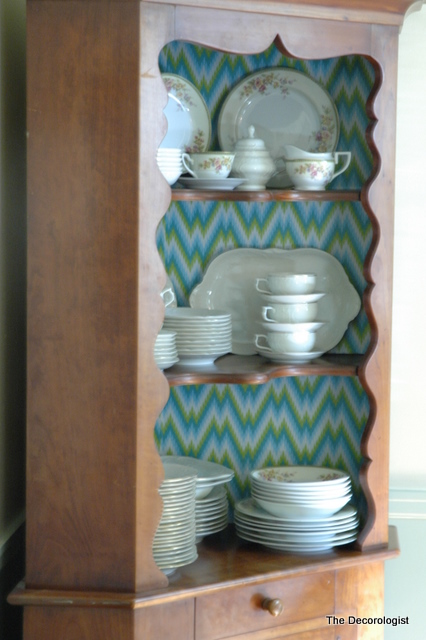 Antique Hutch After Shelf Liner Applied to Back
Stepping back away from it, I'm really liking the way it looks!  It's kinda bold, but I think it works to liven up this traditional piece of furniture.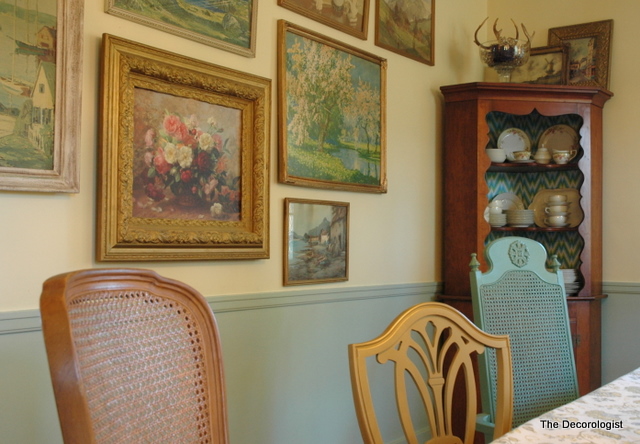 Flamestitch Shelf Liner 
I like how it picks up on the blues in some of my vintage art grouping and my portrait of the lady in the blue dress.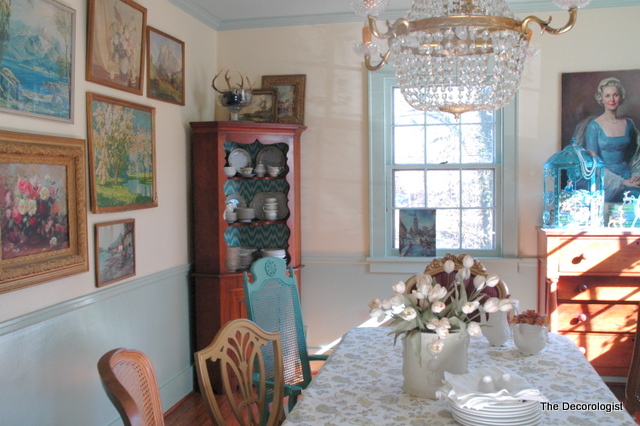 Dining Room
I used one entire roll of shelf liner to completely cover the back of the hutch.  Thankfully, I didn't have to break into the second roll and can give it to my client to try on her hutch!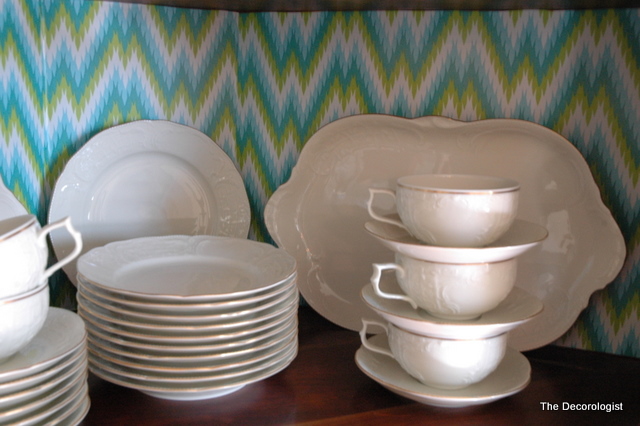 Pretty!
From beginning to end, this project took a little more than an hour and cost me less than $10. Totally worth it, don't you think?
Share this Post