It's probably no surprise that I contemplate interiors more than most.  It's as important to me how a room feels as how it looks, and I'm always trying to understand why it makes me feel a certain way.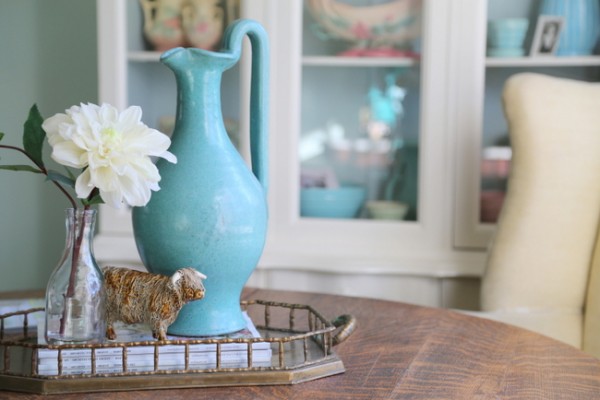 I have often spoke about how much I dislike the  sofa – loveseat combination because it is both a lazy default and an option that is very limiting in regard to arrangement.  At a recent speaking engagement at the international Real Estate Staging Association, I  dubbed it the "lofa" and discouraged it's use whenever possible.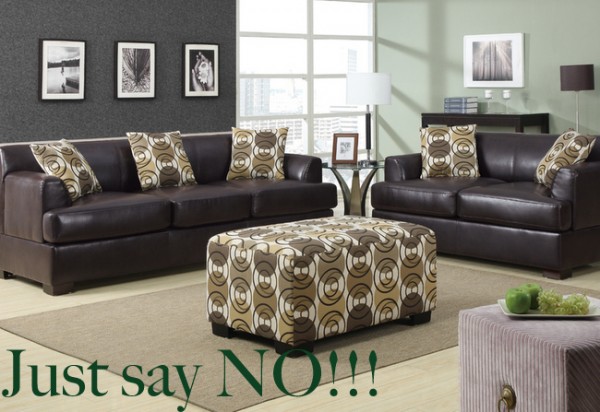 Say "no" to the lofa . . . 
Last summer I worked in a client's living room where I chose new paint colors and rearranged her existing furniture.  That's when I realized that I like her sofa – loveseat combination.  But WHY?  Well, I believe it's because it's not a matching lofa combination –  they are instead two different sized sofas upholstered in different fabrics.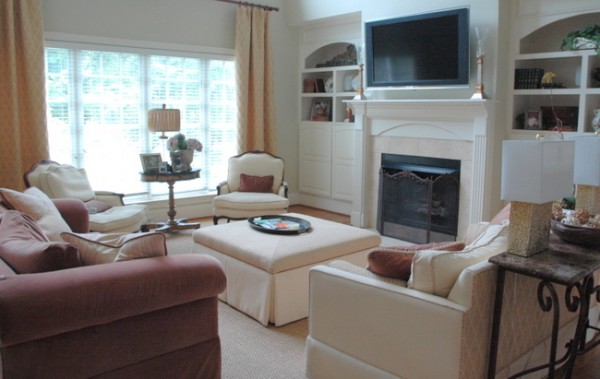 The Decorologist
I haven't really stopped thinking about that room.  I find myself drawn to quirky loveseats that I find at estate sales.  I am also drawn to rooms decorated in a European salon-style with multiple sofas and seating areas within one large room.   I love my living room but find it difficult to seat more than five people in the space, which pushes me to think about seating alternatives on a continual basis.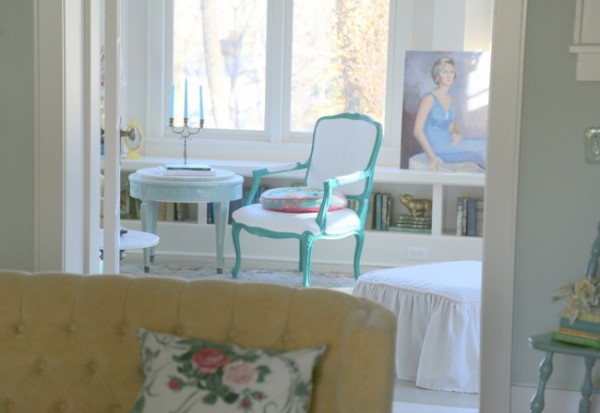 The Decorologist
My home is my laboratory – it's where I do all kinds of design and styling experiments, without worrying about what other people think.  Last year I purchased a vintage loveseat at the Bella Rustica sale for my daughter's bedroom – long story, but it ended up in our downstairs studio and hasn't really been used much.  So it hit me – what if I did something cray-cray like try to work it into my living room conversation area?  Of course, I had to talk my 13-year-old into helping me drag it up the stairs and into place . . .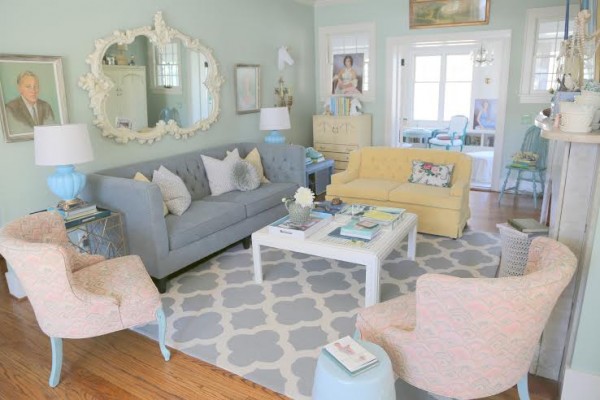 new living room seating arrangement
I'm totally in love with the resulting arrangement.  We had company on Sunday afternoon, and it was awesome to be able to comfortably seat several adult couples in the living room.  I think I may have stumbled upon the perfect seating arrangement:  a mismatched sofa and loveseat + a pair of matching chairs.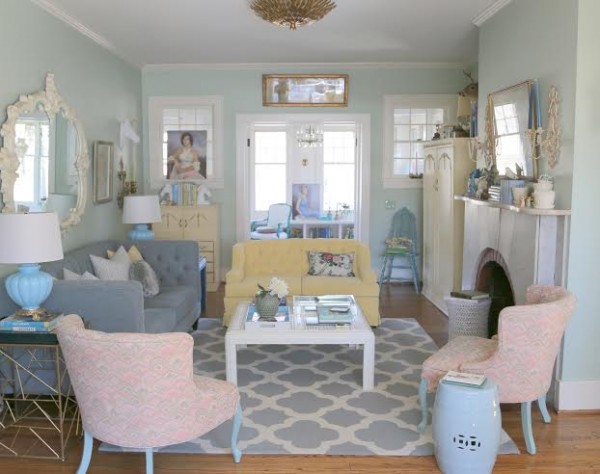 The Decorologist 
Above is the view from the entry of the room.  This arrangement really widens the long, narrow room. And it looks good from every vantage point in the space.  You can take a look at this room the way I had it arranged before here.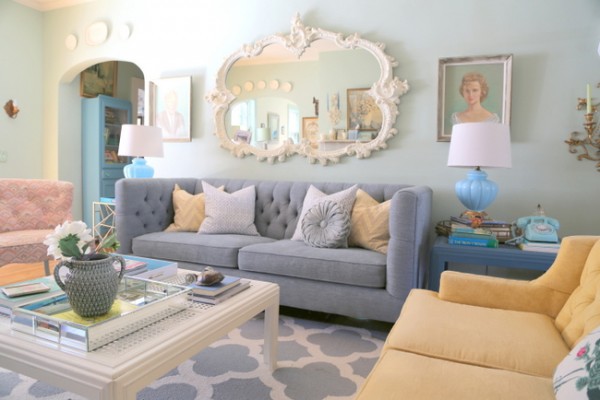 The Decorologist
While both sofas are tufted, that's about all they have in common.  My blue tuxedo-style sofa from Merridian Home Furnishings is larger and has exposed legs, while the shorter vintage loveseat is upholstered in yellow terrycloth-type fabric and sports a skirt and small arms.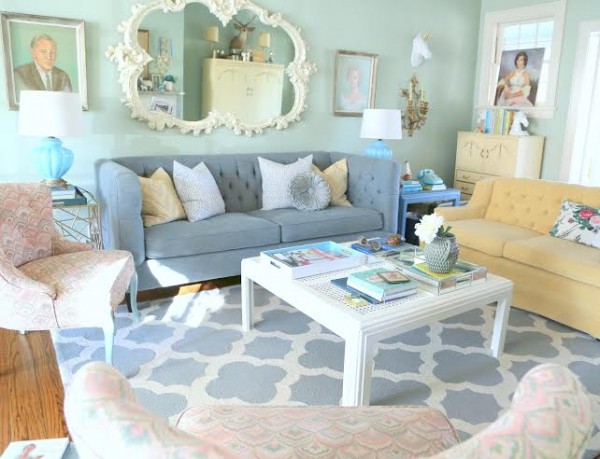 The Decorologist
Finding the right mix is obviously the key – but it helps if you like a bohemian, collected look. The yellow chevron sofa pillows tie in with the sofa, but the sofa is a more vivid version of buttery yellow of some of my casegoods in the room.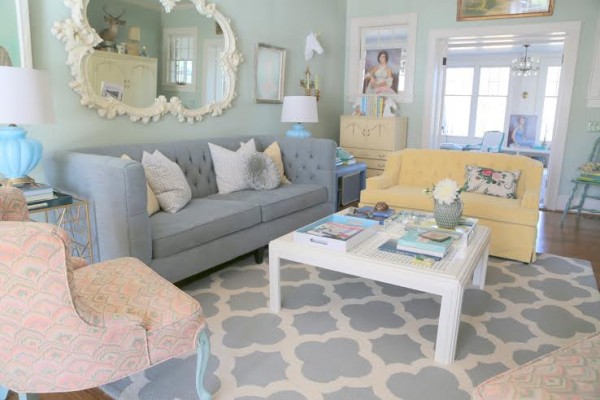 The Decorologist
Did you notice the new unicorn with its glittery horn?  My youngest daughter is currently obsessed with unicorns, so I got this for her for Christmas.  She likes that I hung it in the room where we spend most of our time as a family.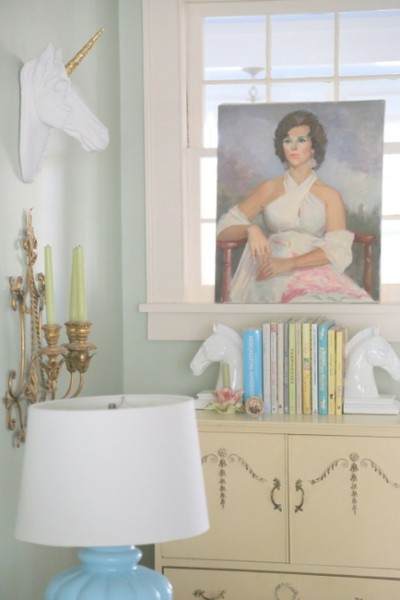 you can find your own unicorn here
In my house, moving the furniture usually results in a reconfiguration of tabletop displays and accessory placement. It's what makes me happy!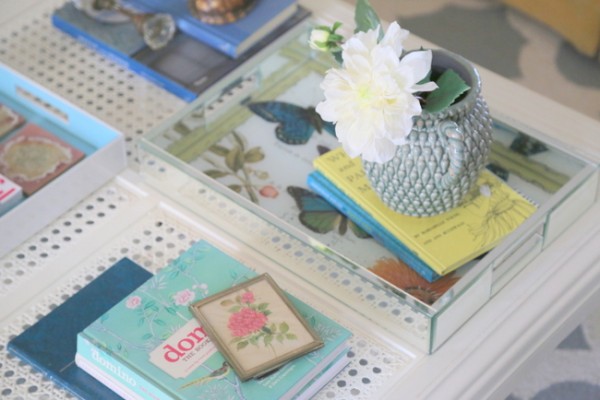 tabletop display 
Do you think you could handle a mismatched sofa and loveseat combo, or are you still a fan of the lofa?