I've been working with several clients on bathroom updating lately and wanted to share a few tips for doing so on a budget. Allison has been working for me for about three years now, and her family recently moved across town to be closer to their children's schools. They bought a great house with good bones, but dated finishes.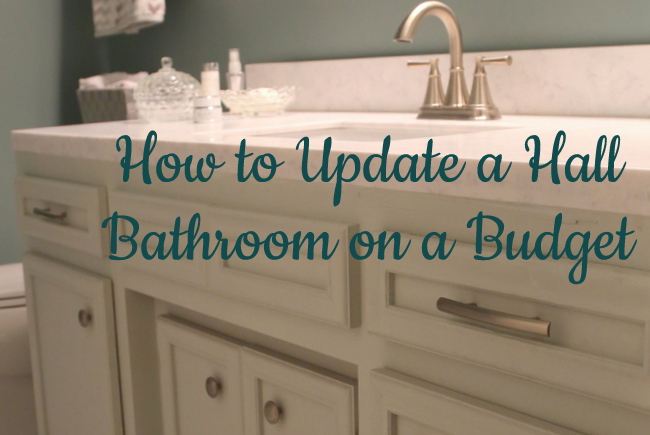 Working with me for a few years, Allison has learned that she shouldn't let that stand in her way! She asked me to help her update her two bathrooms, one of which was a windowless hall bathroom that served her children and guests. The budget? Under $5000.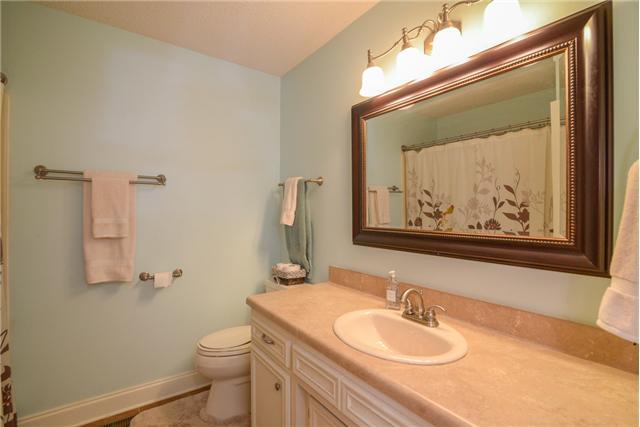 hall bathroom before 
The dated peachy countertop needed to be replaced, so that was high on the priority list. The yellowed tub insert was slated to GO – no doubt about that. And the dark flooring looked dirty and, again, dated.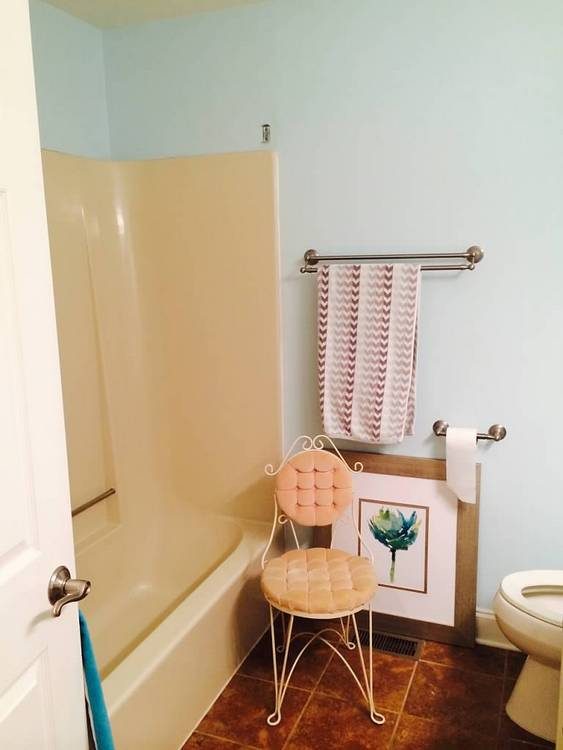 bathroom before
The budget wasn't going to allow for replacing the vanity cabinetry, nor was it really needed. Allison was concerned about how to update the existing cabinetry. Here's a close-up of the rough texture of it: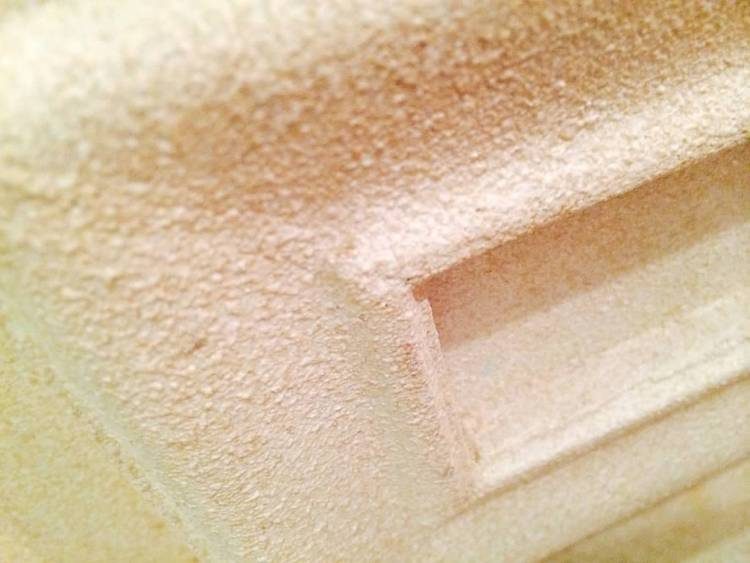 There was an antiqued glazing on the cabinet, which simply drew MORE attention to the awful texture. I assured her that a pretty new color in a satin finish and slick new cabinet pulls would take away the focus on that textured finish. The texture is still there, but you really don't notice it anymore: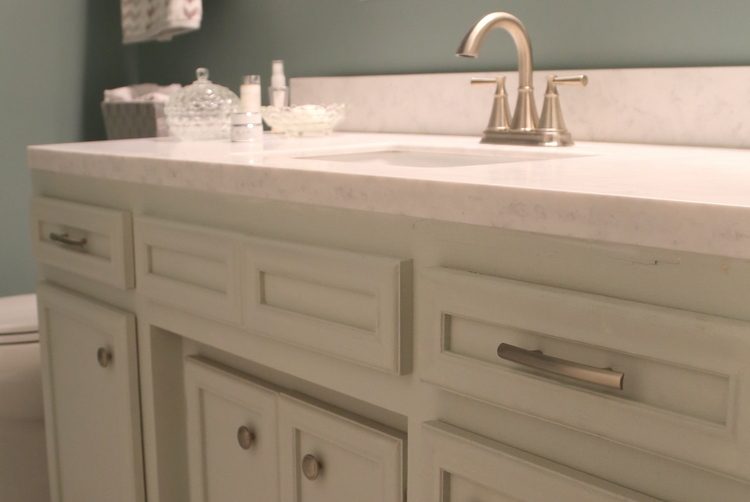 When you have a dark room with no natural light source, it's actually better to go a bit darker on your paint color to add personality and interest. When you do, however, it's best to keep the flooring, cabinetry, and other finishes LIGHT. If you've ever been in a dark painted powder room with dark floors and cabinetry, it really feels a bit like a black hole. For some weird reason, when I use a powder room like that, I get the feeling I'm going to get bit by a spider.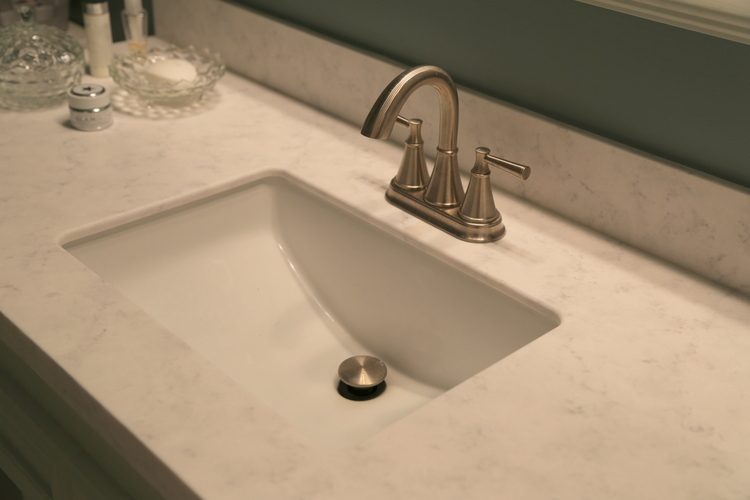 No spiders here, though! We found this Evercor solid surface countertop that looks like marble (Baroque Aspen) at Home Depot – , but it's really gorgeous! A square sink like this one definitely updates the look of this room, too. To cut costs, we decided to keep the tub fixtures, towel rack, toilet paper holder, and door hardware. We purchased cabinet pulls, sink fixture, and the light fixture in the same finish from Home Depot.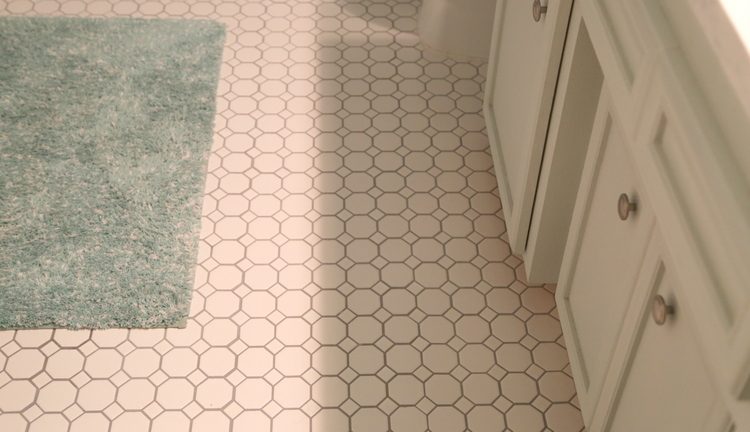 The floor tile is a timeless, classic pattern that lightens the room from below. The ceramic floor tile is American Olean Sausalito from Lowes at $2.98 per square foot, accented with a light gray grout to define the octagon shape a bit.
Here's the "before" of the vanity area: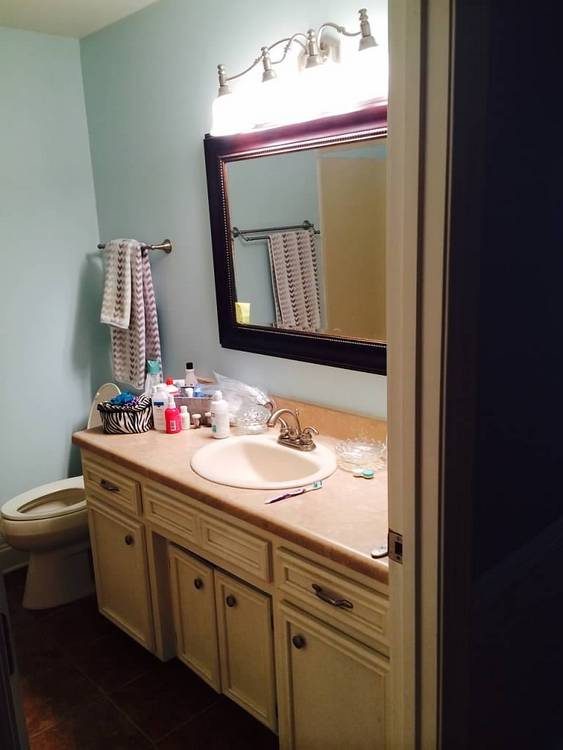 hall bath before
I told Allison to paint the mirror out the same color as her trim – no need to replace it! We had one towel bar removed, so that there would be a place to place art in the small bathroom.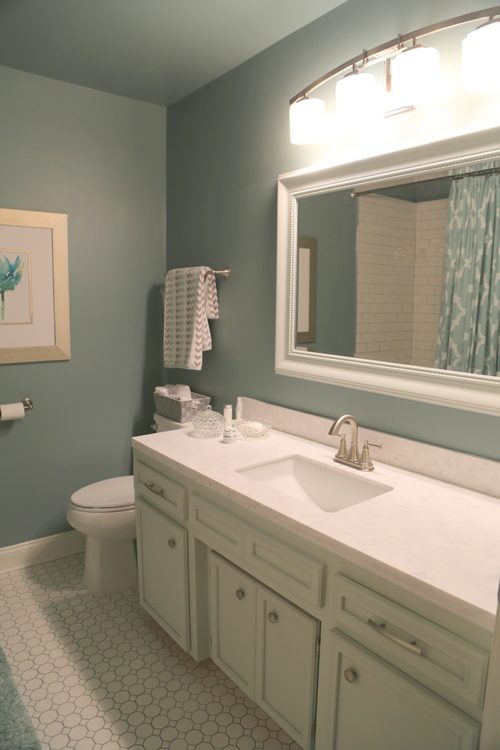 Here again is the "before" shot of the bathtub to the left of the room: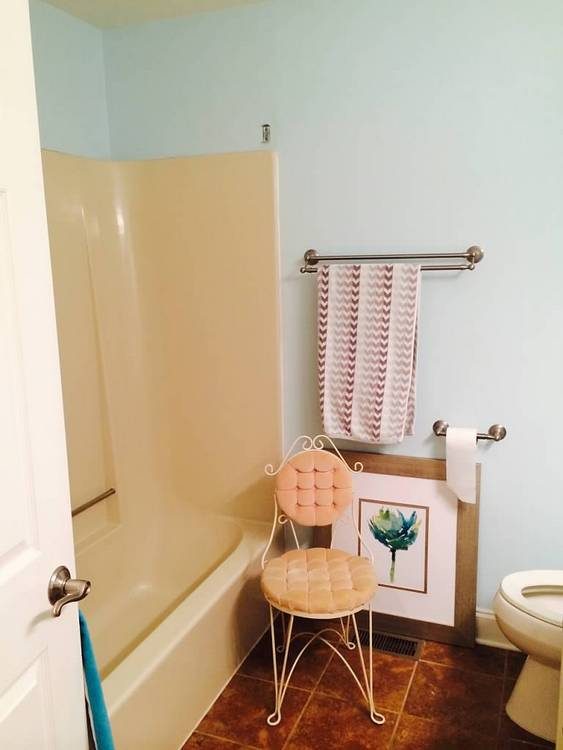 American Olean white ceramic subway tile for the tub/shower surround was only $0.22 a piece. We used the same gray grout we used on the floor. No need to get "fancy" in a shower with a shower curtain – use your money on something more visual, like the countertop!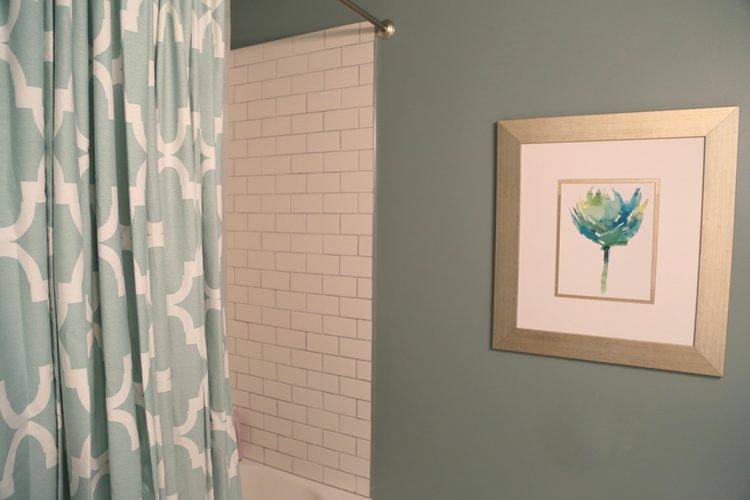 The shower curtain, art, and towels are from HomeGoods. We actually bought them for Allison's former home last year.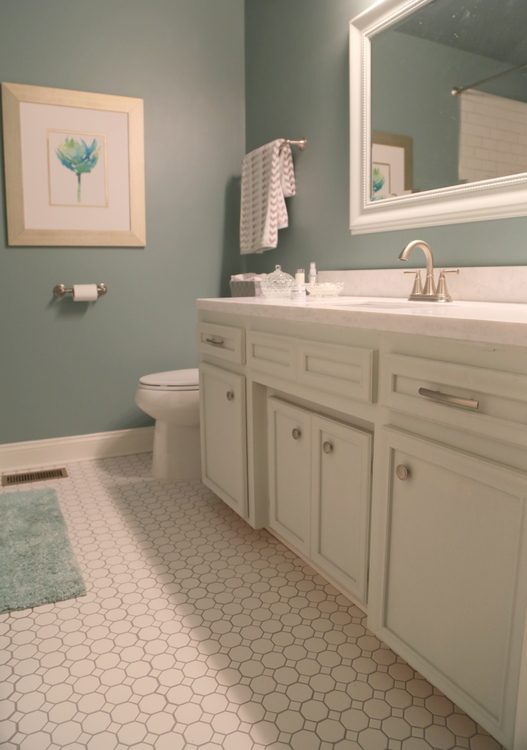 [row style="divided"]
[col span="1/3″]
What We Replaced
[divider]
Floor Tile
Wall Tile
Countertop
Vanity Lighting
Sink Faucet
Cabinet Pulls
Tub
[/col]
[col span="1/3″]
What We Painted
[divider]
Walls
Ceiling
Cabinetry
Mirror Frame
[/col]
[col span="1/3″]
What We Kept
[divider]
Toilet
Some hardware and fixture
Cabinetry
Mirror
[/col]
[/row]
Most of the project was done via phone/online consultation, in addition to one afternoon of shopping for new items. And guess what? We came in under budget! Allison and her family are thrilled with the results. We even did their master bathroom, too – I'll share that one soon! She was very pleased with the work of her contractors. If you are in the Greater Nashville area, check them out here. Tell them The Decorologist sent you!
[ux_bestseller_products products="" columns="4″ title="Check out my bestsellers!"]