This is an article I never thought I'd write.  Because I'm a paint-the-paneling-kind-of-girl.  If you read this blog on a regular basis, I'm pretty sure you know exactly how I feel about wood paneling.  To clarify, it's not that I don't like it – I just like it painted out.  Real knotty pine wood paneling is fabulous architecture to have.  But again, I prefer it be painted out.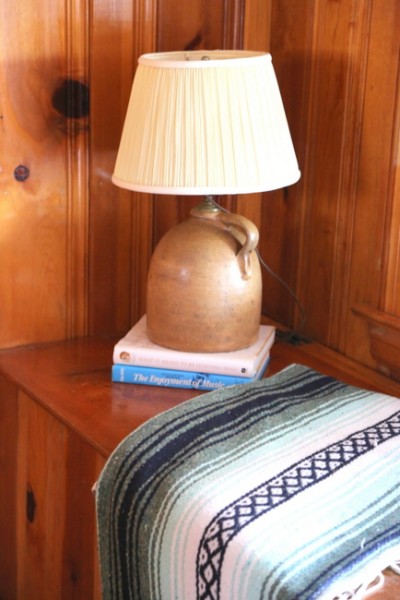 knotty pine 
Sometimes wood paneling can't be painted.  Because the man of the house feels unreasonably strongly about preserving the natural wood.  Other times, it is an issue of cost. If you have knotty pine paneling professionally painted, it requires a heck of a lot of prep, priming, and painting to permanently cover those dark knots.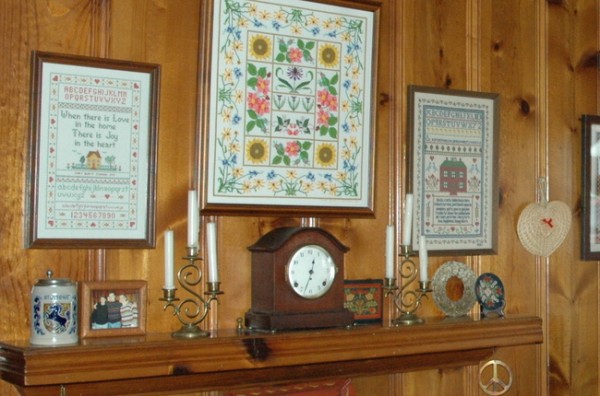 knotty pine before 
There is also a new generation of homebuyers who may have never been exposed to the infamous knotty pine. They didn't grow up with it, haven't tired of it moody darkness.  Maybe they are embracing the past, embracing the coziness of knotty pine. This week I staged a home with knotty pine – two big rooms of it.  Painting the rooms was off the table – not an option.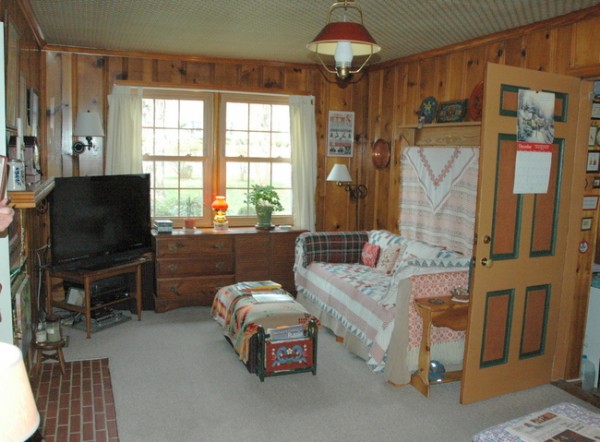 knotty pine paneling before
A couple of important things to remember when decorating with knotty pine walls – knotty pine is busy.  It's usually orangey-brown and, duh, full of dark knots. Because of the inherent business of knotty pine, it's important to keep other things in the space simple and clean. Clutter becomes visual chaos very quickly!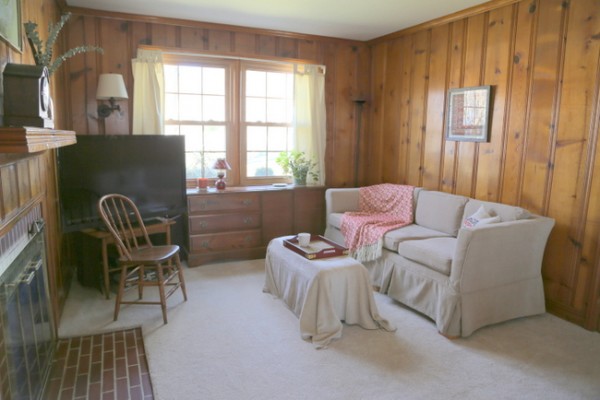 staged knotty pine room after 
I know, that television is HUGE.  Moving that?  Not an option, either.  In knotty pine rooms, keep wall hangings/art simple – and use only a few carefully selected pieces so that they are truly noticed.  And it's probably best to keep large upholstery in solid colors – not busy patterns.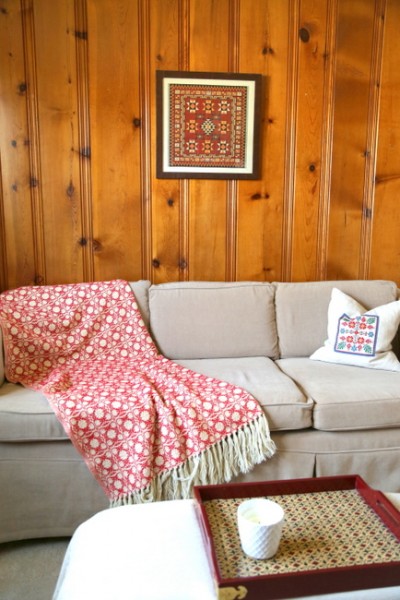 staging after 
Don't try to layer the knotty pine with lots of fabrics and patterns, like those found in quilts: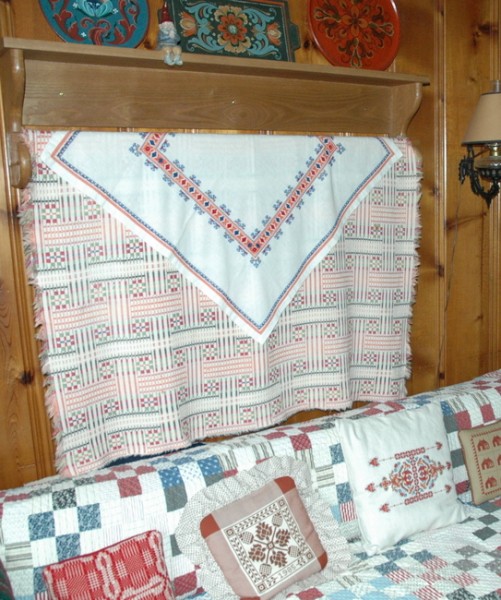 before 
Instead, keep it simple.  Choose one pattern to pop into a throw or blanket to make a bit of impact.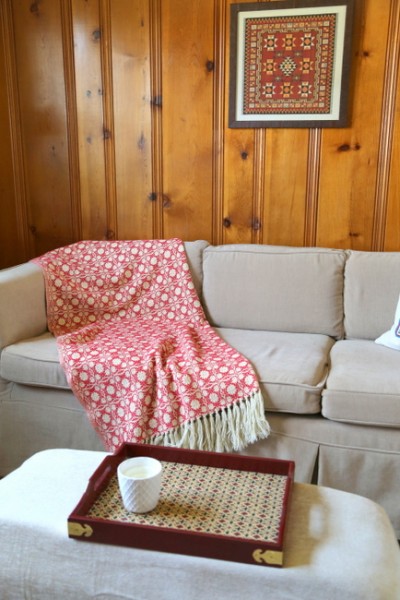 less is more in a room with knotty pine wood paneling 
Knotty pine rooms often require ruthless editing.  Here's one end of the den before: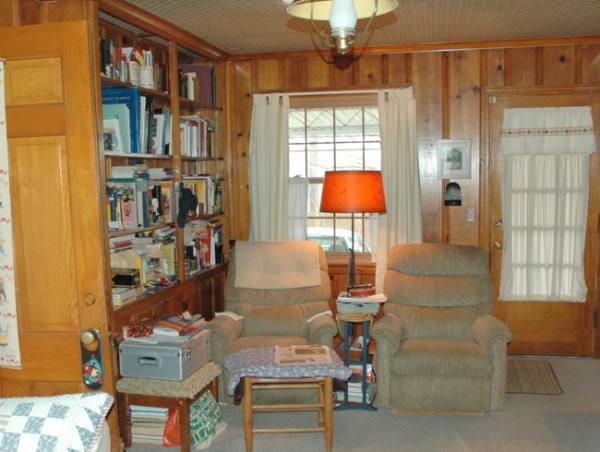 knotty pine den before
Simplify, simplify, simplify.  Let the knotty pine sing!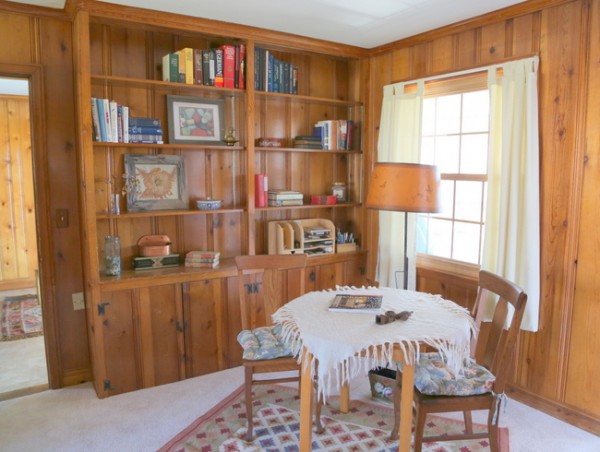 knotty pine den after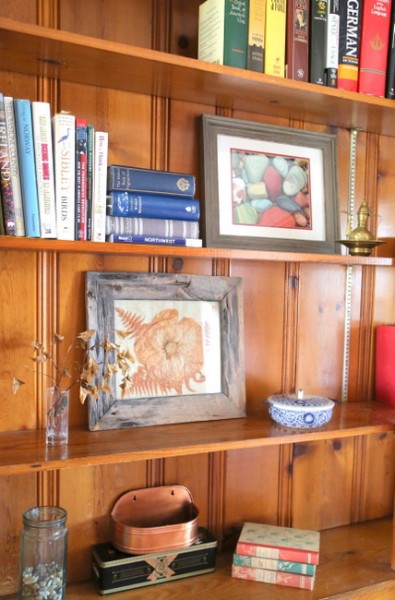 knotty pine bookcase
Here's a photo of the over-filled knotty pine office before: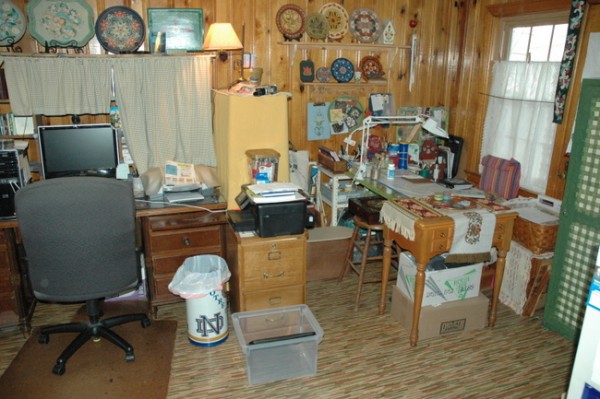 knotty pine office before 
A whole lot of editing and decluttering took place in this office.  And this is the final effect: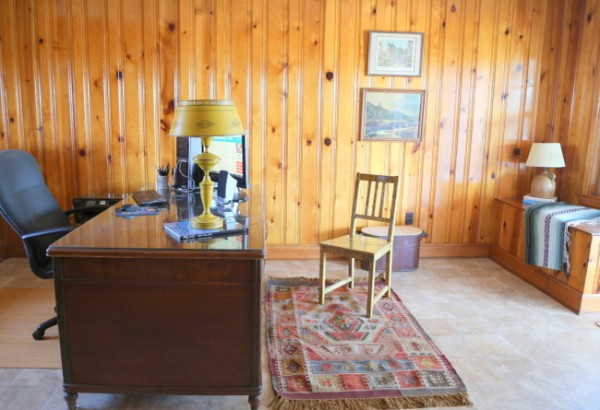 knotty pine office after
And from another angle of the office, this is the before: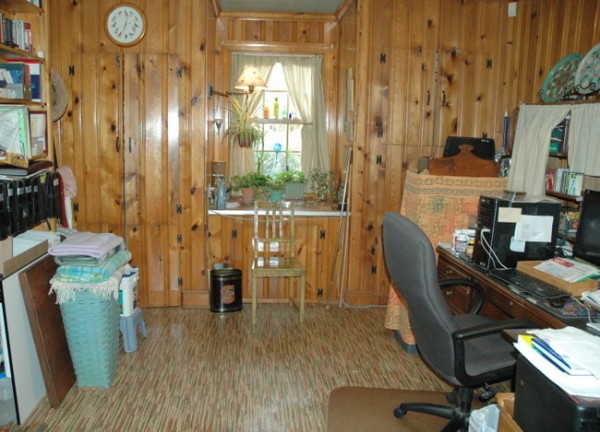 before
Can you believe the difference?  The one thing I miss is the original linoleum sheet flooring – it was really, really awesome.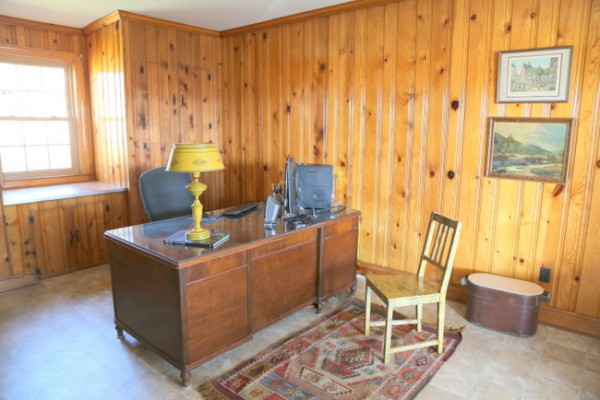 wood paneling office after 
I think this knotty pine redesign turned out really well.  What do you think?  Could you live with knotty pine?