Spring is nearly, finally here! I actually have some spring bulbs popping up in my yard, which makes me hopeful for warmer weather.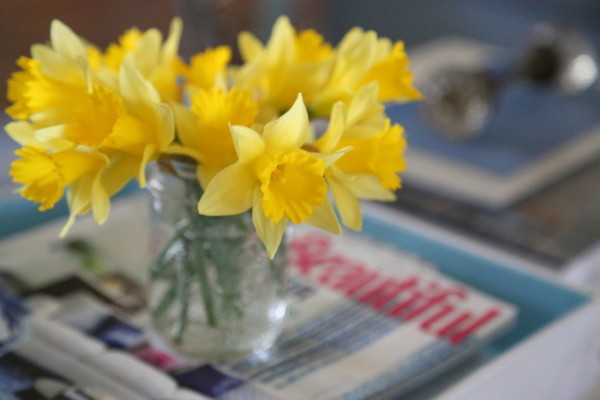 Spring!
Spring always inspires a few projects around my house, so here's a few I finished up this week. Let's start with the mid-century dresser I found at an estate sale in the late fall.  I had been looking for just the right piece to use in my dining room as a sideboard with lots of storage.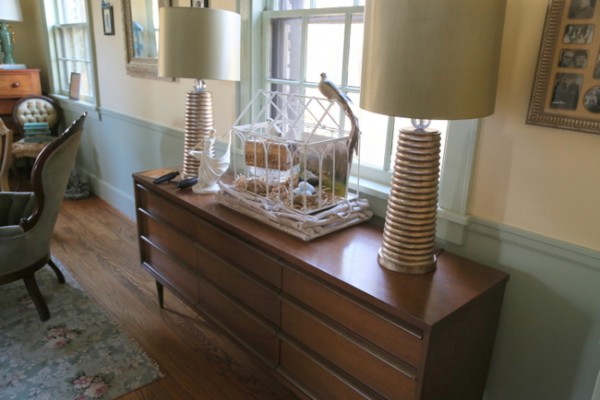 mid-century dresser before
I painted one coat of Annie Sloan's Florence Chalk Paint and decided it was too vivid and shocking a color for my more muted dining room colors.  I had thought I'd put a dark wax over it to dull it, but I didn't want a rustic finish on this.  It just didn't seem right for a mid-century piece.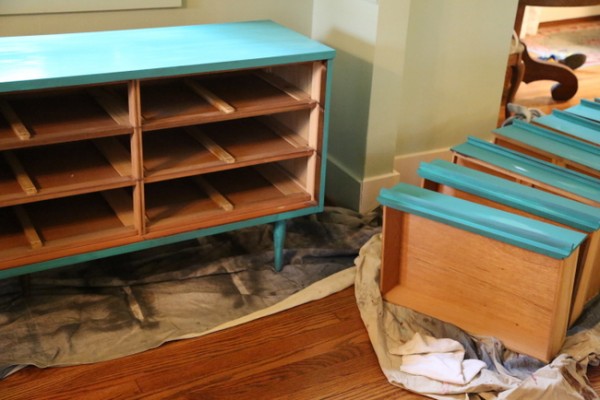 So, instead I took some Annie Sloan Graphite (a really nice charcoal gray) and made my own custom color for the second coat of paint.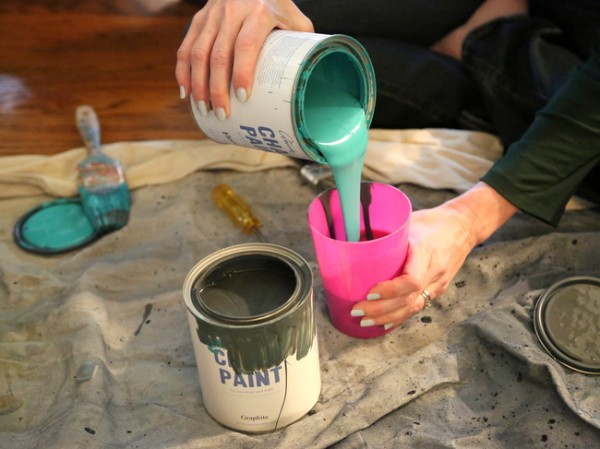 Florence + Graphite = Mucho Mejor! (translation – much better)
Here's how the dresser/sideboard turned out after the second coat and a application of clear wax: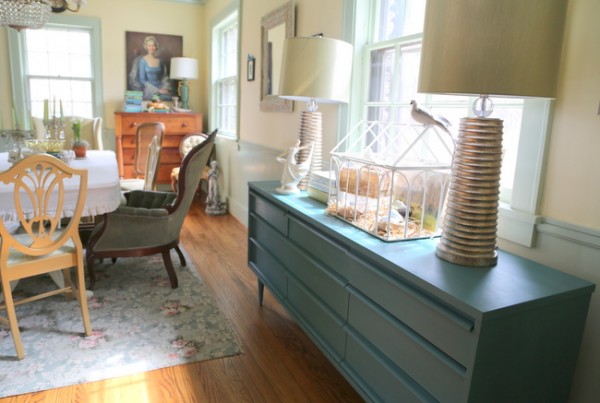 after
I also painted this non-functioning cuckoo clock I bought for $15.  The face of it was plastic, and it was made in China, so I didn't feel bad about doing something fun with it.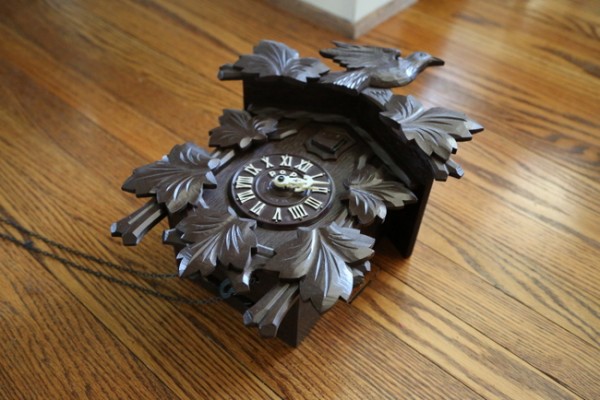 cuckoo clock before
I wanted to hang this in the dining room as well, so I wanted it to relate to the dresser without being an exact match.  I decided on straight-up Florence with a bit of dark wax on top.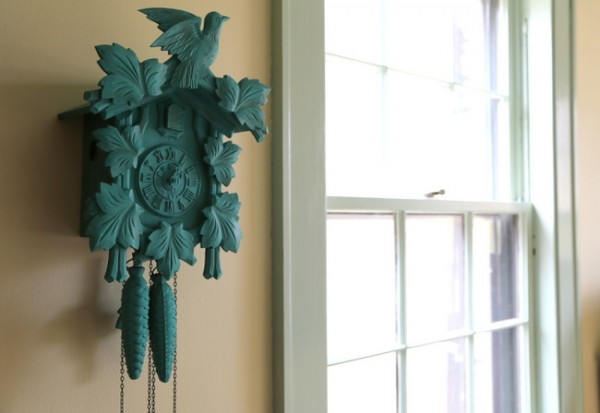 It's a fun pop of color over here next to my corner china cabinet, don't you think?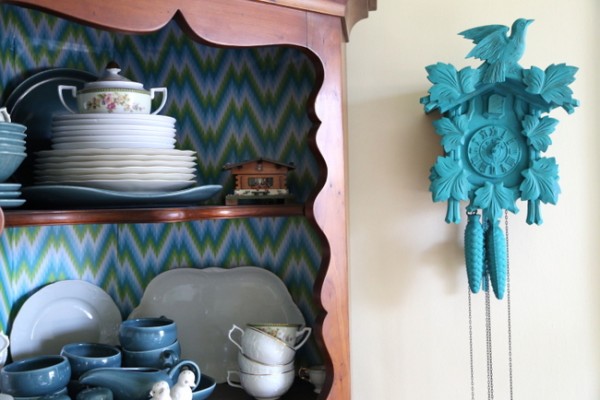 I feel pretty sure this cutey will be quite the conversation piece over dinners with friends. Here's a photo with a little more context: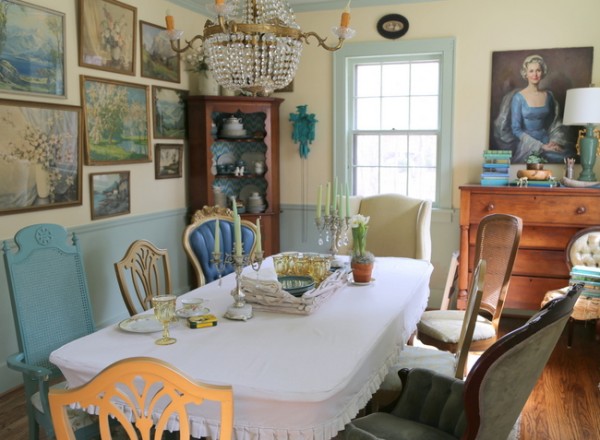 for details on that blue Victorian chair, check this out
And finally, I found this cool man portrait at a yard sale last week for a whopping $3.  It's an actual original painting, too!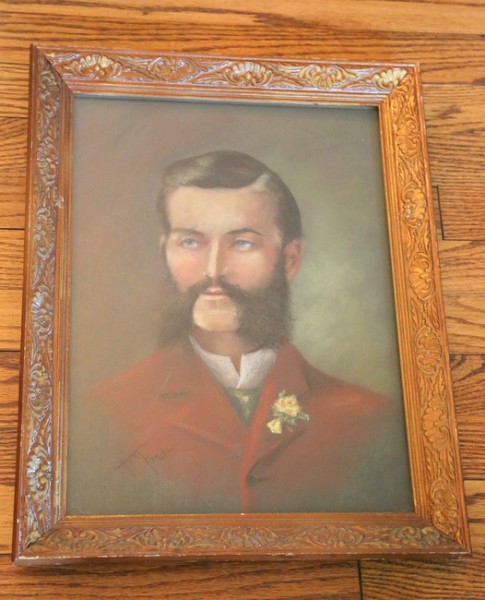 The frame looked a bit too staid for me, so again I pulled out the Annie Sloan Florence.  Also added the dark wax.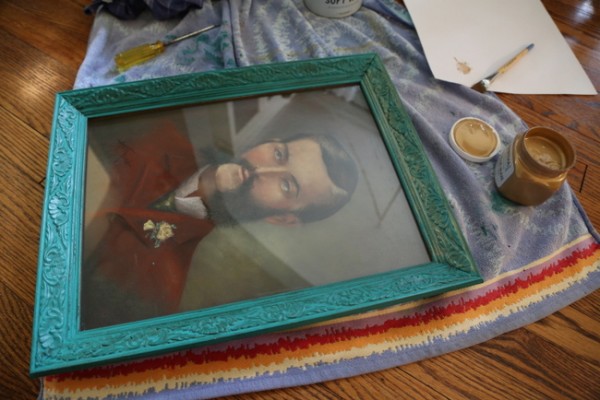 painted frame in process
I hung it in the odd little place I had wanted to hang it.  But it didn't tie in enough with the piece stacked above it.  So I painted on a couple of coats of Martha Stewart gold glaze I found at Home Depot.  It's water-based, but is kinda gooey and takes several days to dry. Now it totally ties in with the gold frame above it!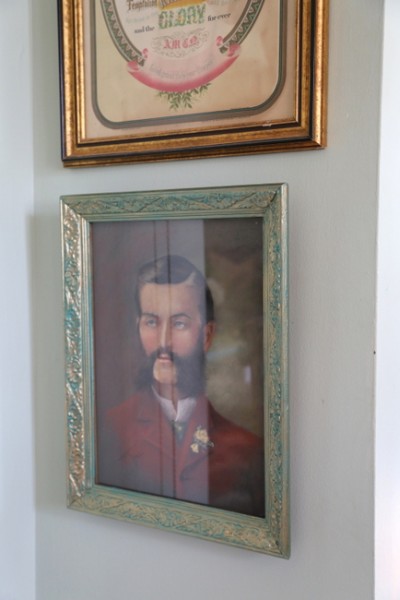 not so serious now, huh, mister?
When looking from the entry/living room, you can see all three pieces that I painted.  They relate, but aren't exact matches.  Yes, it's quirky.  And I like it a lot.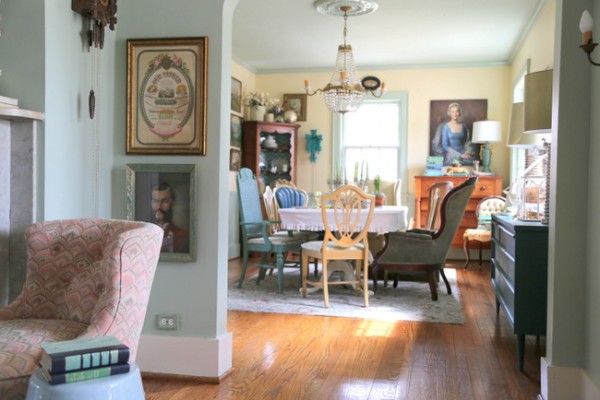 Who's working on their own home decorating projects this weekend?