Lately there's been talk about the possible demise of the popular open floor plan. It's been popular for about a decade and still what most people want (or think they want). Sure, they help the light pour in throughout the space and give us some amazing views. But this kind of floor plan is really quite new in the history of dwellings. Did you know that 25 years ago, an open floor plan meant rooms without doors? Well, now it means rooms without walls. And there are some issues that accompany rooms with no boundaries.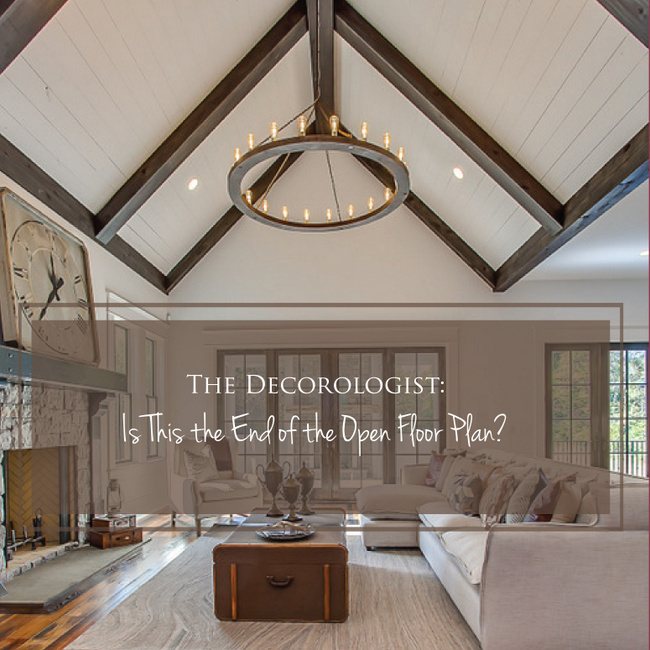 While there are many positives to living in an open floor plan home, there are quite a few negatives. The number one negative may be the noise. Without walls to separate rooms, there is no barrier for noise – the banging of pots and pans or a loud dishwashing machine may annoy someone in the living area who's trying to listen to the news, while the blaring television may make mommy in the kitchen want to pull her hair out. The higher the ceiling, the more difficult it will be to mitigate noise. I've been in many homes that are an acoustical nightmare – like a terrifying echo chamber from which there is no escape.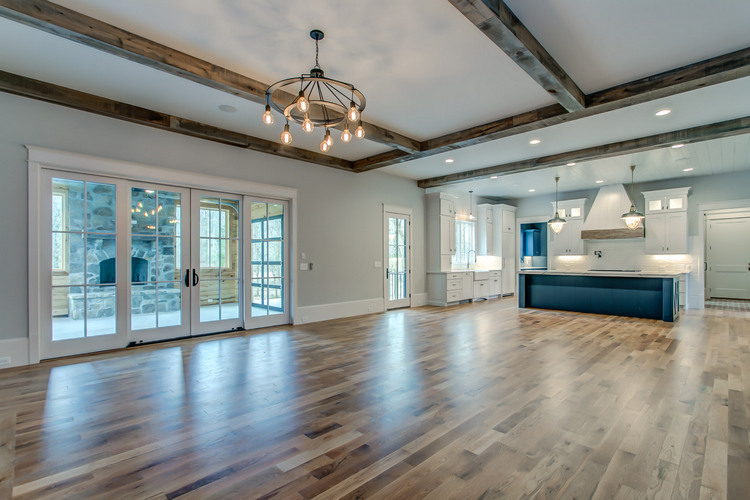 Kole Custom HomeBuilders, color palette by The Decorologist
Sometimes the grown-ups need to be a little separated from the kiddos. Sure, it may sound lonely to be isolated in the hidden-away kitchen while those elsewhere in the house are having all the fun, but maybe that's just irrational FOMO? In reality, some moms don't want their kids or husband in the kitchen while they are preparing meals because they actually enjoy that time "alone." Perhaps they'd prefer to watch The Great British Bake Off rather than Paw Patrol while preparing dinner.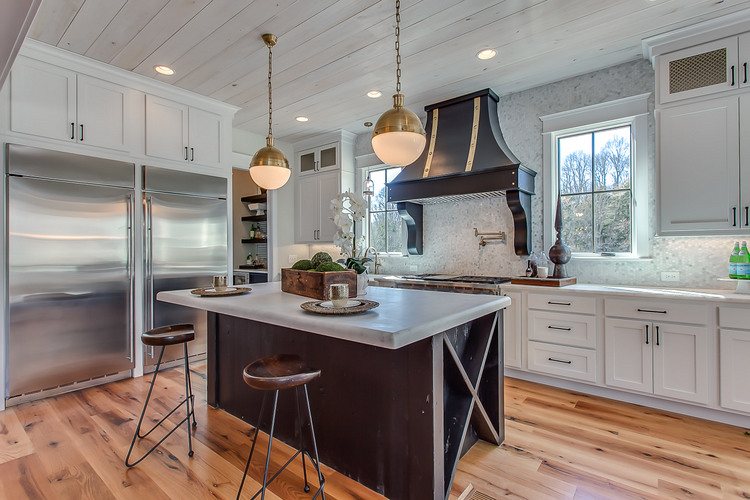 Kole Custom Homebuilders, color palette by The Decorologist
Or if you are like me, you may have difficulty being cool and confident enough to prepare a five course meal right in front of your guests. We all need a sense of refuge which defined rooms provide. Isn't this why "away rooms", "man caves," and "she sheds" are so popular? If your kids are right in the middle of the action, it's difficult to work from home, watch a grown-up television program, or have a private conversation when there are precious few walls to separate you. And it's really difficult to concentrate during a small group Bible study in a living room with an open staircase and catwalk above when the kids are playing Star Wars in the upstairs rec room.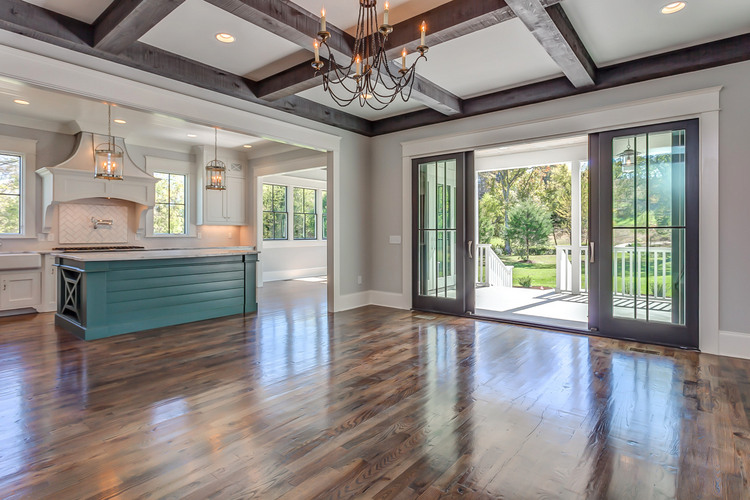 Kole Custom Homebuilders, color palette by The Decorologist
And then there's the mess. Who says you want the dirty dishes and ALL THE THINGS within your line of sight from every vantage point of your first floor open living area? Many of us feel a sense of relief sitting in the one clean room of the house when the rest of the place is a wreck – but that's not possible if we can see it all. An open, continuous space is harder to keep clean and tidy all the time.
Some contend that the closed kitchen is much more efficient for cooking than the sprawling, open "chef's kitchens" that are now popular. According to Kate Wagner (author of the blog, McMansion Hell), it enables whoever does the cooking to take fewer steps to perform tasks. In contrast, the open chef's kitchen is wasteful and sprawling. "Instead of moving the sink closer to the stove, builders install a pot filler or a second sink in a center island . . . instead of closing in the main kitchen to isolate the disorder of food preparation, developers are building (second) 'mess kitchens' for this purpose."
So, am I suggesting that this is the beginning of the end for the open floor plan? Certainly not – this type of home will continue to be the most desired by most homebuyers. But let me share some ideas for mitigating the inherent problems that arise from this kind of floor plan:
Mitigating the Problems of an Open Floor Plan
In order to reduce noise, you need to add lots of upholstered furniture and large rugs to begin to soak up the sound. Installing plenty of lined drapery will help, as well. The more soft goods in a space, the better. Consider putting the dishwasher in the butler's pantry rather than in the open kitchen.  Or maybe cough up the extra money for a near-silent dishwasher.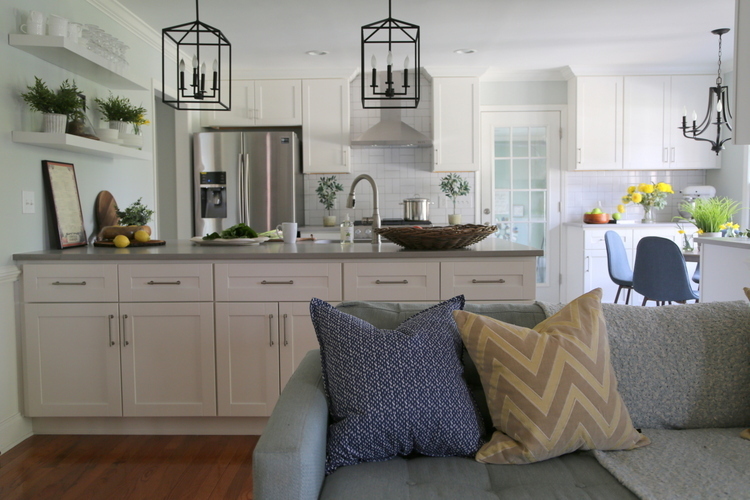 kitchen design by The Decorologist
Maybe having an open floor concept will motivate you to keep your kitchen tidy! Seeing the mess from the living room sofa may be more than you can stand, and you'll make it a routine to clean up right after dinner instead of putting it off until after the kids go to bed. Or better yet, have the kids do the dishes while they're watching Paw Patrol! Also, if you include a butler's pantry with an extra sink, the biggest messes could be contained out of sight for awhile.
You can have an open concept floor plan without knocking down ALL the walls. Don't go crazy. Maybe increase the size of wall openings and use beautiful trim to encase them, adding classic sliding pocket doors to close off areas when desired. While you could use sliding barn doors, pocket doors require less obtrusive hardware and are much more timeless. Leave partial walls that help give a sense of boundary, as well as give you more wall space for built-ins, art, and furniture to nestle against. Use half walls, kitchen peninsulas rather than islands, and even columns to purposely differentiate spaces.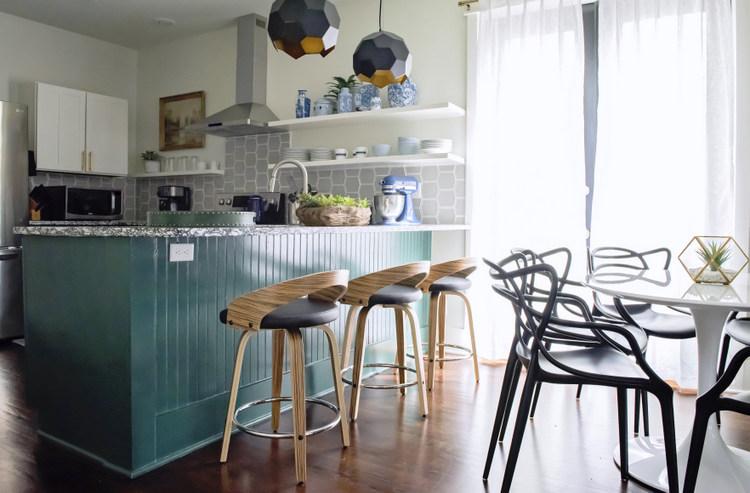 kitchen design by The Decorologist
Here's a graphic you can pin for future reference: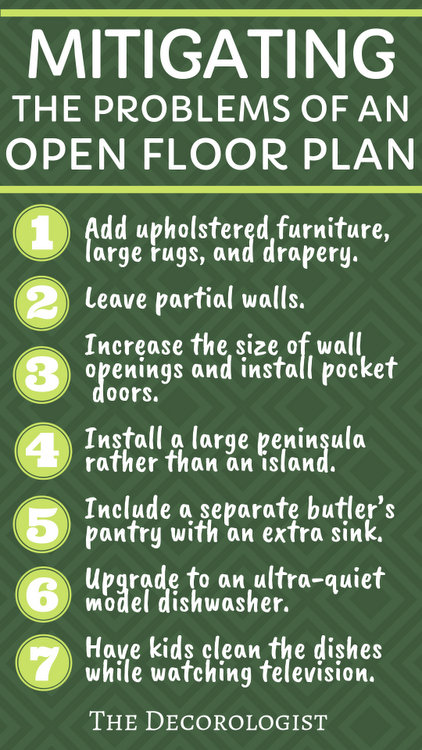 If you have any other ideas for mitigating the problems of an open floor plan, please share in the comments!