One of my favorite things to do is to go to neighborhood home tours all around the Greater Nashville area. They are often annual events in historic districts where you are able to see both excellently preserved architecture and brave, bold remodels for today's generation.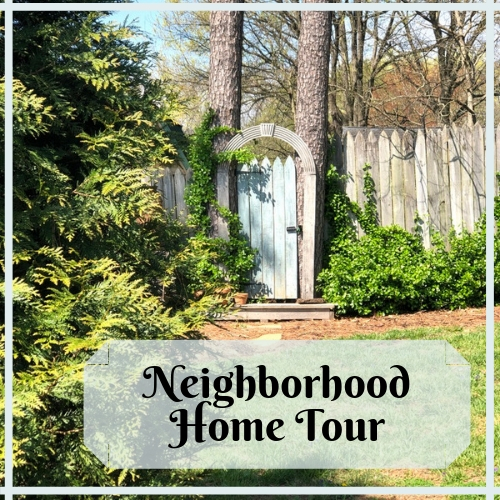 My own house was on our neighborhood tour 10 years ago. When this was publicized, it led to the discovery of more of my home's history. The original owner's adult grandchildren contacted us. They had never seen the 1939 stone cottage their grandfather had built.  We had a wonderful little "family reunion" with them, and they graciously shared all they knew of its past and the legacy of their grandfather.
Attending the Crieve Hall Tour of Homes this year brought yet another discovery about my own home, which I'll tell you all about a little later on!
The majority of the homes in my sprawling neighborhood were built in the 1950s and 1960s in the style of the classic mid-century ranch. Our home is one of the older properties that existed before all the ranch homes were built in this area. Most of the homes on the tours are creative renovations and expansions of these ranches. They are wonderful inspirations for anyone wishing to renovate or update their own similar homes.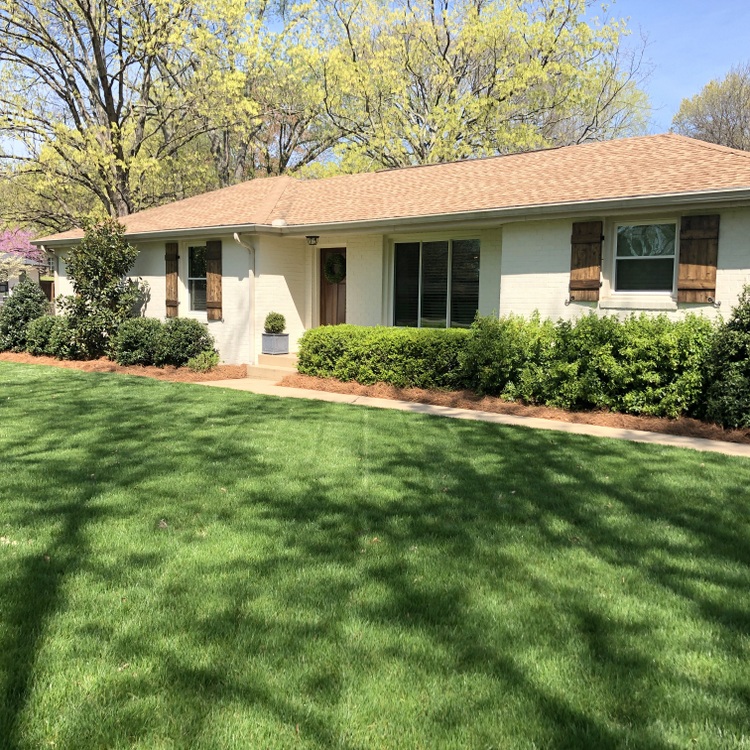 Most have been recently updated by couples and young families, and I spied many 2019 decorating trends in their renovations. Like this graphic wallpaper along two walls of the entry of one of the neighborhood's ranch homes: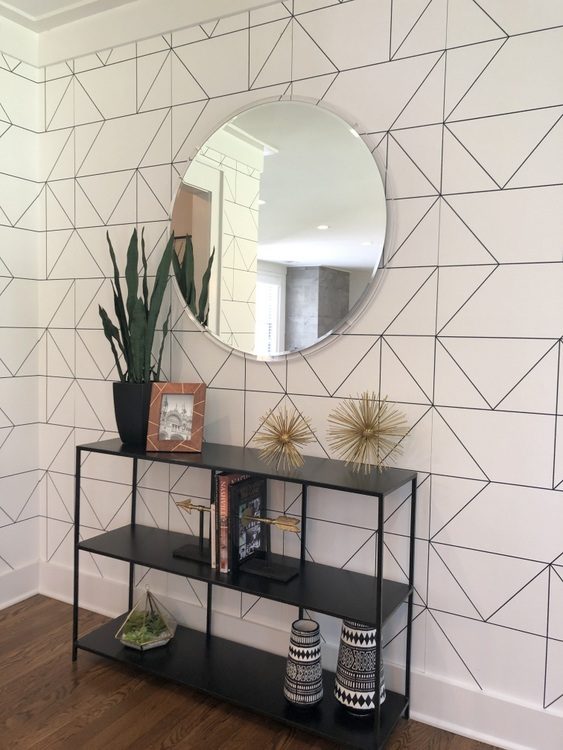 I swear, it looks like tile in person. I just had to touch it, to feel the grout lines – but I still wasn't sure. Lo and behold, it was actually textured wallpaper! You'll also notice a few other 2019 decorating trends in this home, like white walls and interior doors painted out a COLOR: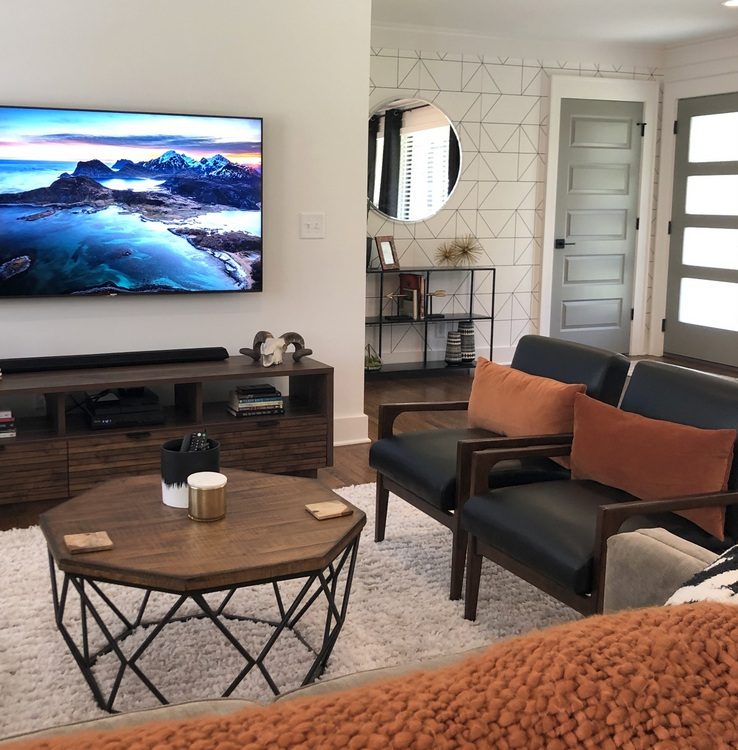 Darkly painted walls in offices and libraries were popular, like this navy home office: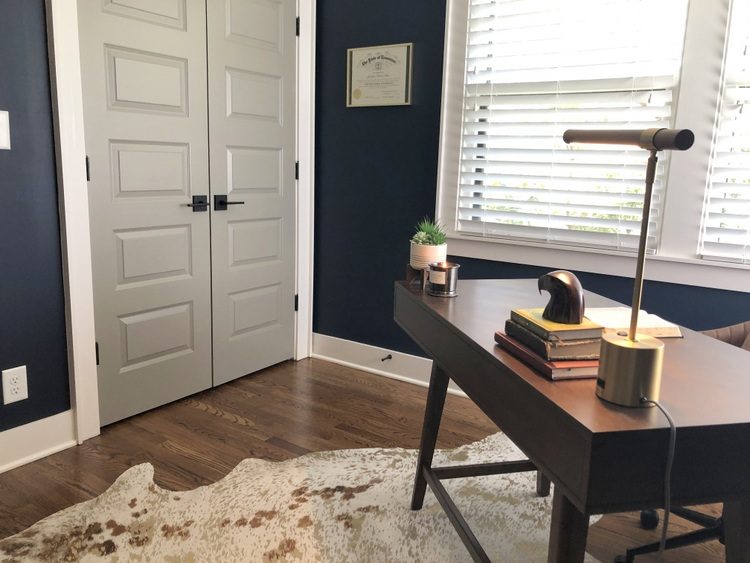 and this library where the built-ins, walls, trim, and ceiling are all painted out dark gray: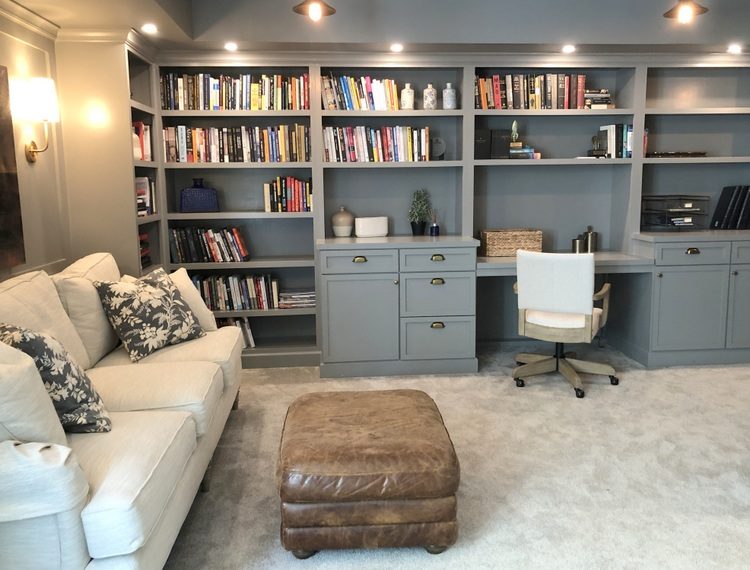 Black windows on both interiors and exteriors is a big 2019 decorating trend, like on this mid-century modern ranch: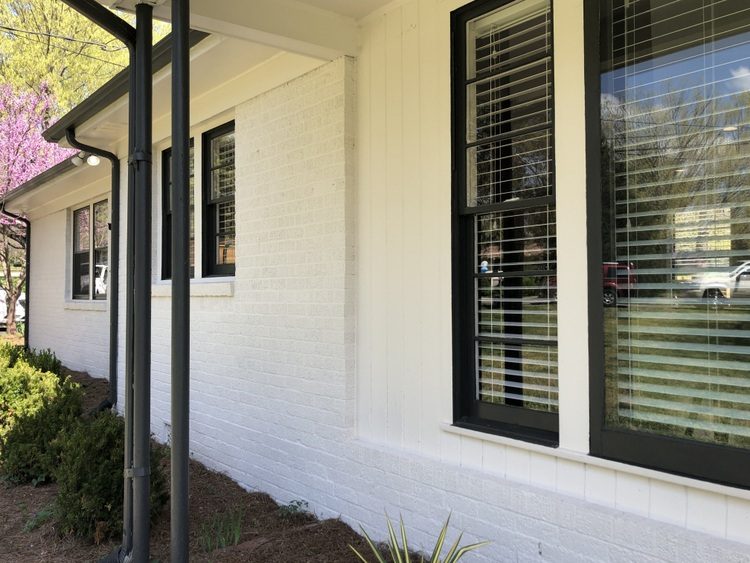 Since so many of the homes have recently renovated bathrooms (no more pink and green tiled bathrooms, sadly), there are many 2019 decorating trends that do not surprise me at all. Lots of light and bright quartz countertops: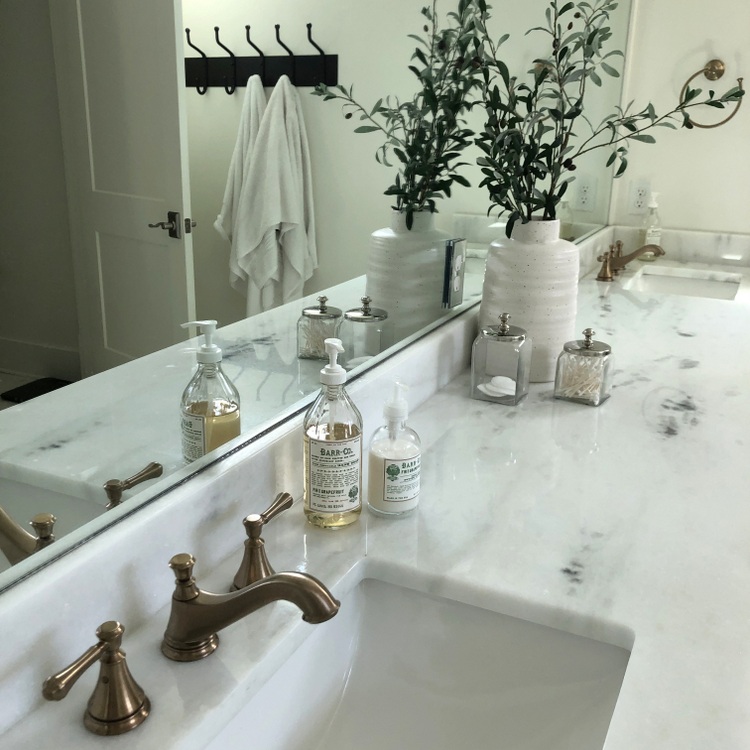 gold bathroom fixtures and hardware: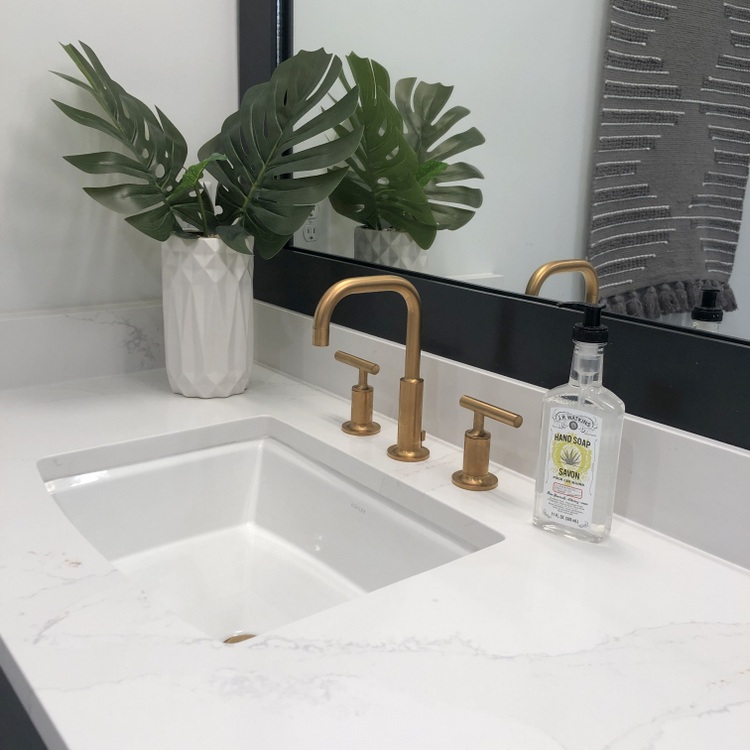 all-glass showers and lots of subway tile: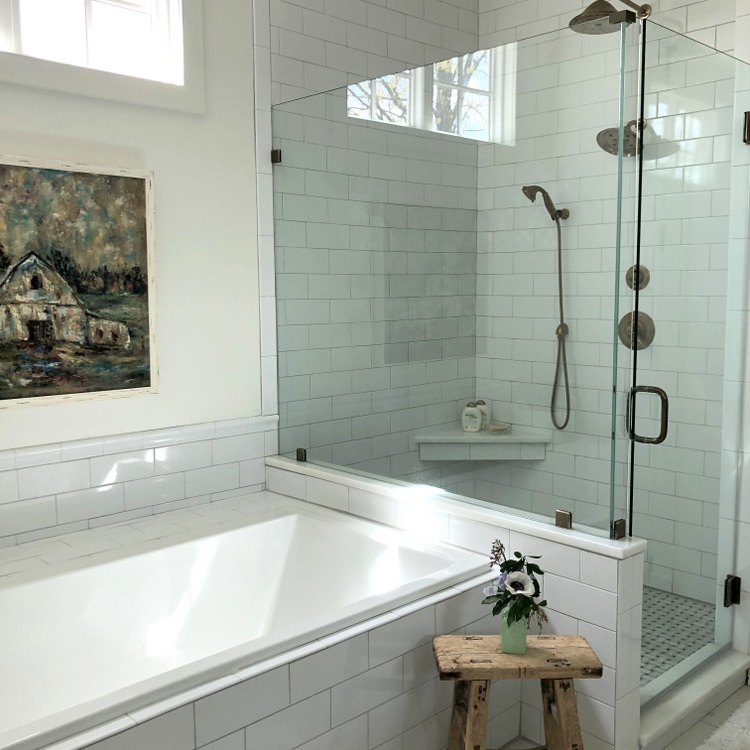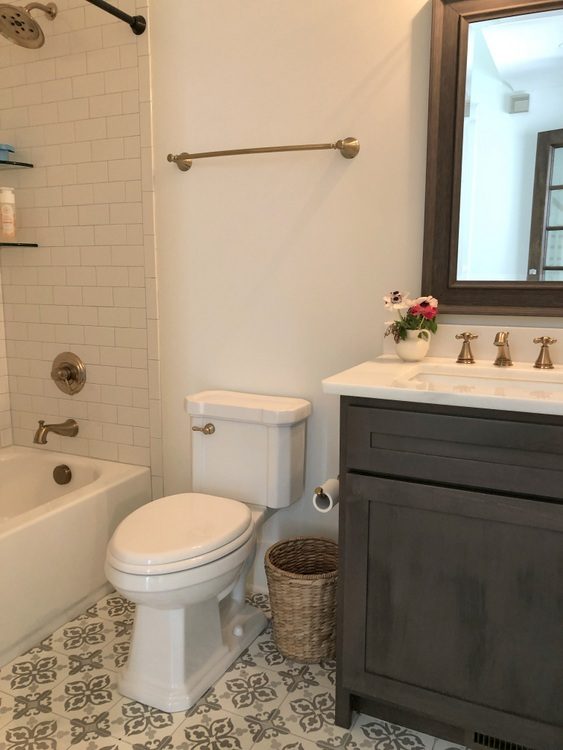 I saved the best house for last – the historic house I have always been curious about and have always wanted to see inside!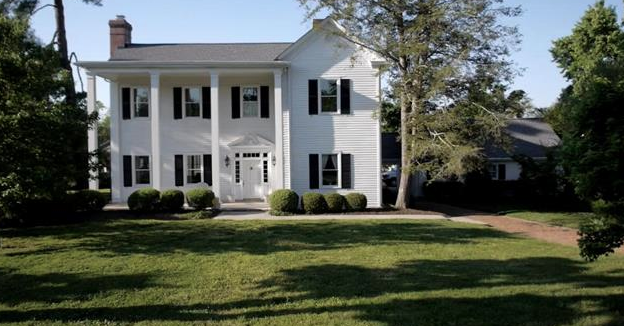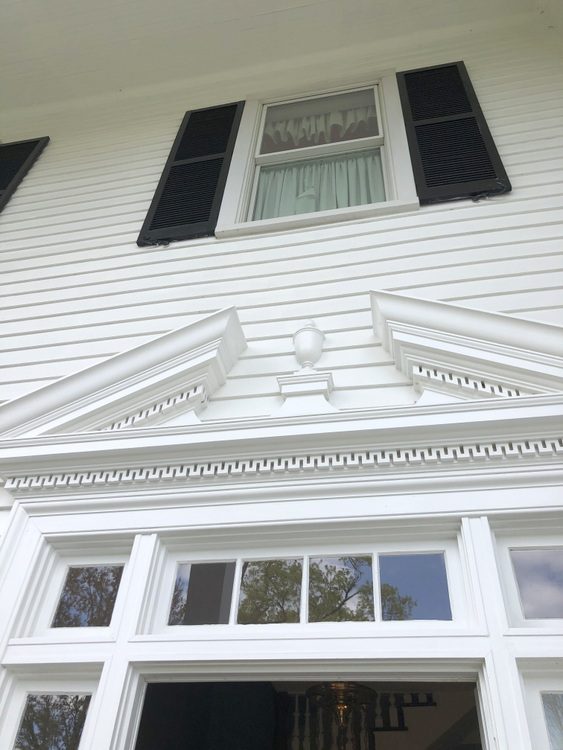 I learned that this house was built in 1835, making it one of the oldest surviving homes in Nashville! The newel post was carved from a tree on the property: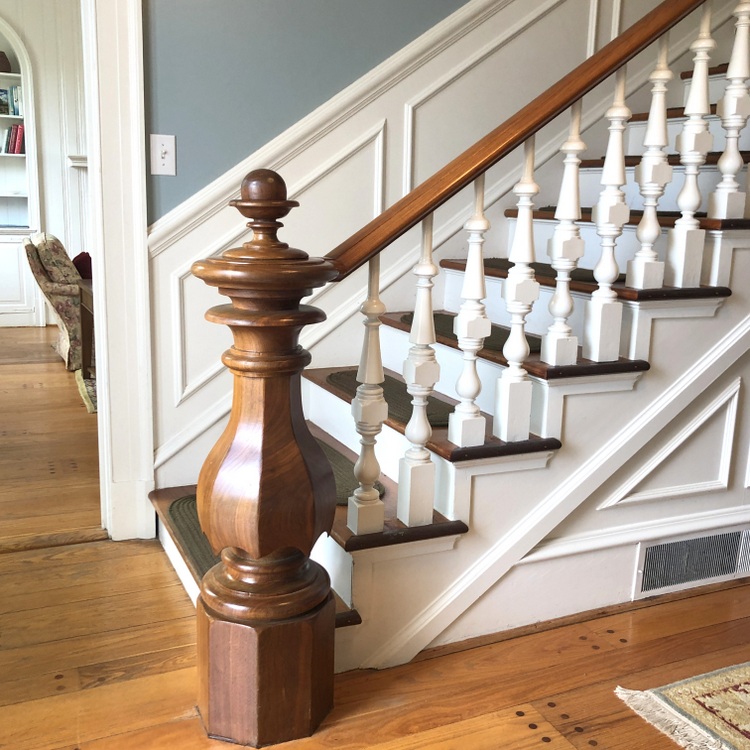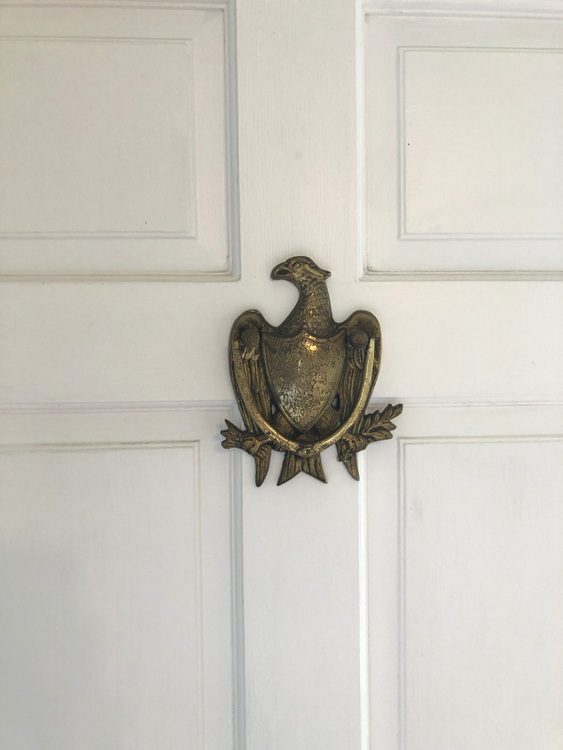 After 115 years in the same family, the home was purchased in 1950 by a prominent Nashville attorney. He then installed knotty pine paneling, as well as copper plumbing, electrical wiring, heating and air, and sheetrock.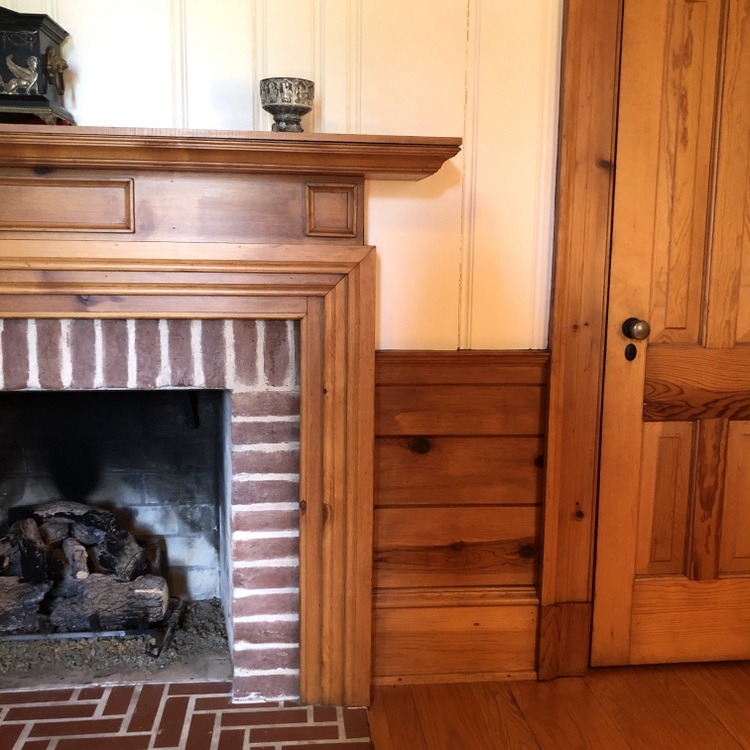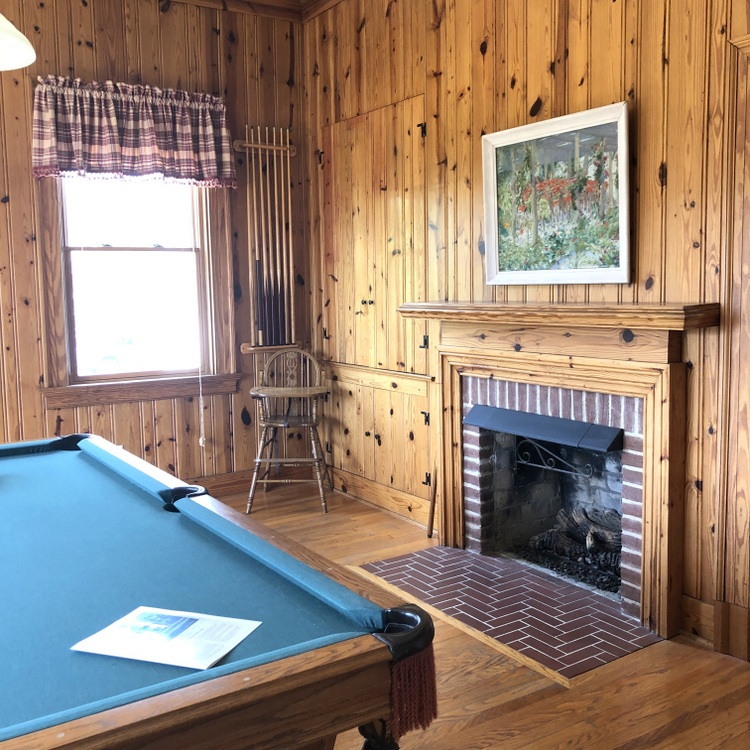 The house is now occupied by its third owner in 184 years, and is currently on the market for sale. You can see more of the home here.
This house is now surrounded by its own little neighborhood with many 20-year-old, two story homes in the center of the mostly ranch-style homes that populate the larger sprawling neighborhood. These 20-year-old houses are tightly nestled around the large historic home, which is frankly such an odd view when gazing out the big old windows on the second floor . . .
A few houses down is a clearing with a short fence around it – what I had always heard was a horse cemetery. My younger daughter and I went to look at the gravestones after we toured the house: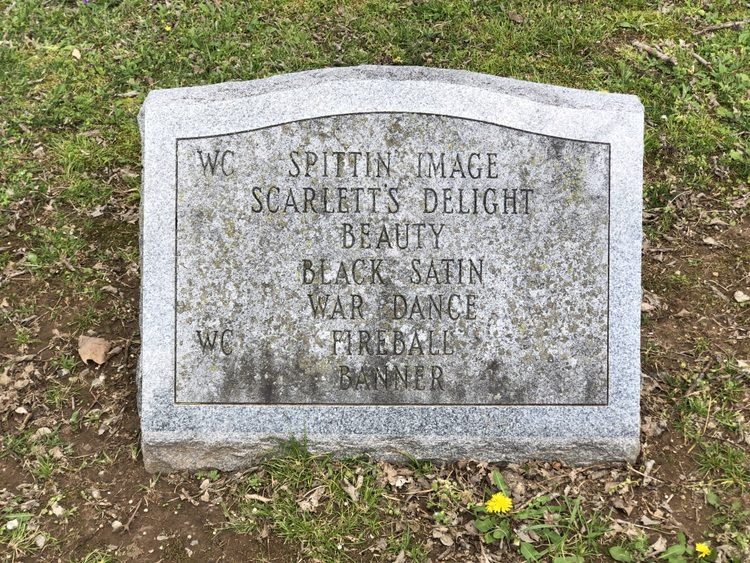 While horses' graves are around the edges of the small cemetery, in the middle we found a handful of markers that reveals it to actually be the family cemetery of the original homeowners!
The original property extended for hundreds of acres, right up to the road named after its first owner. Which just happens to be the road our own home faces. Which means that our home sits on what was once the edge of this home's property, and that the original owner of our home must have purchased the land from this home's original owner!
I had no idea that attending this home tour would lead to stumbling upon all this enlightening information, and I am so grateful for it! Yet another reason I would never trade living in an old home with history than a new one with walk-in closets and huge bathrooms – but that's just me. Are you a new house or old house kind of person?