In my years as a home stager and design consultant, my goal has been that every project I undertake results in a happy client. But if I'm really honest, there's also the secret hope that I can get the *perfect* finished photo! Staging or decorating a room is one thing, but photo styling is quite another.
When I can, I love to sit down and peruse a stack of design magazines or retail furniture catalogs. While I'm doing this to take a break from work, I find myself focusing on analyzing the photo styling that makes the photographs most appealing. Yesterday, I hunkered down with the latest Pottery Barn Bed & Bath catalog. Their photo stylists must be freakin' geniuses.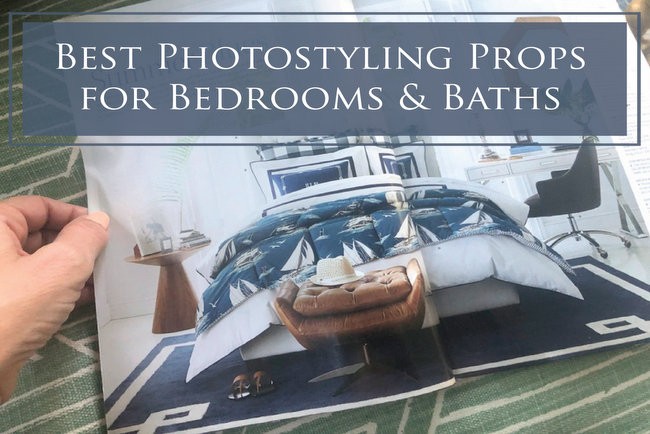 What I've learned is that staging or designing a room is VERY DIFFERENT from photo styling. You see, what looks good in the room may look not-so-good in a photo. Things have to be shifted to fit within the frame of the photo, color has to be evenly distributed, etc. A poorly executed photo can make the room look duller than it does in person, or it can make one thing stick out like a sore thumb. Often it's difficult to tell which will happen until you actually take the shot.
So let's see if we can analyze what makes Pottery Barn's photo styling so awesome. All of the photos in this post are from Pottery Barn. There's always a lot of symmetry, which I find so important for interior photography.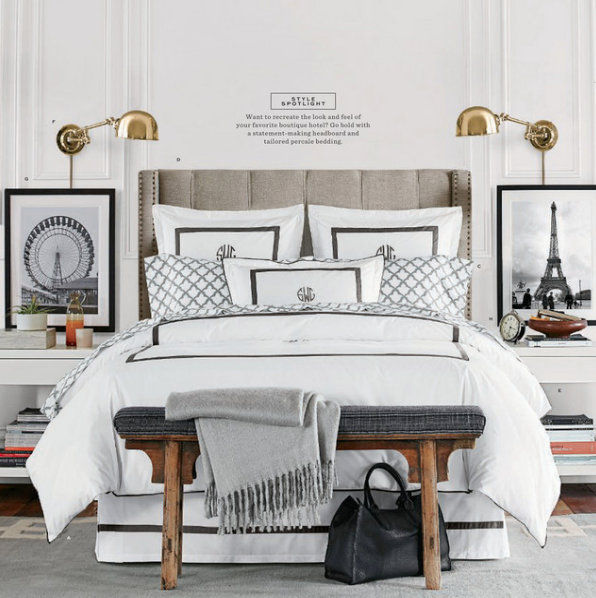 That doesn't mean EVERYTHING is symmetrical, though. The base is usually symmetrical, then some asymmetrical stuff is very artfully added in after that.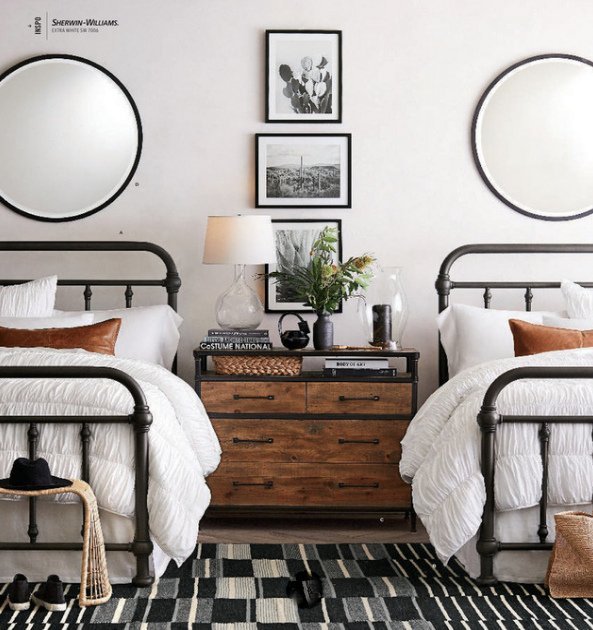 You'll notice there is almost always something on the floor in every photo: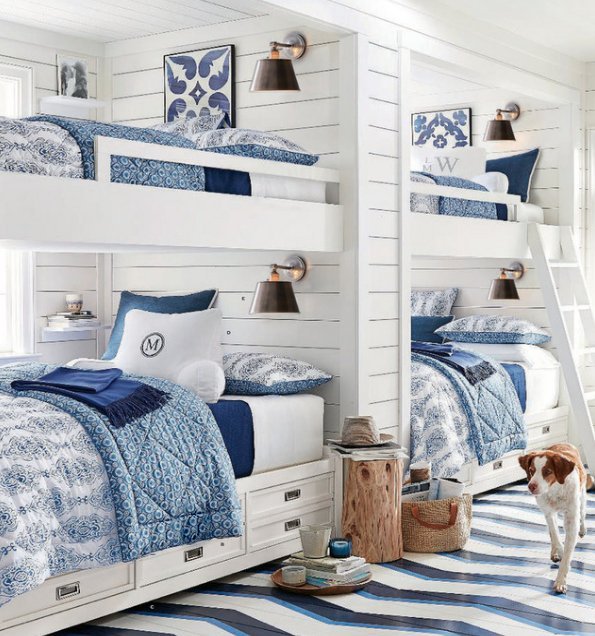 There's some thing or things to draw your eye down, and perhaps to make it feel more casual?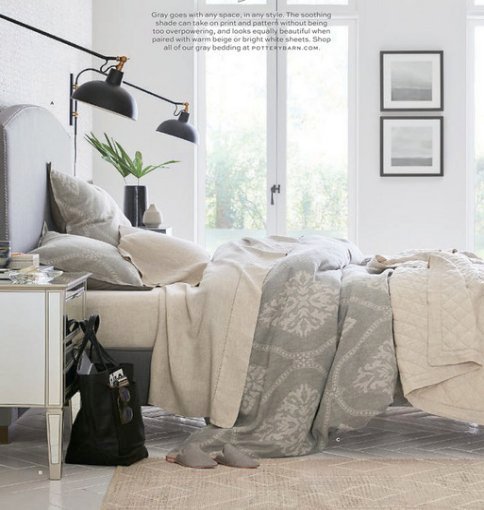 It's usually something that contrasts the floor, so that it stands out enough to pull your eye down. I've read before that it's good to create a C-shape in a photo, so that your eye lingers longer and is drawn throughout the entire photo. You can see how the placement of black objects kinda forms a C in the photo above (from black frames to wall sconces, to vases, to bag on the floor). But that certainly isn't the case in most of the photos, so it's not as formulaic as that.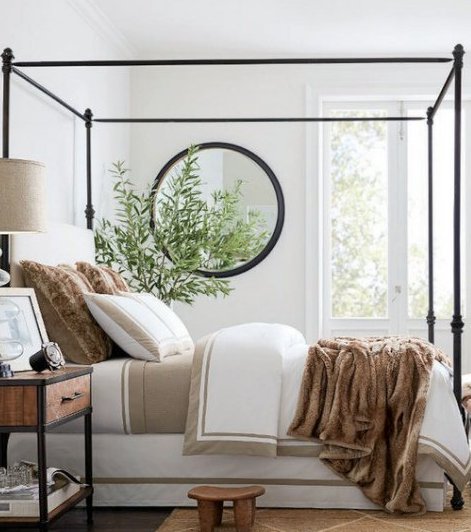 It's certainly a thing to have a blanket draping down to connect with the floor.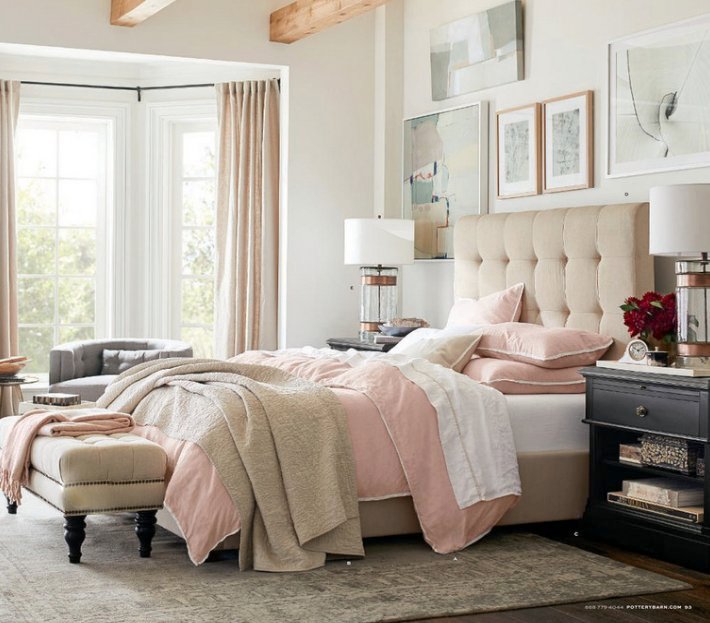 Pottery Barn has the art of the "perfectly messy bed" down to a science. I've tried this many times, and it NEVER looks as good as this: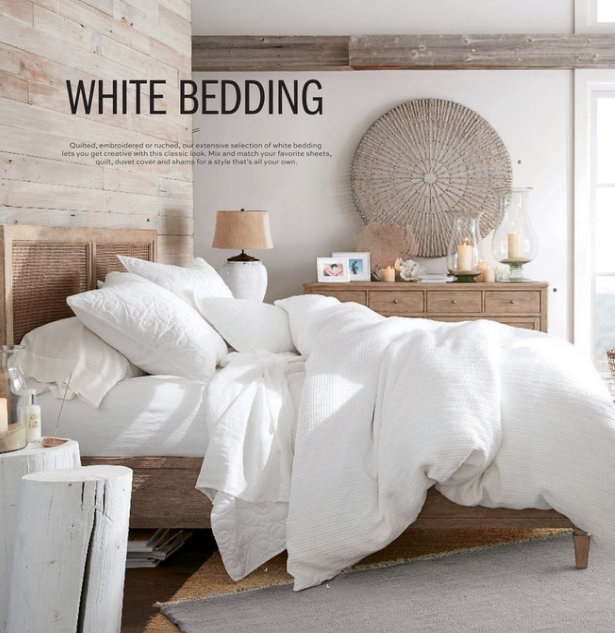 Did you notice that you can see a stack of magazines beneath the bed in the photo above? Actually, that's the case in many of their photos.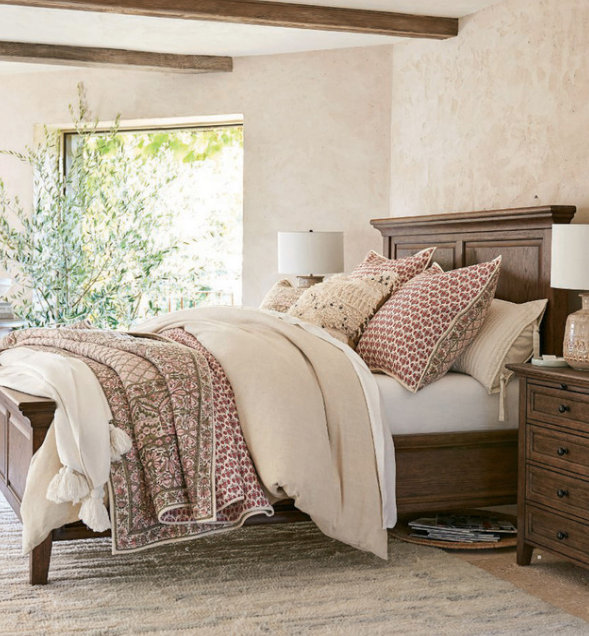 And shoes. There's often a pair of carefully placed shoes in their photo styling. Also to notice in the next photo is how they pepper black across the photo – the art frame, the coffee cup, bed pillow, throw, heels of sneakers, and finally the black tote.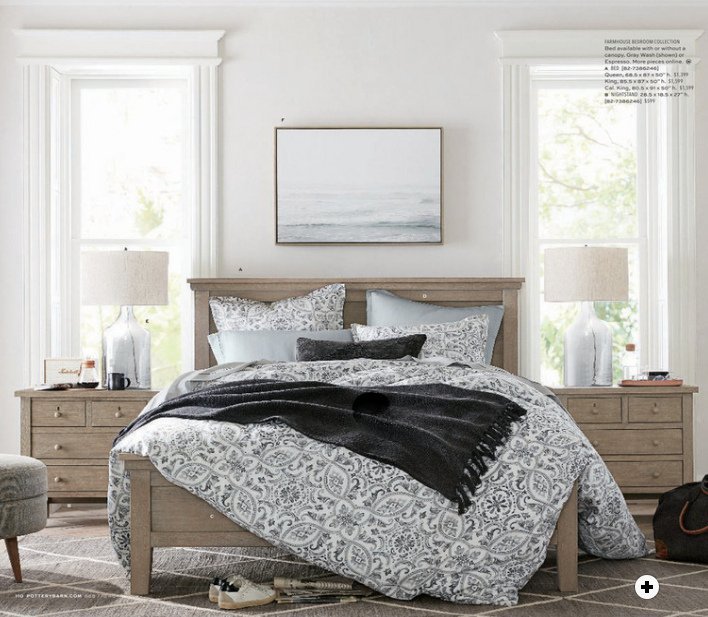 shoes AND magazines beneath the bed!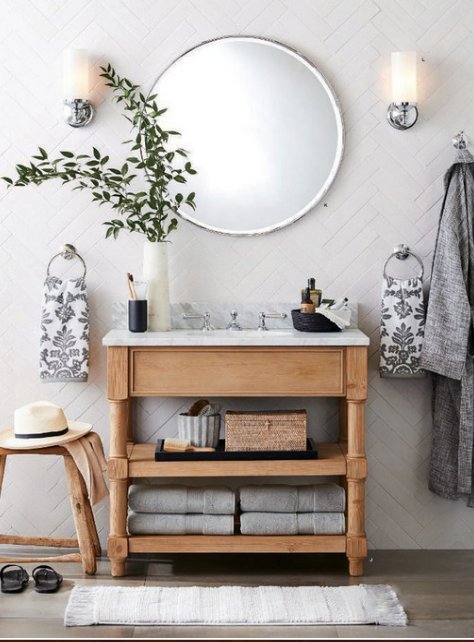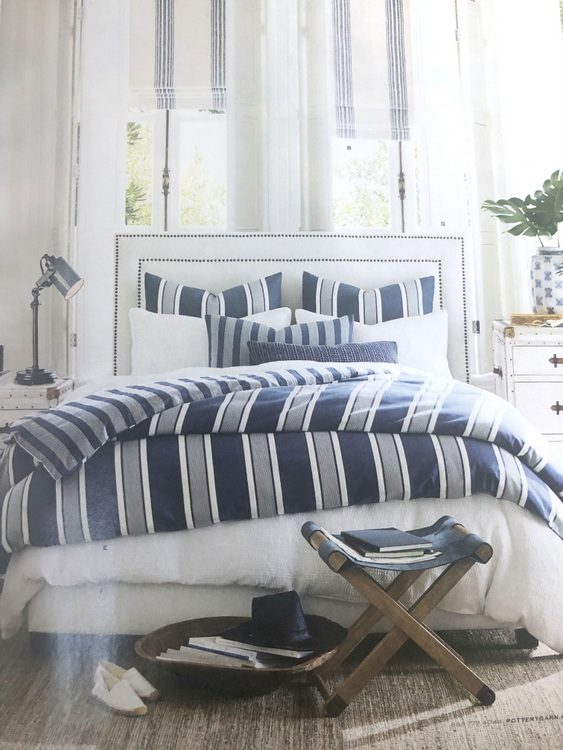 Hats also tend to be a popular photo styling prop for Pottery Barn. I actually try to incorporate a hat into my own photography when my client has one, but really, how often do we see hats lying around anymore? I wonder what it is about hats used in this way? Does it symbolize adventure or connote social status?
This one has a hat, throw blanket, and yet another black bag. Are you also noticing that most the photos include a green plant?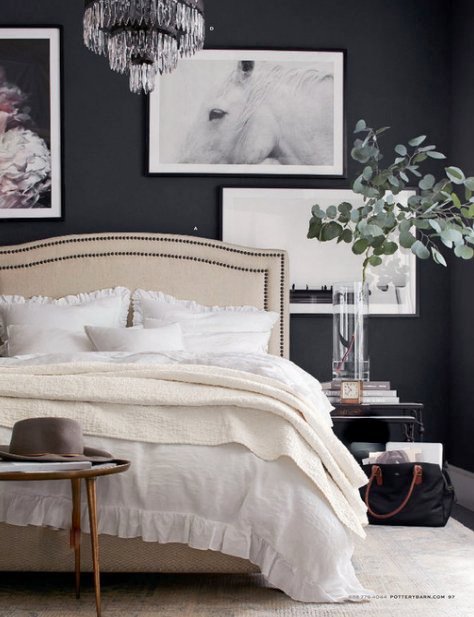 In most interior design spreads, florals are used to draw the eye and add color, but Pottery Barn is only using certain kinds of greens. Looks like eucalyptus, monstera leaves, and palm fronds are now trending (sorry, fiddle fig leaf and succulents)!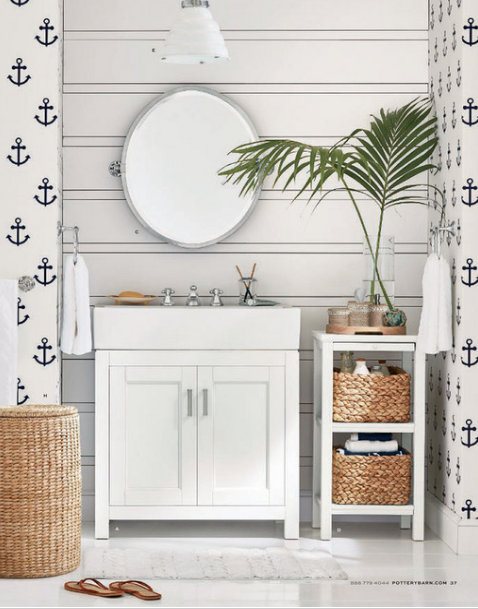 You're probably noticing all the photo styling props now, right? A couple I haven't mentioned yet include a variety of low stools and woven baskets and containers.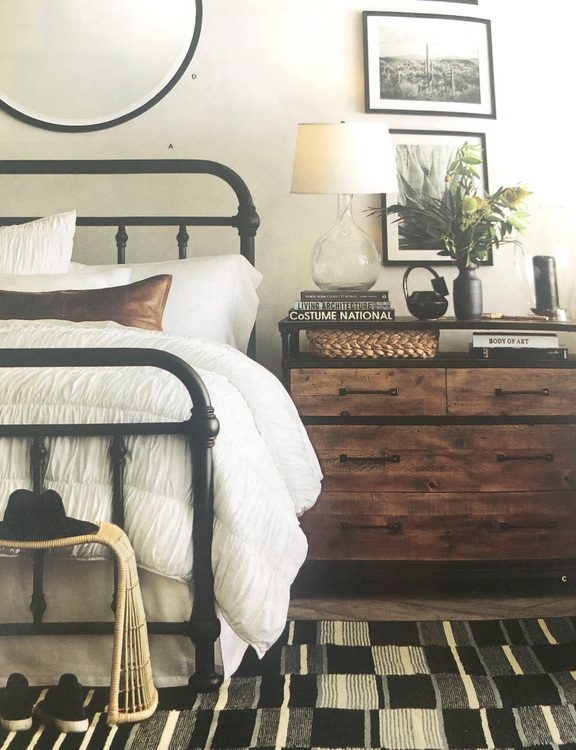 I find that the most difficult room to photograph well is a bathroom. Mainly because they are typically small spaces and it's really hard to get far enough away from the vanity to get a head-on photo like this one: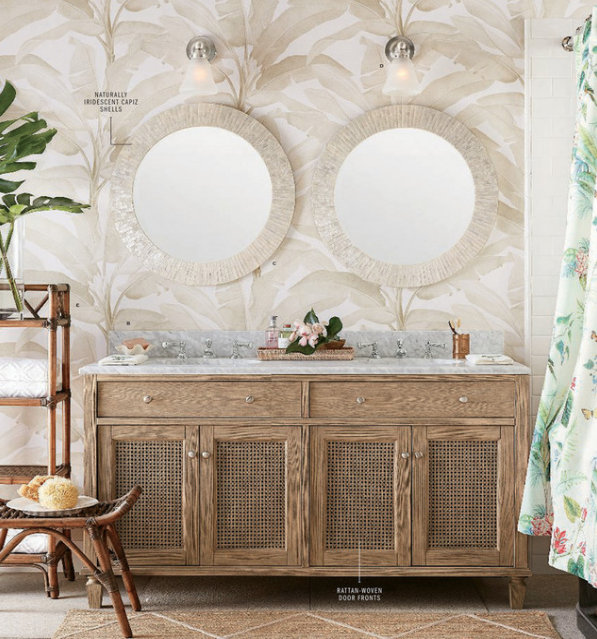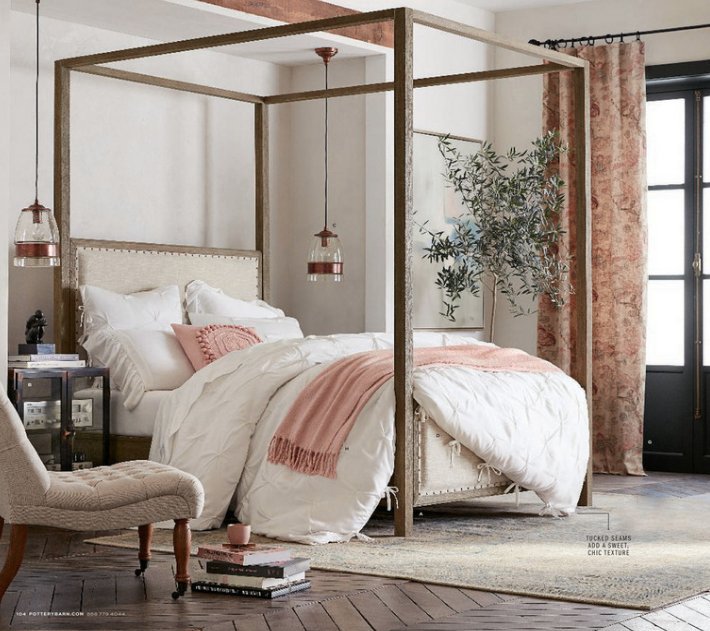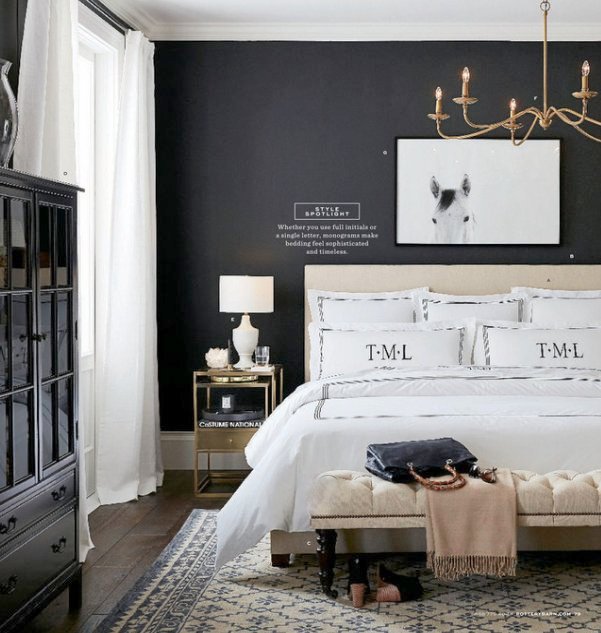 So what can we take a way from this exercise in visual analysis?
Here's my roundup of the best photo styling props you need for photographing bedrooms and baths, which you should definitely PIN (because it took forever to make this graphic!):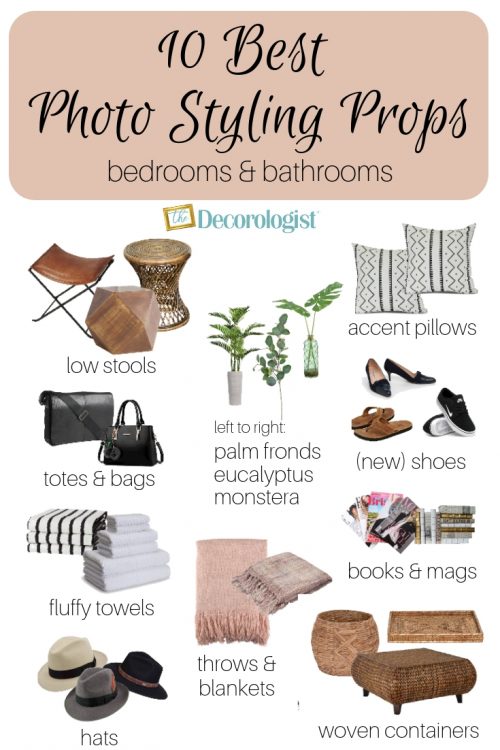 That was kinda fun, right? Check out the post I wrote about the best photo styling props for kitchens and dining rooms!
Do you have anything to add to my round-up of props for bedrooms and baths?
Our LIVE, in-person, Expert Psychological Stager™ course is March 5-7, 2020, and we would love to have you! Find out more by clicking here.