Oh, the beautiful kitchens that make us drool and dream! It's not only the functionality and beautiful design that draws us in, but it's also the kitchen photo styling. In my many years as a home stager and founder/instructor of Expert Psychological Stager™ certification training (my RESA®-accredited core training program), I have learned how to utilize props that engage the eye and create Memory Points™ in kitchens that I stage and style for real estate photos, design portfolios, and magazine shoots.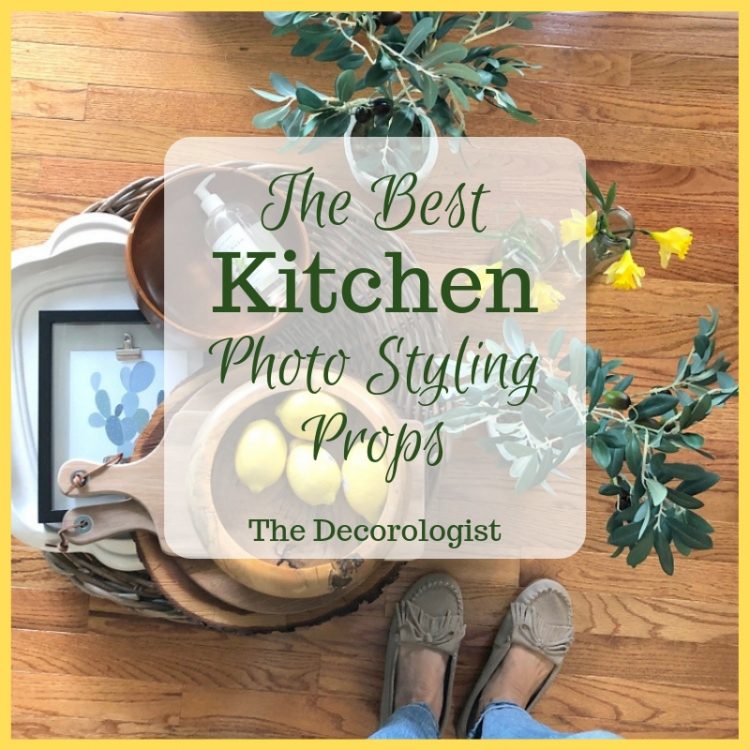 White ironstone is a classic and works beautifully in kitchen photo styling. Pitchers, bowls, platters, crocks, and cups can hold fruit, utensils, and other cooking necessities.  Especially good when used as contrast against a darker or patterned backdrop, like this brick wall: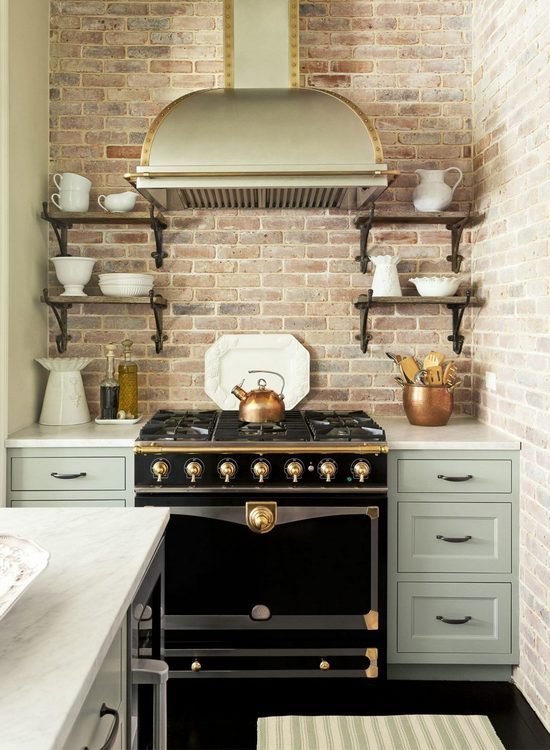 Jenny Wolf Interiors
Any kind of crock is essential for kitchen styling and is usually seen right beside the stove: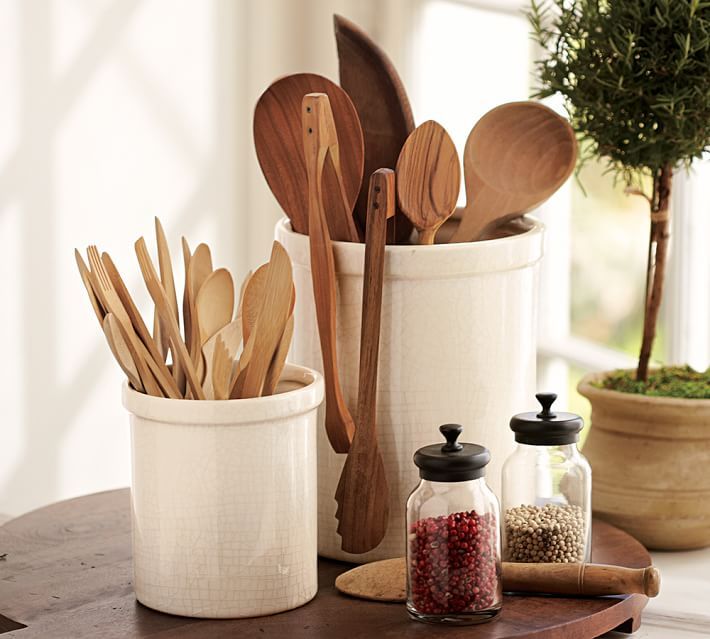 Williams Sonoma
Just because wood stained cabinetry has fallen out of favor for kitchens, that doesn't mean that all wood is banished. In fact, wooden cutting boards and wood containers are very popular for kitchen photo styling.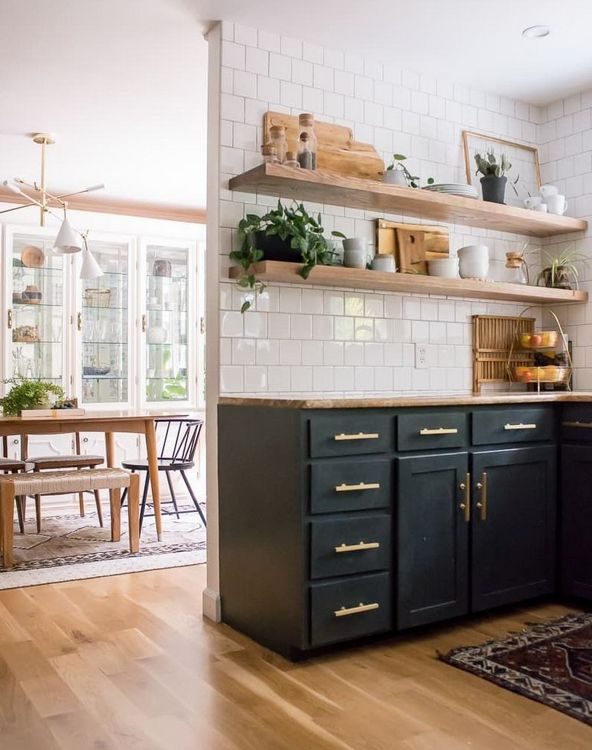 Bigger Than the Three of Us
Wood definitely warms up a white kitchen, and I've become a huge fan of wooden cutting boards with handles. They look like paddles, don't they? Cutting boards are perfect for covering up ugly kitchen outlets – which is exactly what I did in a recent staging: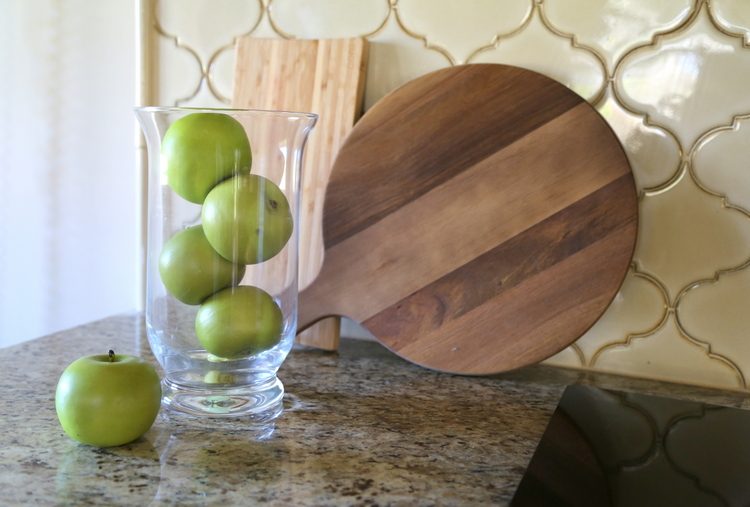 Here I used the same wooden cutting board again as a backdrop for a potted plants. The vintage wooden bowl holding lemons and the trunk slice beneath it are also in my inventory of kitchen styling props.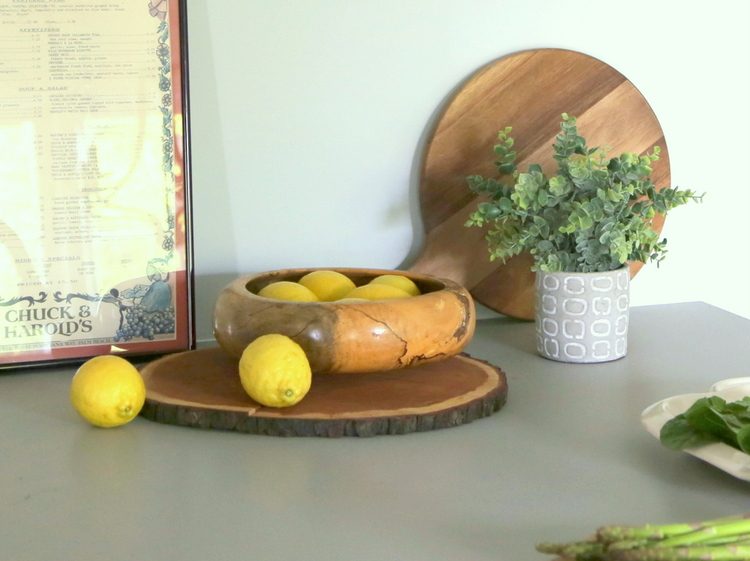 The Decorologist
Lemons and limes are my favorite fruits to use in kitchen styling. Other fruits, veggies, and even cut bread help make a kitchen look like the real thing in photos. It's especially nice to slice open something for the photoshoot! Find faux lemons here.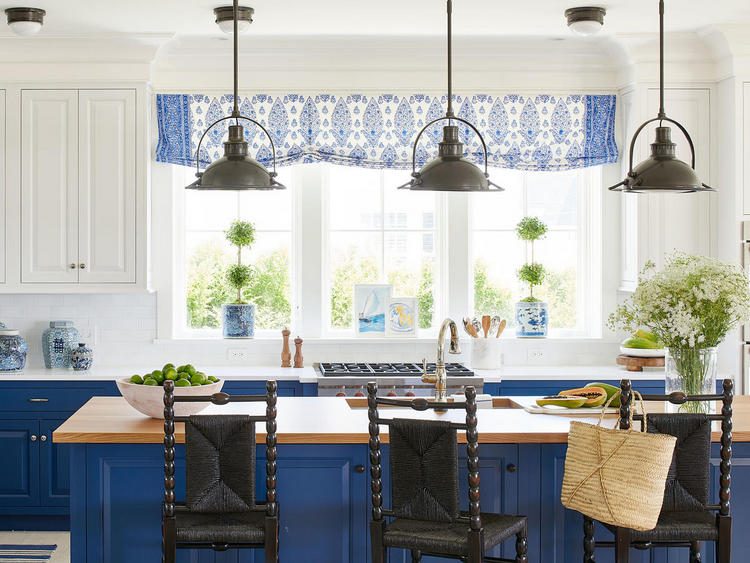 Mark Sikes in Coastal Living
You probably noticed the blue and white chinoiserie in the beautiful kitchen above. I used similar pieces to style a green kitchen I completed last year. Repeating the color elsewhere helps tie it into the kitchen, which brings me to another trending kitchen photostyling prop.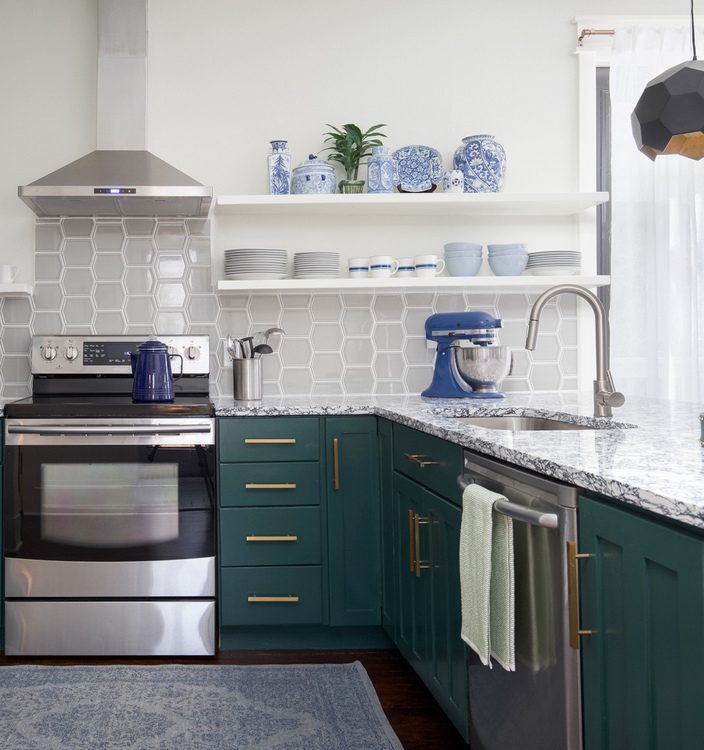 The Decorologist – more about this kitchen here
A beautiful rug! I'm not talking a ugly, standard mat in front of the sink. The best choice for the kitchen is something that looks like a Persian or tribal rug. It can be vintage if you aren't worried about ruining a family heirloom, or else you can look for something that is made of polypropylene and intended for indoor/outdoor.  These are super-easy to clean and inexpensive. And yes, you will need a non-slip mat beneath if you don't want to break a hip!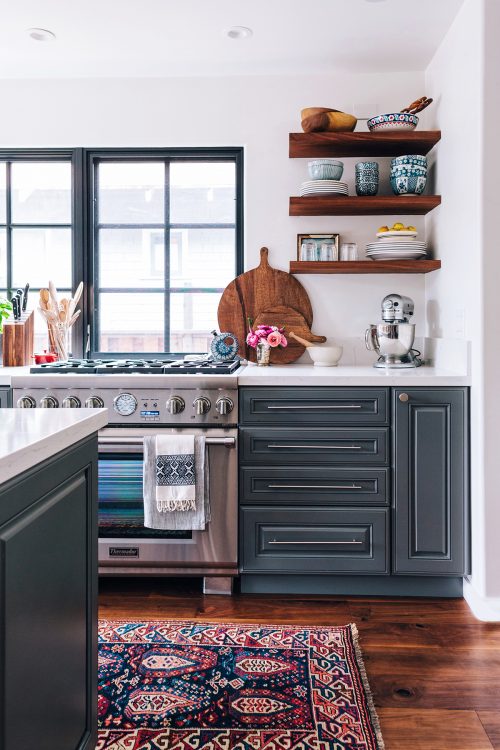 similar rugs here
You may be surprised that art is an excellent way to set your kitchen apart from everyone else's. With the popularity of open shelving (and even no upper cabinets at all), you really could use a cool piece of art (propped or hung) to set the mood.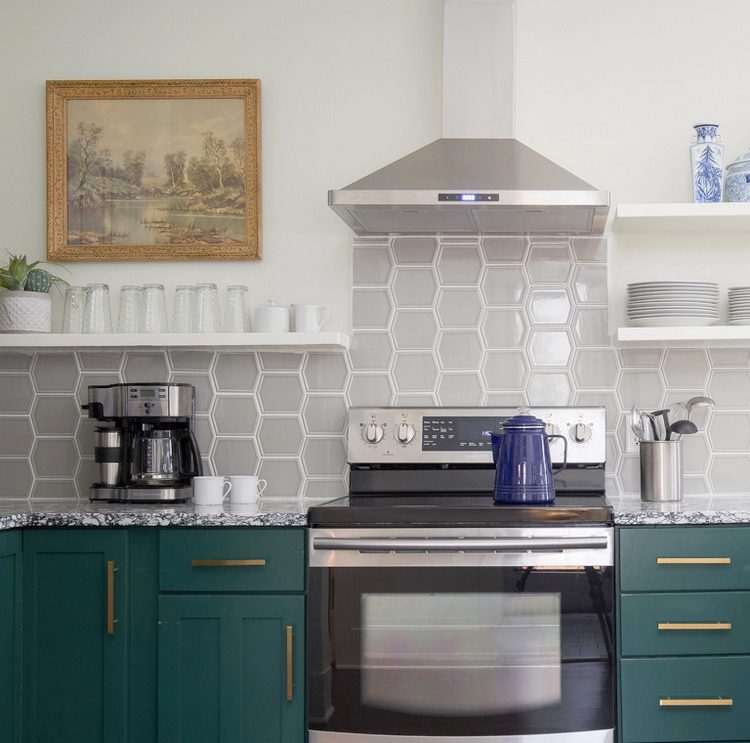 The Decorologist
Cookbooks are a sensible thing to have in a kitchen, and they are great kitchen photo styling props, too!  A large, open cookbook on the counter or in a stand is great (here's a cool cookbook stand that looks like those handled cutting boards). I love the way the stylist turned a few of the cookbooks to face out so we can see the covers: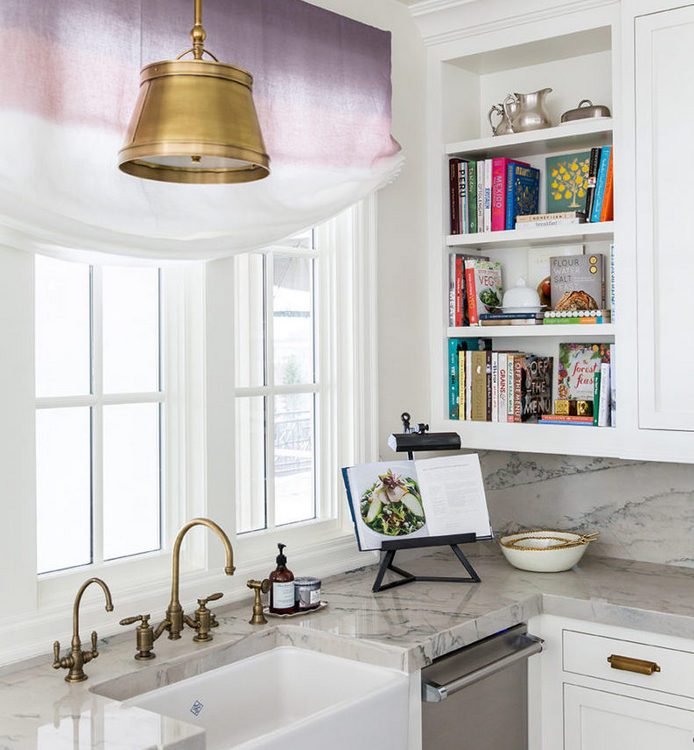 The Ivory Lane
Potted plants like herbs and ferns warm up a white kitchen design. A couple of my own favorite kitchen photo styling props include the pair of olive trees on either side of the stove below: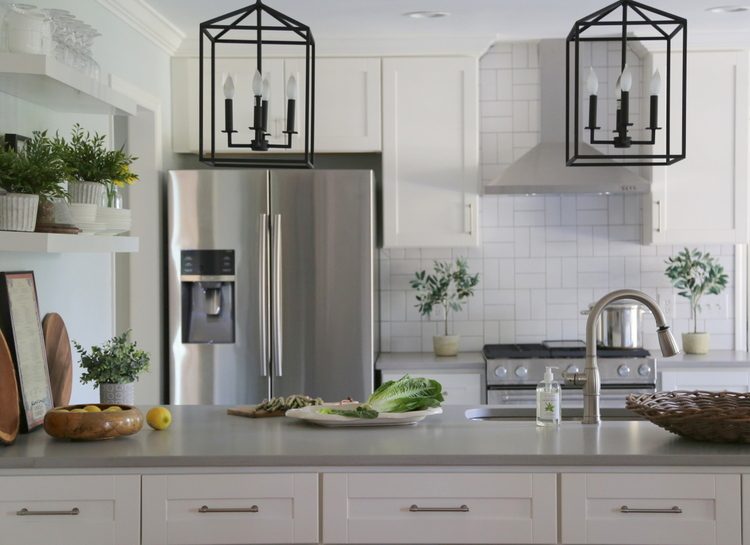 The Decorologist – more about this kitchen here
Photo styling isn't as easy as it seems. You may need to do A LOT of arranging and rearranging until things look "just right" in the photos. And it's difficult to get some of the angles you want to capture because of space constraints. My client snapped this picture of me atop her new kitchen countertops: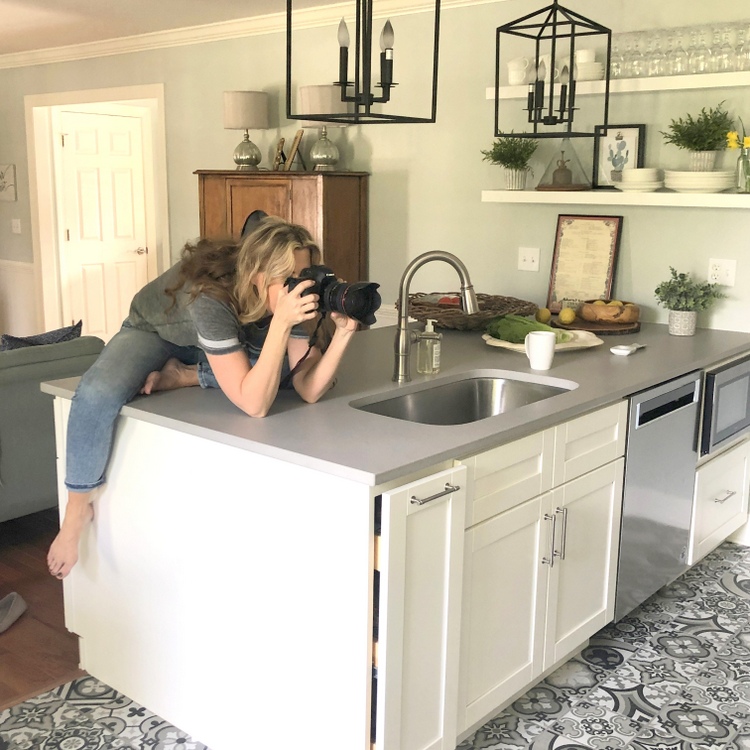 well, that's awkward . . . 
It was worth it to get the photo right: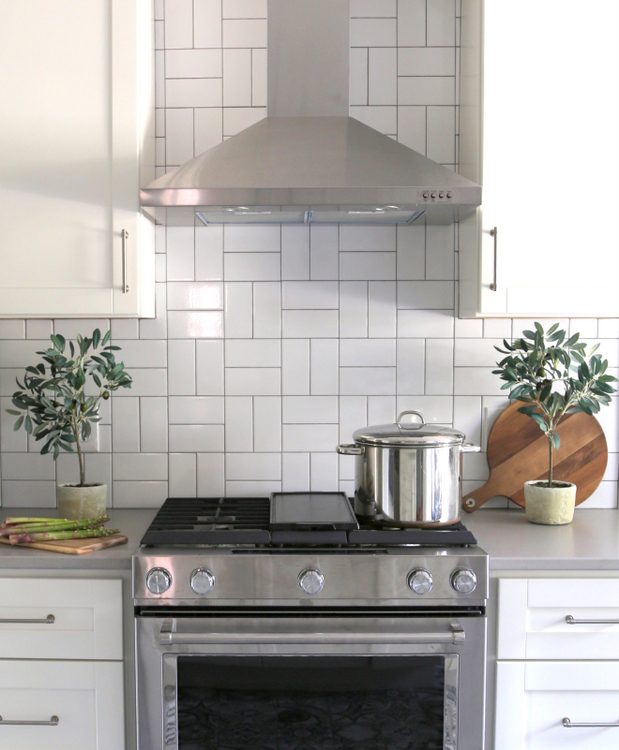 The Decorologist
Ok, so here are my top picks for the best kitchen photo styling props. Be sure and pin this image!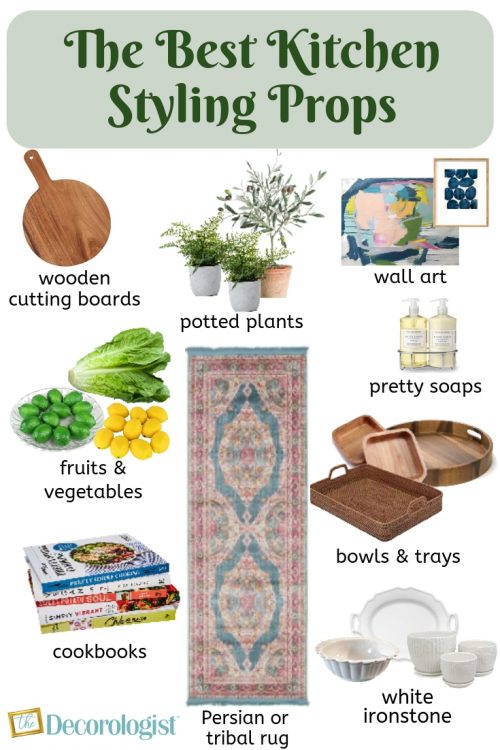 If you have other great kitchen props to recommend, please leave them below in the comments! If you missed last week's best bedroom and bath photostyling props, check them out here.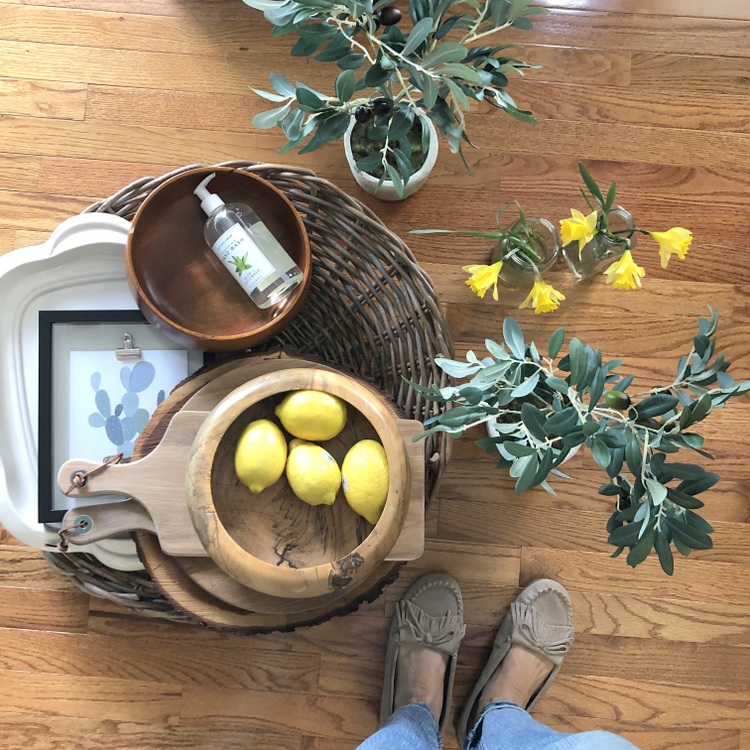 If you would like to become RESA® – accredited Expert Psychological Stager™, you can find out more about my course here. It will soon be available COMPLETELY ONLINE!  To get on the waiting list, contact [email protected] today.
I included a few affiliate links to help you find some of these props. If you purchase one of them, it won't cost you anything extra but I may get a few cents commission.