When the design board website, Olioboard, asked me to participate in a bloghop with nine other home staging experts, I said heck yeah!  As a Nashville-based home stager, I'm ALL ABOUT befores-and-afters (in case you haven't noticed).  I pulled an actual "before" photo of a vacant room that I staged a few years ago.  At the time I actually staged it, I had to rent a houseful of furnishings.  I was limited to what was available from this particular rental company, but I'm not limited as to how I can stage it virtually on Olioboard!  It's such a great tool to use with clients when trying to visualize a design plan.  So here's a shot of the "before" of this neutral living room.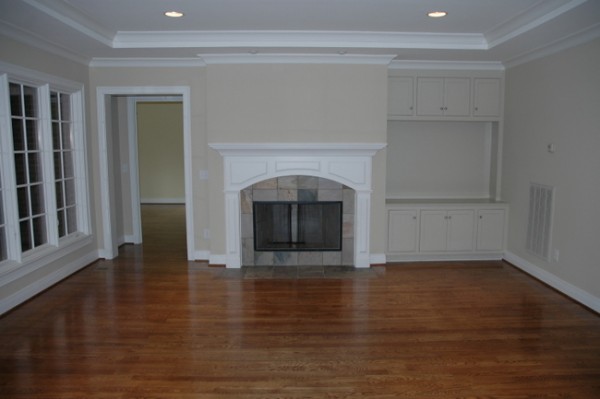 Vacant Property Before
Some of the questions in the mind of a buyer viewing this home might be, "How do I arrange my furniture in this room?"  "Will my living room furniture fit?"  "Where will I put the television?" It's very difficult for most people to accurately estimate the size of a room without the point of reference that furniture provides, or to visualize how to arrange furniture in a room like this. When staging a property it's important to answer those questions to minimize any objections the buyer might have to this home.  In regards to furniture arrangement, my floorplan for this room would look something like this: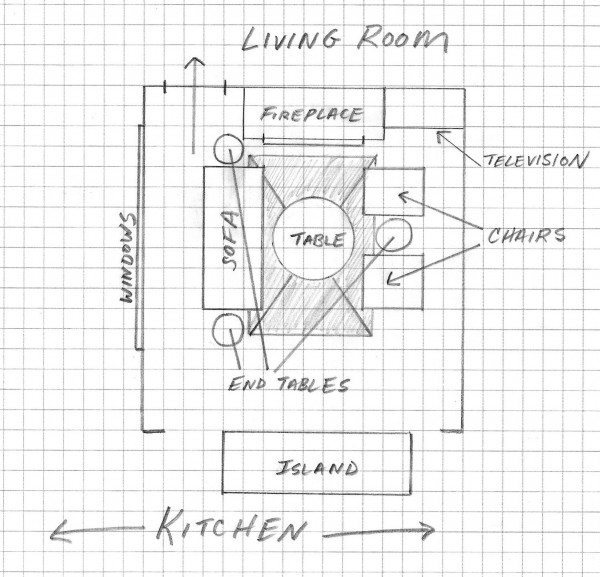 Furniture Floorplan
The next thing I decide is what color palette to use in a given space.  The walls here are already a light sandy tan and the tiles on the fireplace surround are gray and tan. When staging, I keep my color design simple and on-trend.  I want to appeal to the most buyers possible, so dark and dated just won't do. The target demographic for this home and neighborhood are professional couples, 35-50 years old, with 2.3 children likely attending private schools.  Knowing this, I tailor my design plan to meet the desires and dreams (not necessarily the reality) of that target audience.  As I teach in my upcoming book on the psychological aspects of home staging:  you aren't just marketing a home, you are marketing a lifestyle.
Here is the staging design board I created for this living room: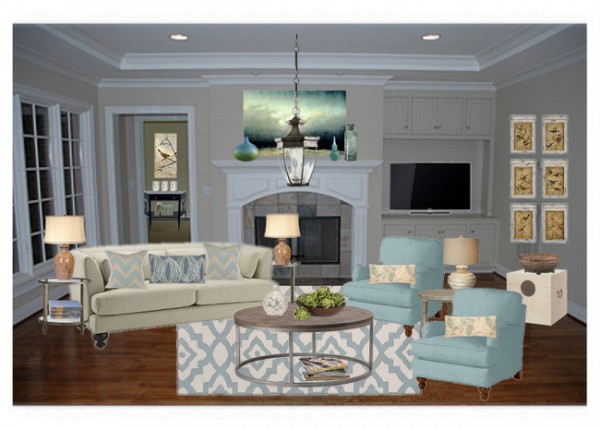 Staged Living Room on Olioboard by The Decorologist
When I stage most homes, I am working with what the homeowner already has rather than working from scratch.  This design illustrates how to work towards a few important goals that are specific to home staging:
1) Draw attention to the architectural detail.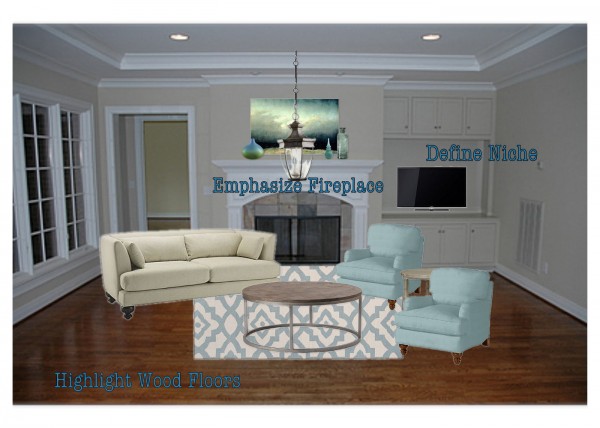 Fireplace:  I centered the seating arrangement on the fireplace (architectural detail), accenting it with attractive art (that is not personalized or taste-specific) of the proper scale for the area above the mantel, and hanging an on-trend, carriage-style light fixture in front of it.
 
Architectural niche:  The niche beside the fireplace is outfitted with a television to define what that area is for.

Wood floors:  Finally, using a small rug to define the conversation area again draws attention to the fireplace, but also to the beautiful wood floors – most of which remain exposed.
2) Make the space appear larger.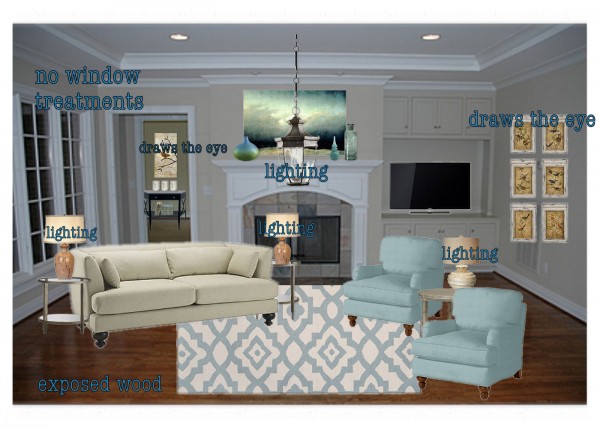 I made sure there is as much natural and artificial light as possible.  You'll notice I didn't add window treatments – they can block natural light.  Multiple sources of light around the room illuminates all the features in the room.

The wood floors are exposed, with the exception of the seating area, to increase the sense of space.  

I also strategically placed color and accessories to draw the buyer's eye around the room, which will help them remember the space later.  See how I centered a table and art in the door of the adjoining room?  This teases you into the next space by drawing your eye in that direction.
3) Make the space look high-end and updated.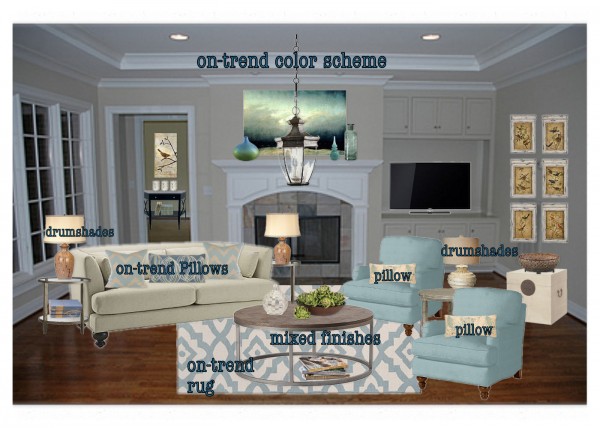 I used a fresh color scheme, on-trend pillows and rug, and a mix of wood finishes.  

I like to imagine that I traded out the triangular, pleated lampshades on my client's lamps with the drumshades I keep in my arsenal of staging props to make old lamps look fresh and new.

Most existing neutral sofas will work fine for staging, provided you bring in new accent pillows in updated fabrics.  

The contemporary rug looks fresh and youthful, but the indoor/outdoor polypropylene version is child/pet friendly and won't break the bank.
When I staged this room (in reality), I actually made a faux television by painting a horizontal art canvas black and hung it in the bookcase so the buyers would have no questions about where to put their television.
So what do you think?  Did the virtual staging help you better visualize how you might live in this space?  Make sure you visit the other 9 bloggers participated in the Olioboard Blog Hop to see how they staged their rooms with Olioboard!
http://lisamendedesign.blogspot.com 
http://asyoulikeitredesign.com
http://design-magnifique.com
http://nyclq-focalpoint.blogspot.com
http://chameleon-interiors.blogspot.com
http://stagetecture.com
http://www.wsidesignermarketplace.com
You can find out more about Olioboard:
And, finally, make sure you sign up for my free advice and inspiration delivered to your email three times a week!