Last week, I took a "working retreat" down to the Florida panhandle to focus on my online exterior color course. When I returned, it dawned on me that I never posted the befores and afters of some of the bedrooms and bunk rooms in the beach vacation house project I completed last spring! On this frigid winter's day, I thought it might warm me up a bit to share them with you!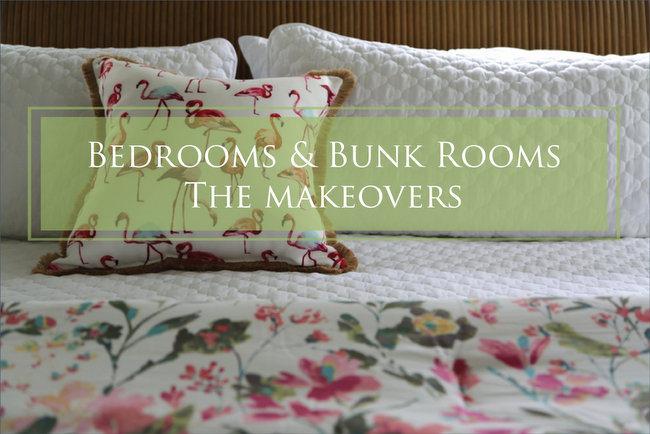 This beach vacation rental has basically three master bedrooms – all three have king-size beds and adjoining full bathrooms. I showed you the makeover of the largest of the three bedrooms here. The second master is on the same floor as that one, and here's the "before":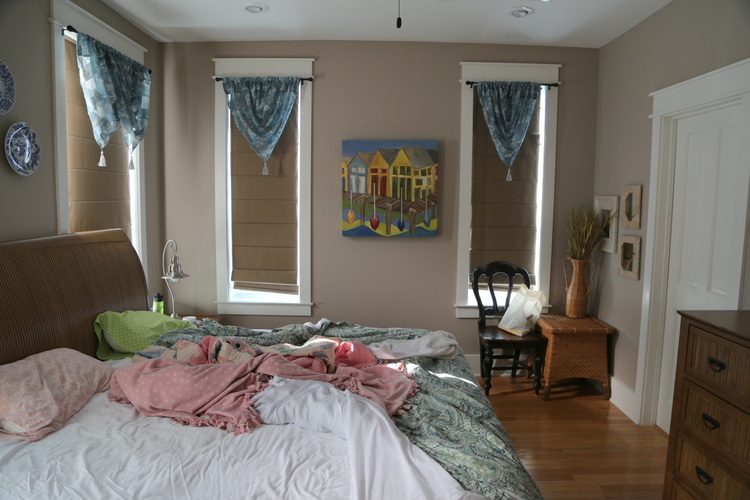 before
We cleared out practically everything in this room to make way for an entirely different feel, but we did keep the shades and the ceiling fan. The new wall color is Benjamin Moore Steamed Spinach 643, which I've previously used here and here.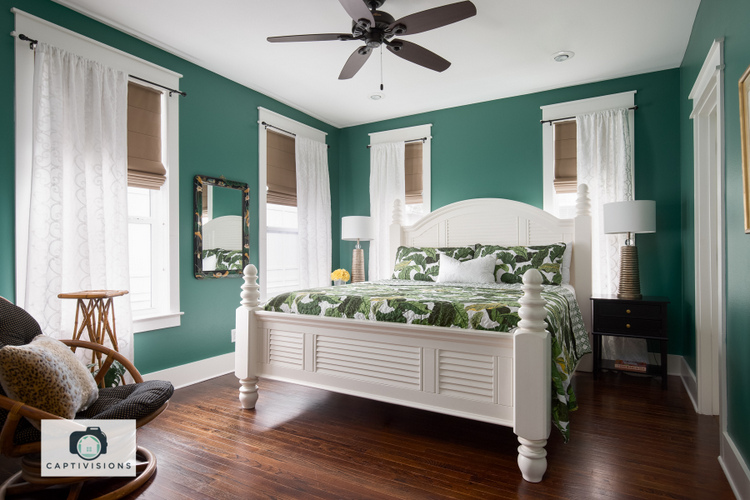 You can find similar palm leaf bedding here.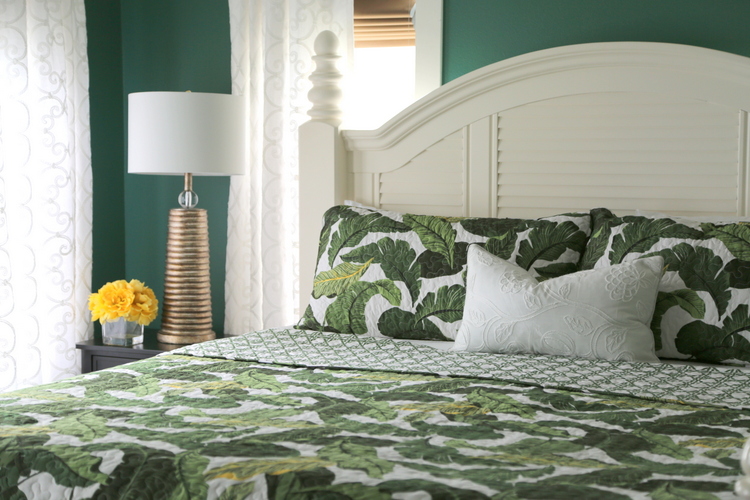 The third master is the smallest and is located on the main floor with the living room and kitchen, which is great for anyone who can't or would rather not climb stairs. Here is the "before" in all its multi-colored glory: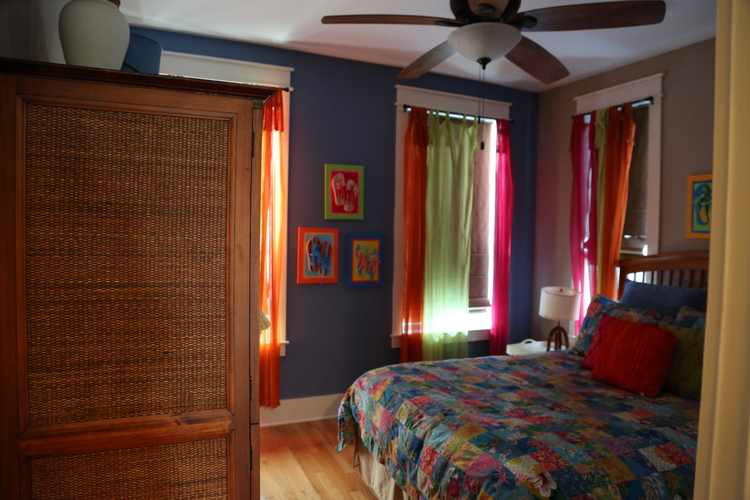 before
Although there's still plenty of color in this bedroom, it's a brighter and more peaceful place in the "after." The wall color is Benjamin Moore Silken Pine 2144-50, which is a fresh and fantastic off-white with a hint of mint that I used for the majority of this house.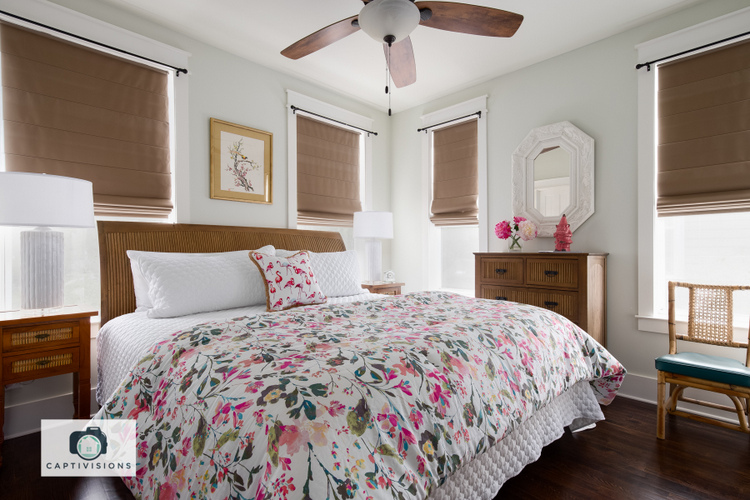 I was so happy to find this beautiful flamingo pillow – the fringe tie in perfectly to the wood tones in the bedroom furniture.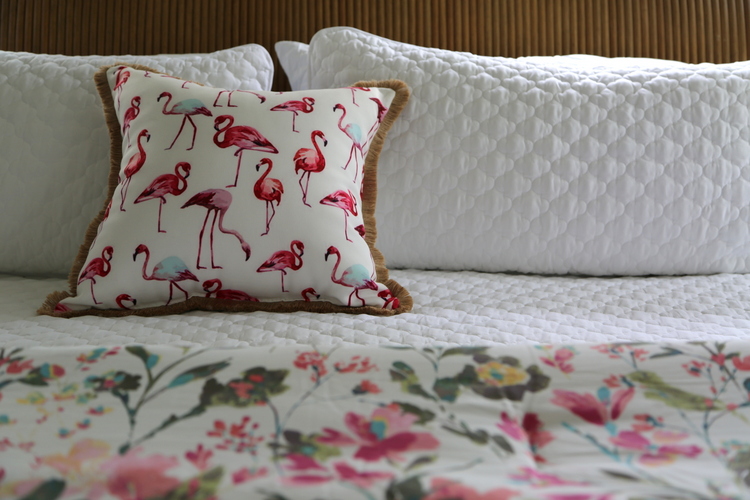 There are two bunk areas that are now in the house, so let me show you how those spaces started out. First, let's go up the stairs again to the second floor. This was the stairwell before the redesign: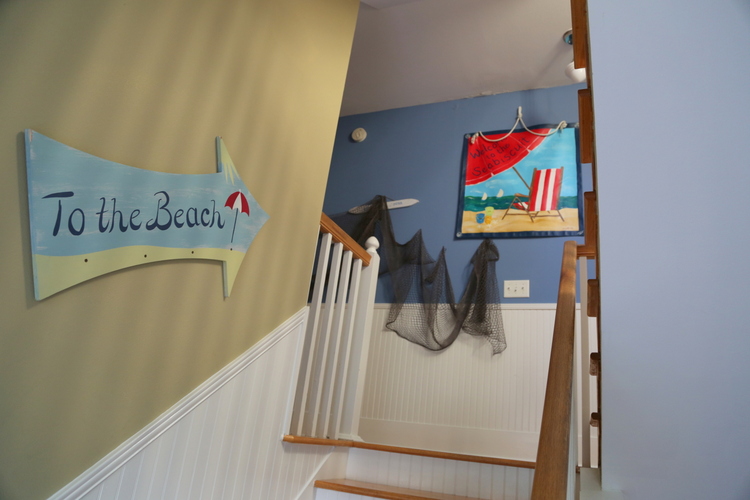 before
Again, Silken Pines was our palette-cleanser! A new stain on the hardwoods and black paint on the handrails and newel posts helped, as well.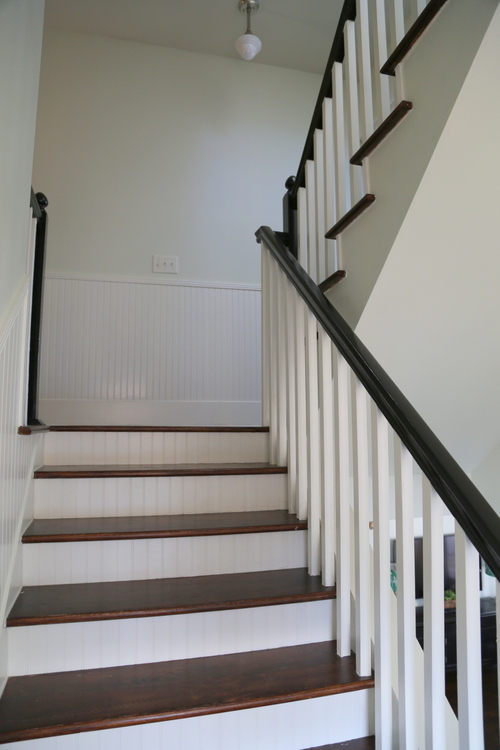 Between the two masters on the second floor is a wide hall with a built-in bunk bed, rather than a true bunk room. This is the "before:"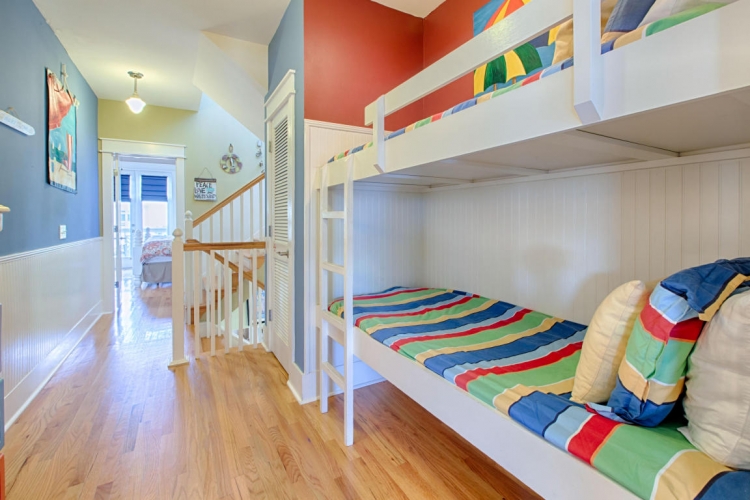 before
I swear, y'all, there were so many different wall colors in this house!!!  We decided to go for a more sophisticated, but still child-friendly, hallway bunk area.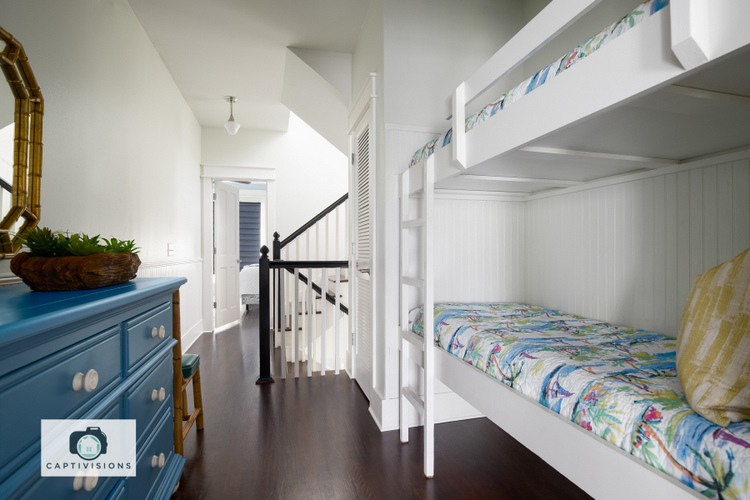 This dresser was originally a part of a set that we painted to coordinate with the new bedding.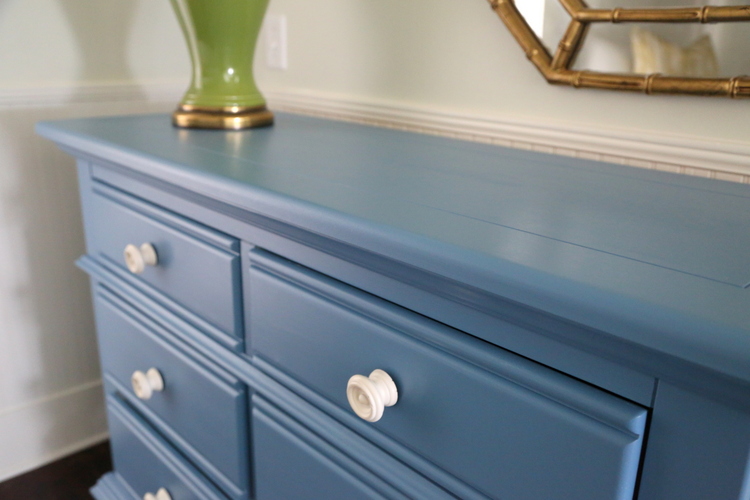 Finally, you go up another flight of stairs to the small tower room with an attached sundeck. It's all windows up here, which necessitated adding an extra heat/air system that nestles into the ceiling. It's called a mini-split, and is a great option for room additions or repurposed areas that need extra heating and cooling to make them more functional year-round. In its "before" state, there was a rumply old pull-out sofa up there where it was too hot to sleep.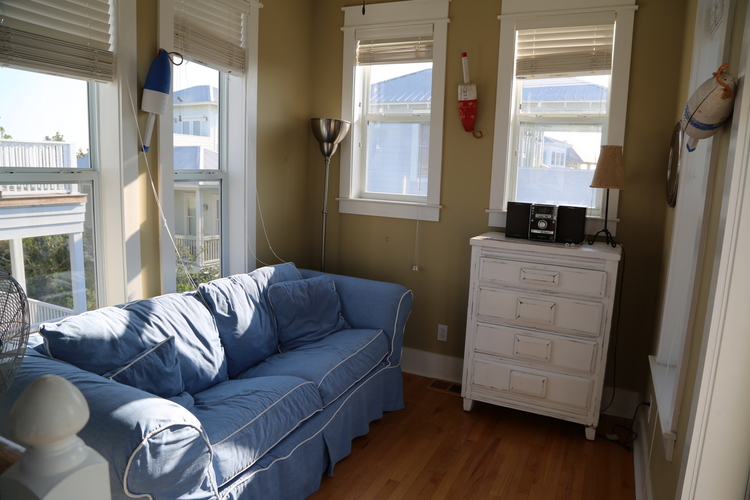 before
We repurposed the space as another bunk room – this bunk bed includes a trundle beneath. With the new heat/air unit, it's as pleasant as the rest of the house.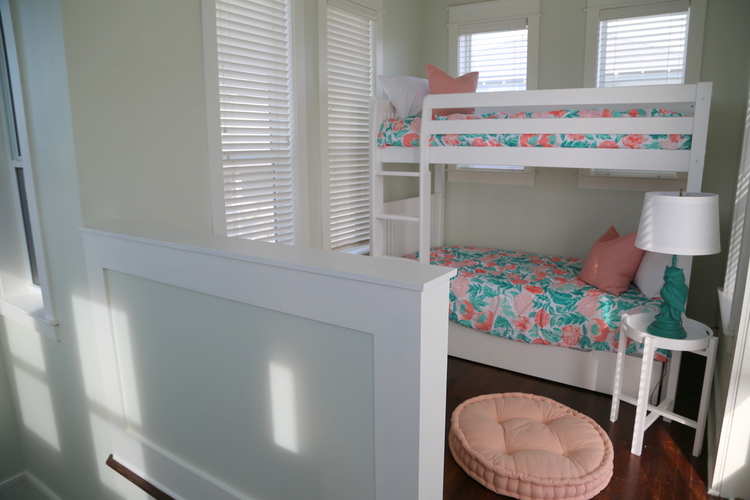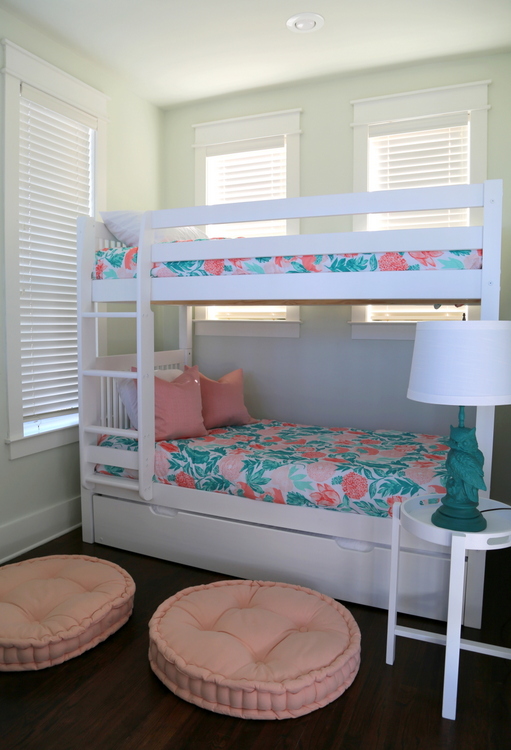 Don't you love the tufted floor cushions that kids can use to sit on while playing video games in front of a flat screen television? I did, too – but they are no longer in the beach house. I can't fathom how someone renting the house would blatantly steal them, but that's what apparently occurred. 🙁
When on vacation here in October, we had to evacuate for a few days early because of Hurricane Michael. While Seagrove Beach was not impacted, nearby Panama City Beach and Mexico Beach were mercilessly pummeled. While we were in the area last week, we decided to join a group of volunteers from an amazing disaster relief organization to help with hurricane clean-up about an hour from where we were staying.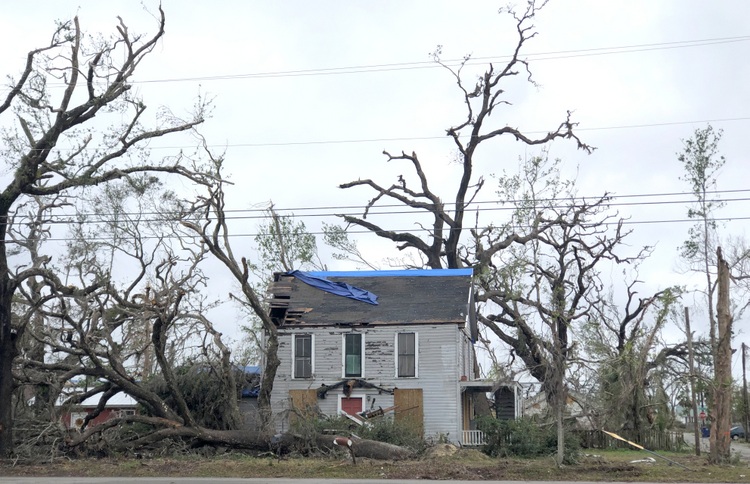 the aftermath of Hurricane Michael – Panama City Beach, Florida
To my surprise, we were assigned to assist the chainsaw team working at a cemetery. We cleared debris, hauled and stacked cut logs, and uprighted overturned gravestones and floral arrangements.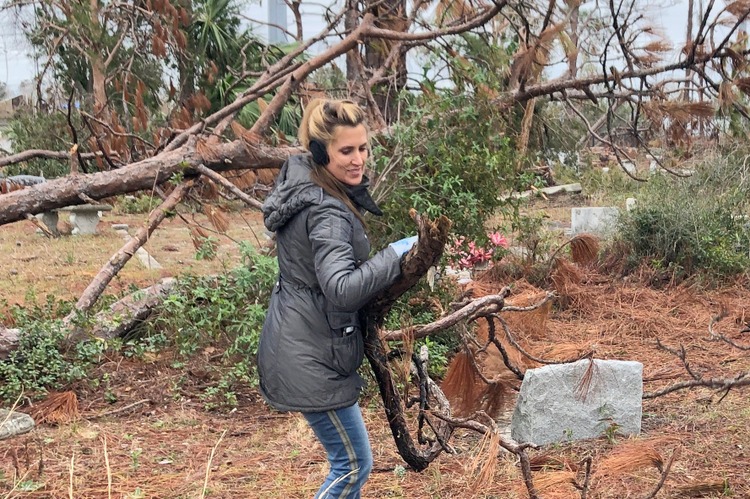 Mr. Man sustained a minor injury while trying to show off by doing an overhead press with a jagged log (now that it's healing, it looks like I gave him a hickey). It ended up being a day of contemplation and gratefulness, followed by a great night's sleep and a lot of sore muscles . . .
If you'd like to see the entire beach vacation house or maybe even rent it out yourself, you can find it here!
Our 3-day Expert Psychological Stager™ course is six weeks away and is currently half filled. Please sign up soon if you'd like to attend, and let us know if you have any questions! Click here to find out more.
x