Not everyone is able to start from scratch in their bedroom.  I have a client who is fortunate enough to be getting rid of her dated bedroom suite and bedding and starting anew.  While her tastes are still traditional, she wants a look that is current and takes her forward without being trendy.  She wants a peaceful, neutral bedroom that will appeal to both her husband and herself.  This is the Inspiration Board I recently created to cast a vision for her space.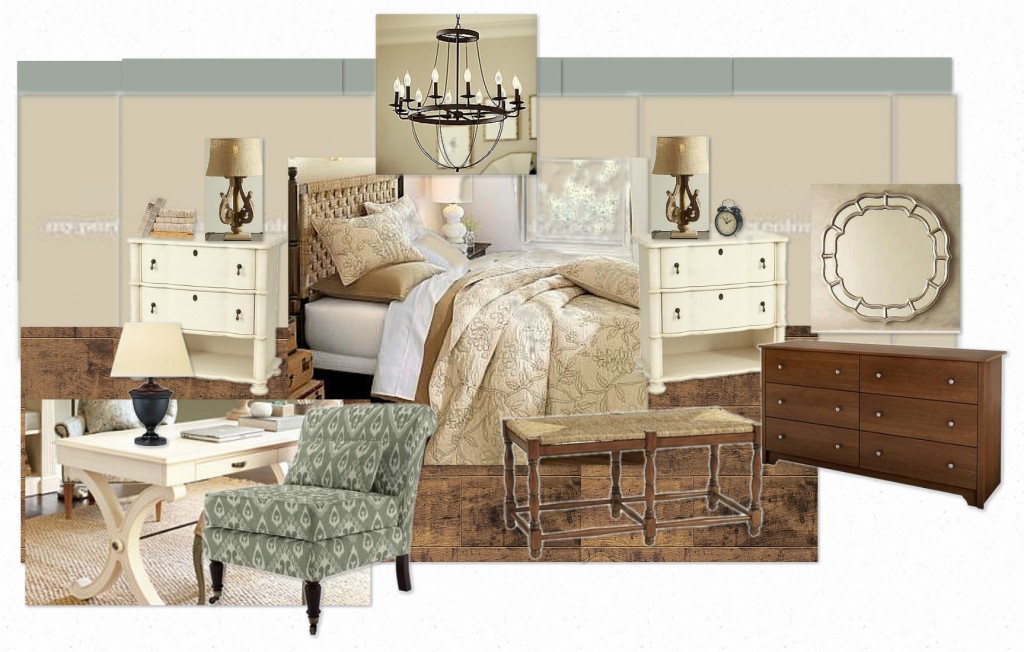 Bedroom Inspiration Board by The Decorologist
We decided to use an updated neutral on the walls and a grayed blue on the ceiling.  Notice that this is not a "matched set" bedroom.  If you are buying new bedroom furniture, please don't buy a bedroom "suite" or matching set!   The creamy painted bedside tables and desk keep things light and current, but are anything but trendy.   Go for larger bedside tables than you are used to – maybe a pair of small dressers if you have room.  A bench at the end of the bed is the perfect place to take off your shoes or pile up your decorative pillows at night.  Finally, don't forget to treat yourself to a really special hanging light fixture like the one pictured here.
Everything in this virtual design is not "made" to go together, but it all blends well.   I think it's so much more interesting than a matchy-matchy bedroom suite.  Are you "over" traditional bedroom suites?