I hope you all had a lovely Mother's Day last weekend. I thought I would share what I did for my special day, along with my two precious daughters of course!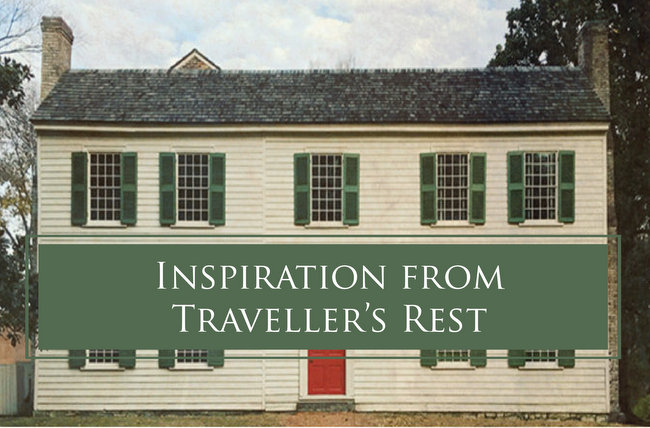 Traveller's Rest is the oldest historic home museum in Nashville, and it has some very significant ties to our own home. In fact, I like to think of it as Granbery Manor's big sister! I've actually been to several events there over the years, including a few elementary school field trips, a wedding reception, and a local women's group meeting. However, I've never toured the entirety of the interior.  Lately I've been wanting to visit with fresh eyes, given our newfound connection to this fascinating old home. Since they were hosting a Mother's Day event, it seemed like the *perfect* time to take a tour!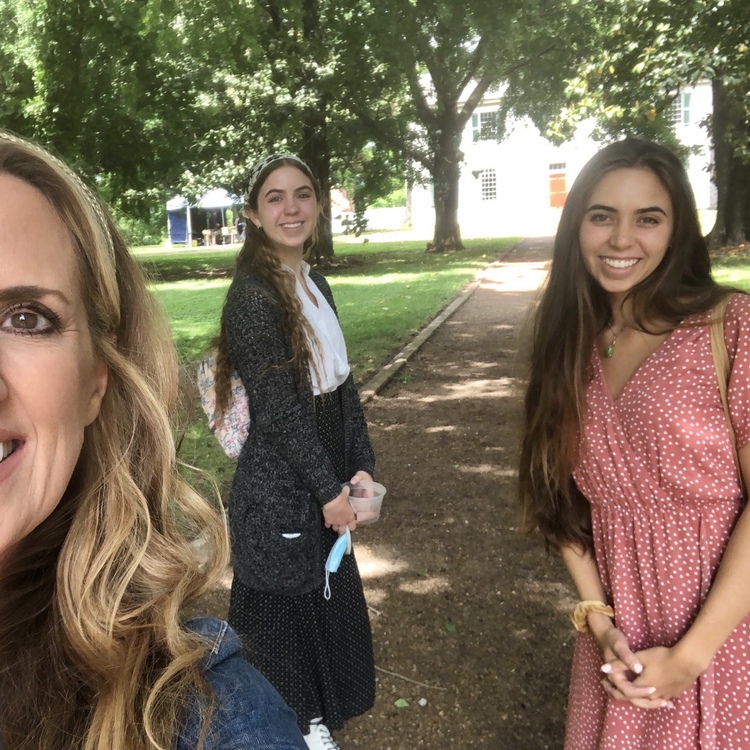 Traveller's Rest was the home of Judge John Overton and his descendents for 150 years. Overton was one of the most influential and well-known men in the founding days of Nashville. He was a traveling circuit court judge and bestie of President Andrew Jackson.  Overton remained a bachelor until marrying the widow Mary McConnell White May (age 36) at the age of 54. Mary was the widow of Dr. Frances May, who was a friend of John Overton and the personal physician of Andrew Jackson.  When they married, Overton gladly took in Mary's 5 children, including the oldest May boy named James. James grew up at Traveller's Rest with his 4 siblings and Mary and John's 3 additional children. James even managed the farm and property for several years after his stepfather died until his half-brother was old enough to take over.  James May then took his young family and became the second owner of our home, just a few miles away.
The original part of Traveller's Rest was built in 1799, and added onto in 1820.  Granbery Manor was built in 1807, and added onto in 1812 and 1820. Both houses are classic federal style, with rear additions and long two-story, ell-shaped covered porches out the back.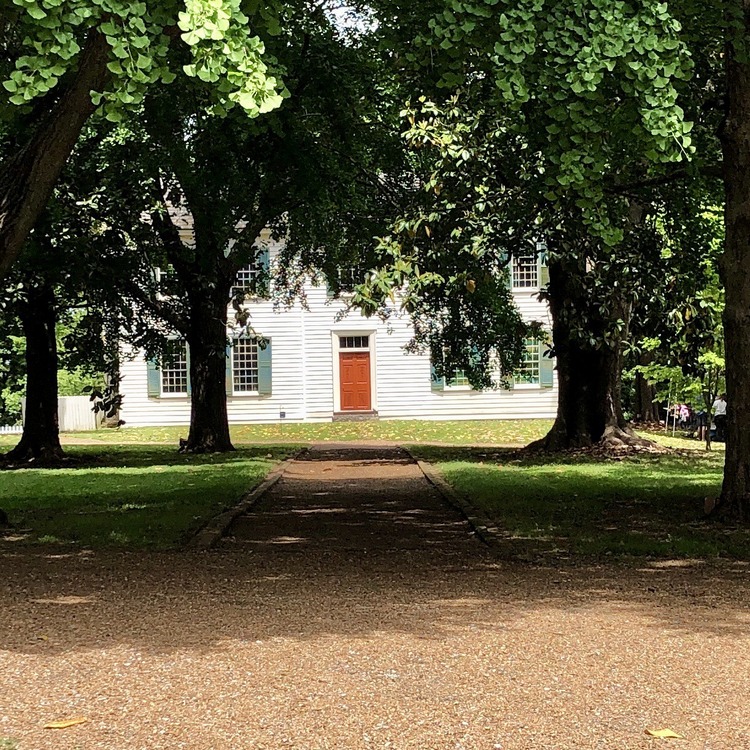 historic Traveller's Rest in Nashville
The Mother's Day events included woodworking presentations, herb garden tour, woodblock printing crafts, and pottery demonstrations: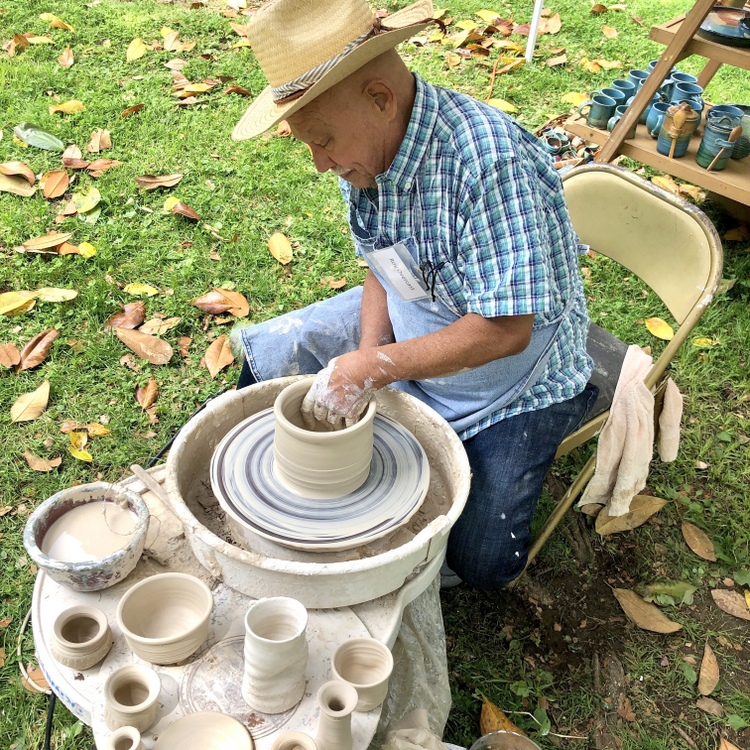 artisan potter, Roy Overcast
Musicians performed on the grounds, dressed in period attire. Here's a fun video I took, and you'll see that my daughters were brave enough to join in the fun:
As I mentioned, I was very excited to tour the interior of the home to see how it compared to our own – to get a better understanding of the architectural details of our home and also to see how they decorated, of course! The original portion of the home is very much like ours – two over two rooms with a central hallway and stairs. Built 10 years earlier, the original Traveller's Rest home was laid out almost identical to that of the original portion of Granbery. The docent explained that later architectural details were added throughout the years, including the fireplace surround and molding here in what was Overton's original office at the front of the home: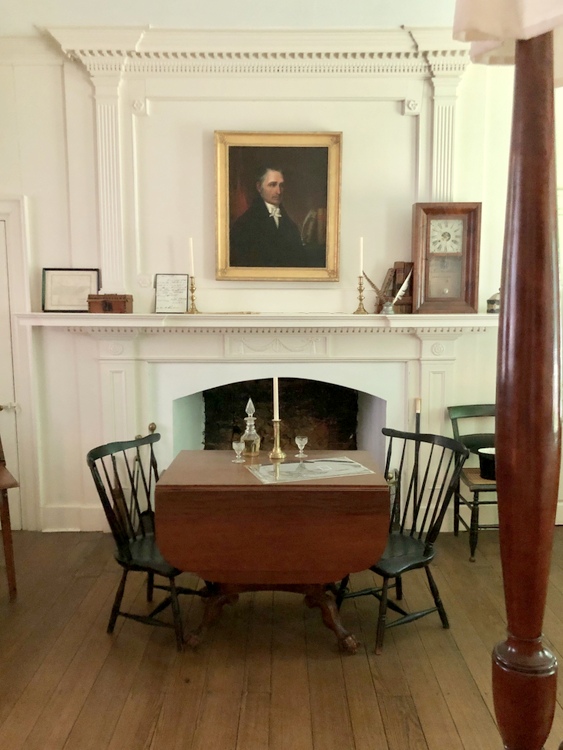 The portrait below is of Mary, the mother of the second owner of our home, James May.
In 1841, James was on the way to visit Traveller's Rest from what is now Granbery Manor. News soon reached Traveller's Rest that there had been an accident on nearby Franklin Pike, and Mary rushed to the scene so that she could provide aid to the unfortunate passengers. When she arrived, Mary  found that her oldest son, James, had perished from his injuries.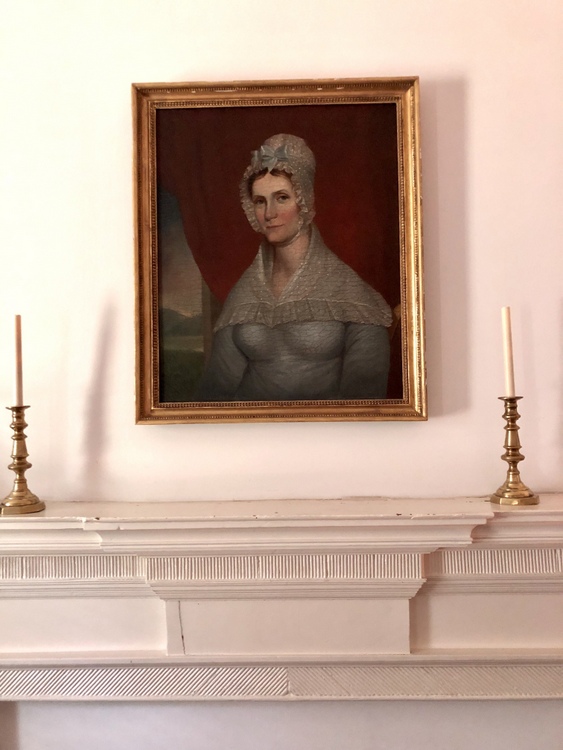 When the addition to Traveller's Rest was constructed in 1820, a new and larger entry was created when connecting the ell portion of the home. I'll show you how it compares to Granbery's entry. Here is Traveller's Rest, with it's curvy, sinuous staircase: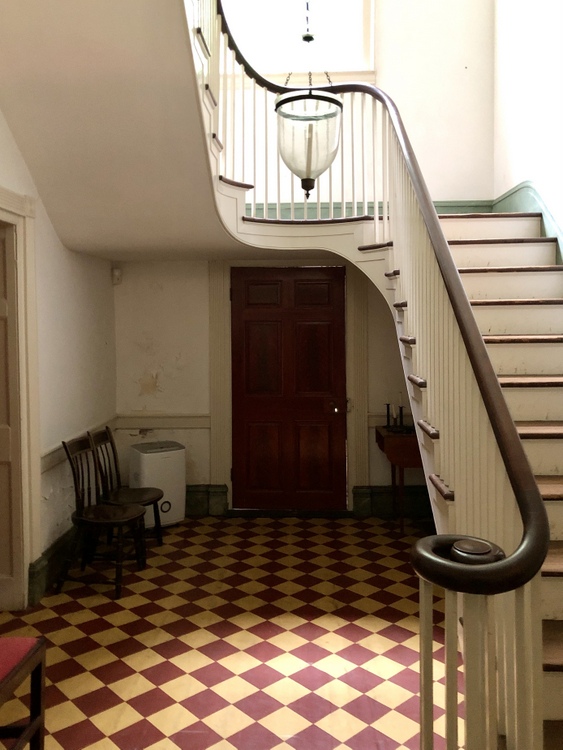 Below is Granbery's foyer, which is more angular and has a later-added closet on the left and powder room beneath the stairs: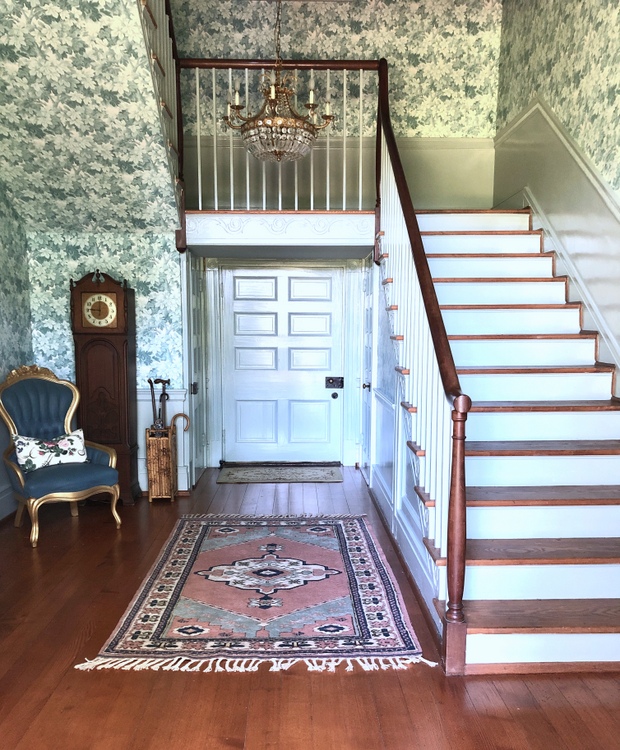 We have been curious if the door trim molding was original to our home, or if it was added later. Since Traveller's Rest has very similar molding in the oldest part of the house, it's likely ours goes back to 1807 (or else both houses added this style trim at a later date). This is from Traveller's Rest: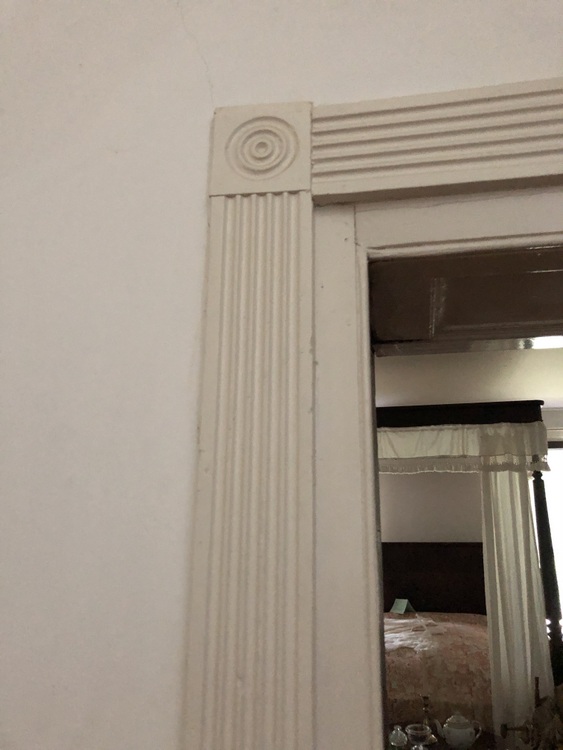 This is from Granbery Manor: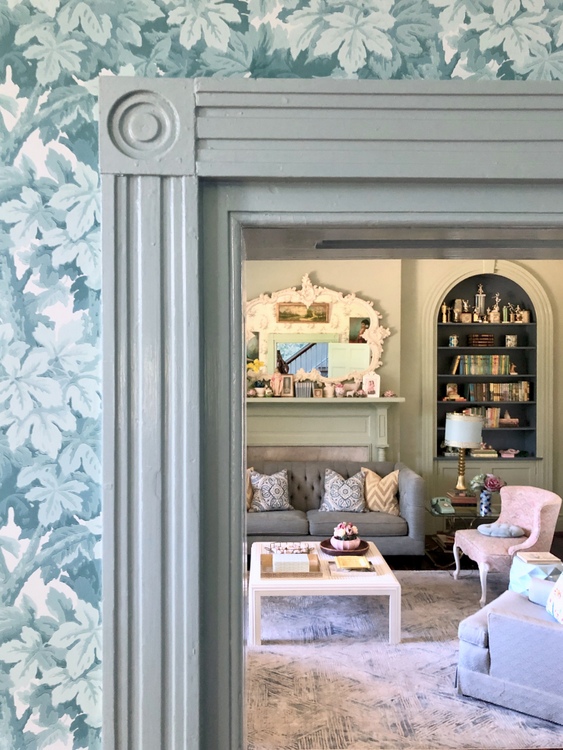 We have blinds throughout Granbery, but I have no idea how old they are. I honestly thought they may be from the 1950's. I was surprised to see that Traveller's Rest also has similar blinds. In John Overton's office, they are painted green with a decorative valance atop. These are so interesting!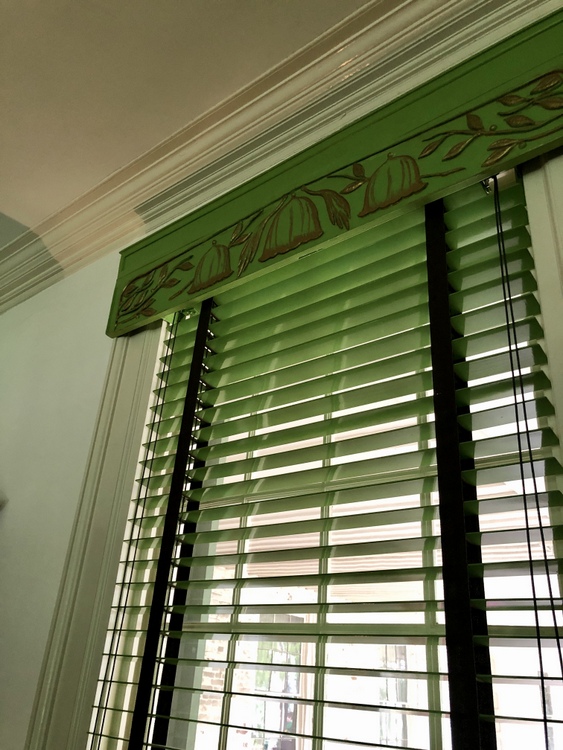 The oldest floor in Traveller's Rest are ashwood, while the addition is mostly carpeted in wall-to-wall reproduction patterned carpet. Granbery is mainly waxed hardwood, which includes poplar and walnut.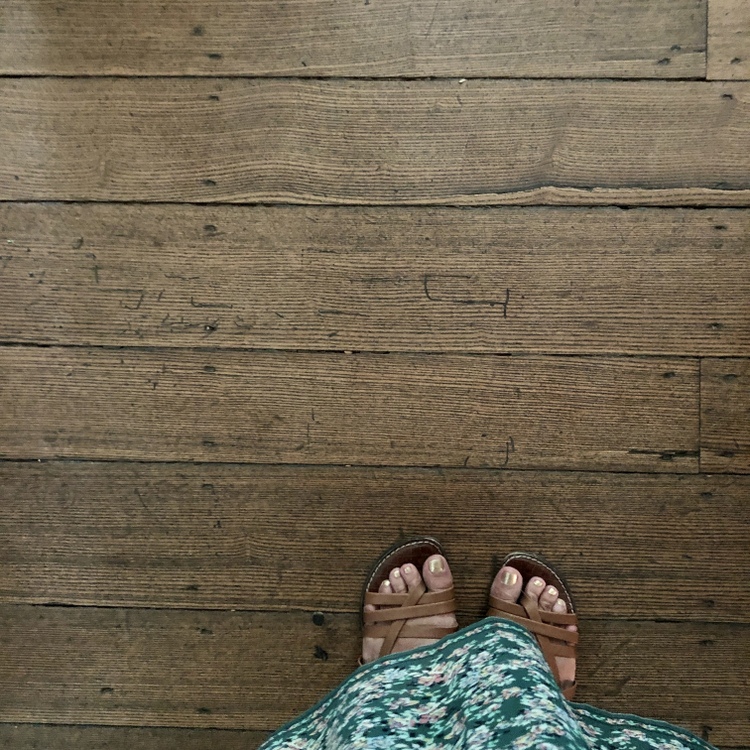 ashwood floors at Traveller's Rest
The ladies' parlor at Traveller's Rest was definitely my FAVORITE room of the house!  Very little furnishings are original to this room, but I absolutely love the riot of color and femininity in this space.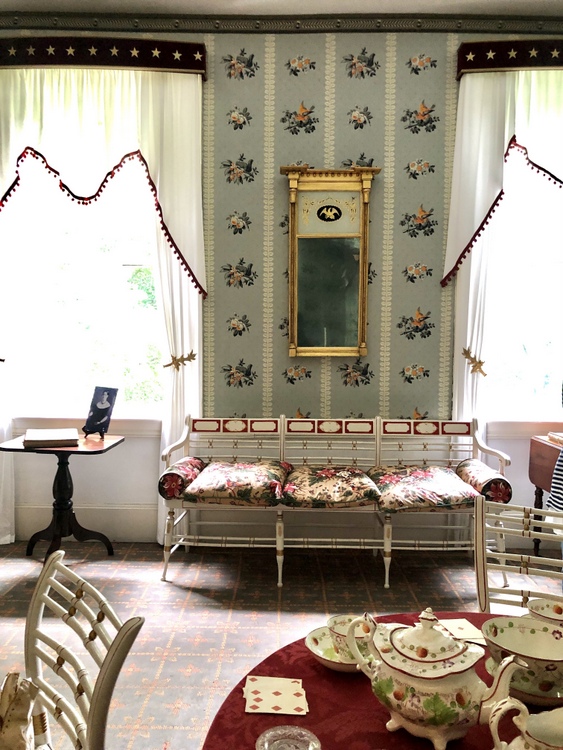 The wallpaper, oh my goodness!!!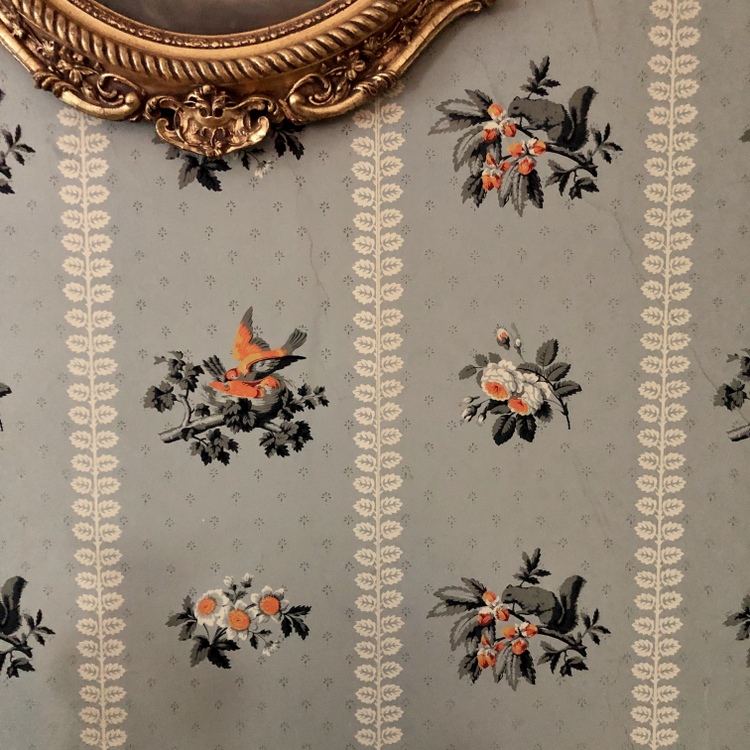 The dining room is another exciting space, staged out to help you visualize what it must have been like to be a guest in this home in the early 1800s, alongside famous dignitaries and presidents!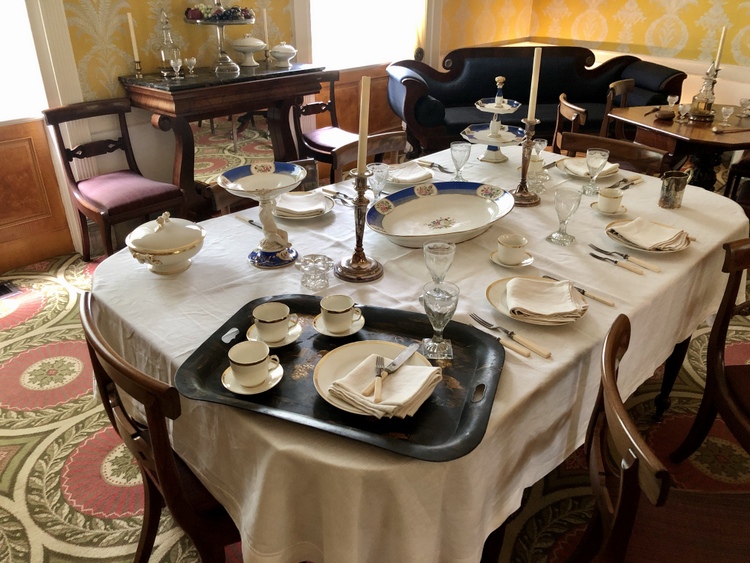 Although I love our hardwoods, the carpets are beautifully tempting. They seem to make the rooms look more spacious, too.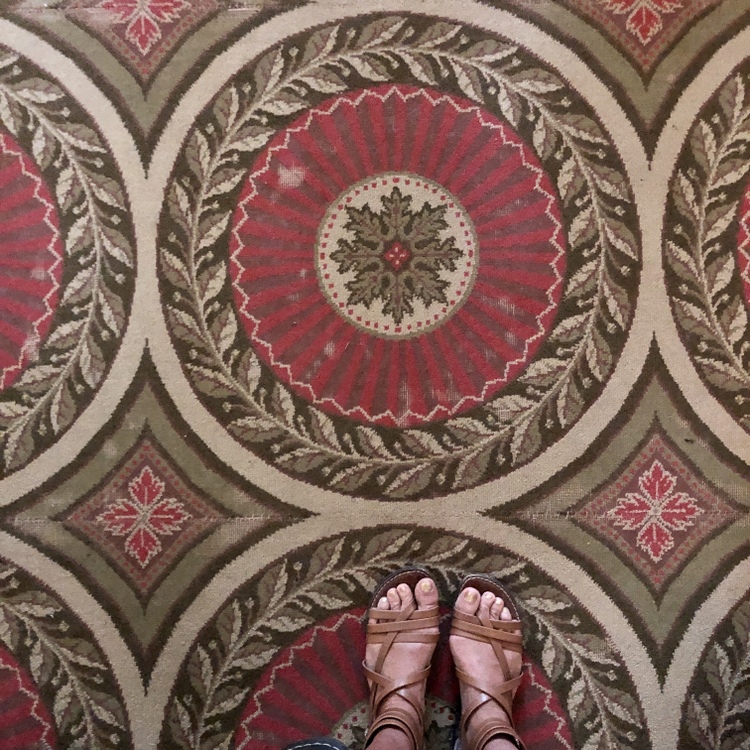 The brick walkway is just like several of ours at Granbery Manor. In fact, we are in the process of re-laying the original brick paths since they had become perilously uneven and difficult to walk on (especially in high heels).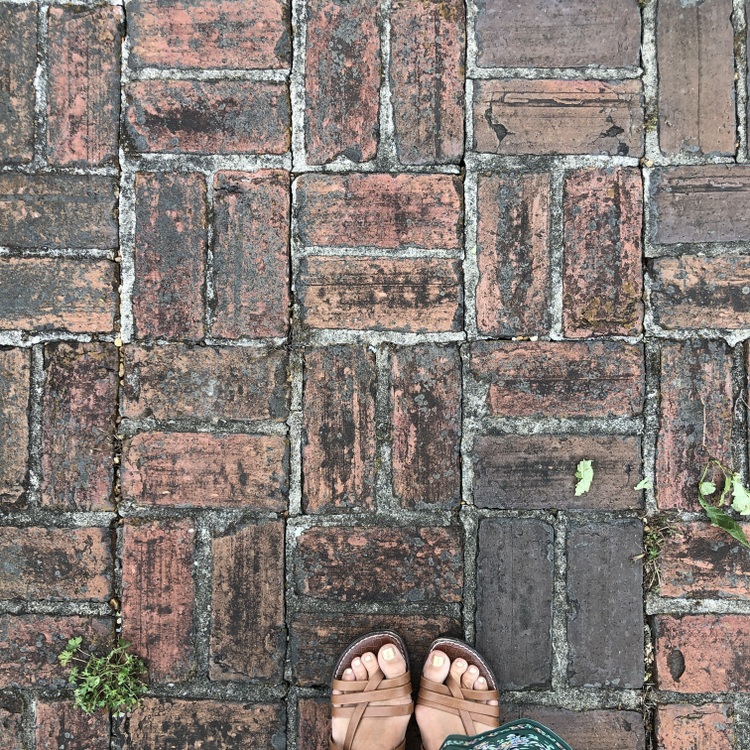 I was very happy to get to speak with the director after our tour. She said that their staff would like to tour Granbery soon so we can share the architecture and familial history that we know about the homes. I can't wait!
Thank you for sharing my Mother's Day event with me! I took many more photos, some of which I'll be sharing on Instagram and Facebook. There's so much more to see, so maybe this post will whet your appetite to someday visit historic Traveller's Rest yourself!