There are many things to consider when putting together a lighting plan for a new home or remodel. A frequent mistake I see people make is choosing light fixtures without a well-conceived plan. If you simply pick out fixtures you like and distribute them throughout the home, you could be cruising for some expensive mistakes!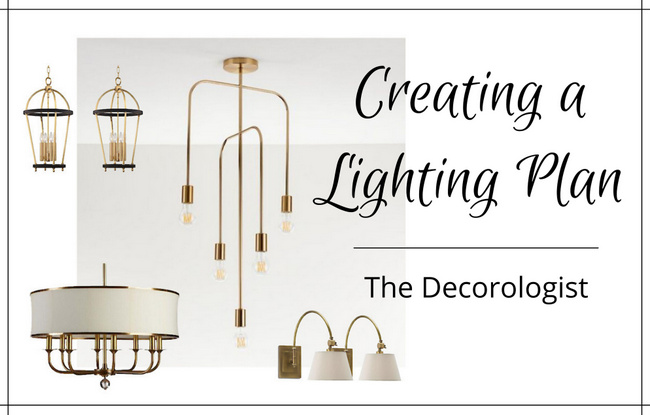 Establish the right style.
The style of the fixtures should be consistent with the a) style of the home and b) the style of the homeowner's furnishings. Disparate lighting styles from room to room is a rookie move. Even if you decide you want to do modern lighting in a home with traditional architecture, one traditional light fixture will feel sorely out of place. Even if you know the style you are going for, you don't want every fixture throughout to be the same. You need to mix the shapes and types of lighting to get a varied and interesting lighting plan. You wouldn't choose all lantern lighting, or all chandeliers – instead, distribute variations of the lighting style throughout the spaces while staying consistent to the style you are aiming for.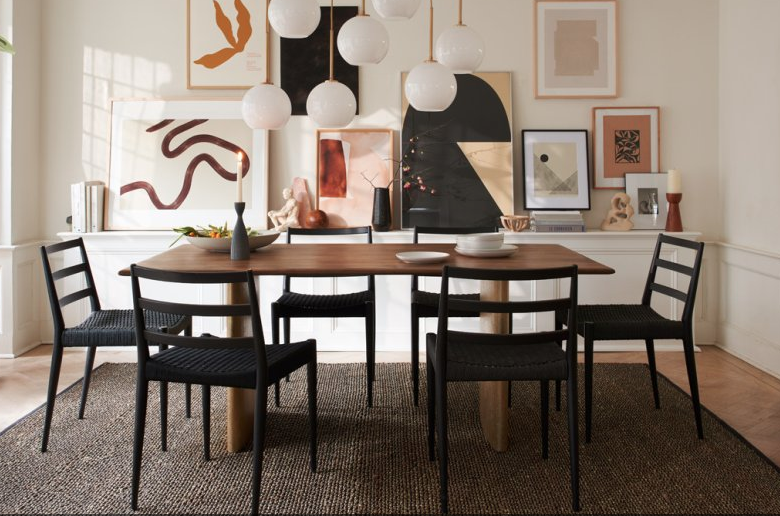 West Elm
Consider the scale.
I've seen clients choose beautiful fixtures that are simply too large or too small for the intended space, although typically the mistake is made in the direction of too small. The scale should be determined based on the room's width/length, the ceiling height, and whether or not there will be furnishing beneath the fixture. In dining rooms and kitchens where lighting will be hung above tables and islands, fixtures can (and should) be larger than if they hung in a room with nothing beneath them. Rooms with vaulted ceilings require larger lighting fixtures so that they don't feel lost in the vast expanse above.
Choose the finish of the fixtures wisely.
Many people default to choosing only one finish of lighting throughout, which can make for a boring, builder-grade result. Mixing finishes artfully (and skillfully) can give you a custom look that you won't soon tire of.  A recent client definitely wanted a classic, timeless look – and she favors nickel finishes. So I recommended a mix of polished nickel (which reads more high-end and sophisticated than brushed nickel) and iron finishes. Depending on the placement of the lighting, as well as the various sizes of fixtures, I usually do a mix of about 2/3 of the favorite finish, and 1/3 of the accent finish.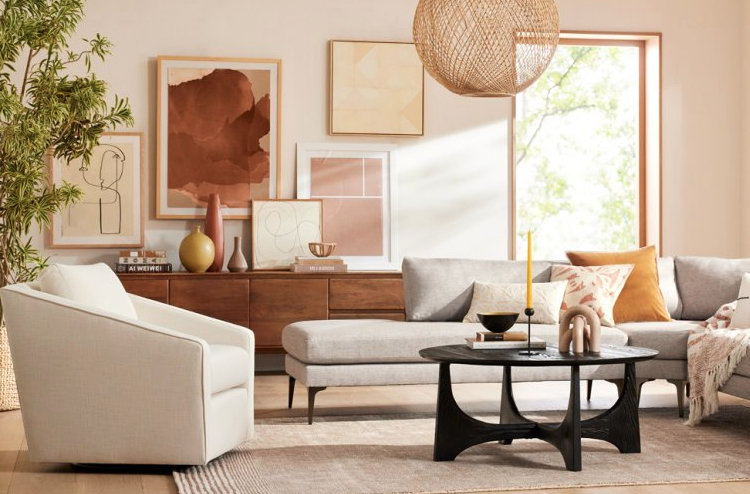 West Elm
Count the cost.
I prefer to know the true overall budget for lighting before shopping for/with a client – it's a waste of time and a big party-pooper to consider options that the client simply can't afford.  To a great extent, your budget limits your options. Once you determine the overall budget for the lighting plan, decide which lighting fixture is the most dominant, most seen by owners and/or guests, or most important. That could be the fixture that you may want to sink more of the budget into, while secondary fixtures can be less expensive to accommodate for that statement light of your dreams. Here's my favorite tip for lowering costs in your lighting plan: choose fixtures without glass. Lantern fixtures without glass are less expensive than those that feature glass – plus, they are lower maintenance because you won't have to clean the dusty glass on the regular!
Now, I'd love to see what you think of the 4 lighting plan options I recently proposed to a client. Each option features fixtures that fall within the budget, are in proper scale for each room chosen, provide a variation in the style the client desires, and offer a mix of metals that are distributed appropriately based on the fixture chosen for the adjoining spaces. The largest, dominant, and most important light fixture is the iron chandelier for the vaulted gathering room (top left). The long nickel fixture is for above the kitchen island (adjacent to gathering room).  The lower left fixture is for a small office to the left of the entry, the lower middle fixtures are for the central hallway/entry, and the lower right fixture is for the dining room.
Option A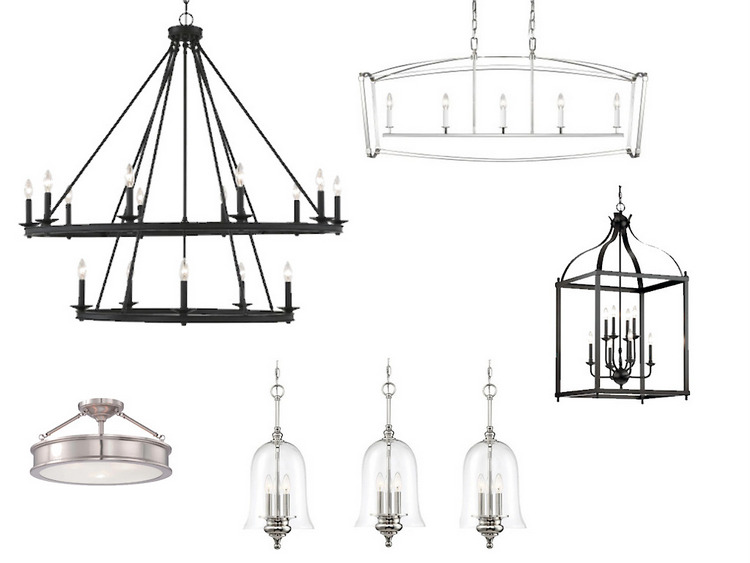 Option B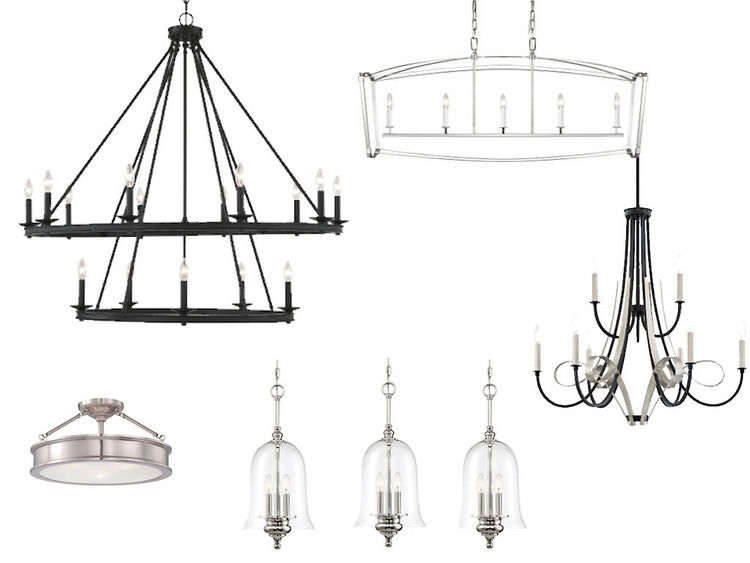 Option C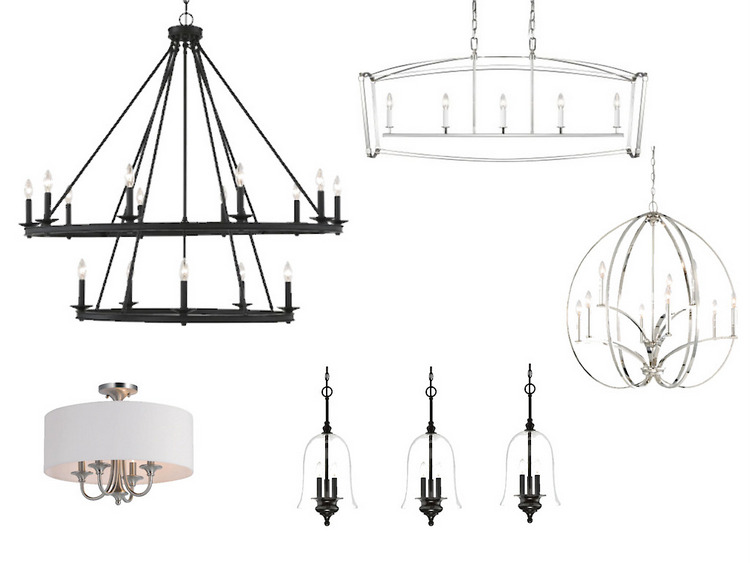 Option D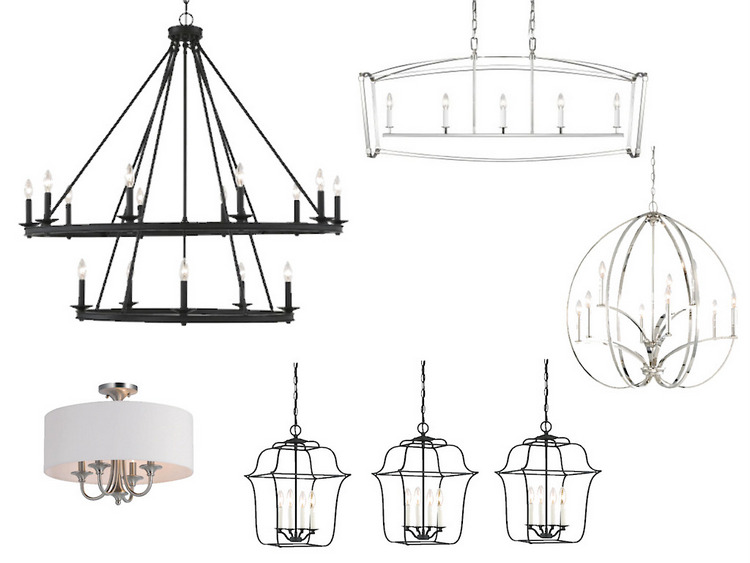 Ok, my talented readers! Which lighting plan combination is your favorite for a classic and sophisticated family home? Please share your thoughts in the comments below. i know someone is going to ask, but I'm not able to share specific dimensions or brands of the light fixtures you see here. If you need help with your own unique lighting plan, reach out to my office assistant ([email protected]) for details!
There's so much more to learn – check out my video workshops and intensive certification courses here!