It's a new year. And hey, it's even a new decade! And while many things are continuing along the same path as they have been in my life, one BIG thing is changing. We bought a house. And it's not JUST a house. It's an over 200-year-old, history-steeped, federal style house that's been hiding in plain sight for over a century.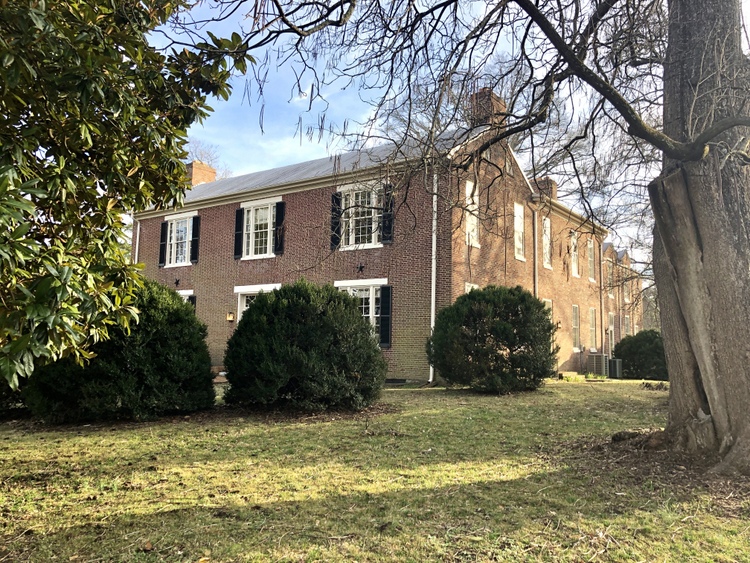 The house is museum quality, which is practically impossible to find in Nashville. Unfortunately, that also means that the mechanicals are a bit lacking and it is not shall-we-say up to modern comfort standards . . .
The last addition to the house (the kitchen) was likely made in the late 1800s, and the latest remodel was done in 1939. Precious little has changed in this house, owned generationally by the same family for 120 years, since that 1939 remodel. Take a peek at the kitchen:
One of my greatest passions in life is historical homes. I love nothing more than immersing myself in historical architecture, time-capsule interiors, vintage fabrics and furnishings, anything that evokes nostalgia for a time past.
Mr. Man and I have restored or renovated a handful of historic homes since we married, and neither of us can imagine choosing to live in a "new" house. They don't make them like they used to, and we'll take character and architectural interest over walk-in closets and modern bathrooms any day of the week.
Here's the original key to the front door of the federal style house: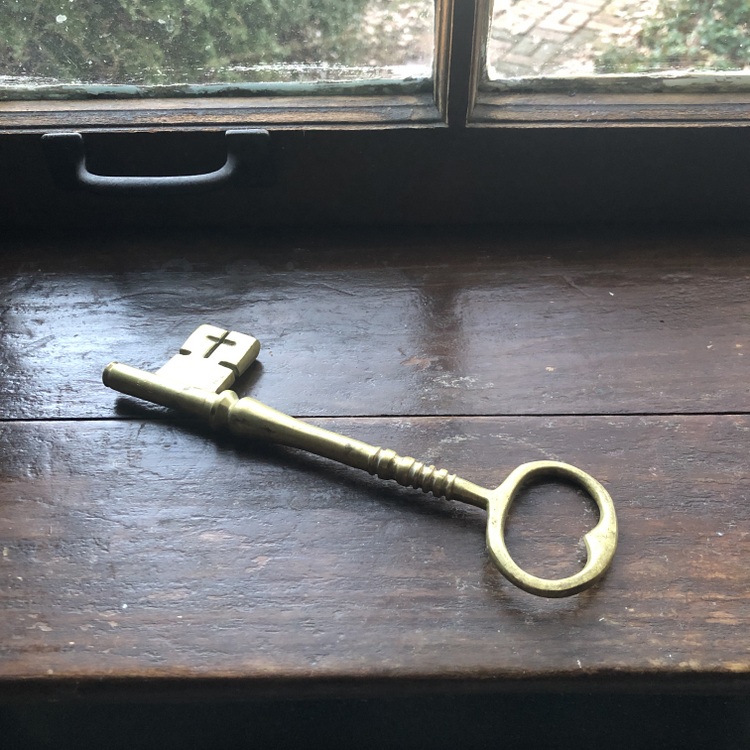 Can you imagine carrying this around in your pocket??? Every door and every closet of this house has its own lock and key. There are dozens of them, each different!
This is the front entry of the house. The layout of this space and the shape of the wooden handrail is consistent with the federal style of the building. The floors throughout are original, mostly walnut and poplar.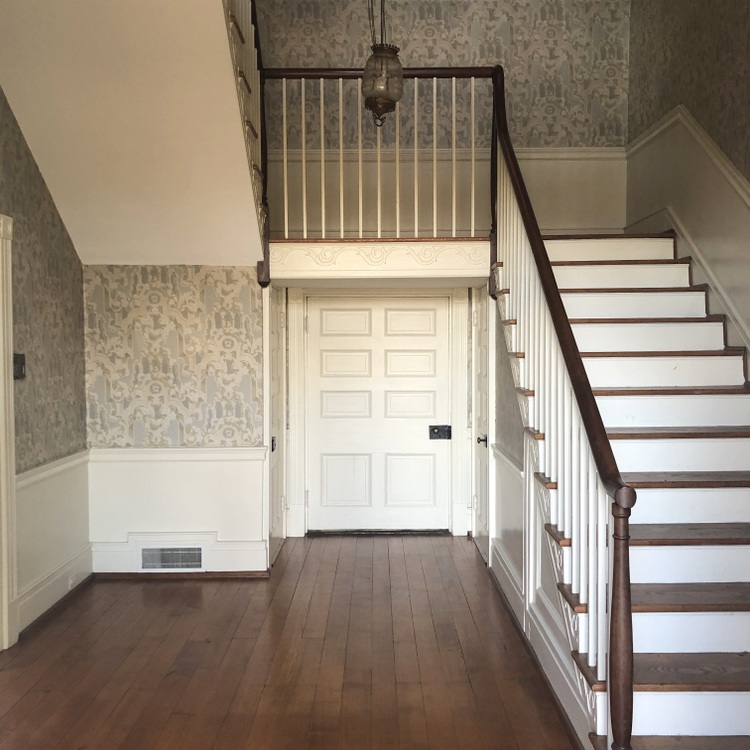 One of the most striking things about the house is the WALLPAPER. Most of it appears to be 70-80 years old. I have always loved vintage wallpaper and am always thrilled to see the occasional throwback paper at estate sales or in museum homes.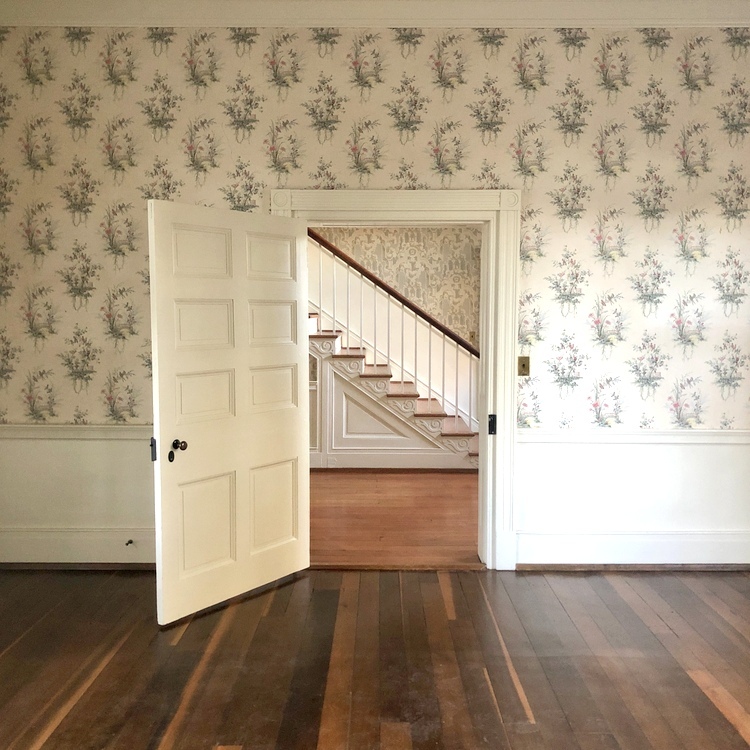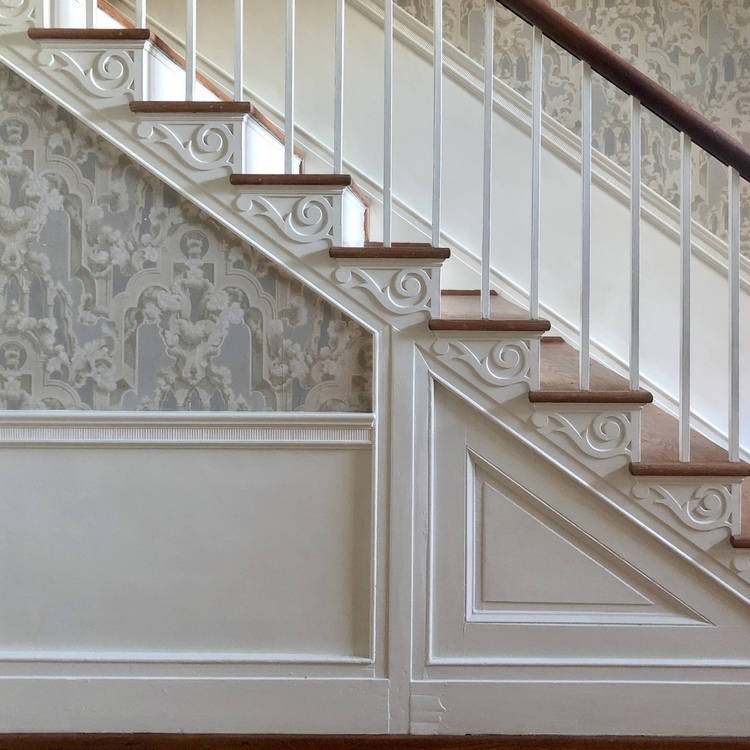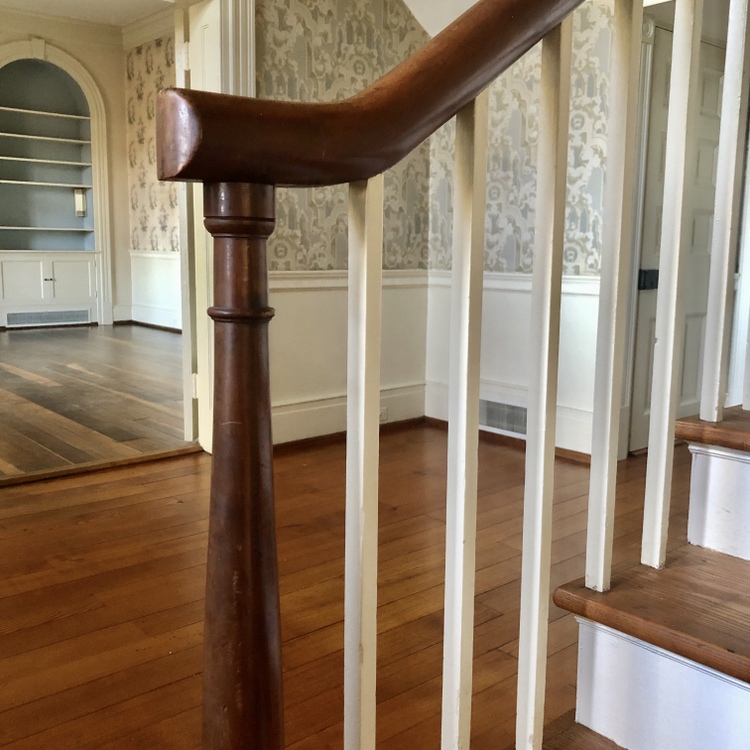 While we are preserving much of the old wallpaper, some will need to be replaced because of old water damage. This is the front door with its beautiful transom window above.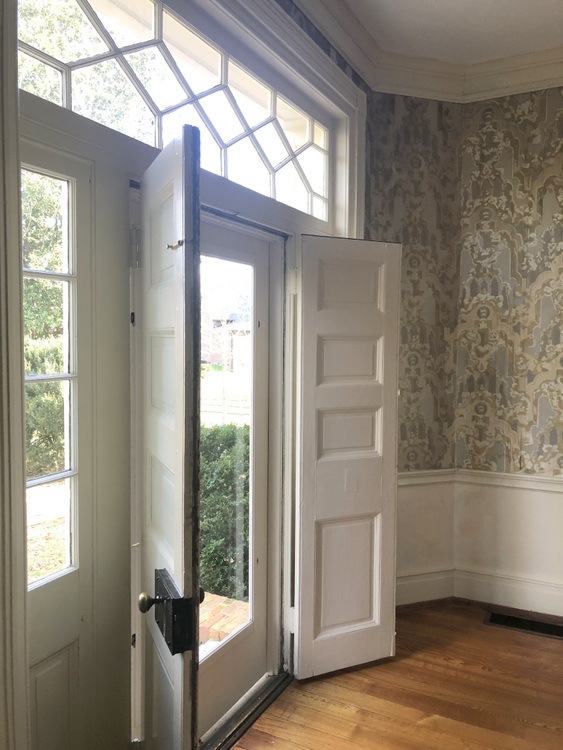 The wood beams, paneling, and bookcases were added in the 1939 remodel. We are adding more bookcases to make this space a proper library. It's always been a dream of mine to have a true library!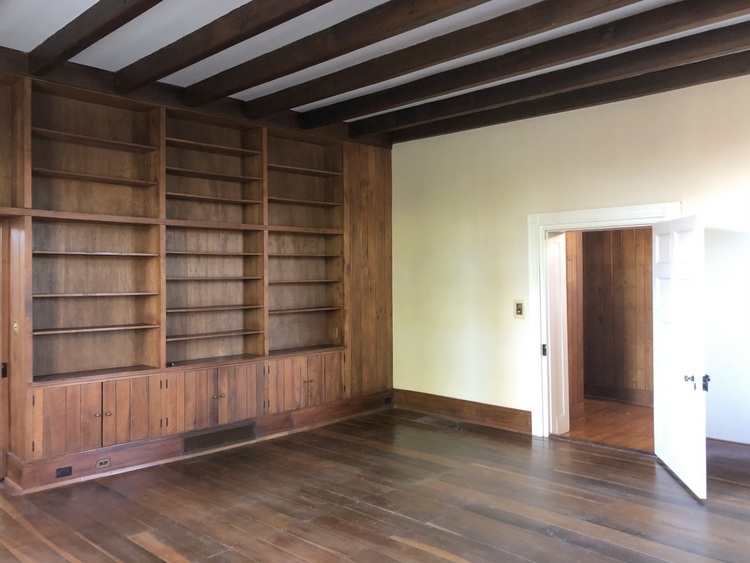 The house has seven fireplaces, but just a few ceiling light fixtures. Last week's chimney inspection was a punch in the gut – turns out it can be extraordinarily expensive to restore 200-year-old fireplaces to safety standards. We've got a lot of research to do before deciding what will happen with those . . .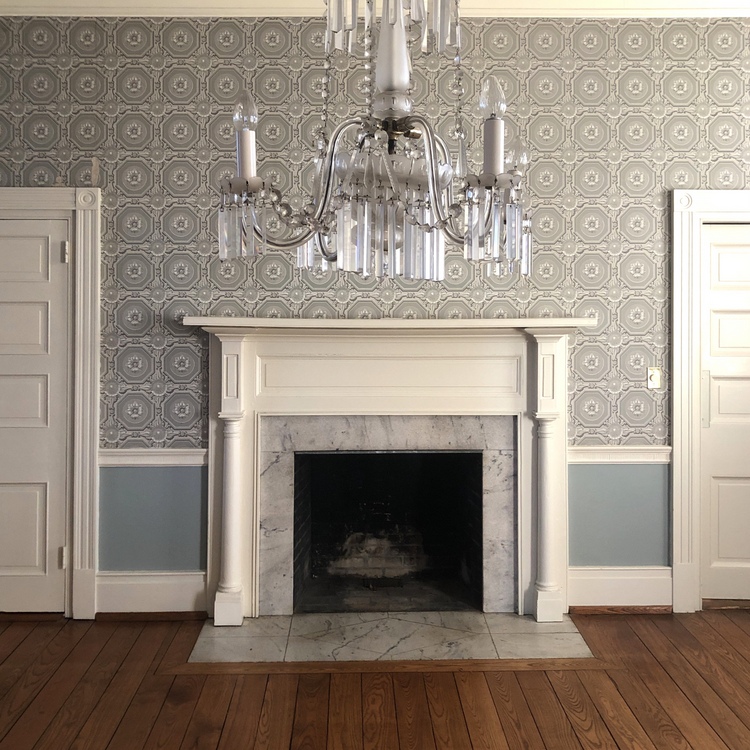 The original windows are still intact. Large, true divided-light panes, and wavy glass. A different wallpaper animates every room you enter.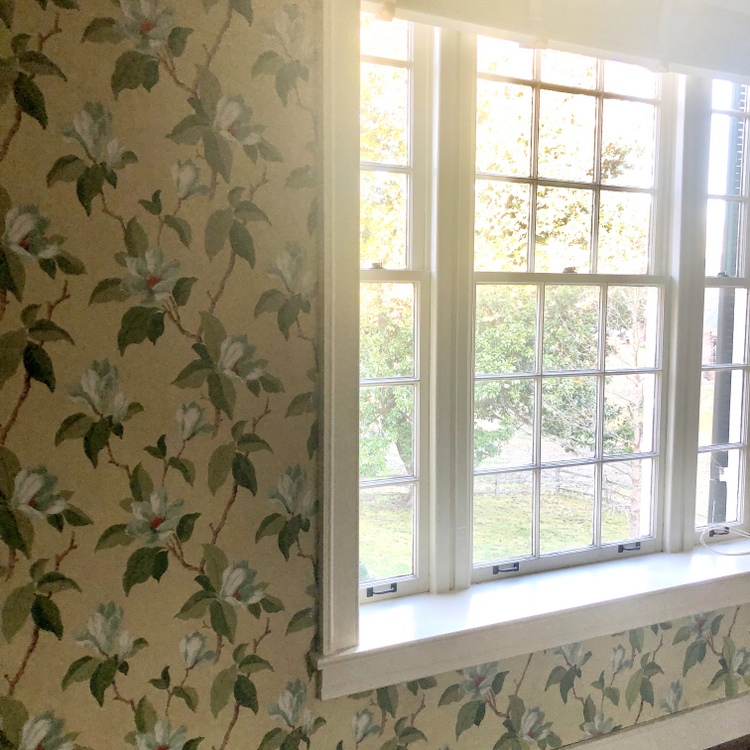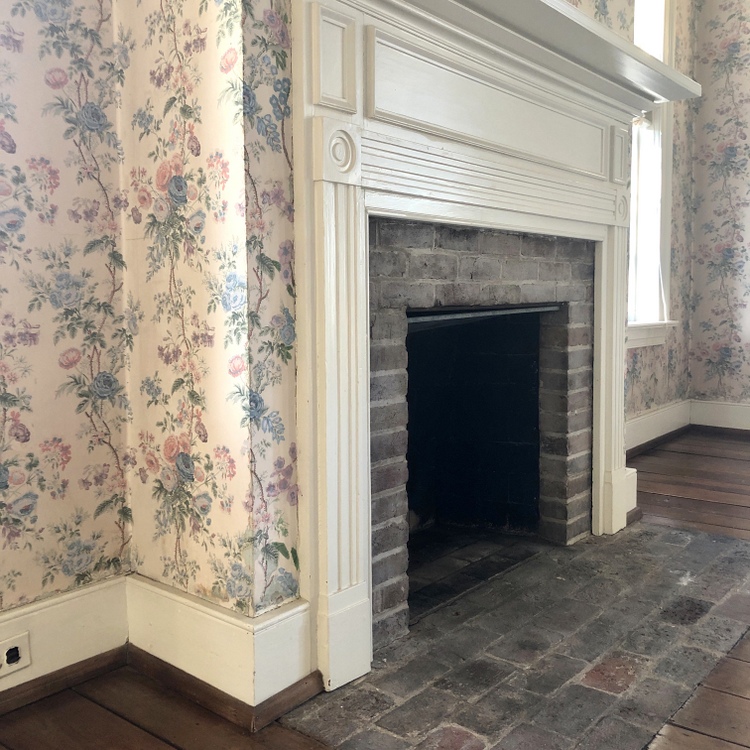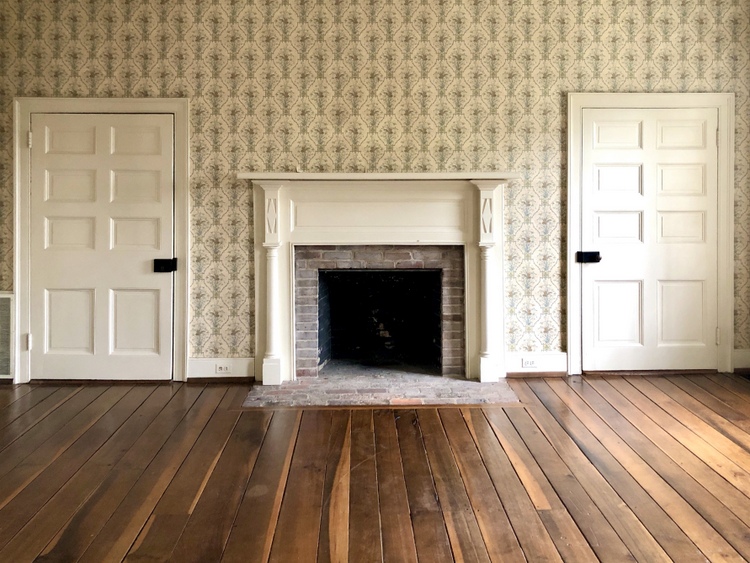 There's more, but today I just wanted to introduce you to this long-hidden gem. Over the last couple of weeks, we've had asbestos abated and all of the plumbing removed and replaced. I'll be sharing our progress over the coming months, as I have big plans for this historical beauty.
The day after we closed on the house, I snapped this selfie. It seems appropriate that the sun shone so brightly on us both in this photo, as this house is a glorious gift and treasure that I am grateful to be able to be its caretaker in the coming years! It's one of the oldest remaining brick houses in Nashville, built on land that was granted to one of the cities' early pioneers following the Revolutionary War. I thank God for this amazing opportunity to live and work in this piece of American history.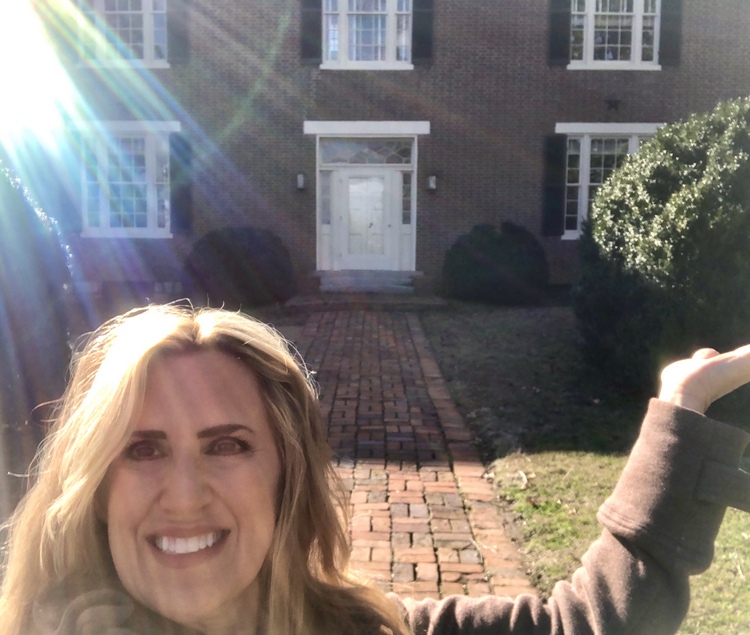 Would you like to take a little tour with me? Here's my first video – there will be more to come!