Mr. Man took me on a surprise day trip on Friday, and he did not disappoint!  I know he looks angry here, but that's just because we are old and aren't good at selfies – he was struggling to find the camera button on my phone.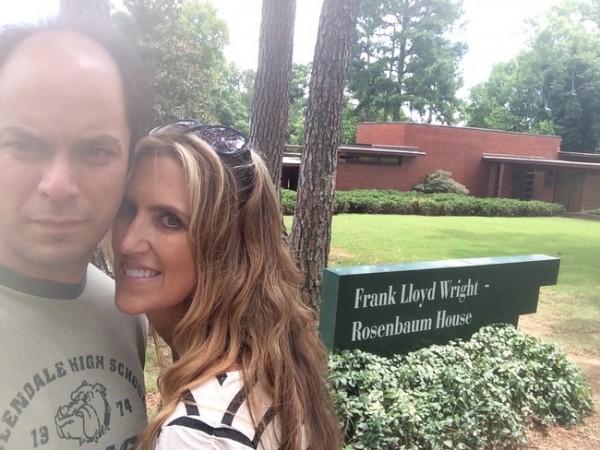 We decided to take the scenic route rather than the interstate, and scenic it was. We drove south towards Florence, Alabama.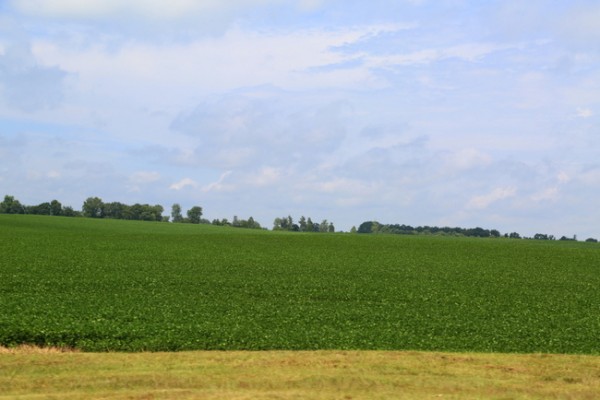 It was quite the juxtaposition to see Mennonites with horse-drawn wagons right along side pick-up trucks and a Mexican restaurant.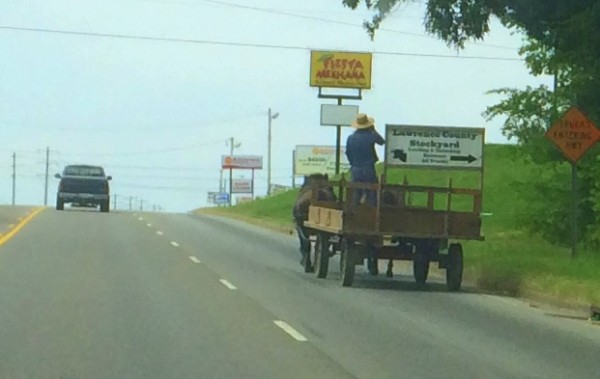 It took us about 2 1/2 hours to drive to Florence, where we had an amazing lunch at City Hardware:  a perfect iceberg salad, fried green tomatoes, and crabcake sandwich.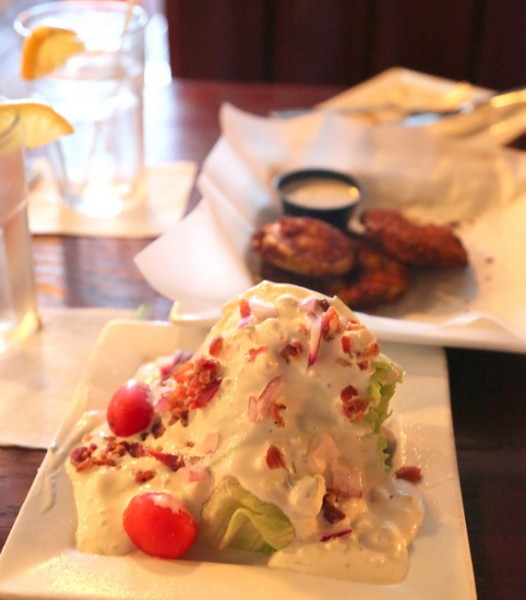 City Hardware restaurant in Florence, Alabama
The true purpose of our day trip was to tour one of the small handful of homes designed by Frank Lloyd Wright in the south (only a couple are actually open to the public).  On approach, the Rosenbaum House was surprisingly unassuming.  Built in 1939 for Stanley and Mildred Rosenbaum in Florence, Alabama, this home was one of the first of Wright's "Usonian" homes, a new form of affordable housing for the average American family.  This style of housing was a precursor to the ranch style that became extremely popular beginning in the late fifties and into the mid-1970s.  We were lucky enough to get a private tour!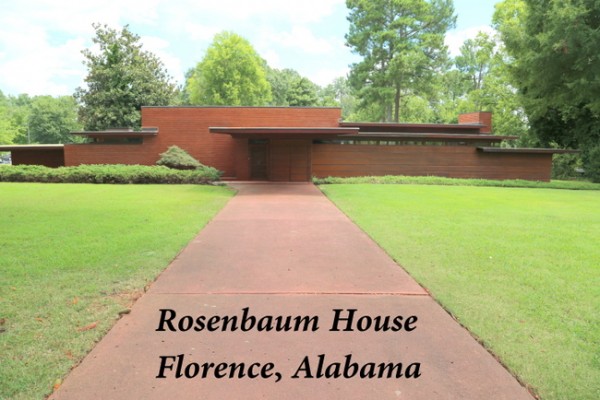 Frank Lloyd Wright is famous for the emphasis on the horizontal in his architecture.  I was struck by how we could see the rooftop of parts of the house from the ground.  The carport is only 6 1/2 feet high.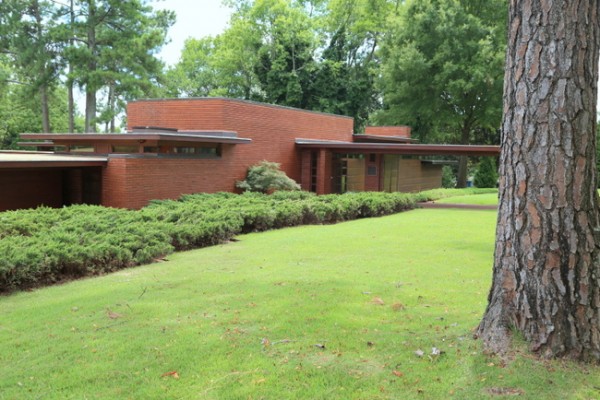 FLW was all about efficiency and #notsbighouse and all of that.  He also had Short Man Syndrome, in my opinion. He literally said, "anyone over 5'8 is wasted material."  Thus, the 7 foot ceilings in many areas of this home.  This room would have been considered vaulted, but many of the others were exceeding low compared to today's standards.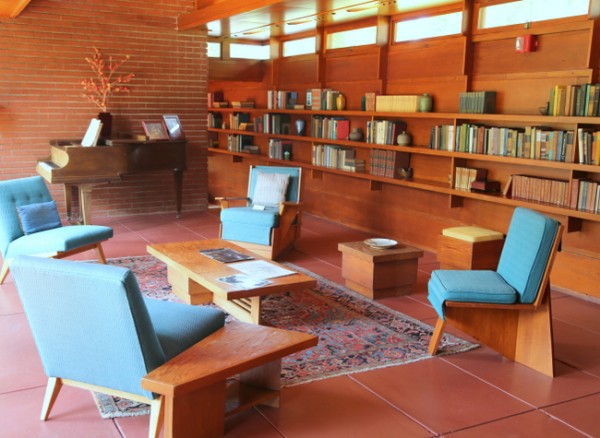 Frank Lloyd Wright was definitely a control freak.  He preferred to design all the furniture in his homes.  The cool thing about that was that he liked to build them into the structure, like this dining table in the Rosenbaum House so that no one could move it later.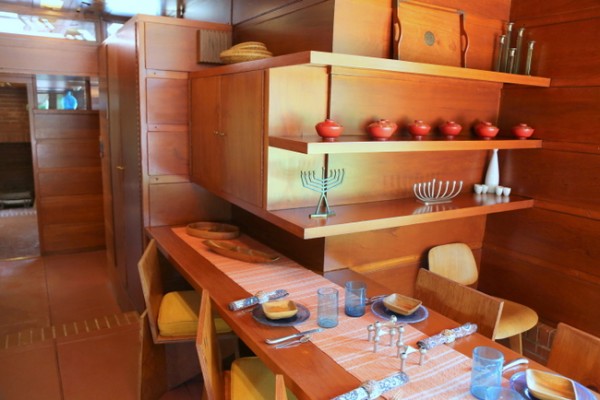 At least you can change the table setting if you want to change things up!  Former New York model Mildred Rosenbaum made this table runner.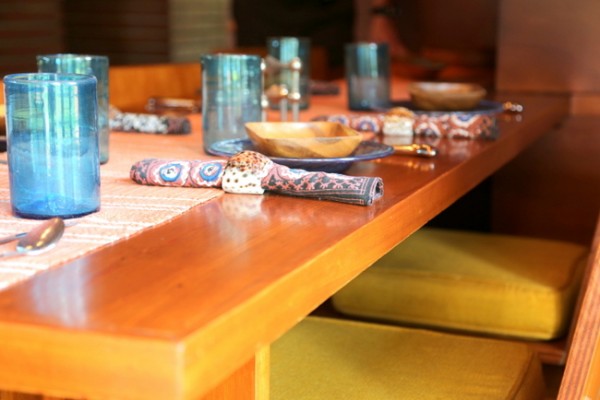 When the couple hired Wright to design an addition in 1948, Mrs. Rosenbaum began using a son's former room as a place to create her textiles.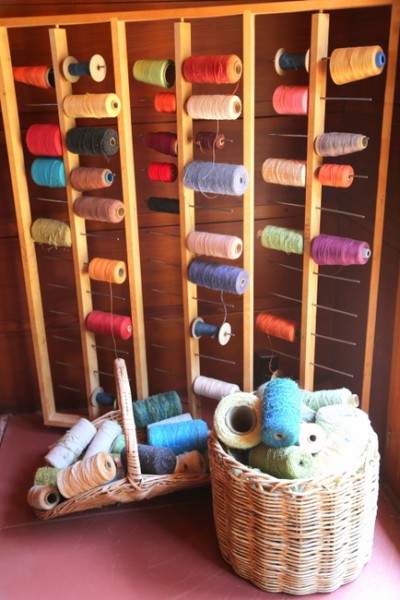 Both the hallways and doorways were extremely narrow.  It feels quite a bit like the interior of a ship.  Notice all the built-in storage.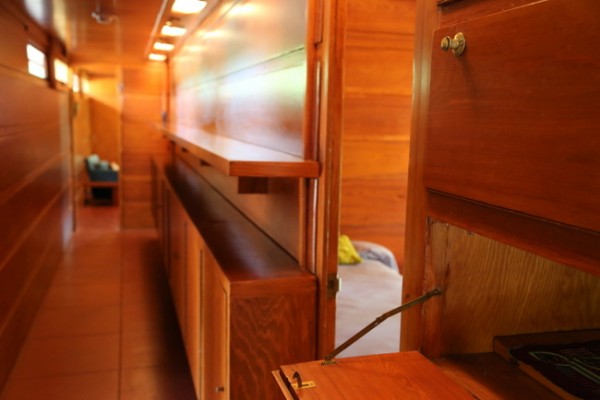 Although Wright designed all the furnishings, Mrs. Rosenbaum gave away a few of the chairs and replaced them with Eames chairs.  Much more comfortable – I would agree!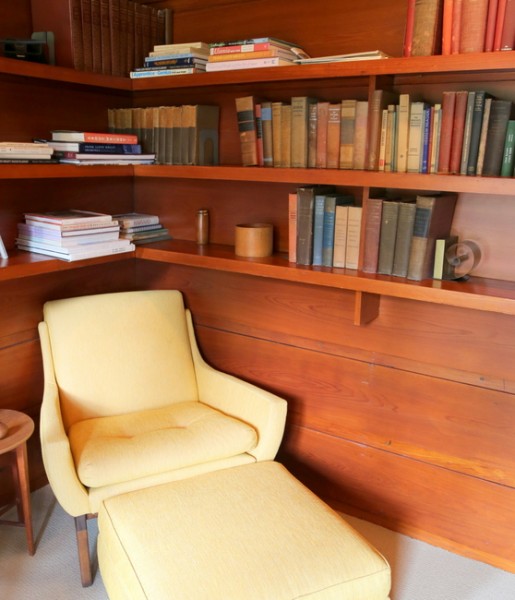 Below is the built-in dressing table in the Rosenbaum's master bedroom.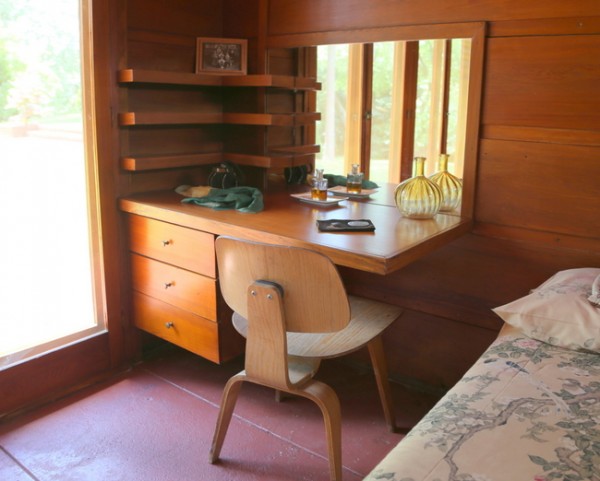 The flooring is all concrete, with radiant heating beneath.  Frank Lloyd Wright considered the Rosenbaums to be "ideal clients."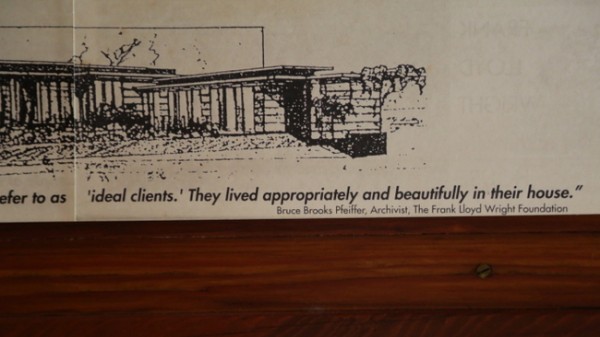 Translation:  they allowed him to have his way with their home and didn't change anything afterwards.  The Rosenbaums did hire Frank Lloyd Wright to design an addition to their small home in 1948, which included a larger kitchen.  The first one he designed was very small and lacked natural light beyond what the skylight afforded: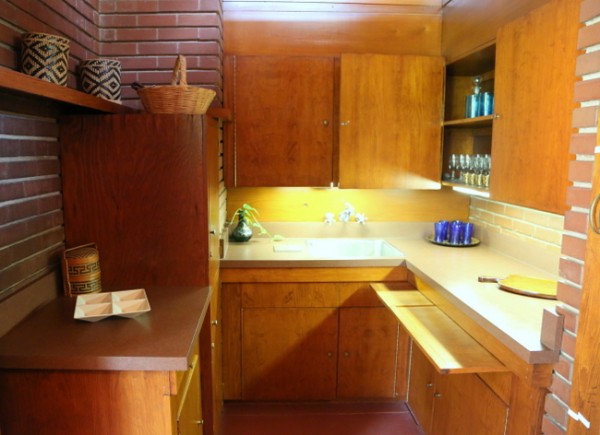 The wood you see inside and out is red cypress, which impervious to termites.  Unfortunately, the interior structure of the home consisted of pine beams, which termites eventually invaded and wreaked havoc inside the home.  That, along with the frequent leaks in the imfamous flat roof that Wright was so fond of, led to extensive damage to the structure.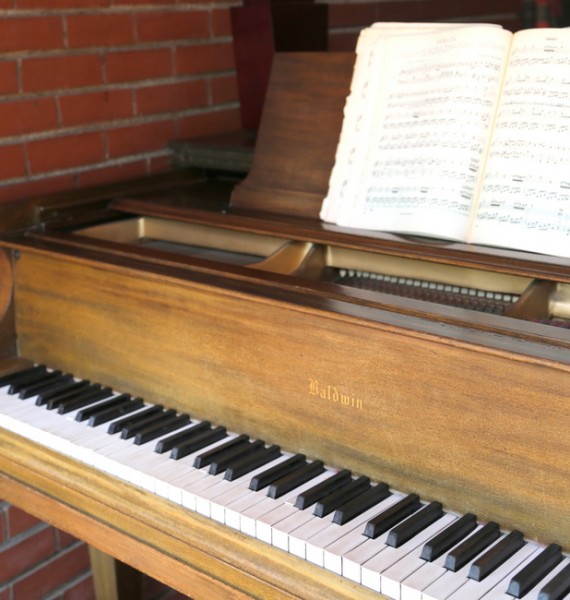 The Rosenbaums were the sole owners of this home and raised their four boys here. Mrs. Rosenbaum lived here 60 years – 15 years of that alone following her husband's death.  When she moved into a nursing home, the city bought the home and its contents and began a $750,000 renovation to restore it to its former glory.  Mrs. Rosenbaum lived to see the full restoration completed, and friends often brought her to visit the house.  She sat once again in her living room and share stories with tourists on a fairly regular basis until her death a few years ago.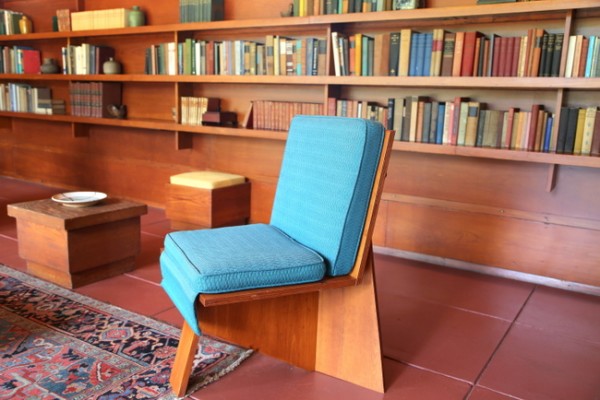 I realize most wives wouldn't appreciate this kind of day trip, but Mr. Man knows me well. Rather than spa treatments and diamonds, architecture and home interiors ring my bell. Despite the heat and humidity of an Alabama August, it was a perfect day. We even hit a few antique malls on the way home. So what's your take on Frank Lloyd Wright's designs?