I'm thrilled to announce that we will now be offering Professional Organizing as one of the services provided here at The Decorologist!  My recent (and ongoing) experience with a professional organizer has rocked my world and convinced me that home organization is a vital part of living in a functional + beautiful space.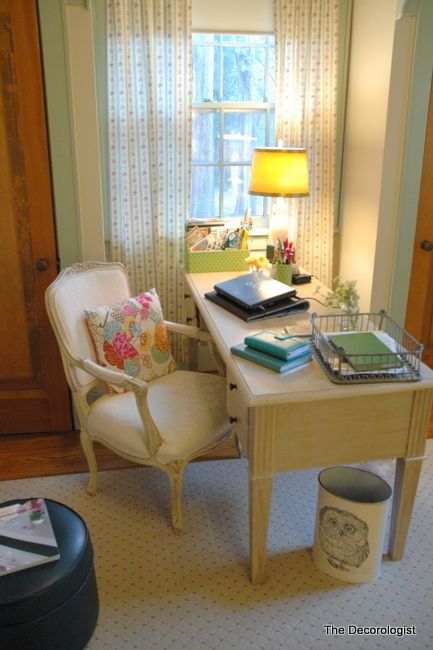 Command Central at The Decorologist
Here's a peek at the organization process.  It's messy, y'all!  And it's emotional.  And incredibly liberating.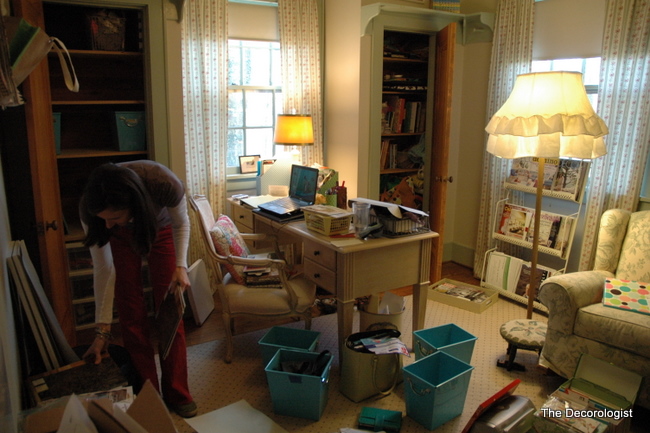 Organization in Progress
It's a matter of rethinking and imagining your storage, your space, your entire life.   I know how to make a room beautiful and THAT I can envision  . . . but my previous mindset has been:  out of sight, out of mind.  So you wouldn't have wanted to see inside my closets, or drawers, or cabinets.  Not so beautiful (except for the drawer liners, maybe!).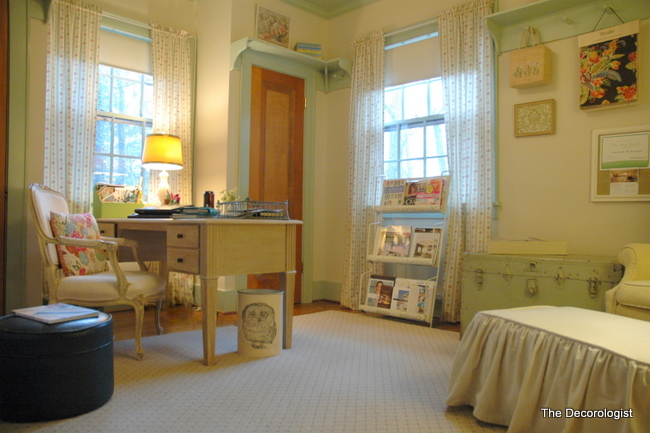 An Organized AND Beautiful Office (Lansing Desk by Merridian Home Furnishings)
It had gotten to where I wasn't feeling very productive in my own office.  Too many visual distractions, too much difficulty finding what I needed.  I still had vestiges of the previous nursery that this room once was (sob, sob), and my children used it to stash their bookbags and school work.  This pink armoire was formerly for clothes storage for my girls when they were babies in this room, and I thought sure I needed it for storage of paint and picture hanging supplies.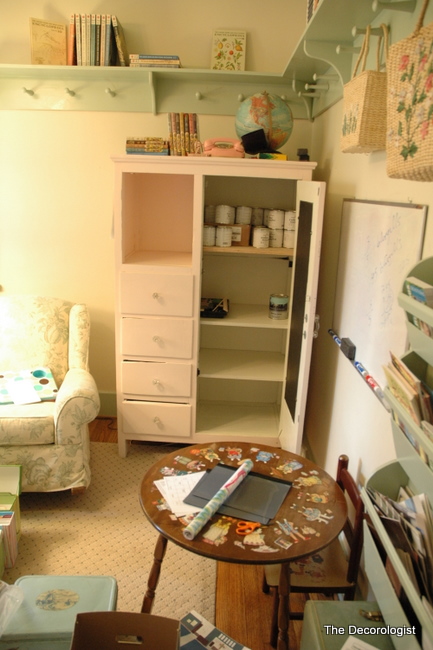 A Messy Office Makes Me Nervous!
My Professional Organizer helped me look at things in a new way.  In this case, I actually didn't need another storage piece.  I needed less, but better-organized storage.  So that messy space above now looks like this: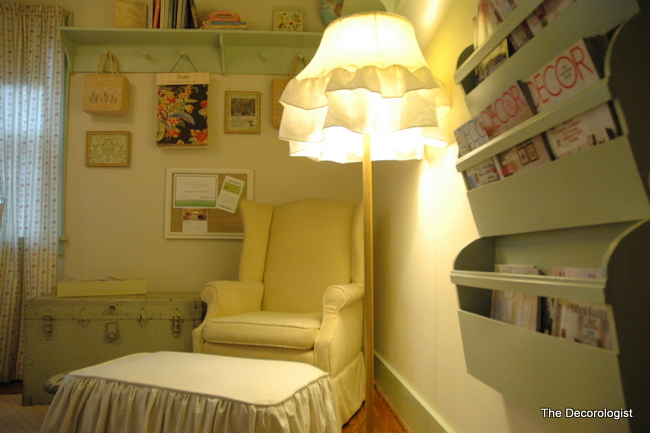 Fresh, New Space
This used to hold my kids' books and school work, but now it holds my design and shelter magazines.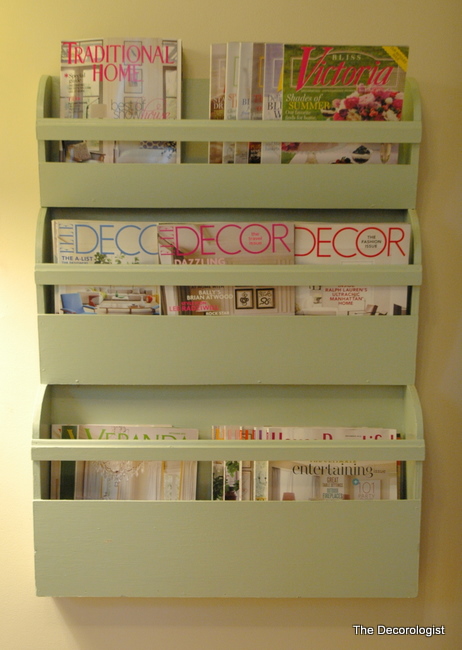 Storage Can Be Pretty!
My Professional Organizer helped me determine what I really needed, and what was bogging me down.  Now I know how my clients must feel when I'm helping them decorate their homes! By creating systems that work specifically for me, I know how and where to find all the things I need – and it's all organized and labeled  in this closet behind my desk chair. And by using things I loved as part of the organizational plan, it looks like me.   I don't even mind leaving the closet door open!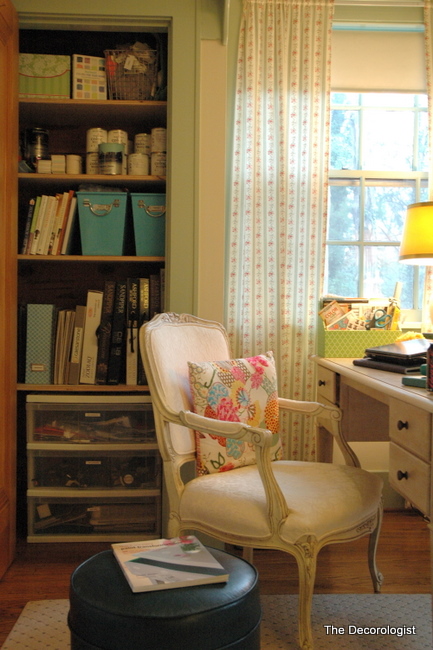 Newly Organized Office Closet
I try to always speak to functionality when I am designing spaces, but I also believe that if a person feels uncomfortable in a space, it's functional aspects are simply wasted.  In the past, efforts at organization have not always worked for me because it was not pretty.  If it's simply organized but not pretty to me, I'm just not interested in keeping it up!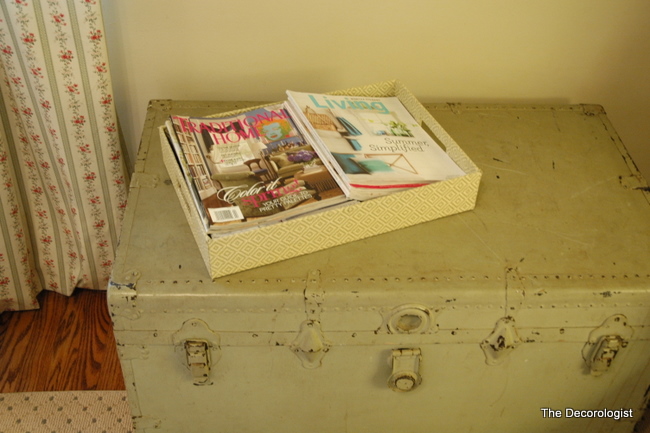 Useful Storage + Nostalgic Attachment + Perceived Beauty = A Happy & Organized Home
A room like the one below is definitely organized, but would you really want to spend any time in it?
This is why we are now offering Professional Organization Services that speak to what works for your life, your aesthetic, and the atmosphere you want to create in your home.  I believe that better and visually-pleasing organization can help you develop an appreciation for your home that you never had before.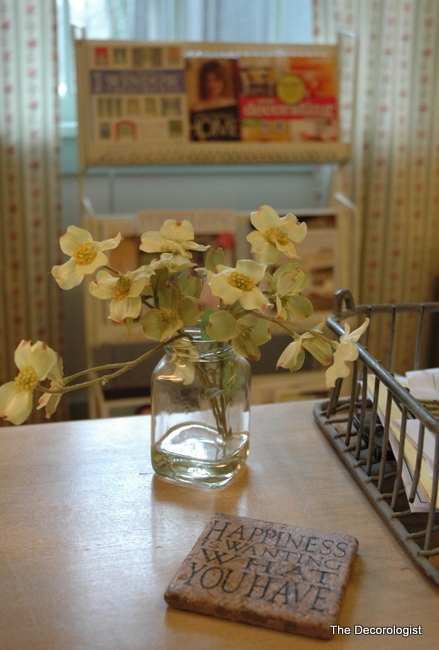 Happiness is Wanting What You Have
My dear readers, this is a game-changer.  If you want help organizing your homelife from someone who understands how to marry organization and beauty, click here for more information about scheduling an appointment with one of my talented Professional Organizers today!
Share this Post