I was beginning to think it would never be over.  My driveway makeover is complete, although it took almost a year for it to be DONE.  Previously a mixture of old, crackling asphalt and a gravel loop, our new driveway is all concrete.  And there's a LOT of it, let me tell you!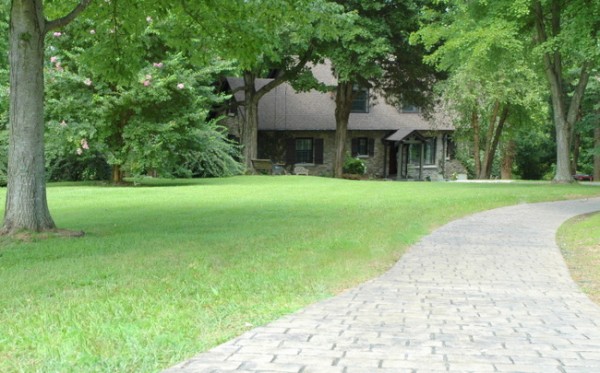 The entry from the street features a carriage drive in stamped, stained concrete.  It looks like cobblestone, and I LOVE it!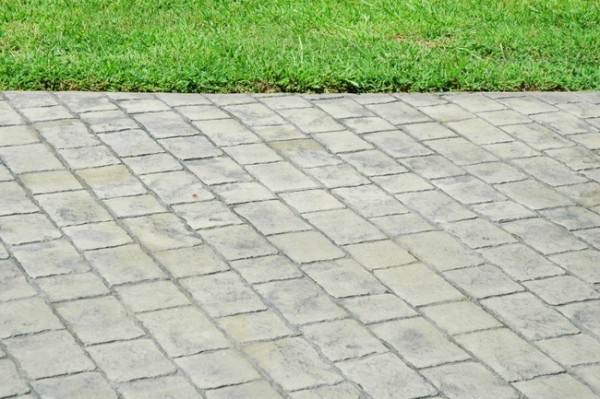 The rest of the driveway is stained concrete, and the front porch is stamped and stained like the entry from the street.
I should probably back up so you can see how it looked prior (I blogged about it last fall).  The main portion of the drive to the right of the house was a hot mess of ancient, crumbling asphalt full of potholes and other dangers for those visiting our home.  We had added a loop in the front of gravel about nine years ago.  Not so attractive, but all we could afford at the time.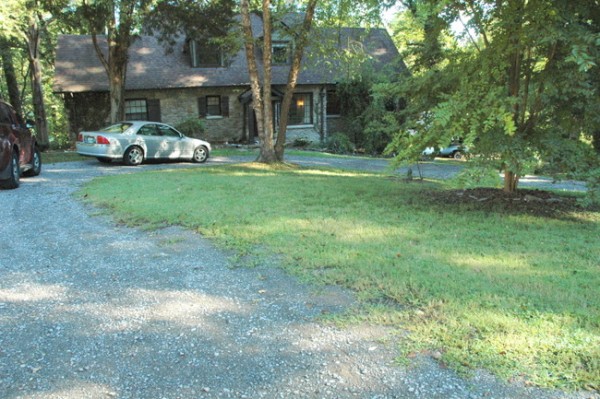 driveway before
This was the exterior last September during excavation of the driveway.  The neighborhood children thought the mounds of dirt and backhoes in the yard were so much fun.  I did not.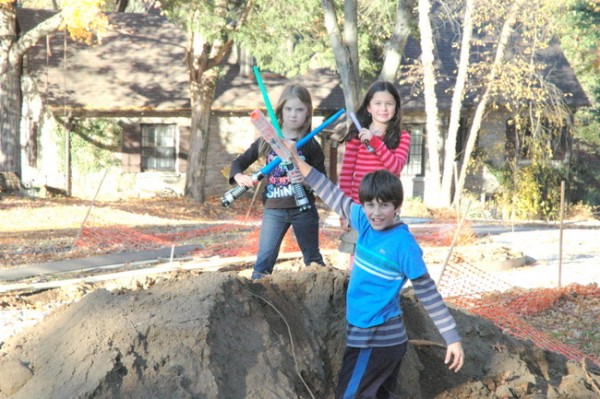 King of the Hill 
The work was difficult and tedious.  Concrete can only be laid in certain temperatures, and stamped concrete is even more finicky.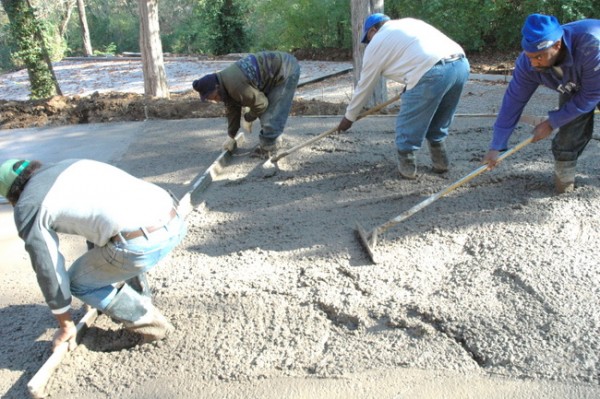 Because we have an old home and didn't think that screaming-white concrete in the front yard would be period-appropriate, I chose to have the concrete stained in "Earthen" on the Solomon Color Chart.  When choosing concrete stain, my advice is to go much darker than you think you should – it lightens up tremendously in a rapid period of time.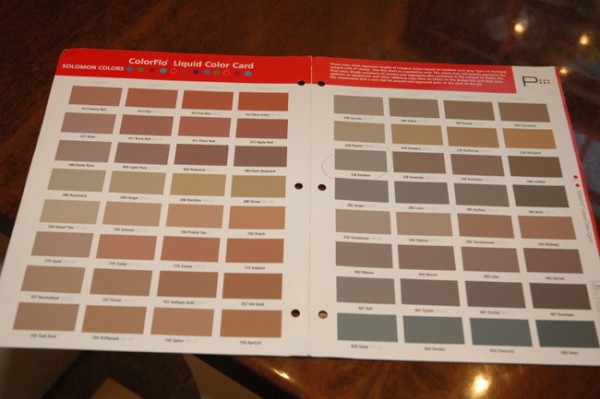 Can you see the one I circled?
Stark white concrete would have been a huge mistake in our setting.  We added lots more space for parking to the right of the house leading to the garage.  For the first time ever, our kids can ride their bikes and skateboards on our driveway!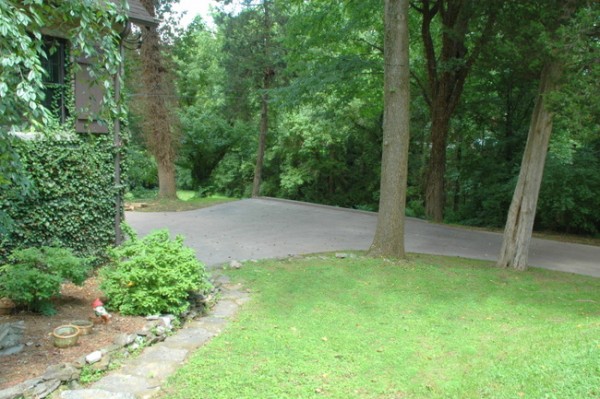 When the weather got cold, the concrete guys had to stop working for several months.  So the stamped and stained porch didn't get done until about a month ago.  This was the front porch slab in its former state: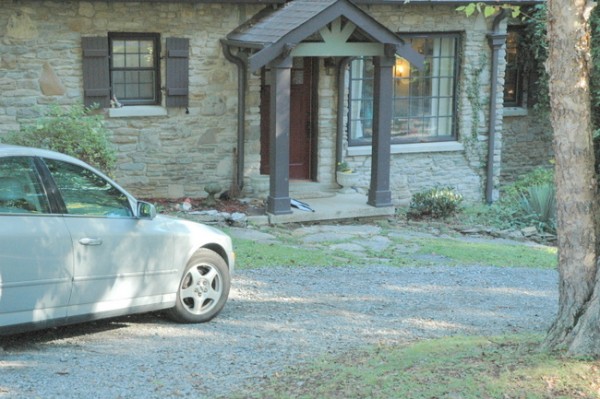 But look at it now!  I love my little front porch, don't you?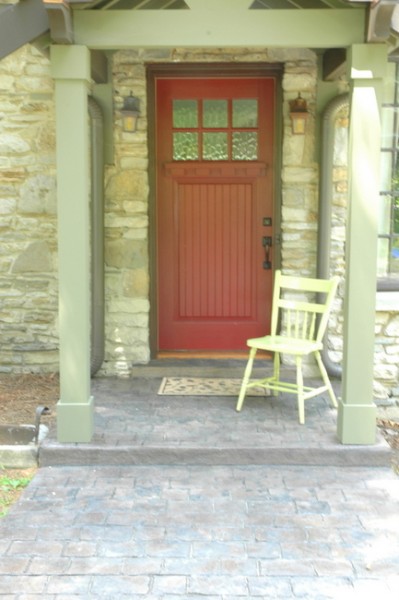 Now that the driveway is finally complete, we just want to hang out on it all the time.  I bought this pair of wooden chairs and firepit for Mr. Man for Christmas last year, thinking we could use them on our new driveway.  He looked at me like I was crazy at the time, but now all he wants to do is sit outside and poke a fire. Very caveman.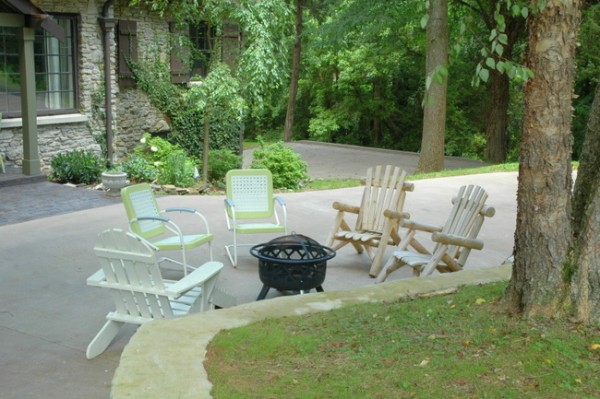 Then I found the Adirondack chair at the Nashville Flea Market this summer and pulled two of our vintage metal chairs from the back deck.  All we have to do is start a fire out here, and the neighbors are drawn like moths to a flame!  I've gained a couple of pounds in S'mores alone, I tell you.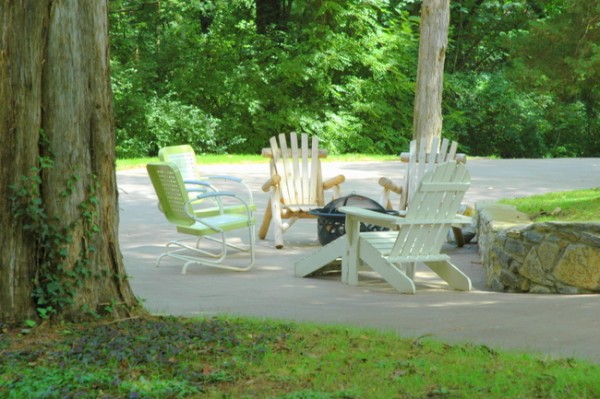 Now this is where we hang out, entertain friends, watch the kids play in the yard, and catch fireflies at dusk. But I must say, we have been afflicted by pesky mosquitos which put a damper on our idyllic outdoor living.  The bats in our yard just haven't done enough to combat them, and the neighbors' bug zapper isn't helping us, either.  I do find that a lit fire keeps them to a minimum, but we can't keep the firepit going all the time!  I absolutely hate wearing bug spray with all the smelly chemicals, so I started looking for some solutions to my mosquito problems.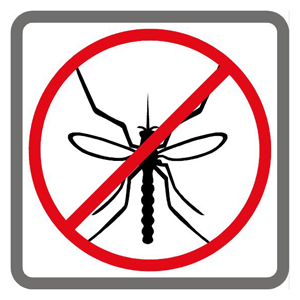 I found this Poteragie post on One Kings Lane's blog which tells the best types of potted plants to use in your outdoor entertaining space to help keep mosquitos and bugs away.  We need to work on our landscaping on the front of the house, so it makes sense to try to incorporate some plants that are pretty and repel mosquitos, too!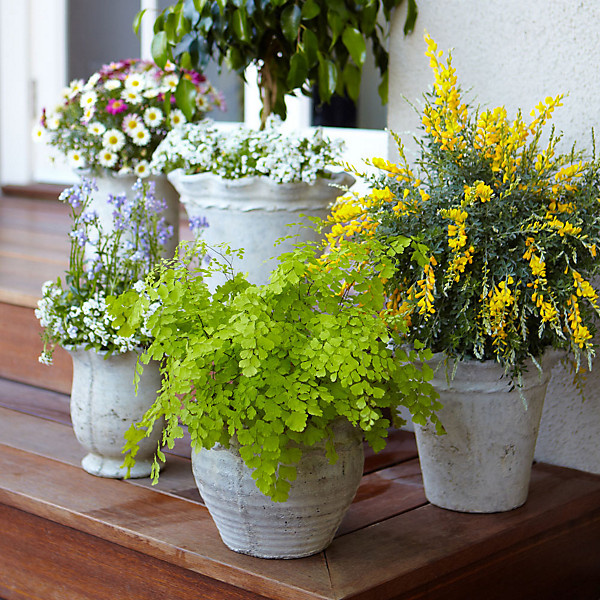 Click here to learn about mosquito-repellent plants
Geraniums?  I had no idea!
click here for more plants that repel mosquitos
You probably knew that One Kings Lane is a fabulous site that features great home decor and curated flash sales, but you might not know they offer lots of decorating and entertaining ideas on their blog.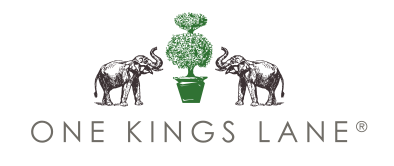 I hope you are proud of me for finally completing my huge driveway makeover!  Ok, it's not like I did it myself, but you know what I mean.  Now I know what to plant in those empty pots to keep away mosquitos – that's my next project!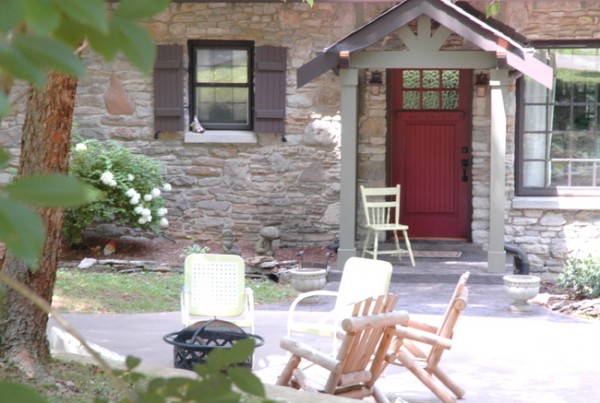 Thanks to One Kings Lane for sponsoring this post and sharing great solutions for our interior and exterior design dilemmas, even when it comes to repelling mosquitos when entertaining outdoors!
Share this Post