I just have to share this email I got earlier this week from a lady who bought a home I staged last year.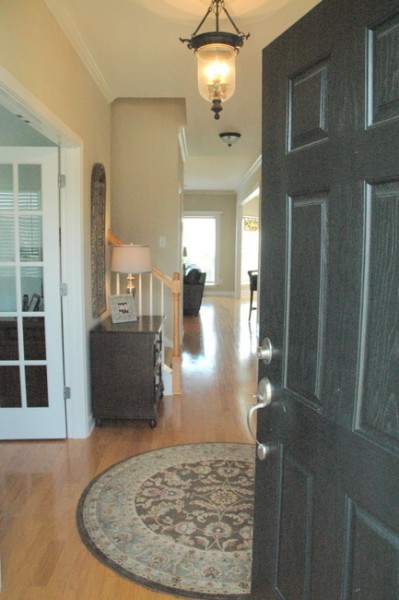 entry to the home I staged
"Hi Kristie –
Funny story – we purchased our home in Nashville after it had only been on the market a few days.  We were moving back home from two years in Cleveland, Ohio and had (literally) 48 hours to return to Nashville to find a house.  Ours was the last we saw and I remember walking in and saying "this is home".  The layout was similar to our last home in Nashville,  the paint colors were a very close match to furniture and bedding we owned, and the house itself was just immaculate!  I even dreamed of the homeowner leaving all the furniture and accessories – I did actually buy a rug from them!
Fast forward a year and I am still saving and trying to find what I want for decor. (I'm picky – ha, ha!). Looking in Pinterest for ideas to go with Wythe Blue paint in our dining room…..I find a photo of our dining room!  The link took me to your blog where I found three entries about how you helped the homeowner get the house ready to sell!  It helped so much to read the stories behind the paint selections and furniture arrangements.  It will help me as I continue to decorate and update my look in the future.
We purchased the home on R*****  Drive that you helped A***** ****** stage and paint to sell in March 2012.  We did fall in love with it and had a offer in by the time we drove back to Cleveland.  Just wanted to send you a note to tell you that your hard work is also very appreciated by families who purchase the homes too!
Best wishes,
Joy H"
WOW.  Just wow.  Another cool thing:  the family I staged that house for hired me to choose paint colors and decorate their new home after they moved.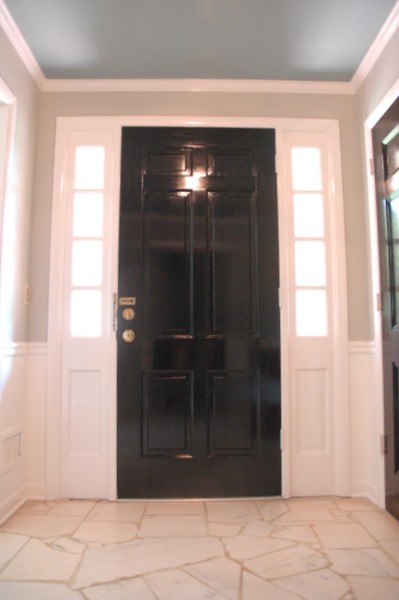 entry in new home of A*****  *****
It really is a small world, afterall!  I love how we are all connected, don't you?
Share this Post