Just two more days until the 2010 Crieve Hall Tour of Homes.  We are close to ready.  Or, should I say, our house is close to ready.  Deadlines are good – they help us get things accomplished, right?  As far as house projects, there is nothing like a party or upcoming event to get me (and my husband) in gear.  I had lots of small interior projects to do to prepare the house for this tour, but the exterior projects were the biggies.
We bought our home a little over 9 years ago.  The previous owners had been here 20 years and had done a lot of updates.  Such as install aluminum siding over the wood clapboard siding.  Isn't that what everyone did 29 years ago?  No more painting – low maintenance and all that.   So it's been this beige color for the last 29 years.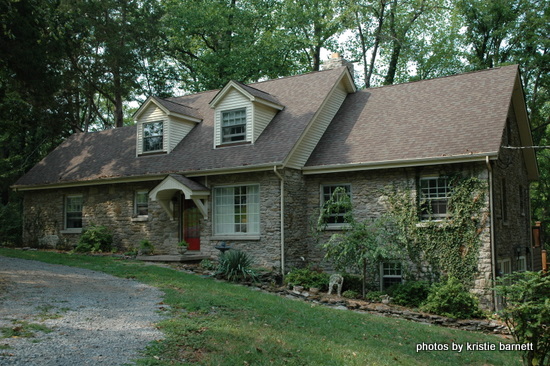 before
Fast-forward.  My husband and I are anti-aluminum siding.  I guess you could say we are architectural purists.  Take it back to how it was, then kick it up a notch.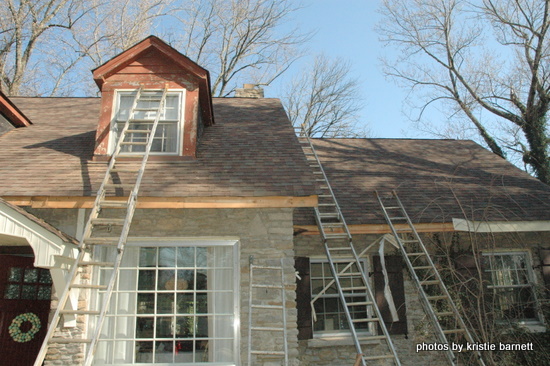 This project was 9 years in the making.  We knew the day we bought this house that the siding was coming off.  Just didn't know it'd take 9 years!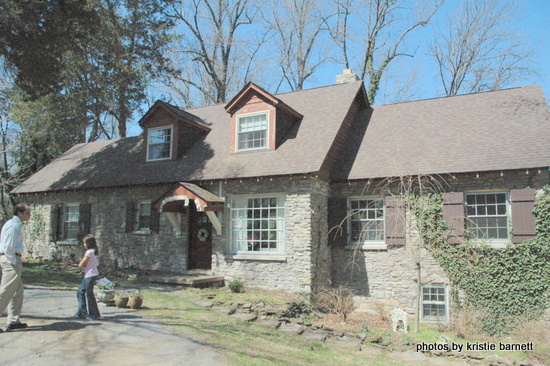 We found barn red wood siding underneath.  And lots and lots of wasps' nests.  And a very large beehive.  And a few massive squirrels' nests (the pic below was one of  the smaller ones).  But less rotten wood than I had imagined there might be, so that was good news!
The portico, porchy-thing (that's the official term 🙂 ) was kind of rotted beneath the aluminum.  It always seemed a little ill-conceived, only extending half-way over the concrete slab of a porch.  So, we designed a new one that works much better – functionally and visually.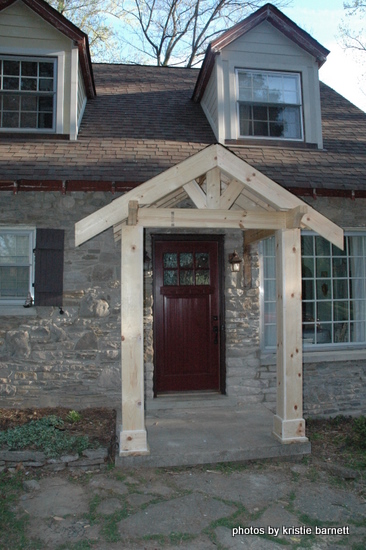 We went much darker with the paint.  Benjamin Moore's Bittersweet Chocolate and Sherwin Williams' Cocoon.  It was a little hard to get used to at first, but now I am loving it.  And now that the aluminum siding is gone, you can actually see the original rafter tails!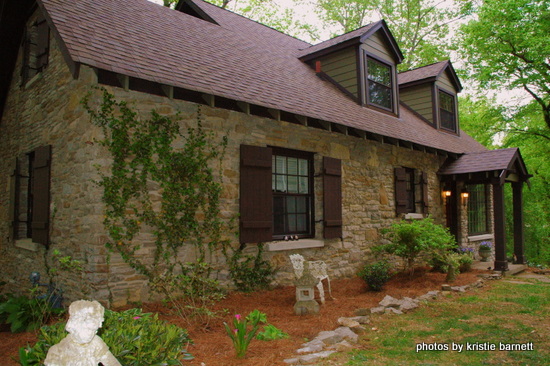 And if it looks like a family of gnomes or the seven dwarves live here, then all the better.  It's kinda the look I was going for.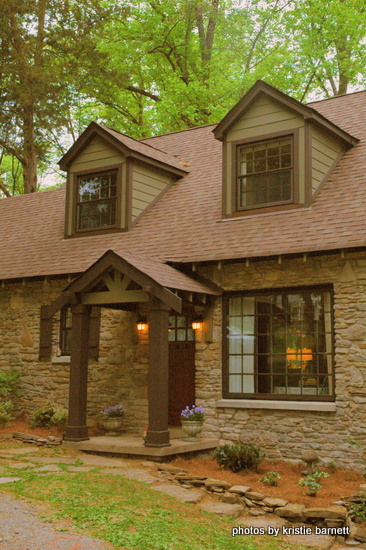 If you like checking out renovation and decorating ideas and you live in the Nashville area, make sure you swing by the 2010 Crieve Hall Tour of Homes this Sunday, April 25, 1-4.   Proceeds go to the Cystic Fibrosis Foundation.  Ticket sales are in my front yard!