| | |
| --- | --- |
| OK, I haven't seen the new movie and I am not condoning the moral code of any of the characters therein.  That being said, everyone talks about how Sex and the City is all about the fashion.  Well, the people involved in Sex and the City have some seriously inspiring interior design going on, as well.  This is Carrie's closet from her original apartment.  Three words:  to die for. | |
This is the closet she shares with Mr. Big in the latest movie.  Larger and more sophisticated than the apartment closet, but not as fun (if you ask me).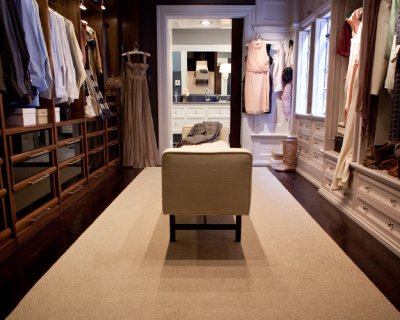 This fabulous sapphire blue sofa pairs beautifully with the gray-blue armchairs in the living room set from the second Sex and the City movie.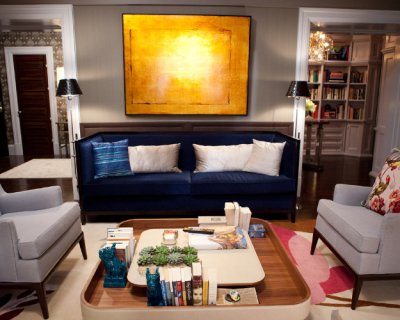 This is the dining room, daaaarling.  Loving that chandelier and the backlit bookcases.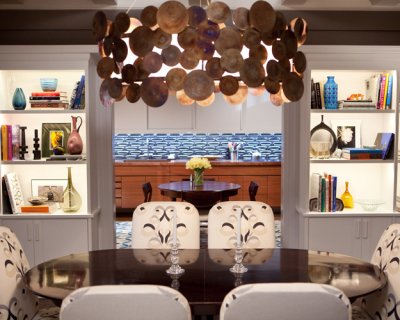 This is Carrie's apartment from the first movie.  The blue walls are brilliant, and what a beautiful headboard effect that salon-style grouping of art makes !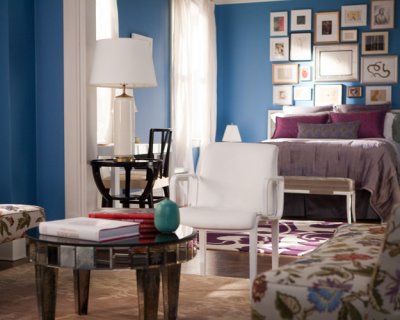 | | |
| --- | --- |
| | This is the uber-successful author of the Sex and the City book, Candance Bushnell, in her home with her husband.  He appears to be more interested in their fabulously decorated apartment than he is in his wife.  Sorry, just saying . . . |
Below is Candace Bushnell's own living room.  Tres chic, of course.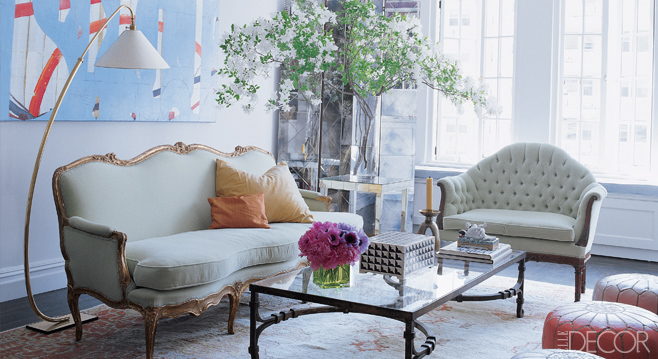 | | |
| --- | --- |
| | This is the other end of her living room.  I really love this chaise lounge and all the pink books! |
| | |
| --- | --- |
| Her den is more informal, with a gorgeous red velvet sofa and lots of black, leggy furniture. | |
| | |
| --- | --- |
| | Sarah Jessica Parker, star of the show, has a fabulous pad herself.  I've featured this dining area in another post about using mismatched dining chairs.  This is such a fun, unpretentious dining space, don't you think?  And another great light fixture! |
| | |
| --- | --- |
| The bedroom she shares with actor-husband Matthew Broderick is fresh and welcoming.  Notice how the  mirrored desk is used as a bedside table.  And we all need at least one great upholstered chair in our bedrooms. | |
Sarah Jessica's master bath is simple and retro.  The mounted butterflies are the focal point of the room – no other pattern competes, nor should it.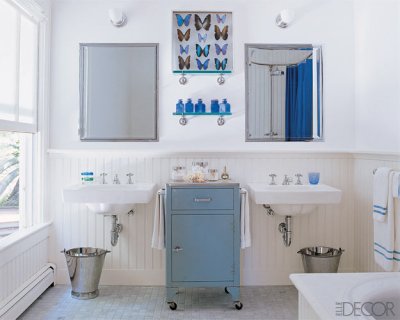 Sexy and glamorous decor doesn't have to be fabulously expensive.   Clean lines, brilliant colors, and a statement piece or two go a long way to making your home an absolutely fabulous place to be!
Photo Credits:  Elle Decor.