It has been raining like CRAZY in the south this spring, and the results include some gorgeous lawns and blooming flowers here in Nashville! I realize that may not be the case where you are, but that doesn't mean you can't take advantage of one of the big design trends of 2015 – floral is BACK.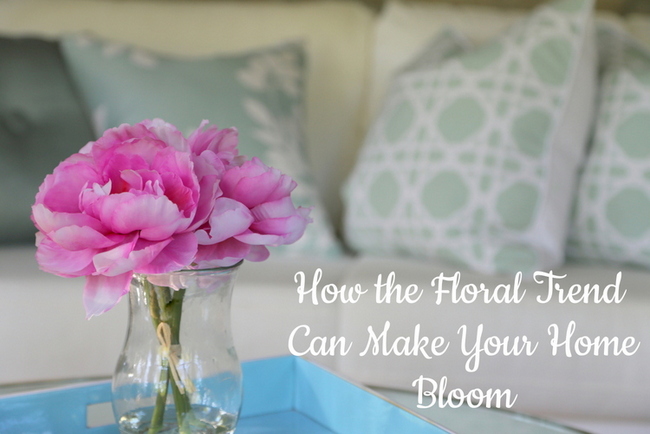 The floral trend is blooming, I mean booming! We've seen it in fashion, now it's making it's way into home decor. It only makes sense, with the current popularity of pastels and more saturated color in general, that floral patterns are the perfect pairing with all the geometrics that have been trending the last couple of years. Palm Springs Chic and Lily Pulitzer-inspired prints are appealing to homeowners wanting an injection of of playful and happy where they spend much of their time.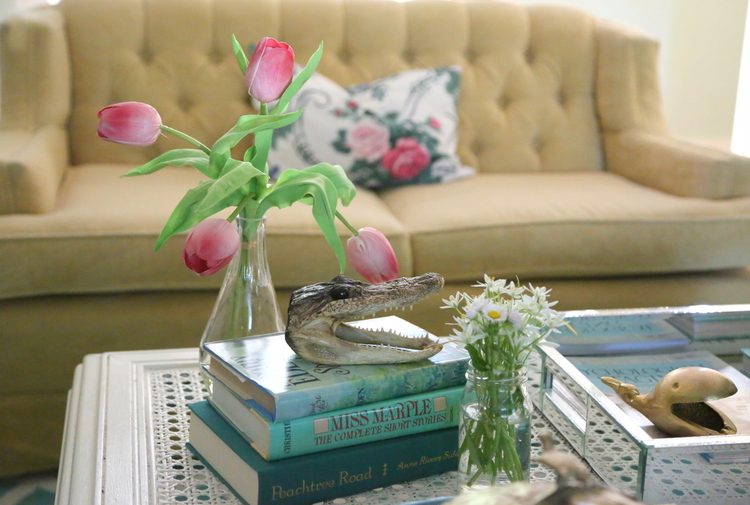 The most obvious way to bring in the floral trend into your home is with some floral fabric. You don't have to do a large upholstered piece in floral – sometimes just a pillow or two is enough.
Of course, real flowers do their bit to brighten any tablescape. I bought this orchid last week at the grocery store – I have difficulty keeping plants alive, but I seem to be able to keep orchids alive longer than other things I've attempted. They are so lovely and sculptural. These and potted bulbs are your best bet to inject some REAL flowers in your home.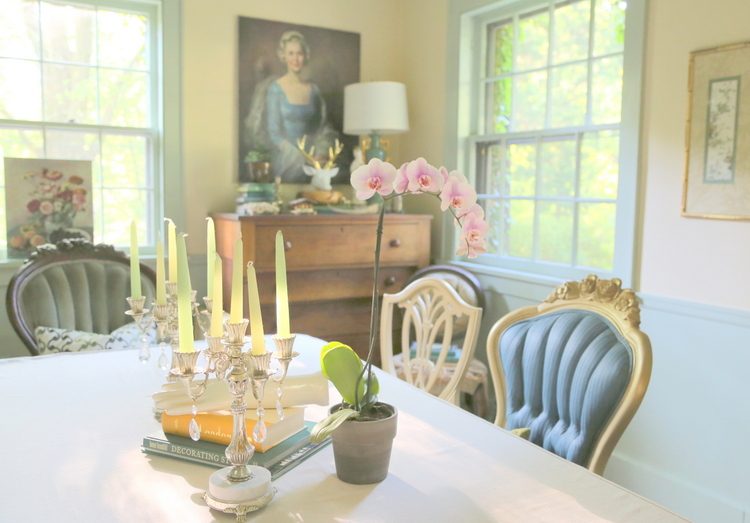 Fresh-cut flowers always make me happy, but they sure don't last very long. But floral art seems to hold up over time!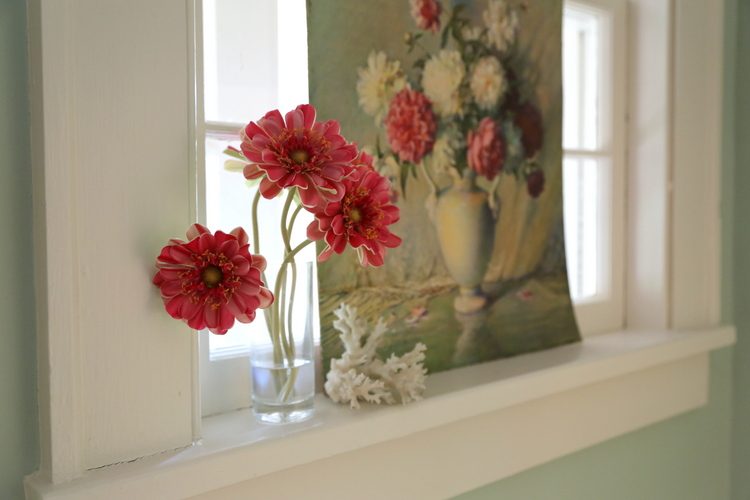 If you like hunting for vintage art, look for saturated colors in the art – and make sure the colors complement your interior. Although I often use orange accents for my clients, I prefer pinks and raspberry in my own home.
If you pick up any decorating magazine, you will be hard-pressed to find a single interior room photo without the presence of a floral or plant. Putting a floral arrangement in just the right place is a skill that has been perfected by every good photo stylist. See these tulips on my coffee table? I'm going to let you in on a secret . . .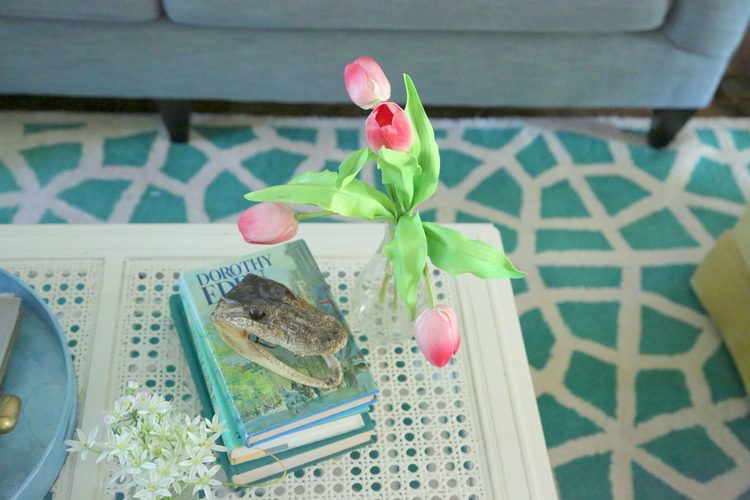 Those tulips are NOT real. The little wildflowers are real because I picked them from my yard, but the tulips are one of the several brilliant faux florals I found this week at HomeGoods. It isn't easy to find realistic-looking faux florals. If you still have some in your home from 1995, it might be time to move on from them (and the faux ivy, please)! But simple life-like blooms like this are in your local HomeGoods, so go check them out.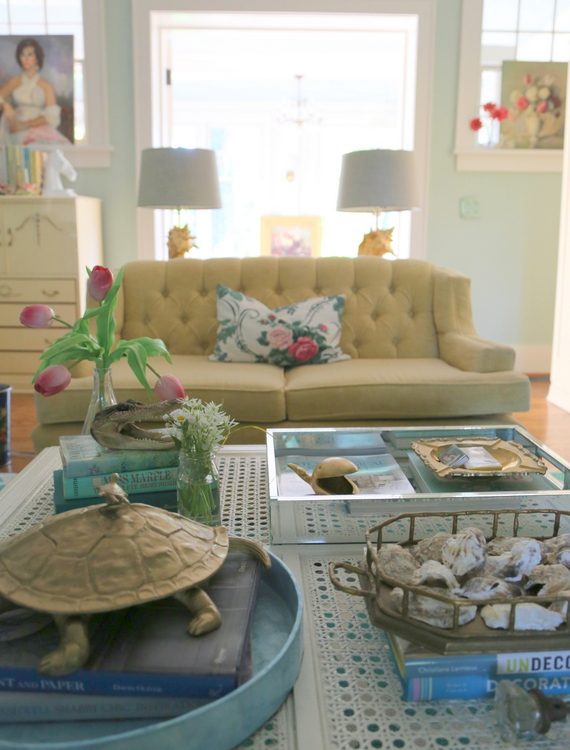 Be selective, though! Don't buy anything that looks fake. Or that is a color not found in nature. And you probably should rotate florals according to season, because no one is going to believe the peonies you have in a vase in October are real. I thought these little beauties I found at HomeGoods could pass for real, what do you think?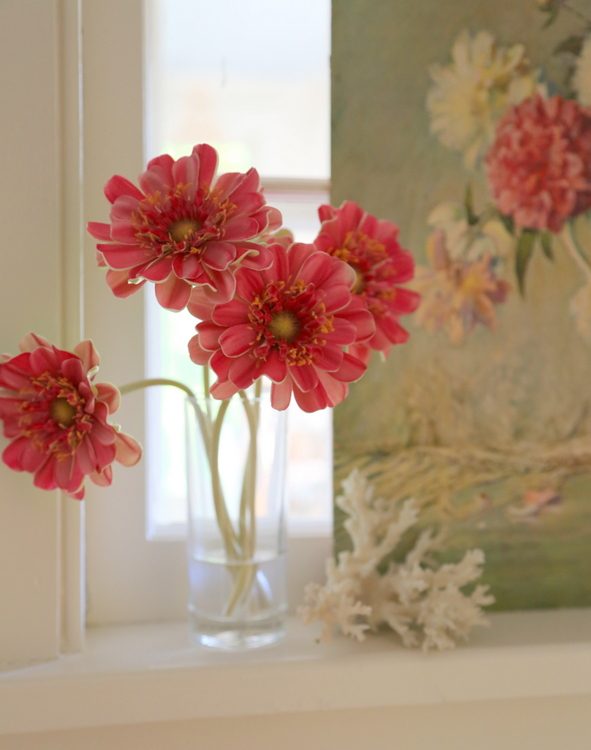 Thanks, HomeGoods!
Ok, now I'm going to give you a peek into my Bohemian Granny sunroom where my family loves to watch television and hang out. I'm going to be honest with you – I'm always a bit apprehensive posting rooms of my house like this, because I realize this look is over the top and might make someone think that if they hire me I'm going to granny-up their home, too. But this room makes me happy, and that's what decorating is all about, right?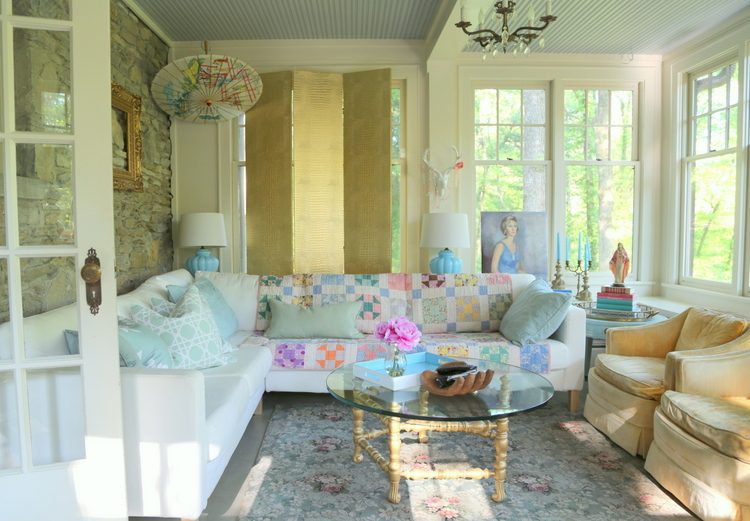 It's a riot of pastels in here, but I think all the gold grounds it a bit. The vintage floral carpet is from an estate sale. I found it over 15 years ago, and I still love it. A vintage floral wool rug in good shape is hard to find nowadays, but I predict we'll be seeing more floral in modern rugs very soon!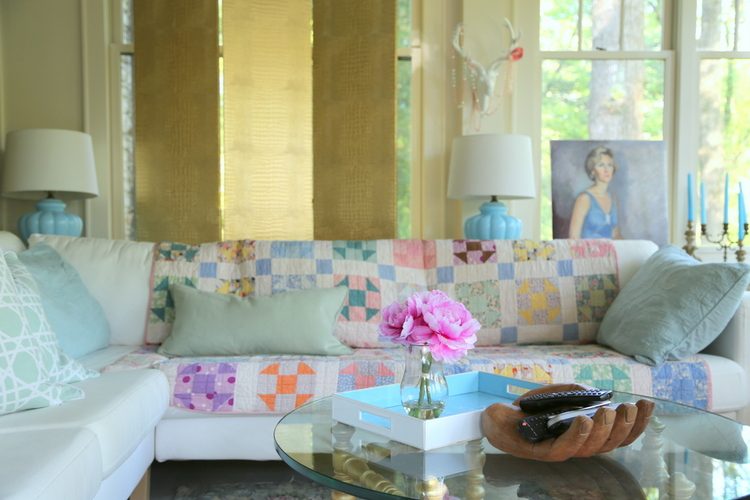 The sectional is the IKEA Karlstad, which I've warmed up with a colorful quilt and lots of pillows. The peonies are from HomeGoods. I think the faux florals that look most realistic are those with just a few blooms and the faux water you can see through the glass container, like this one.
To wrap up, you can bring a little of the new floral trend into your home with fabric, art, and real or faux florals. If you worried they will "date" your space, make sure to use them alongside some contemporary geometric patterns and clean lines. I hope you all have a beautiful weekend – spend some time outdoors if you can!