This is Part II of my 10-year-old daughter's Mystery Birthday Party.  If you missed the food and decor, click here.  In fact, if you haven't read it, I beg of you to read it first before reading this article.  Without the context, you will just think I'm a raving lunatic.   That being said, today I'll be sharing the "Mystery of the Missing Ring" and the party games that played into the mystery party theme.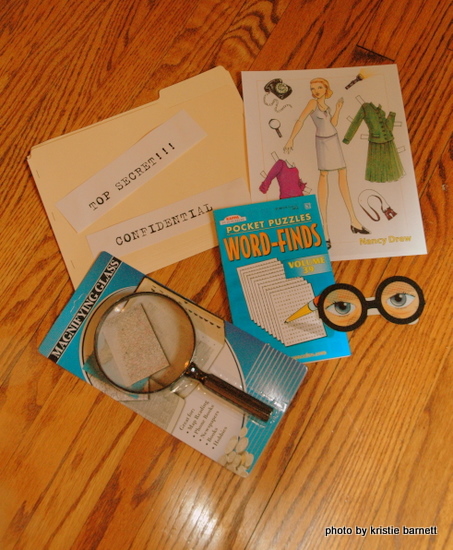 Now, for the mystery:   I concocted a tale about a distant relative from England named Aunt Abigail (aka the Duchess of Glouchestershire) who recently passed away.  I dressed up for the part and made a secret videotape for the party.  This "aunt" was a bit eccentric and loved a good mystery.  So while visiting our home several years ago, Aunt Abigail hid a special heirloom ring for my daughter along with a series of clues.  After she died, a videotape of her Last Will and Testament was discovered with a special message for her great-great-niece.  In it, she revealed that she had hidden a special ring and clues.   Click here for the complete script I used for the videotape.  Yeah, that's me as Abigail.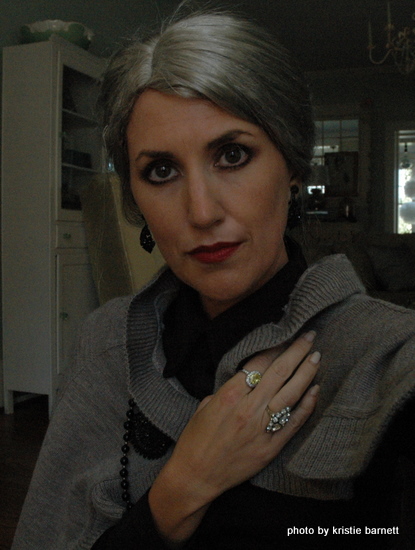 Aunt Abigail shared the first clue on the videotape that we played at the party:  "I'll give you clues in the form of  rhyme.  When this thing stops, you're out of time."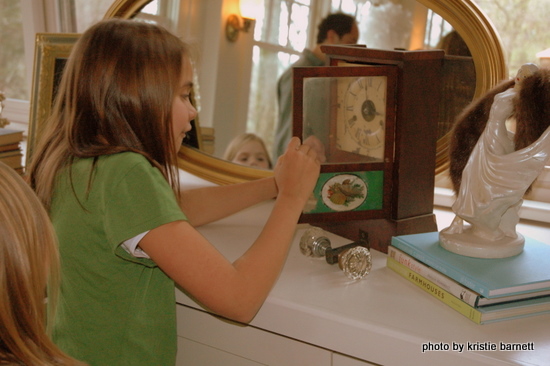 That clue led to this antique clock,of course, where Audrey found the next clue:  "In my long and fruitful life there is much that I have learned.  You should keep your eyes open so you won't get burned!"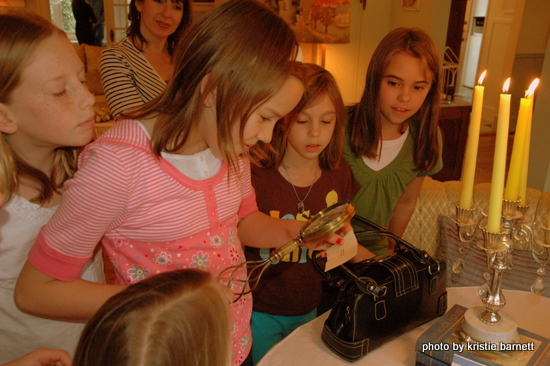 That clue led to inside the fireplace, where a clue was printed in a tiny letter font that required a magnifying glass to read it.  This clue read, "The lovely lady has something to hide.  Make sure you peek on the other side."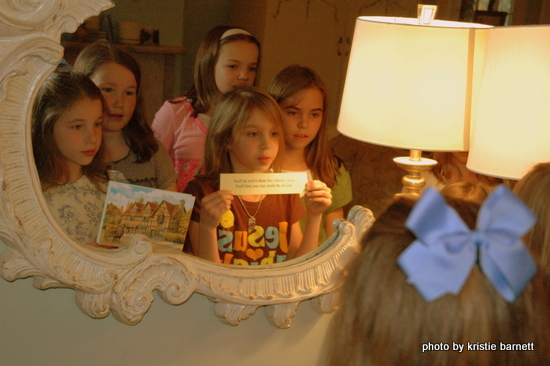 This led to the next clue, which was taped to the back of  an oil portrait of a woman.  That clue was printed in a backwards font, so the girls held it up to the mirror in order to read it.  "A cartoon dog just might find this clue.  Just look behind something that's not true."  This proved to be the most challenging clue for the girls.  We have a false wall door into our laundry room in the basement that we refer to as the "Scooby Doo door," since it's like one of those secret passageways they found in every episode.  Behind that door was this clue:  "You'll do well to think like a literary great.  You'll find your next clue inside the red gate."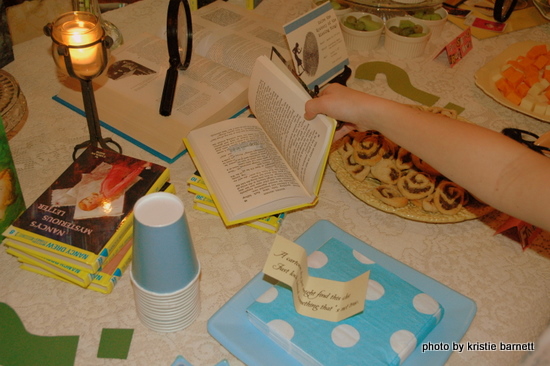 The Red Gate is one of the books in the Nancy Drew series, which was one of the props on the food table.  Inside, I had cut out a square with an exacto knife to hide the final clue:  "You may be traveling far away, by sea or over land.  Nancy found the will she sought and you'll find something for your hand."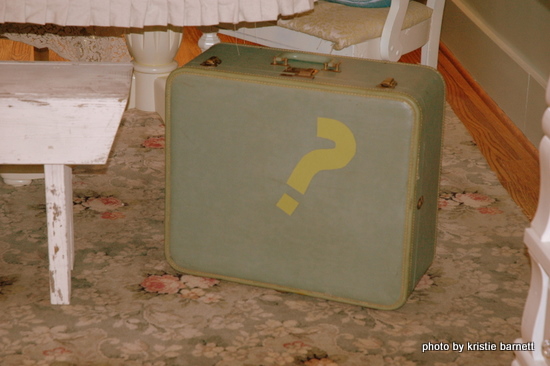 In the Nancy Drew movie, a will was found in the false bottom of  an old piece of luggage.  I set out a vintage piece of luggage as  part of the party table props.  Inside was the ring that Aunt Abigail left to Audrey in her will!  It was a vintage sterling silver spoon ring that I had picked up at an estate sale about two years prior.
This was my daughter's first real ring, and she couldn't have been more thrilled!  She wears it every day.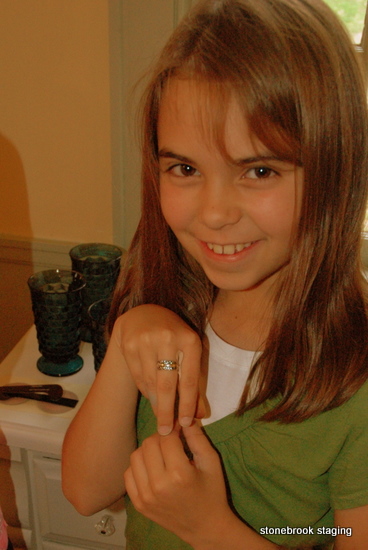 As one of the activities for the party, the girls made their own fingerprint pictures with the help of Ed's Emberley's fingerprint art book.  The finished pictures were placed in floating glass frames I had picked up at IKEA in the fall.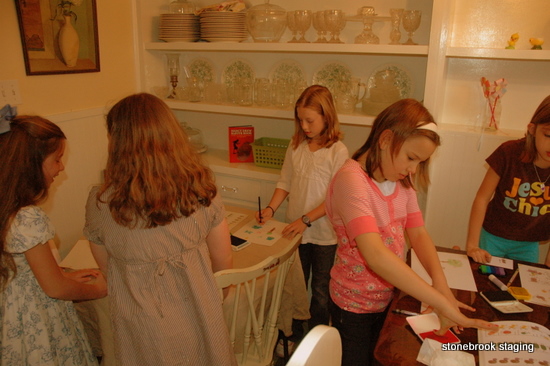 We also played "Sketch Artist."  I pretended that I was a witness to a crime – a lady was kidnapped, and I had to describe her so that the sketch artists could draw a sketch to put on the local news.  They didn't know it, but I was describing the lady in a portrait I had in our home.  So it was easy to determine the winner – we just compared their sketches to the portrait.  My husband was the impartial judge.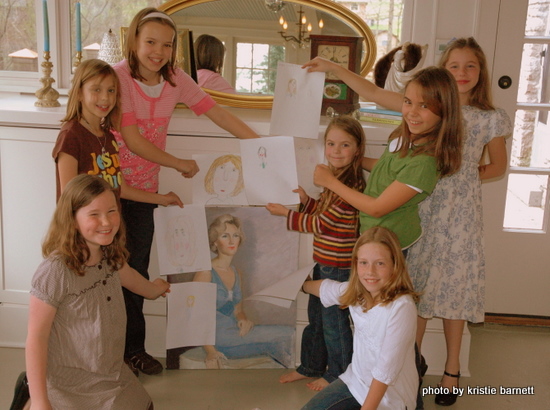 You don't have to be a detective to figure out that the girls had a great day and we made some great birthday memories with this mystery party theme!  For more birthday party ideas, check out my Party Proposals in the Categories box on the right of the screen.