My oldest daughter is a reader.  She loves mystery series like Nancy Drew, Hardy Boys, and the Mandy series.  For her 10th birthday, we decided to create a real mystery that she and her friends could solve.  This party could be modified for boys and for different ages.   Let the sleuthing begin!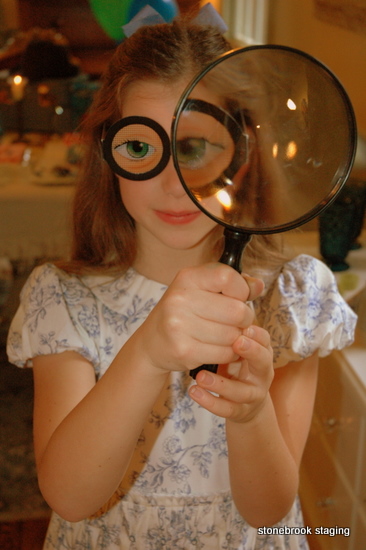 First thing I have to tell you is:   I barely had to buy a thing for this party.   Decoration was easy.  I cut out footprints and question marks out of construction paper and taped them all over.  Most of the props for the party were already in our house (vintage suitcases, mystery books, vintage typewriter, etc.)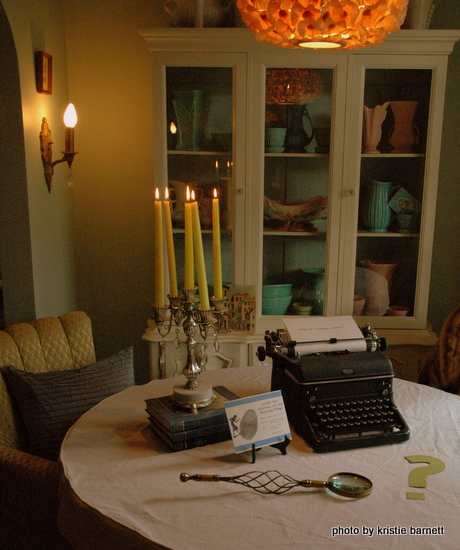 I created the invite below using typewriter font.  You can download an editable version here.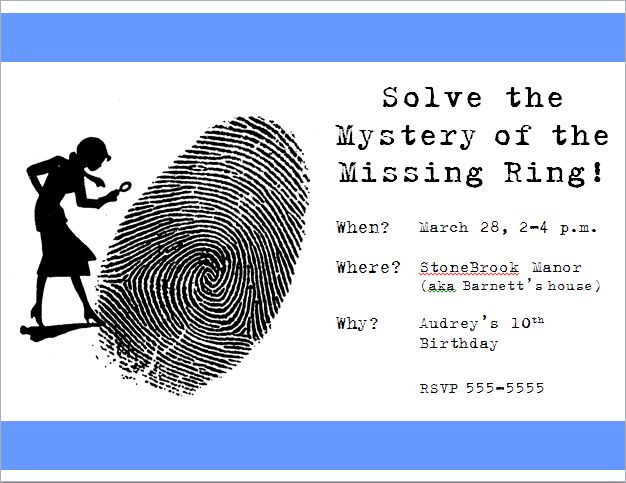 And yes, there was a true mystery to be solved.   However, I will share the mystery in detail on another post, along with the other related party games we played.  For this post, I am going to focus on the party decor, food, and party favors.
To set the scene, I taped cut-out footprints on the floor leading from the front door into the dining room.  The colors were mainly blue and green.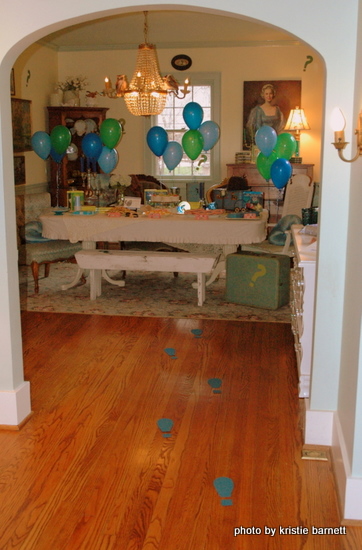 So, here's the Mystery Party tablescape.  I simply stacked lots of mystery books (Nancy Drew, Hardy Boys, and Sherlock Holmes), used a few vintage suitcases, candles, and magnifying glasses from Dollar Tree, and spread out a vintage Clue game board and a few game pieces to set the scene.  The most money I spent was for the helium-filled balloons (about $15).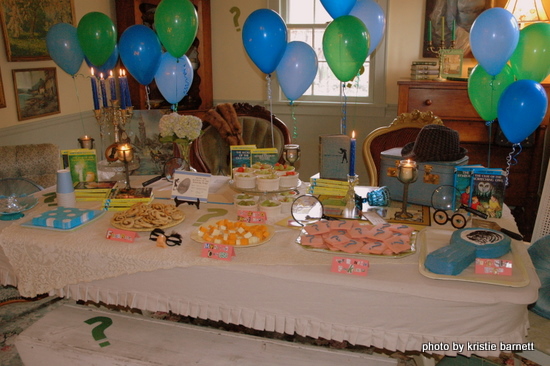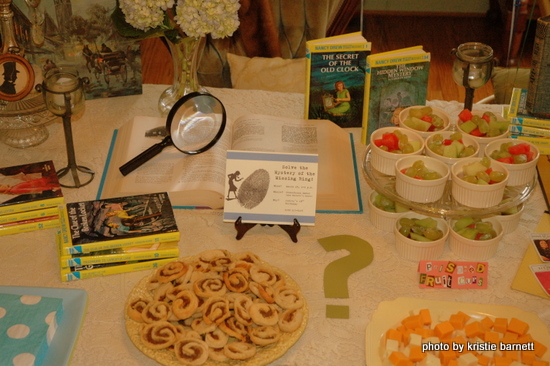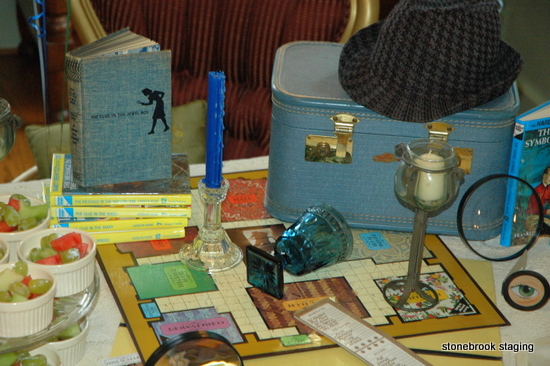 I had my kids cut out letters from magazines to create labels for the food we served.  The result was a "kidnap letter" effect.   We had "fingerprints" (sausage pinwheels).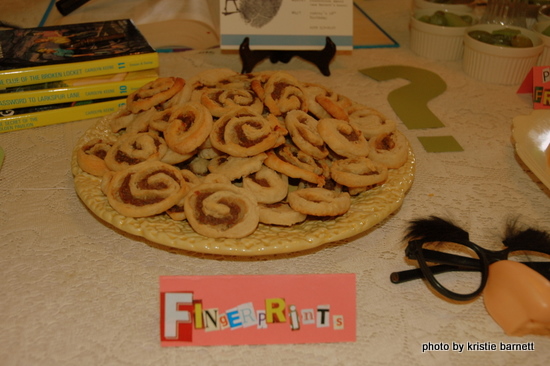 We also had "poisoned fruitcups" and "mystery cheese."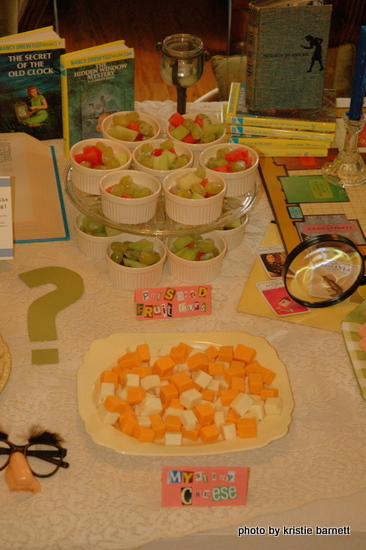 I made my famous shortbread cookies (find the recipe here) and simply piped a question mark of each of them, dubbing them "get-a-clue cookies."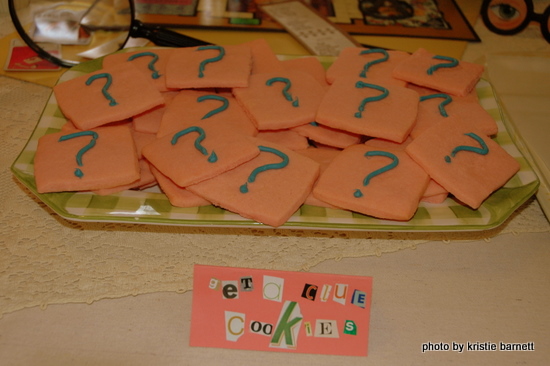 Happily, this was one easy "super sleuth"  cake.  It was a rainy weekend, and I knew my homemade icing would be a disaster.  I made one small round and one small rectangular cake, using one cake mix.  I used 2 cans of cream cheese frosting – I simply dyed one can to get the blue I wanted.  I took black licorice and cut it lengthwise with kitchen shears to get thin black strips to create the fingerprint in the center of the magnifying glass.  I could of done it with icing, but this was easier!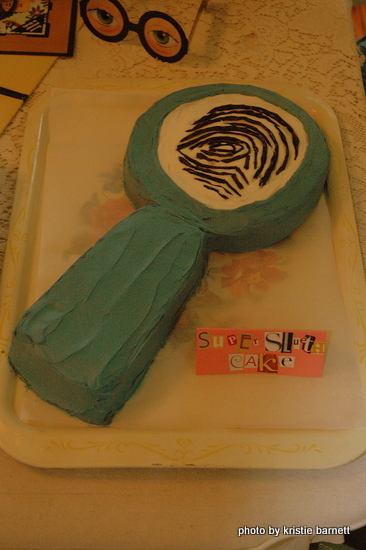 I took manilla folders and labeled them TOP SECRET! and CONFIDENTIAL!! and stapled the sides closed.  Then I slid in the party favors:  a magnifying glass from Dollar Tree, a word-find book from the Target dollar aisle, fake eyeglasses from a party pack also from Target, and a retro Nancy Drew paper doll page downloaded free from Tangarang.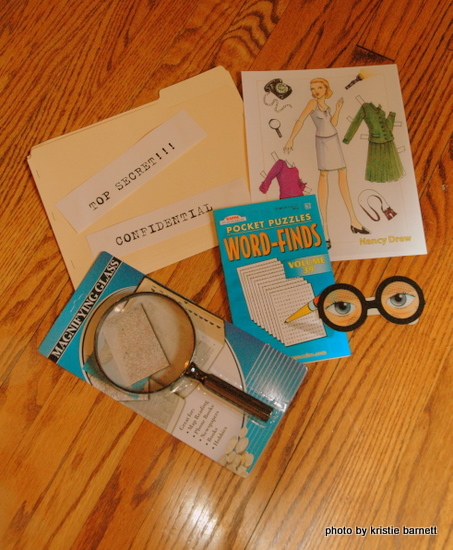 Here are the girls sporting their new disguises and magnifying glasses!  They were definitely a band of super-sleuths.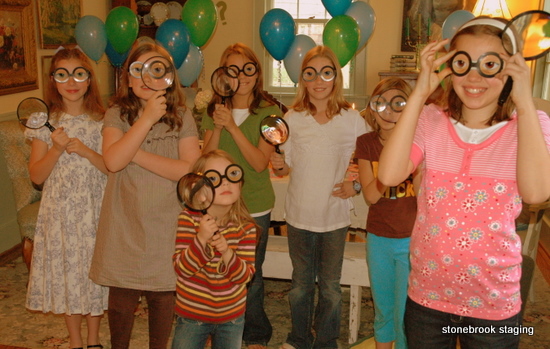 Click here for the post detailing the mystery I created and the other party games the children played!