If you or your child is addicted to Cake Boss or Ace of Cakes, this party theme will be right up your alley.  My daughter is convinced she wants to be a professional baker at this point (rather than her previous aspirations of farmer and architect).  So it was up to me to create a birthday party around her obsession!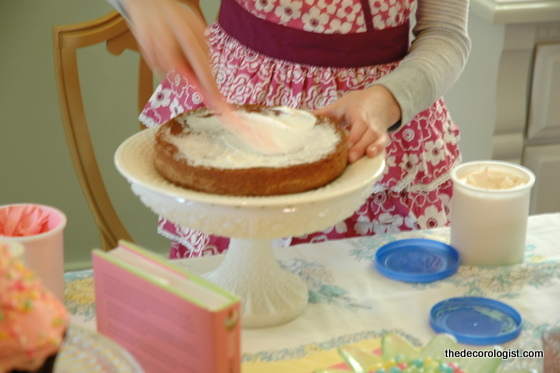 I made the invitation for this party by scanning a photo from a vintage Better Homes & Garden's cookbook for children then laying my info over it in Photoshop.  (For the blog) I smudged out the address and altered other pertinent info for privacy, of course: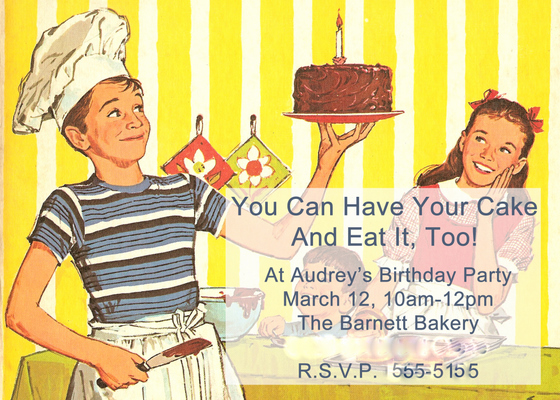 vintage Better Homes & Gardens 

Here are my little bakers.  I found a bunch of cute vintage-styled aprons at TJ Maxx and decided to give each party guest one to use and take home after the party.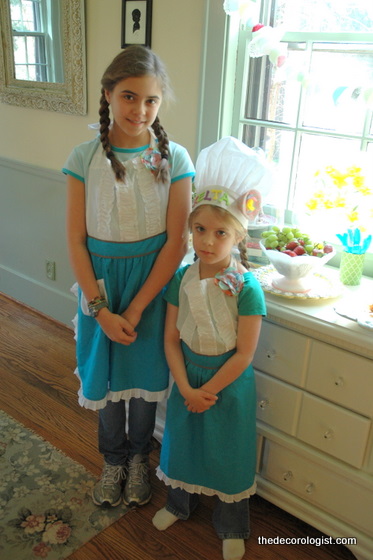 I ordered inexpensive chef/baker hats from Oriental Trader.  The girls used stick-on letters to personalize them with their names. Pink pom-poms are from Martha Stewart.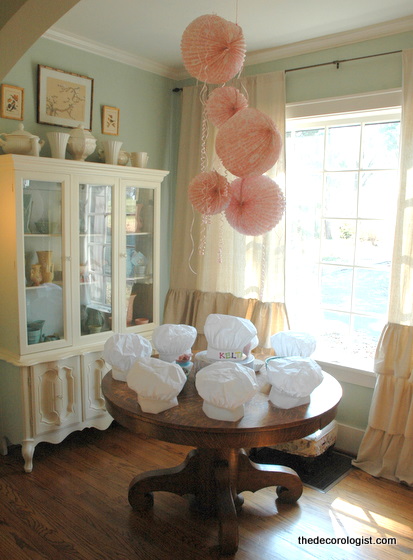 I helped the girls make "flowers" for their hats with colorful cupcake liners.  I got that great idea here.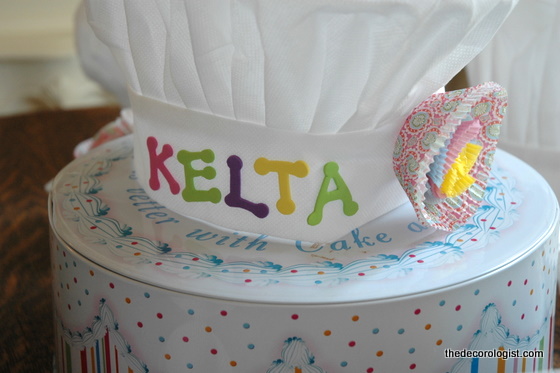 I found ideas for making cupcake liner garlands here.  I used various sized liners, paper doilies, and embroidery thread to string them together.  You can also use coffee filters as part of this kind of garland!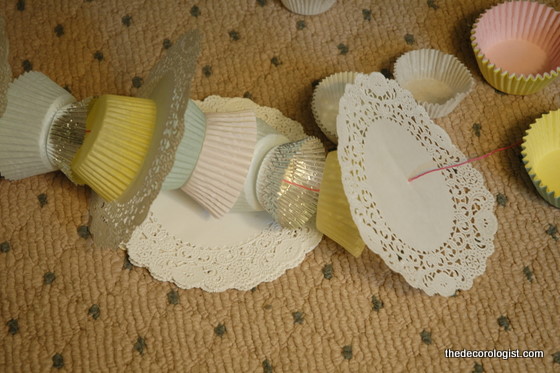 I loved the delicate effect of light streaming through these garlands, and they were so cheap and easy to make!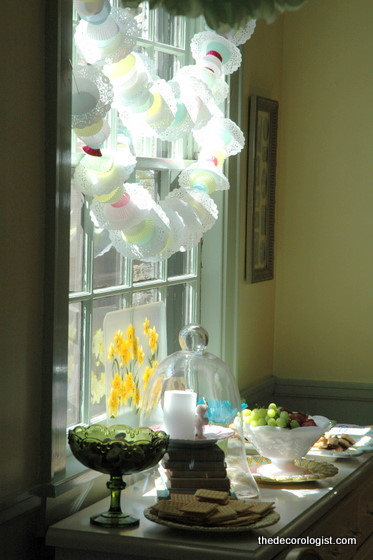 Ok, for the table!  Each chair was wrapped with a vintage-style apron.  Everyone had a cake plate on which to decorate their respective cakes.  Green paper pom-poms are from Martha Stewart..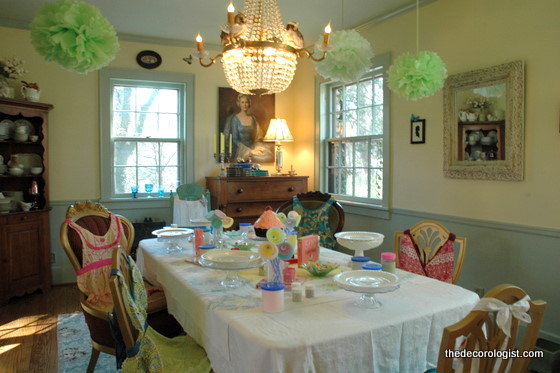 The table was set with different colored icing, sprinkles, candies, tiny marshmallows, and icing tips and bags.  See the bouquets of cupcake liner flowers?  I got that idea here from Vanessa at Silly Eagle Books (I love her blog!).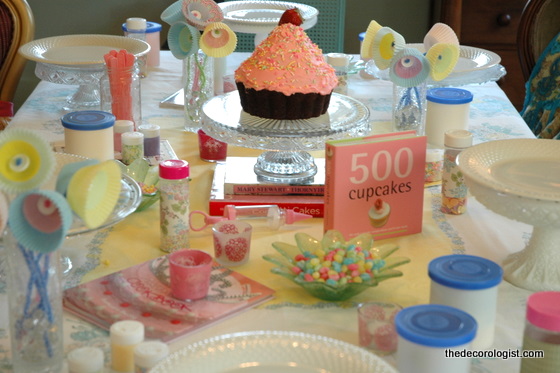 I pre-made cakes to simplify things.  The girls could hardly wait to get started decorating!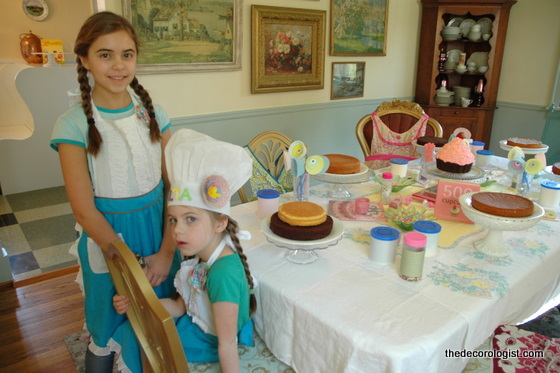 Even though I knew there would be a lot of cake, I also made a small cupcake cake as a centerpiece on the table.
The girls were so creative . . .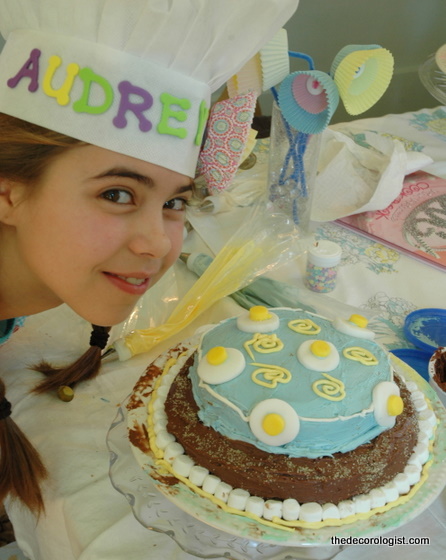 Each of the cakes were so unique!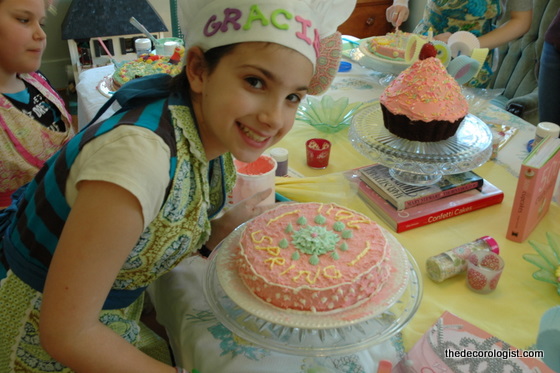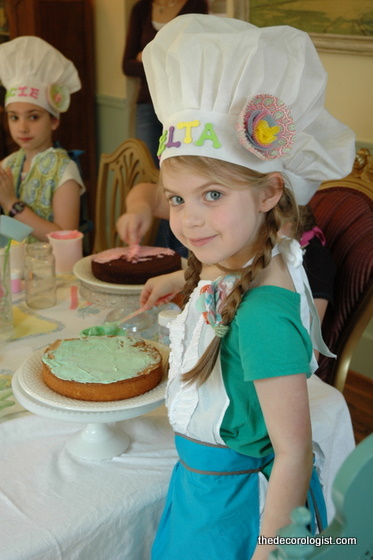 What fun would a cake decorating party be without one silly girl sticking her face in the middle of her nicely-iced cake?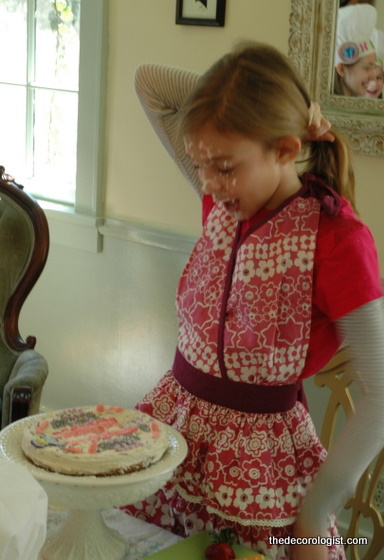 The girls got to take home their cakes to share with their families (or maybe not!).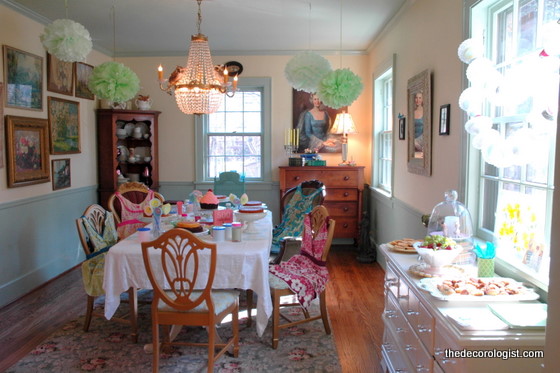 Well, I know I ALWAYS say this – but this was one of my favorite parties ever!  It wasn't near as messy as I feared it would be – the girls were so meticulous and focused in making each of their cake creations special.  Hope you enjoyed!