This weekend, my home was the setting for a baby shower for a dear friend and fellow blogger, Heather Spriggs Thompson.  We met several years ago online (haha, I love to say that) and connected on both a personal and business level.  Her friends and family wanted to help welcome her baby boy into the world with a party that would be perfect for this artistic, creative, nostalgic, beautiful mother-to-be.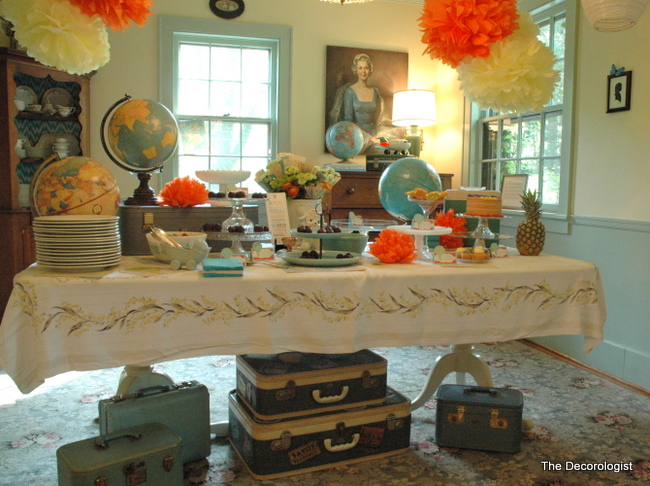 Baby Shower Tablescape 
Since the nursery's theme will be "Vintage Travel,"  the other hostesses and I put on our thinking caps to come up with decorations and props to style the event.  Heather is a decorative painter, stylist, and designer, so you can imagine how important is was to us to create just the right setting for her shower!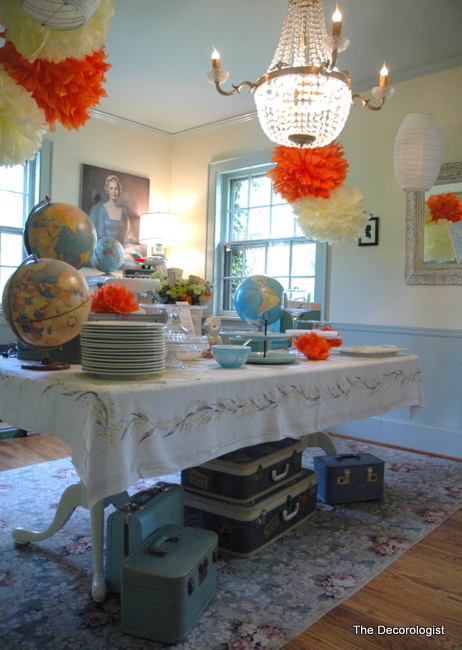 Vintage Travel Baby Shower
My collection of vintage luggage and old globes came in handy.  We hung groupings of lanterns and tissue pompoms that worked with the color scheme.   And did you spot that vintage Fisher Price airplane in the background?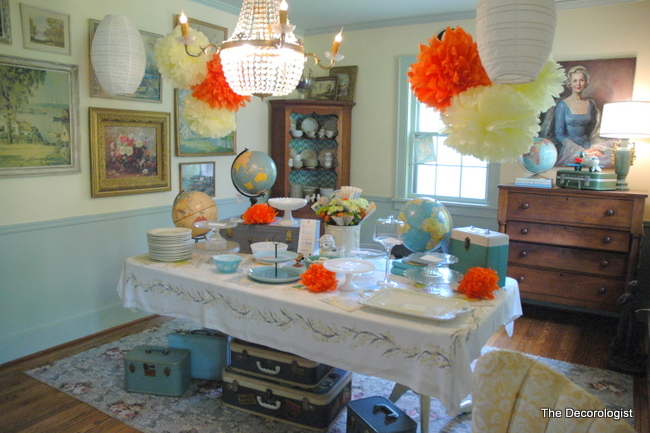 Baby Shower Tablescape
I tore out pages from a vintage maps book and scattered them around all over the tabletop and on a few windows and mirrors.
Maps and Book Pages Make Great Party Decorations
I fashioned a centerpiece out of flowers and fan-folded maps.  One of the other hostesses came up with the darling invitation you see here.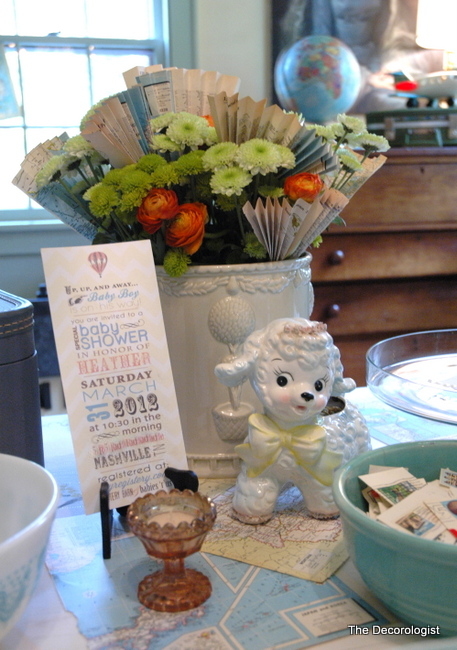 Floral Centerpiece with Folded Map Pages
One of Heather's creative friends (I think all of her friends are creative!) made this fabulous hot air balloon message board for the nursery.  Shower guests filled it with blessings and prayers for the baby-momma.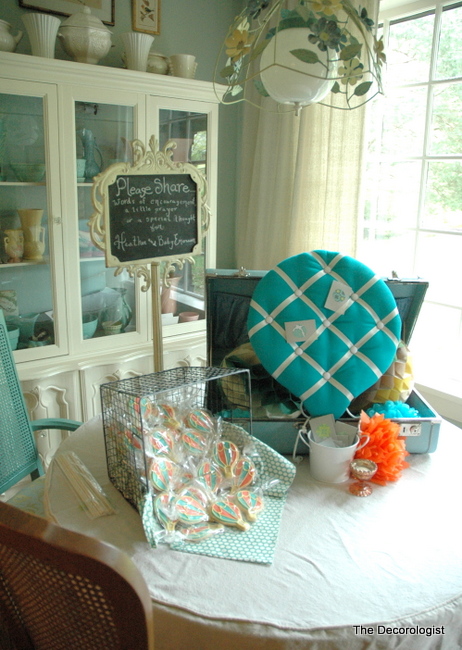 Hot Air Balloon Memo Board
We propped the hot air balloon in a piece of vintage luggage and added a honeycomb tissue ball and a few tissue flowers.  This was all set up on my entry table.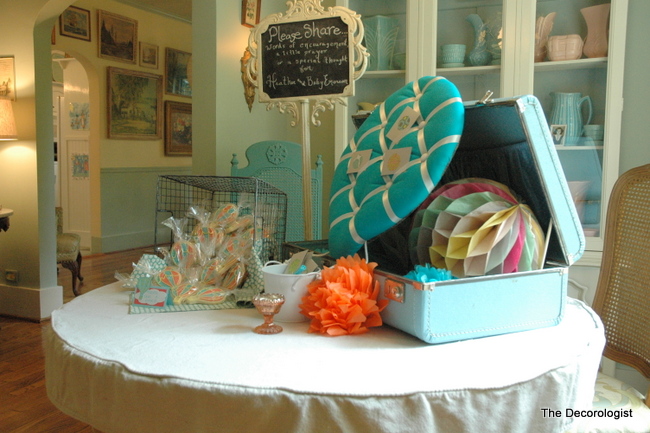 Entry Tablescaping
Another hostess brought these amazing hot air balloon cookies – they were almost too pretty to eat!  Almost.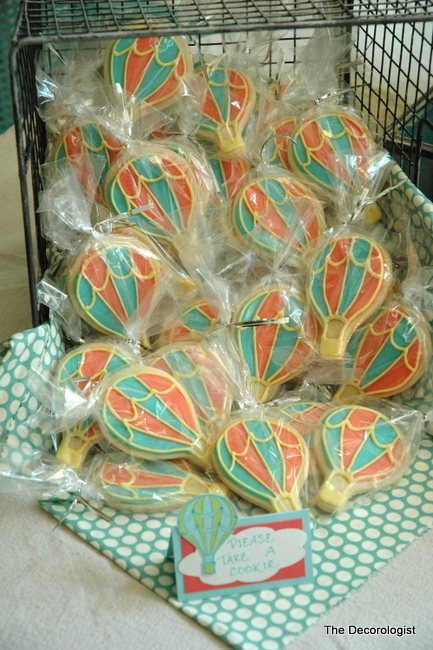 Hot Air Balloon Cookies
Another hostess created this fabric bunting/banner for the nursery, which we also used at the shower.  I believe she also made the bedding for the baby's crib from this combination of fabric.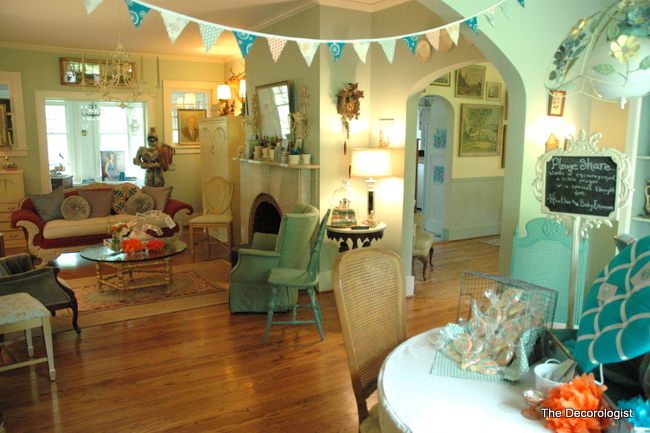 Custom Baby Bunting/Banner
We also used some vintage stamps and post cards in the decor.  If you're like me, there's nothing like an impending party deadline to motivate you to finish up projects – which is why I finally got around to painting my coffee table gold last week!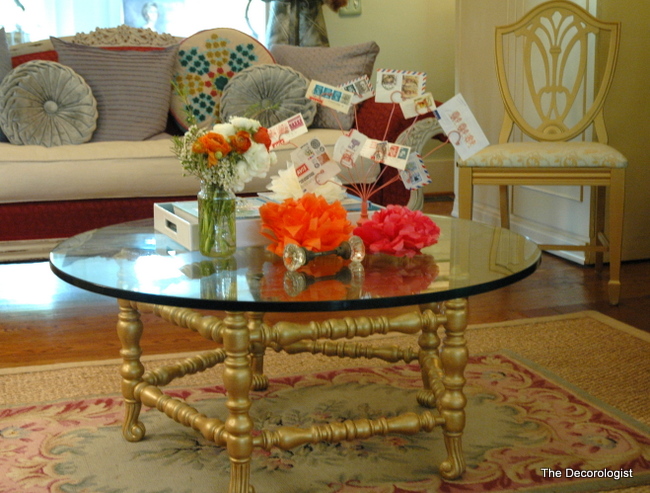 Postage Stamps on Display
I cannot take any credit for the amazing food at the shower – the other hostesses graciously handled providing delicious goodies to enjoy as Heather opened her gifts.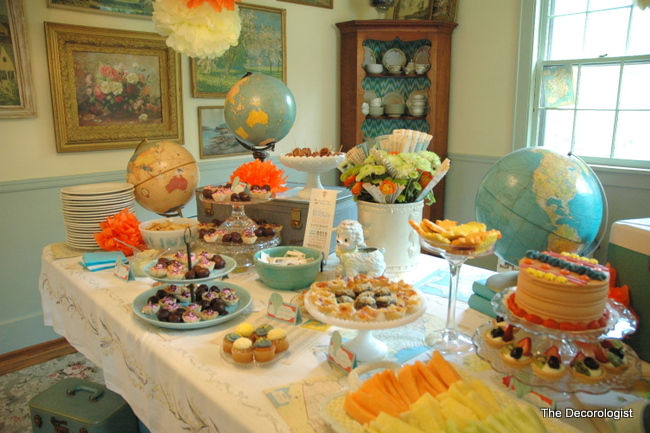 Table Laden with Goodies!
The house was full of lovely and inspiring women – it was a joy to have them into my home to celebrate Heather's latest creative endeavor:  motherhood!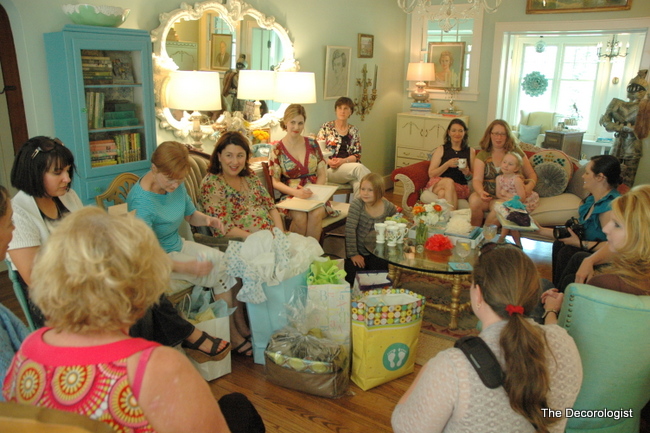 You simply must check out Heather's beautiful online magazine, Gathering Spriggs.  Her fourth edition was published just last week.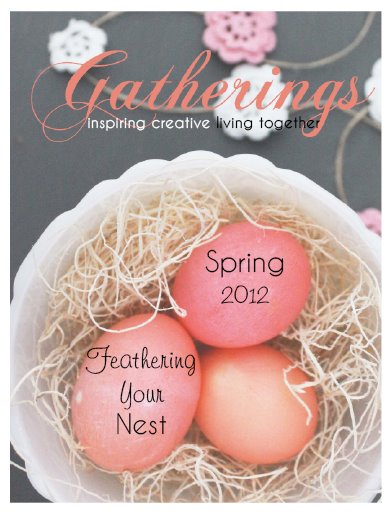 Gathering Spriggs Spring 2012 Issue
Congratulations, Heather!  Can't wait to meet your bundle of joy . . .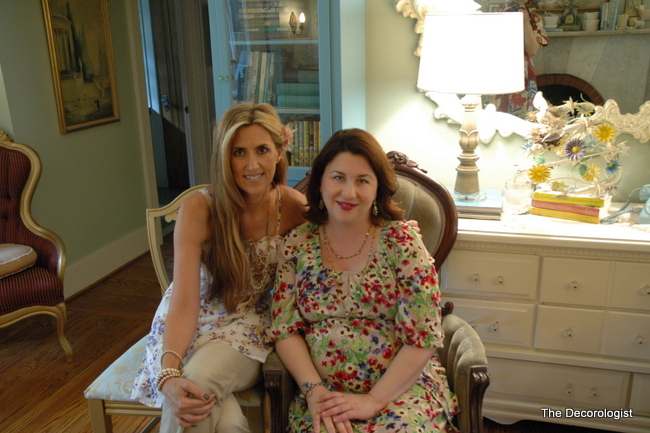 Me and Heather