Last week I hosted my Cooking Club in my home.  I am "up" to host once a year, and this year I chose an Enchanted Forest theme.  I always choose the theme based on decor first, then plan a menu around my decor – which is completely backwards for most of my Cooking Club friends.  Cooking is NOT my forte and decorating is, so there you go!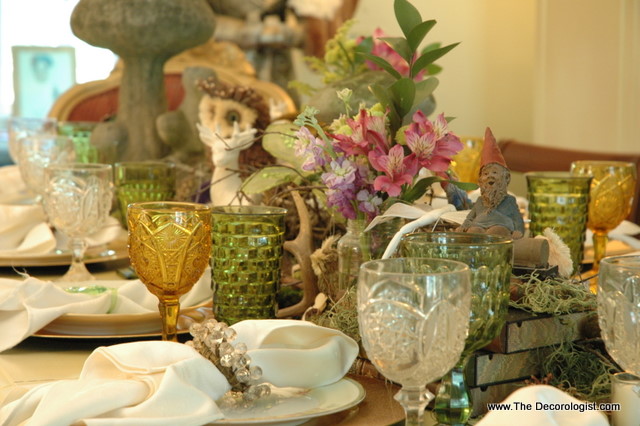 Enchanted Forest
This is where I started with my tablescape:   I scavenged my backyard for the right size tree limb and luckily found one with some grapevine wrapped around it.   I started adding in some owls, some small mounted antlers, and a few Tom Clark gnomes my father used to collect.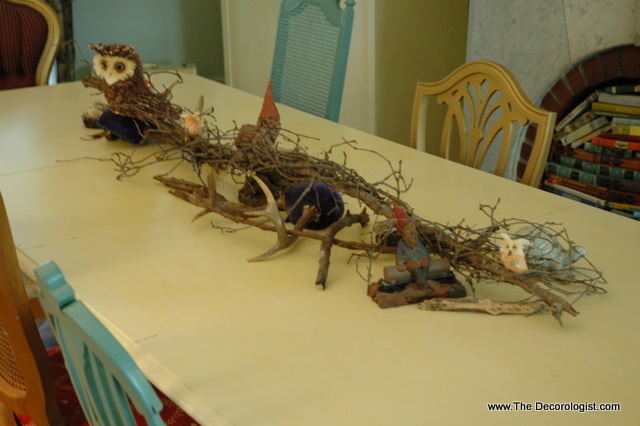 Basis for Enchanted Forest Tablescape
Actually, the only thing I had to purchase for this tablescape was a bag of moss from Michael's.  It made a bit of a mess, and I was glad I decided to go without a tablecloth for this one.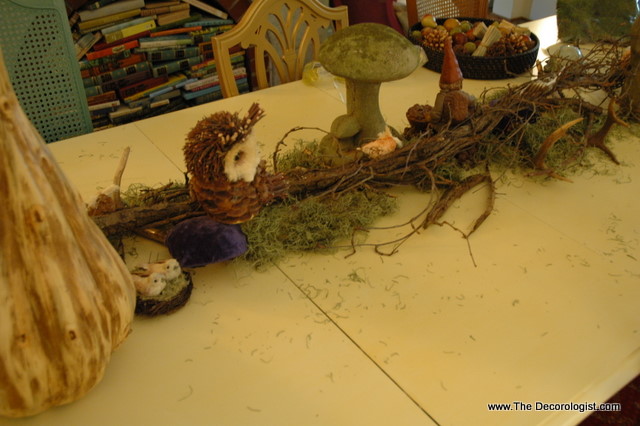 Nature is Messy
I pulled several statuaries from my garden, like these concrete toadstools.  A few butterflies, more gnomes and owls, feathers, birdnests, and a bunch of stuff from a bag of pot pourri, and the centerpiece really started taking shape.  I added in a few treasures I imagined gnomes and fairies might collect to decorate their tiny homes:  a few pieces of vintage jewelry, a crystal doorknob, an iron key, a dollhouse rocking chair, a tiny copper kettle.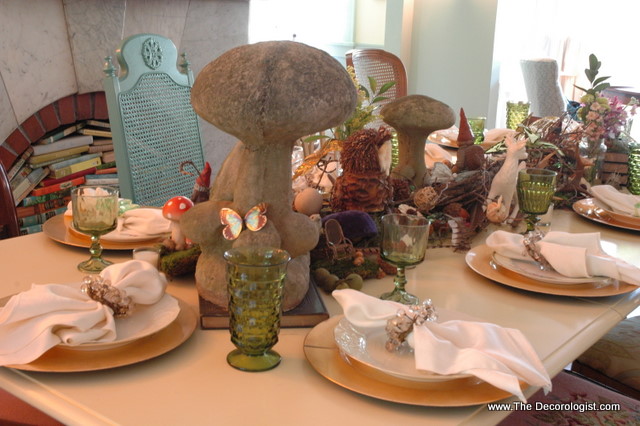 Centerpiece for an Enchanted Forest Dinner
Mismatched dining chairs are much more fun that the predictable matching set, wouldn't you agree?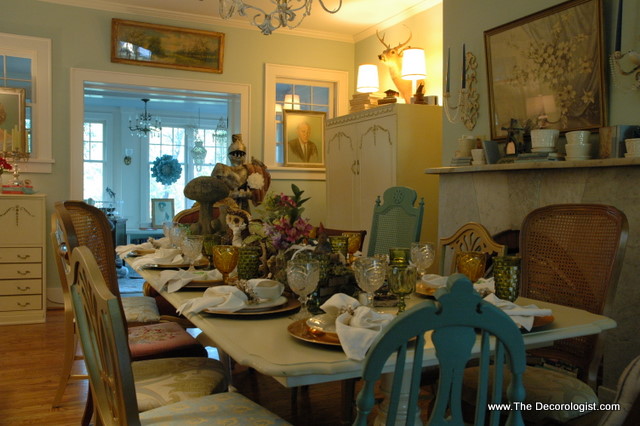 The gold chargers were found in the dollar aisle at Target last fall (thanks, Stacy, for finding those last 2 to complete my set!), and I used a mix of vintage china and colored glassware for the tablesettings. 
 Enchanted Tablescape
I also added a few small flower arrangements in Mason jars to brighten up the forest floor – they were made from what was left of a lovely flower arrangement Mr. Man gave me for my birthday week before last.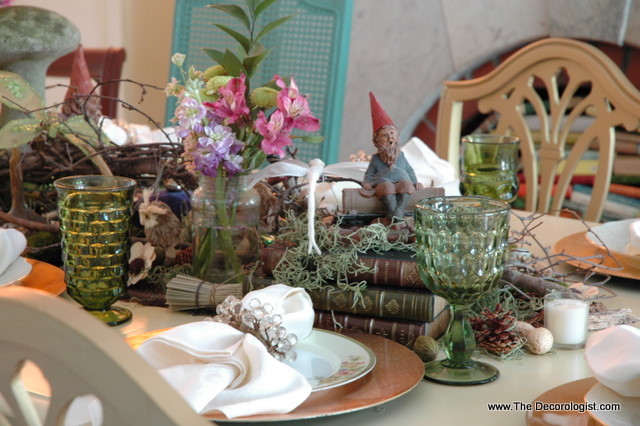 I *heart* gnomes!
Here is the table in my entry, decked out for the Enchanted Dinner party.   A disconnected tole chandelier, a few flowers, a dove in its nest, and a little vintage fairy were perched on turquoise books in a whitewashed twig tray I recently snagged from HomeGoods.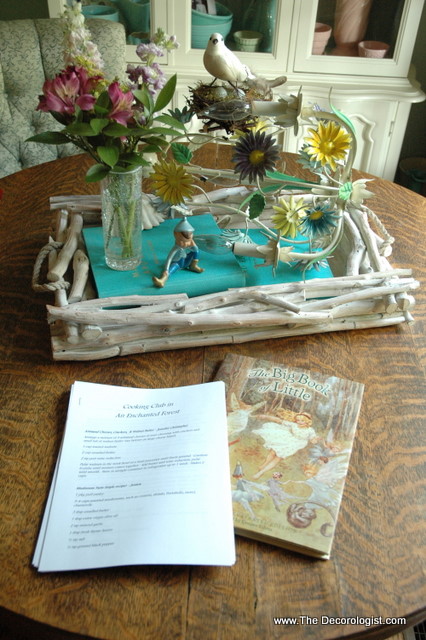 Twig Tray from HomeGoods
I love incorporating vintage books and beautiful illustrations into my vignettes and party themes.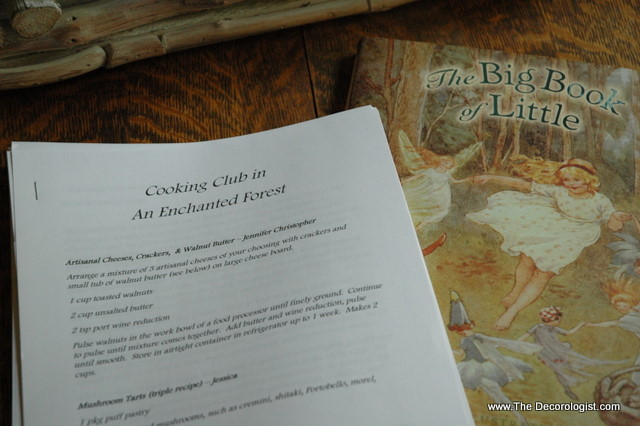 An Enchanted Menu
Candles were lit as the guests began to arrive.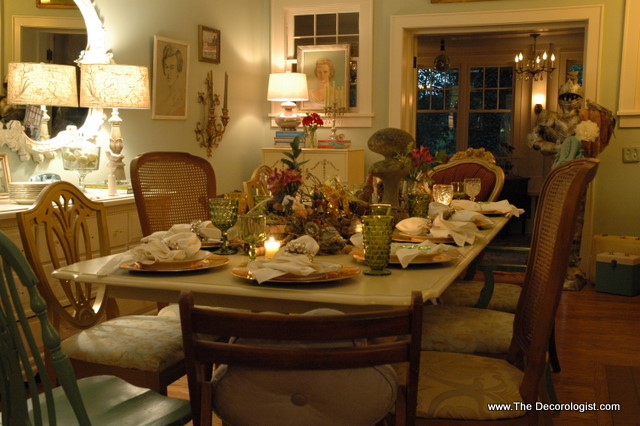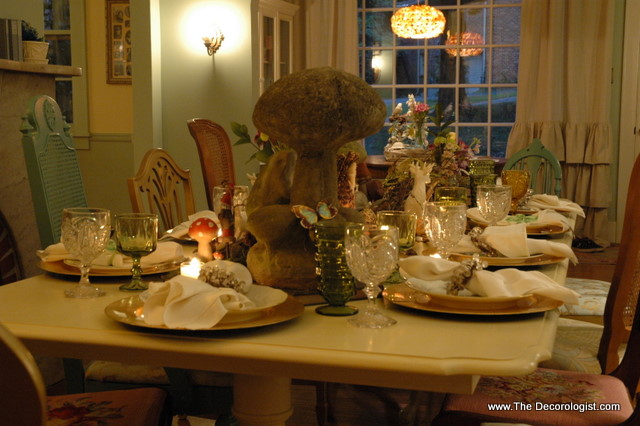 The menu was fabulous, I must say.  I found most of the recipes from Victoria magazine, and you can see the entire menu and get the recipes here.  We started with appetizers of artisanal cheeses, walnut butter spread, and mushroom tarts.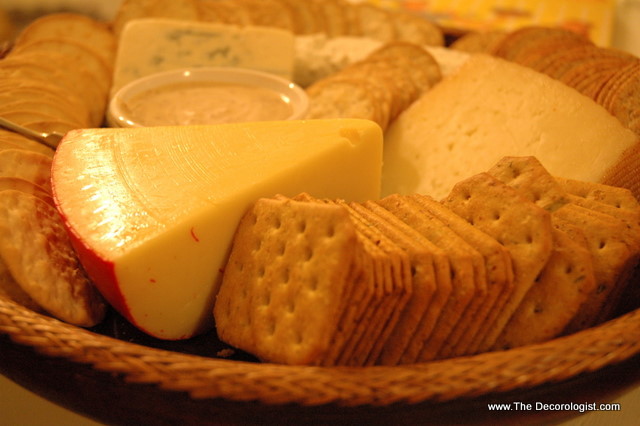 Cheese is Good
Then came a delicious green forest salad, broiled garlic chicken, and steamed asparagus in a white truffle vinaigrette.  I tricked a few of my friends into thinking I was serving broiled garlic rabbit, but most of them weren't that easy to fool!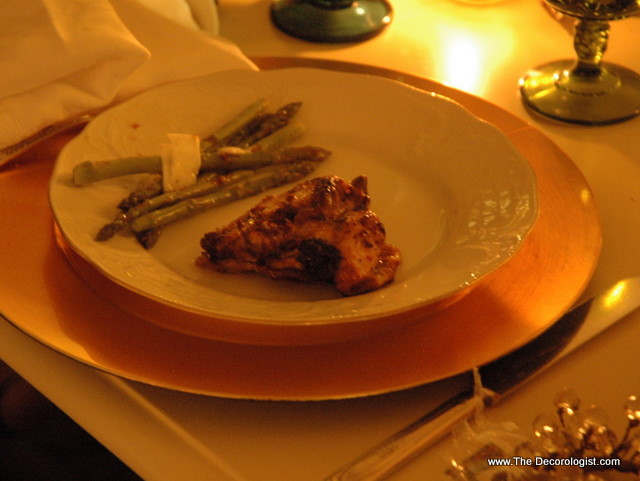 Broiled Garlic Chicken and Asparagus with White Truffle Vinaigrette
The table and the lovely ladies looked even lovelier by candlelight!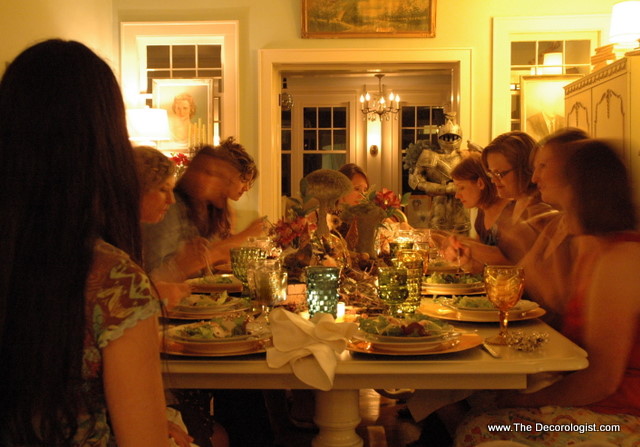 An Enchanted Dinner by Candlelight
Here I am with my dear friend, Diana.  Any excuse to play dress-up – this is not the kind of dress I get to wear every day!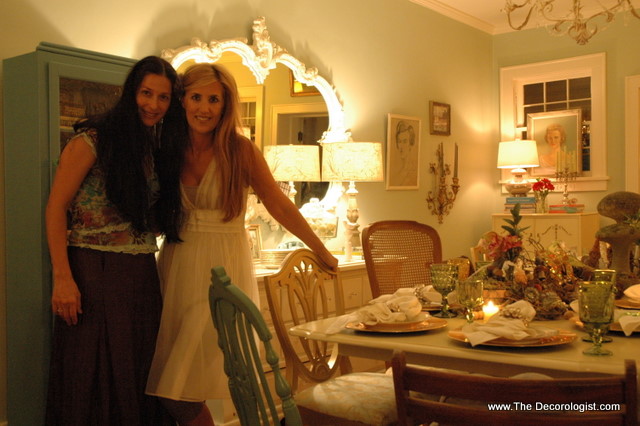 Me and Diana
We all had an enchanted evening and made good memories with friends.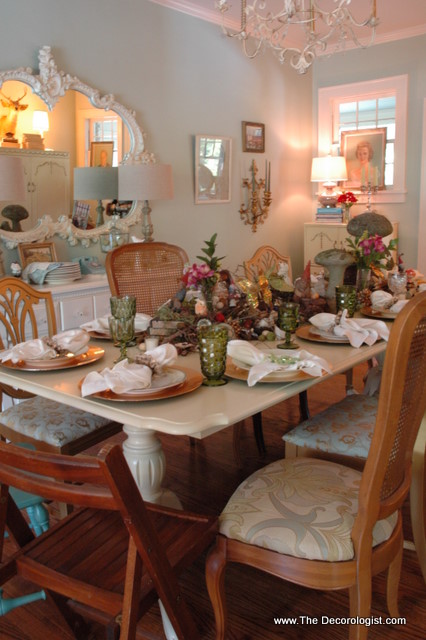 Are you a member of a Cooking or Supper Club?  Have you come up with inventive menu themes?