My inspiration for this birthday party was the amazing artwork of Joan Walsh Anglund.   Her artwork is immediately identifiable – she always draws children without noses and mouths.  You can find biographical information about this wonderful artist at http://members.shaw.ca/jwamail/.
I found these never-opened paper plates and napkins in an attic of a friend of my mother's.  I kept them for 8 years until I was inspired to use them for my younger daughter's third birthday.  I also had a few small books of JWA art and poetry that I had picked up over the years.  Her illustrations of little children have always touched me and aroused that nostalgia within me for anything from my own childhood.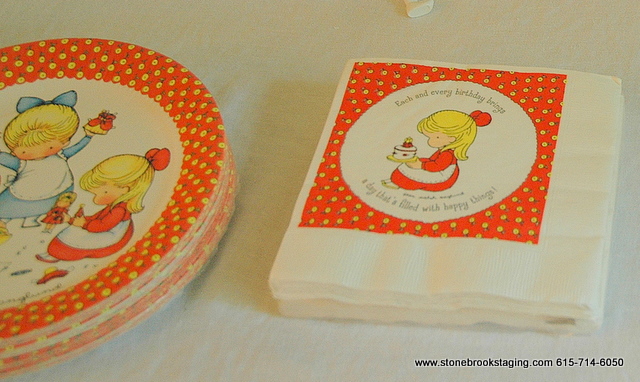 So, what was I going to call this party?  A Joan Walsh Anglund party?  My daughter would never understand.  So I looked for a common theme in JWA artwork and decided upon Rainbows.  That way I could use primary colors that would work with the plates and napkins.  I decided to hop on ebay and see what I could find of Joan Walsch Anglund's.  I found 2 unopened Hallmark cardstock centerpieces put out in the late 70's that featured little children sliding on rainbows.   It came with little cardstock clouds and stars that I could scatter all over the table.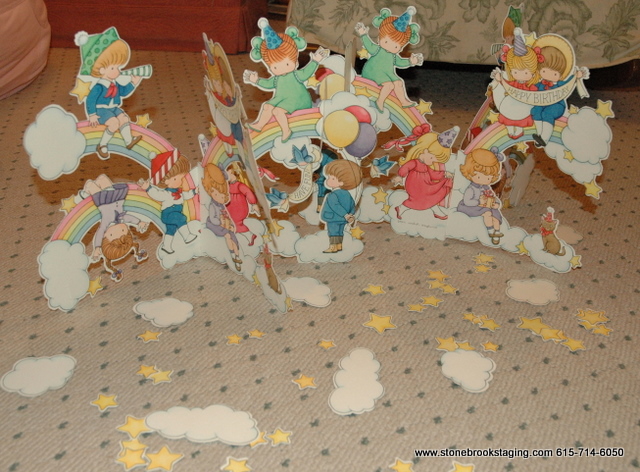 I found a beautiful unused JWA coloring book that I snatched up for a few dollars.  Oh, and a DARLING  cookie cutter of one of her classic little girls!  Amazon has many of her books, new and used.  And finally, I found a JWA decorative birthday plate and coffee mug .  All my JWA "props" cost a total of $40.  The other props I used were just things that color-coordinated (yellow, orange, red, green, blue, purple) or looked rainbow-ish.  I color-copied artwork onto label paper and made stickers that I adhered to multi-colored party hats from Dollar Tree.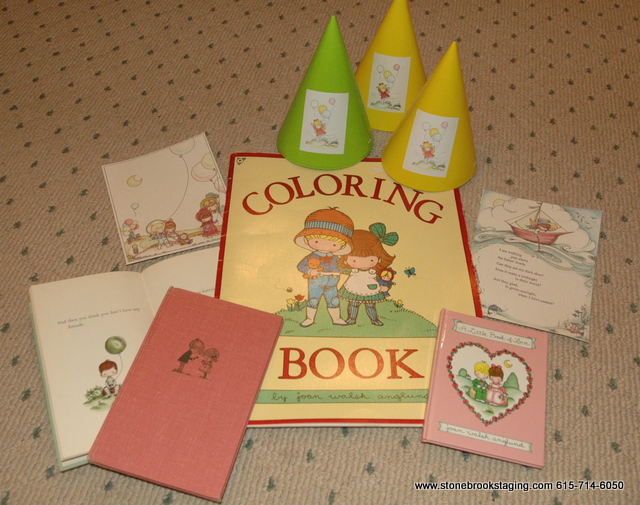 These are the only invitations I've ever had for my childrens' parties that I did not make myself.  But I found these Joan Walsh Anglund invitations on her website and felt like I owed it to her to order them from her!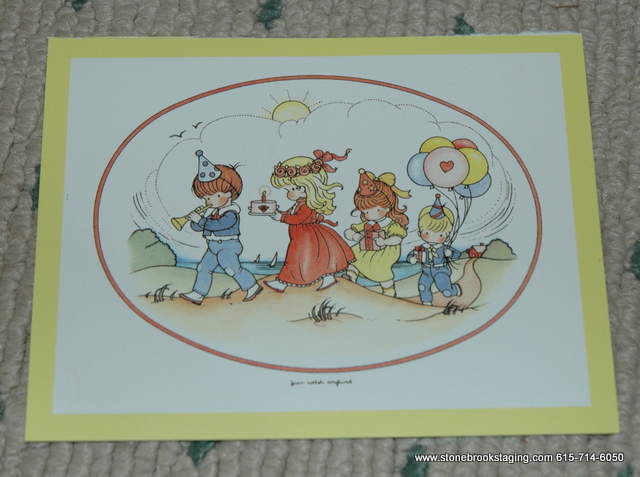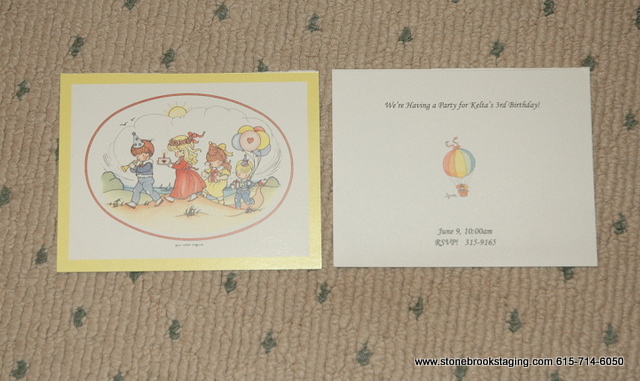 The food for this party was fun!  The rainbow cake was easy – just a round cake, skittles to create the rainbow, and mini-marshmellows for the clouds.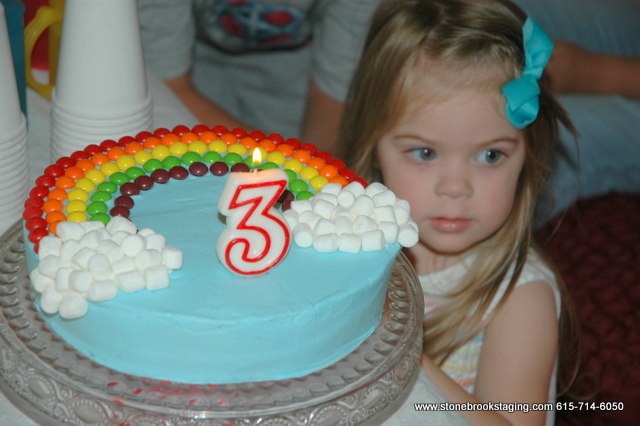 Here are the sweet cookies I made from the JWA cookie cutter I found on ebay!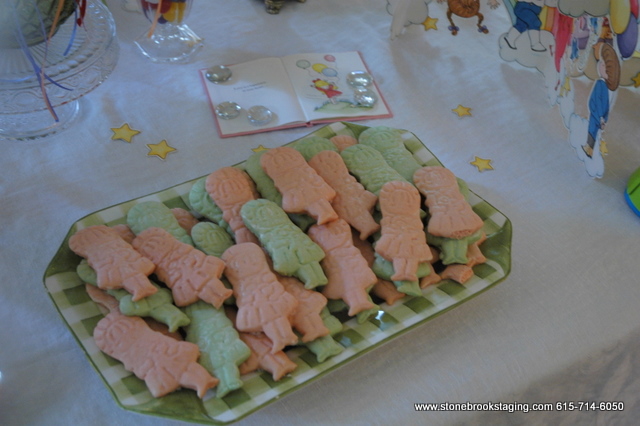 My Fabulous Butter Cookie Recipe
1 cup melted/softenedbutter, 1 cup sugar, 1 cup brown sugar, 4 eggs, 3 tbsp vanilla +1 tsp water (or food coloring), 6 cups self-rising flour
Cream together butter and sugar.  Add eggs one at a time.  Alternately add 2 cups flour, 1 tbsp vanilla, mix, repeat.  Add 1 tsp water.  Chill in refrigerator 3+ hours.  Rollout 1/4 inch.  Cut and bake 335 degrees for 10 minutes on parchment paper.  Use royal icing mix – add more water for glaze.

I used red plastic forks from Dollar Tree, and found colored plastic mugs with built-in straws on clearance at Kroger's for $1 each.   I made a jello rainbow in a glass trifle bowl – that took awhile to let each color gel before adding the next.  Cubed cheddar cheese looked special on a raised cake plate and rainbow-colored toothpicks.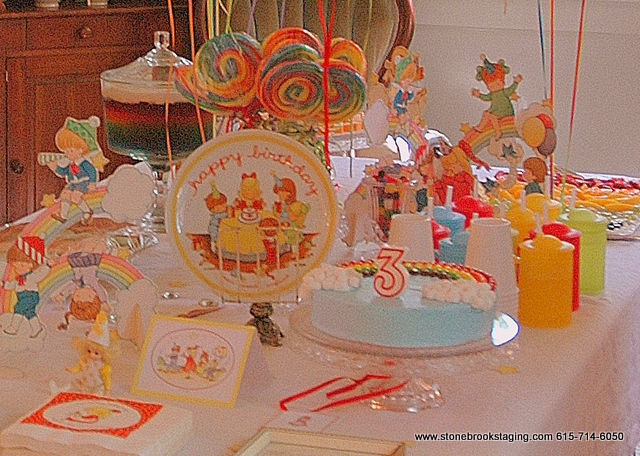 I made a fruit tray using a rainbow of fruits set in a cream cheese, sour cream, sugar mixture – blueberries, peaches, oranges, green grapes, and strawberries.  I layed the cream and fruit in a rectangular tray with a lip so that it wouldn't ooze out.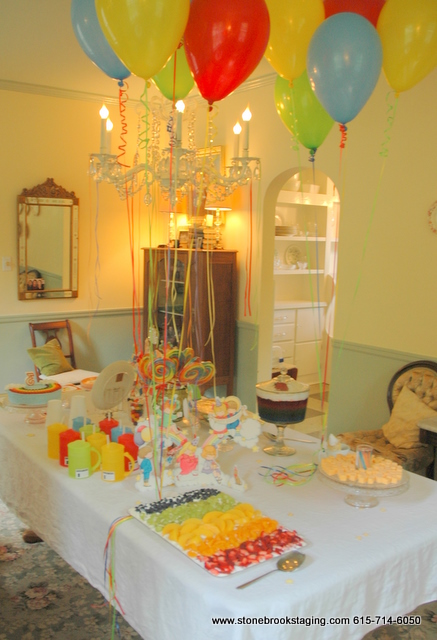 I ordered huge multi-colored swirly suckers from Oriental Trading and grouped them for a colorful centerpiece on the table.  Multi-colored balloons completed the rainbow tablescape.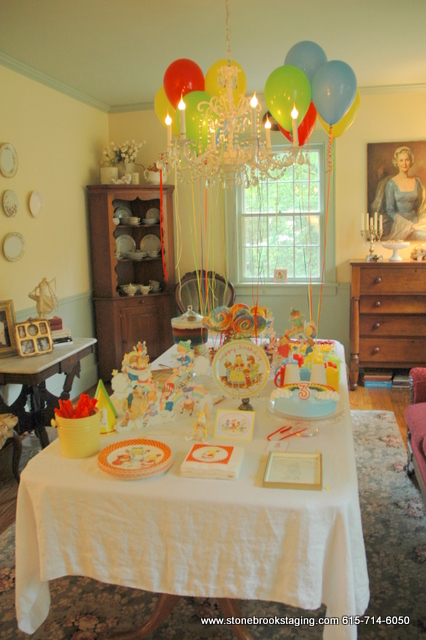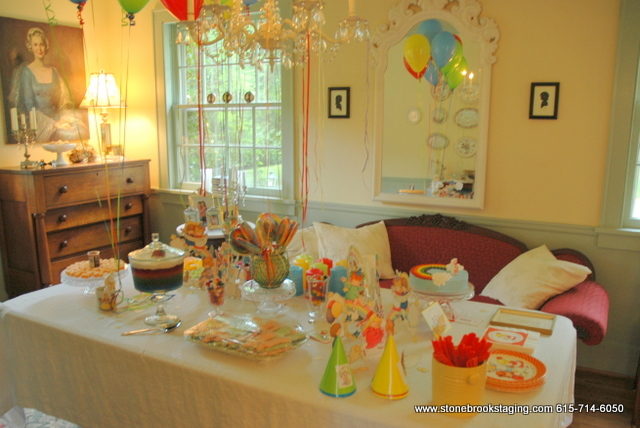 As the party was for a 3-year-old, the activities were kept simple.  I made lots of copies of coloring pages from the JWA coloring book for the children to color.  We did a simple rainbow craft that you may download.  Print a page for each child and have them attach colored pompoms with glue.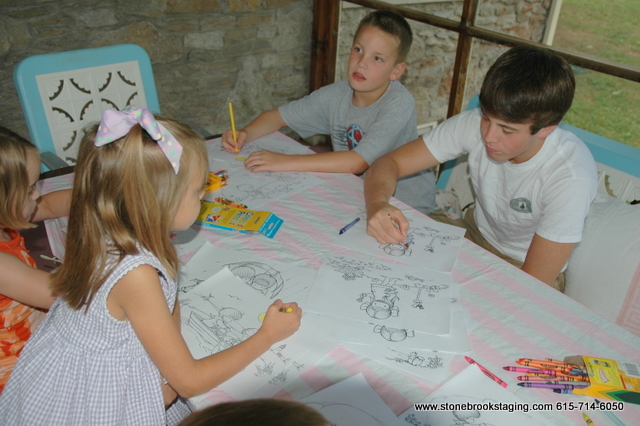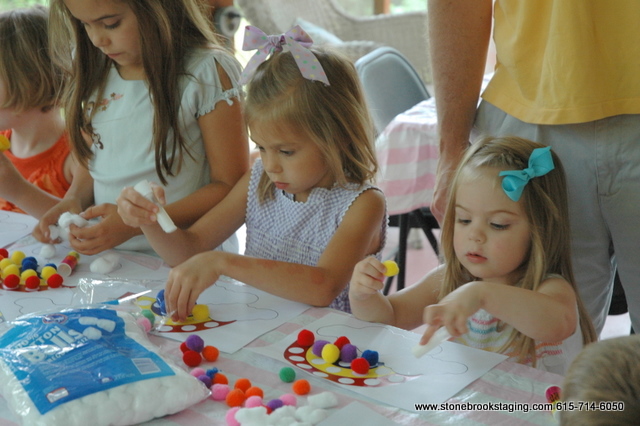 Below is thumbnail of the rainbow craft.  Rainbow Download
We also made froot loop necklaces – what could be simpler?  Notice how Kelta wore a Gymboree shirt with embroidery in rainbow colors.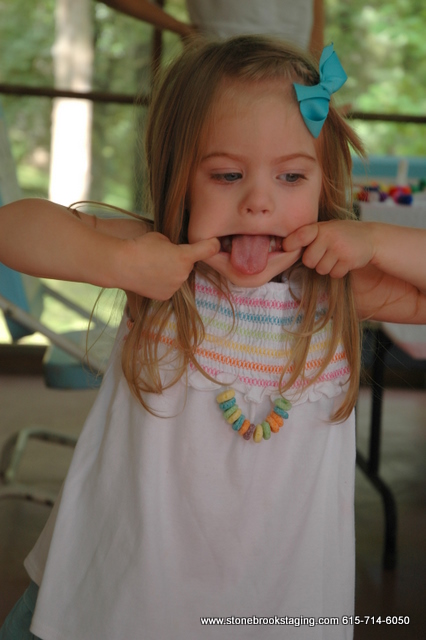 All our guests took home a goody basket.  I found these plastic multi-colored baskets at Dollar Tree and filled them with shredded colored paper from Michaels, striped hot air balloon bookmarks,  beaded jewelry kits, and colorful sticker letters (the last two were from Dollar Tree).  I attached cardstock gift tags of JWA artwork with red ribbon.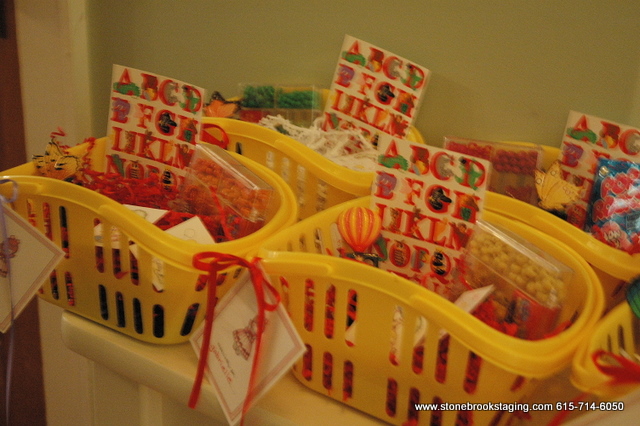 The children also got to take home a large swirly sucker (from Oriental Trading Company) and one of the plastic mugs they drank from earlier.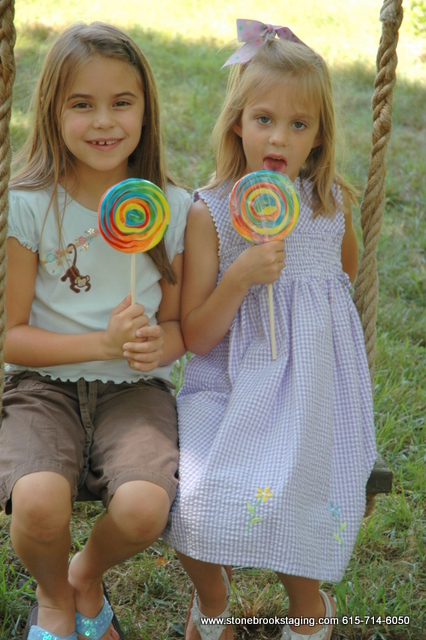 Now, this is absolutely the coolest thing about this party – when I ordered the party invitations off the JWA website, I left a message about the party I was planning for the site manager.  Soon after, we received a special package in the mail.  Mrs. Anglund sent us a precious pencil drawing personalized for Kelta's birthday with a sweet note wishing her well.  We framed the artwork and treasure it!!!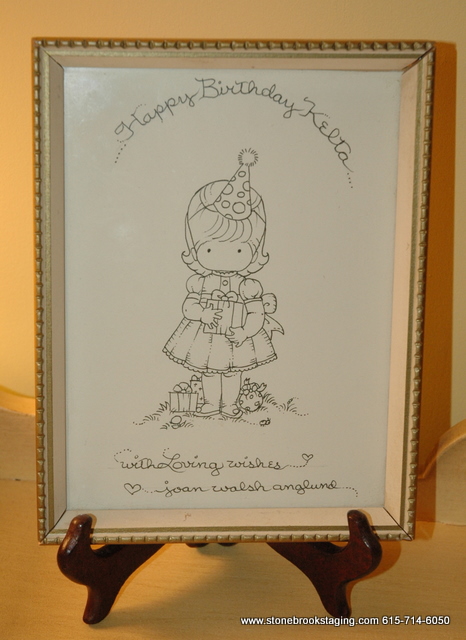 Below are the gift tags, 2 sticker sheet images, and several coloring pages that you are welcome to download!  Click on the link below for all.  Enjoy!