It's been awhile since I've posted a party – the last one was my Downton Abbey Dinner Party, and that was for adults.  My youngest just turned 9 and desperately wanted a Lego party theme for her birthday.  Since she is a GIRL, here is my feminized (is that the right word?) version of a Lego party.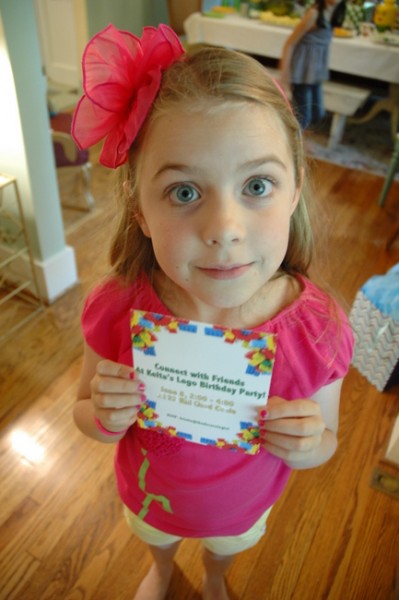 "Connect with Friends" – get it???
If you know me, you know that (for me) EVERY party or event starts with a color scheme!  How do you take Legos, which are in primary colors (not my favorites!) and soften them up a bit? I chose two dominant colors of Legos, yellow and green, and added pastel versions of each. Primary yellow + pastel yellow + primary green + pastel green. So here's the tablescape for the Lego party: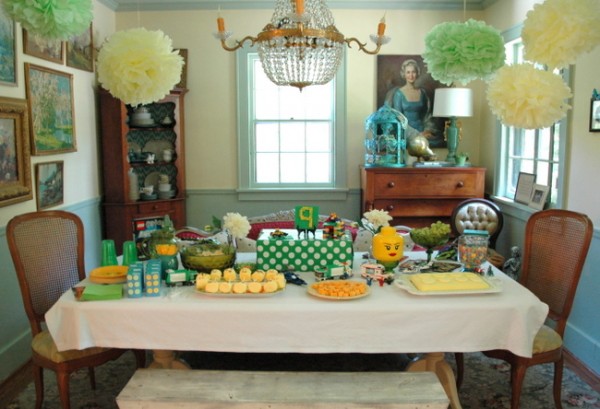 Lego Party Tablescape 
I used one of my daughter's wrapped presents as the centerpiece of the table, because of the color and the dots.  The table was scattered with Lego creations, of course, including my own – the "9."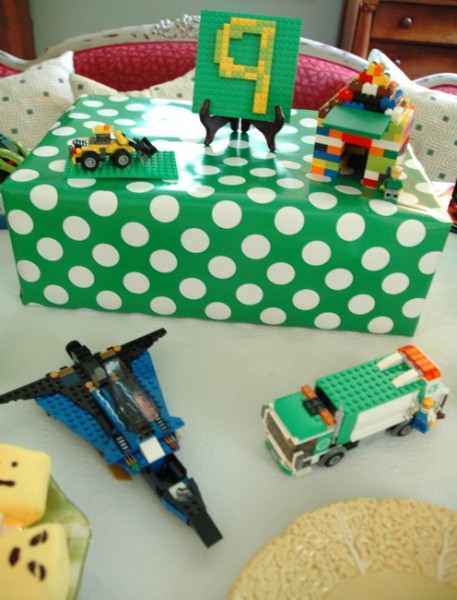 I made a super-easy Lego cake.  Just did a boxed sheet cake, iced it with store-bought cream cheese icing, then applied ready-to-go yellow fondant I got from Michaels.  I used a measuring cup to cut out the right-sized dots for the top.  At first, I had three rows of four dots, which I thought looked good.  However, my daughter insisted that looked NOTHING like a Lego, and it had to be only two rows.  Picky!  But easy enough to change.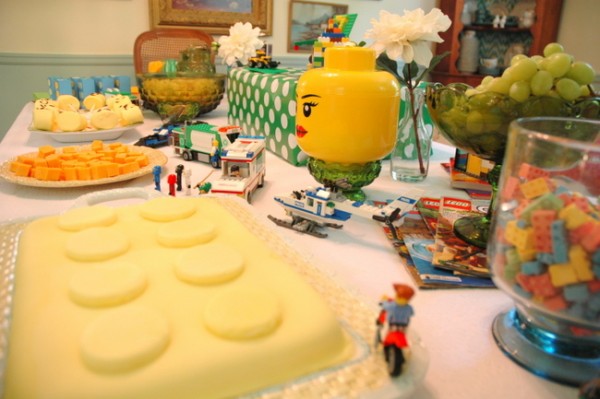 Lego Cake
I bought 2 pounds of Lego candy from Amazon.  $13 for a bag of candy, y'all!  But who knew they ACTUALLY CONNECT?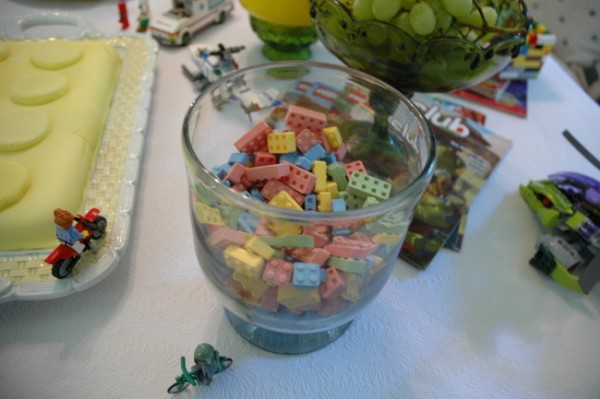 I had read about making Lego cake pops, but that seemed like a lot of work.  Then I found something on Pinterest about using marshmellows dipped in candy melts.  I simplified that idea by simply sticking a store-bought can of icing in the microwave for 30 seconds, then dipping jumbo marshmellows in the thinned-down frosting.  These were easy to make, but I did have to turn them each continually while they dried to keep them from dripping everywhere. Then I made faces with black tube icing.  My favorite was the pirate, and of course he was the first one eaten!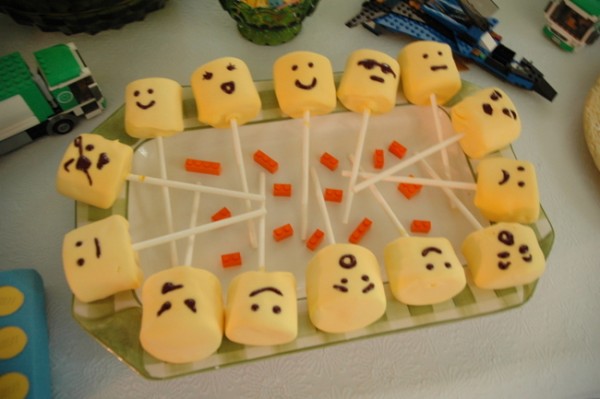 Lego Marshmellow Pops 
A black Sharpie + yellow plates = more easy Lego fun.  For the juice boxes, I just cut out cardstock and glued on Lego circles that I downloaded from here.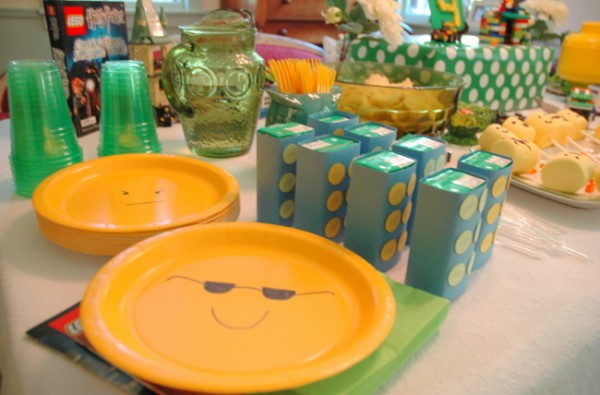 I know we had mostly sweets, but we did have cheese cubes and grapes – that's good, right?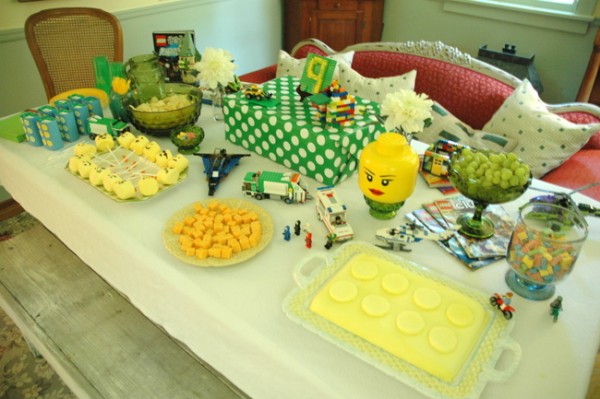 As the kids got to our house, they played with Legos (duh) until the rest arrived.  Then they played Creationary, a Lego-building game I bought on Amazon as a birthday present.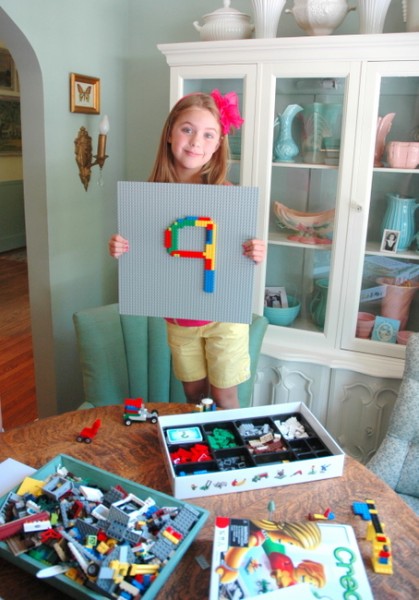 I also found this great Lego Bingo Game that you can download from here.  The girls loved it.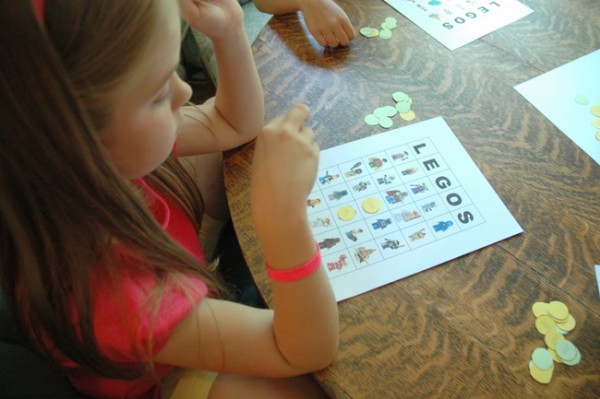 Lego Bingo Game from Big D and Me 
It had been raining that morning, but it cleared up Saturday afternoon – so we decided to do a Lego relay race.  It was much more fun than I expected, actually!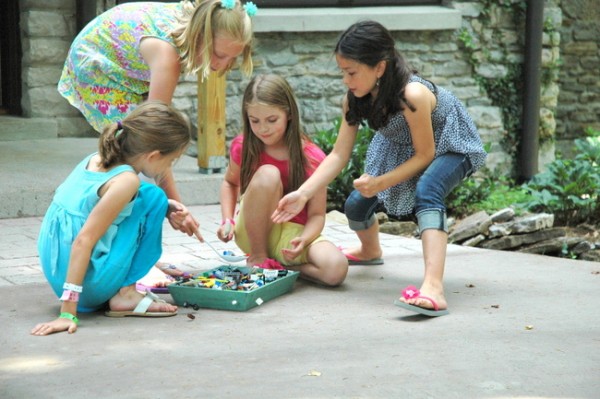 Lego relay race
Teams of two raced back and forth between a tray of Legos and big plastic cups, carrying one scoop at a time as quickly as possible.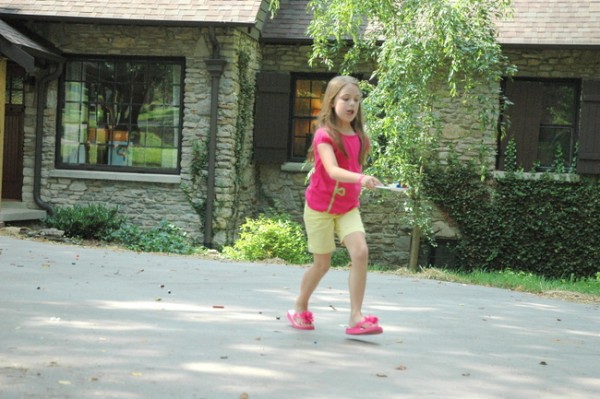 There's nothing more fun than a little healthy competition, don't you agree?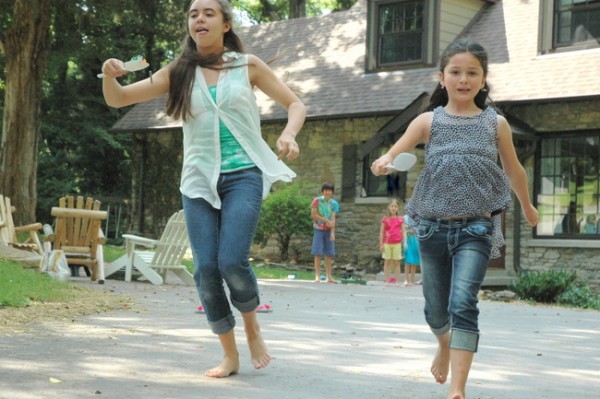 Goody bags included some of the Lego candy (tastes like Sweet Tarts) in Lego boxes we made, a small Lego set ($6.99 from Target), blue glow-in-the dark slime from Target dollar aisle, and a set of Lego erasers from Michaels.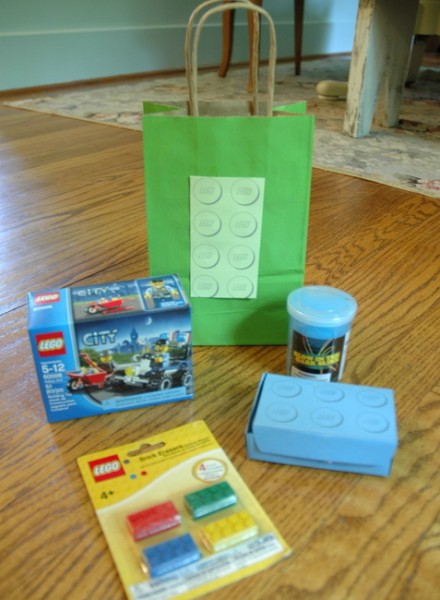 I figure I've got about two more shots at theme parties for my youngest.  My oldest is too old now – she's officially a teenager, so theme parties are kinda out.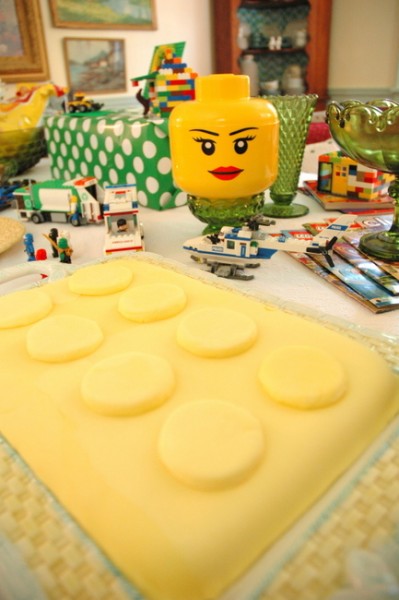 My friend came over the night before the party and said, "You do this for you, don't you?"  I must admit, planning parties for my children is a great joy for me.  I may not be a very good cook, but I throw a mean party.  And you better believe it's color-coordinated.