I've been a member of a Cooking Club for over 17 years now. For those of you who know me, you know I'm not much of a cook, but I love to throw a good party! I'm all about a good theme and setting a pretty table. And costumes. After the last year and a half, I was ready for an honest-to-goodness dinner party. I'm betting you might be, too!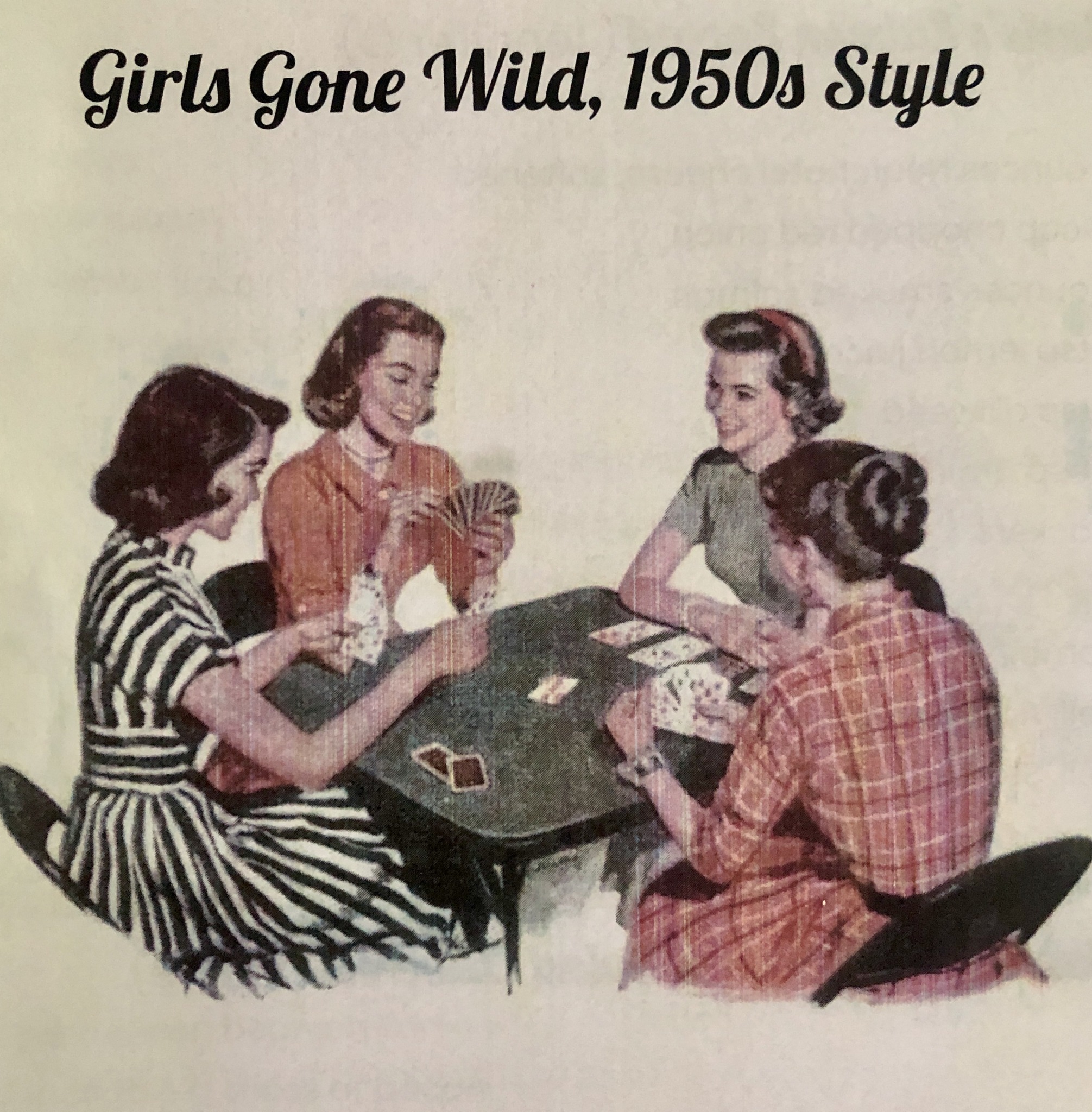 Putting together an outfit for a 1950s style themed party isn't difficult. One or two retro pieces set the vibe: an A-line shirt dress, cardigan, polka dots, kitchen apron, pearls, costume jewelry, gloves, cat-eye glasses, pumps, updos, pin curls . . .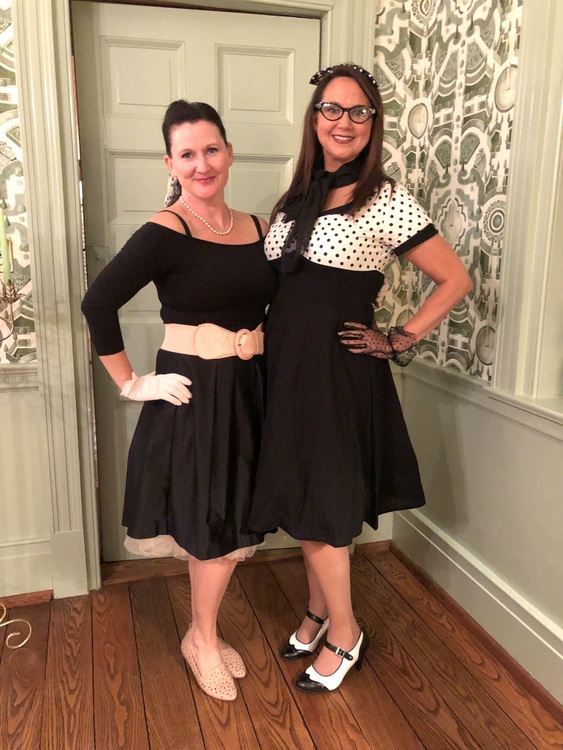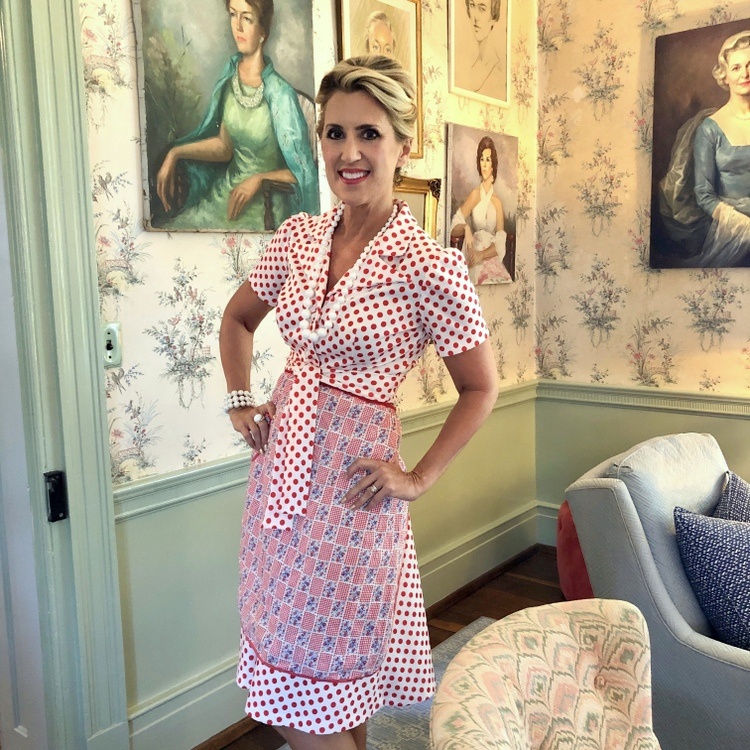 This estate sale dress and red lipstick felt very "I Love Lucy!"
I had a few 1950s style costume props to share for anyone who felt underdressed!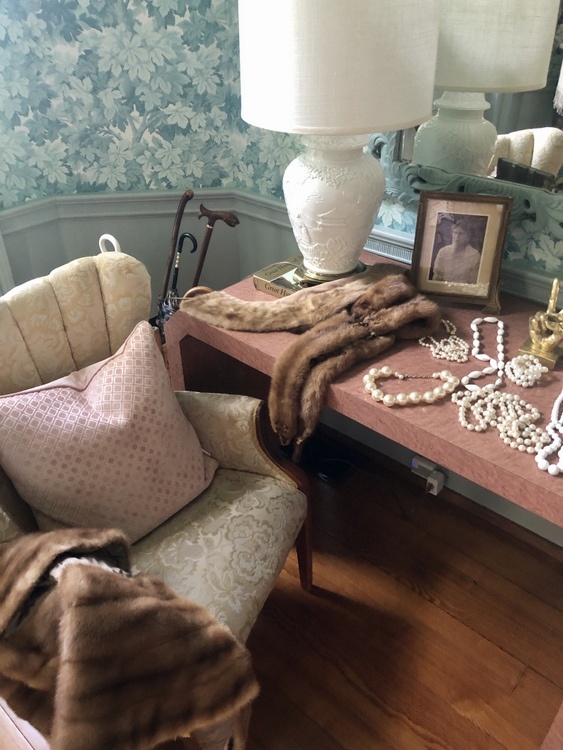 The traditional table setting included a plain tablecloth, floral china, cloth napkins, vintage glasses, candles – and a few old black/white photos and vintage ashtrays.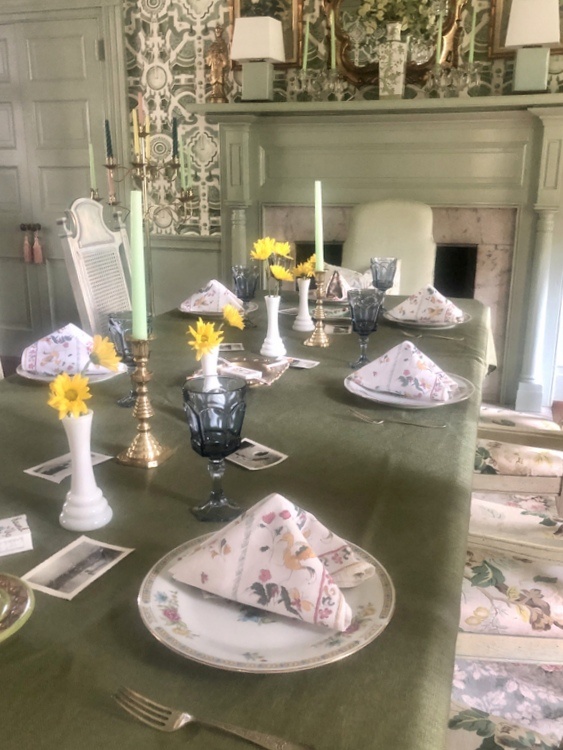 Yep, I have several vintage ashtrays that I use to corral keys and coins. And no worries – those are bubblegum cigarettes!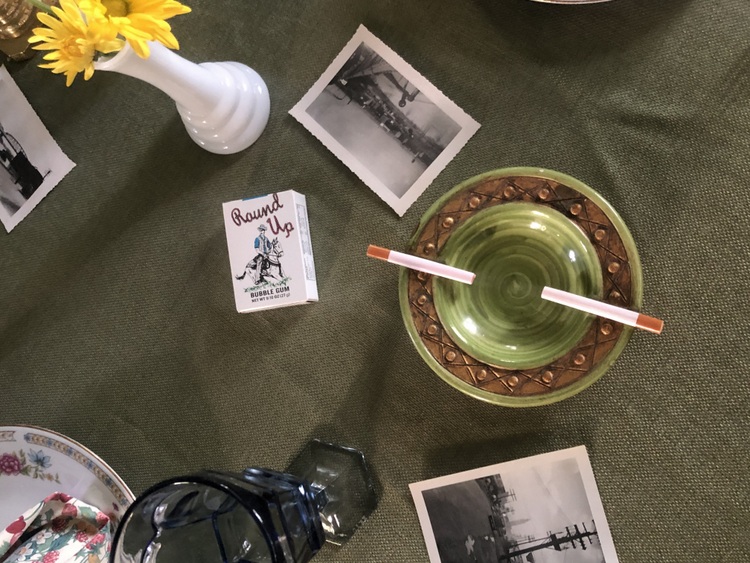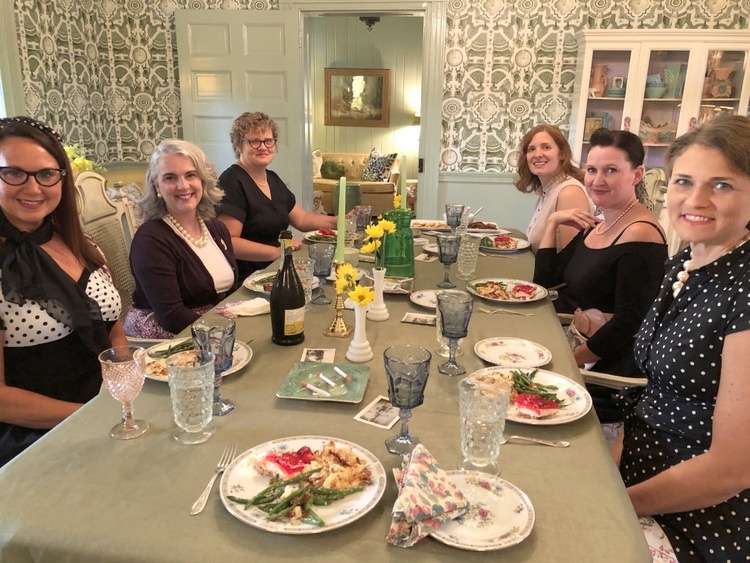 I dug into some vintage cook books to find some 1950s style recipes for our dinner menu. Here are the recipes:
Susie's Salmon Spread
8 ounces Neufchatel cheese, softened
⅓ cup chopped red onion
4 ounces smoked salmon
¼ tsp lemon juice
¼ tsp dillweed
1 tbsp drained capers
crackers
Combine cheese and onion in food processor and pulse to mix well. Add salmon, lemon juice, dillweed, and capers. Pulse to mix well. Store in refrigerator for up to 24 hours, serve with crackers.
Harriet's Hot Chicken Salad Casserole
Salad: 
4 cups cooked shredded chicken
1 cup halved seedless red grapes
8 oz pineapple tidbits, drained
8 oz (2 cups) shredded sharp cheddar cheese
½ cup plain bread crumbs
1 tbsp butter, melted
½ sliced almonds
Dressing:
1 cup mayo
8 oz sour cream
1 tbsp lemon juice
1 tbsp Dijon mustard
In medium bowl, combine dressing ingredients, set aside, In large bowl, combine chicken, grapes, pineapple, and 1.5 cups of cheese, toss to mix. Pour dressing over, toss. Spoon into 13×9 dish. In small bowl combine 1.5 cup cheese, bread crumbs, butter, mix well. Sprinkle over chicken mixture, top with almonds. 325 degrees for 40 minutes.
Gidget's Green Beans with Roquefort
1 lb fresh green beans, trimmed
4 (¼ inch thick) slices of bacon
4 ounces of Roquefort or feta cheese, crumbled
1.5 cups toasted walnut halves
Freshly ground pepper to taste
Add green beans to a saucepan of boiling water and reduce heat. Simmer for 3 minutes or until tender-crisp. Rinse under cold water and drain. 
Fry bacon in skillet over medium heat, 5-7 minutes or until crisp. Remove to paper towels to drain and cool; crumble.
Add green beans to drippings in skillet and cook over medium heat for 2 minutes, stirring frequently. Add cheese and toss for 30 seconds or just until cheese begins to melt. Spoon into serving bowl and sprinkle with walnuts, bacon, and pepper. Serve immediately. (You are welcome to cook this at my house.)
Sally's Strawberry Pretzel Salad
6 oz strawberry Jell-O

2 cups boiling water

2 1/2 cups salted pretzels (measured before crushing)

1/4 cup granulated sugar

8 Tbsp unsalted butter

8 oz package cream cheese softened

1/2 cup granulated sugar

8 oz cool whip thawed in the fridge

1 lb fresh strawberries hulled and sliced
Pre-heat oven to 350°F. Combine strawberry Jell-O with 2 cups boiling water and stir until completely dissolved. Set aside to cool to room temperature. Crush 2 1/2 cups pretzels in a sturdy ziploc bag, using a rolling pin. 
In a medium sauce pan, melt 8 Tbsp butter then add 1/4 cup sugar and stir. Mix in crushed pretzels. Transfer to a 13×9 glass casserole dish, pressing the pretzel mix evenly over the bottom of the dish and bake for 10 min at 350°F, then cool to room temp. When pretzels have cooled, use an electric hand mixer to beat 8 oz cream cheese and 1/2 cup sugar on med/high speed until fluffy and white. Fold in 8 oz Cool Whip until no streaks of cream cheese remain. Spread mixture over cooled pretzels, spreading to the edges of the dish to create a tight seal. Refrigerate 30 min.
Hull and slice 1 lb strawberries then stir into your room temperature jello. Pour and spread strawberry jello mixture evenly over your cooled cream cheese layer and refrigerate until jello is set (2-4 hours).
Peggy Sue's Pink Squirrel
3/4 ounce crème de noyaux liqueur
3/4 ounce white crème de cacao liqueur
1 1/2 ounces heavy cream
Garnish: freshly grated nutmeg
Pour ingredients into a cocktail shaker with ice, shake well. Strain into glasses and garnish with nutmeg. 
Nancy's Nilla Wafer Chocolate Chip Cheese Ball
8 oz cream cheese
1 stick butter
¼ tsp vanilla extract
2 tbsp brown sugar
¾ cup chocolate chips
¾ cup powdered sugar
pecan chips
vanilla wafers
Cream together first 3 ingredients, then gradually add the next 3 ingredients. Put in refrigerator for 2+ hours or in freezer for 20 minutes. Form into 2 balls, put back in refrigerator for 1 hour. Roll balls in pecan chips and serve with vanilla wafers. (Serve on plates with wafers at either end of the table.)
And now for the 1950s style entertainment!
We first divided into two groups and played a few hands of Rummy, then moved on to the heated competition of 7-way Solitaire. I realize that there are many more appropriate card games from the 1950s, but I didn't think we were all up for learning something complicated like Bridge!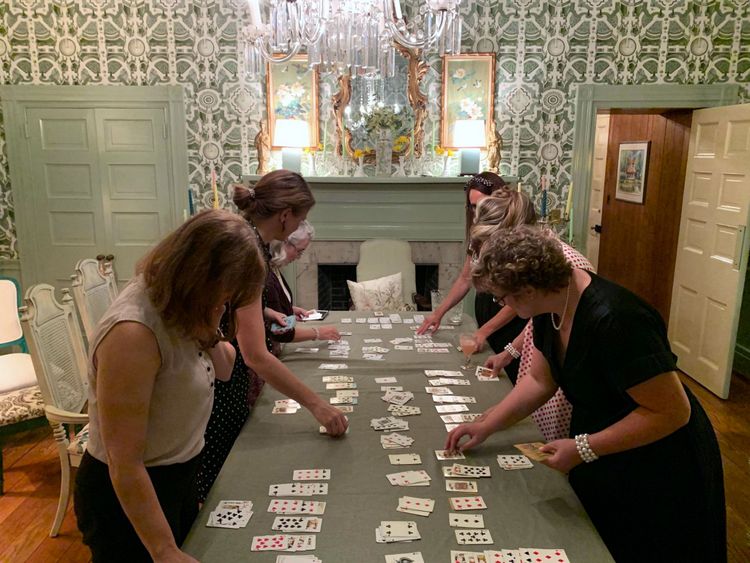 While playing Solitaire (each with our own deck), we were able to play on each others' cards in the middle of the table. It took a lot of focus and nerves of steel!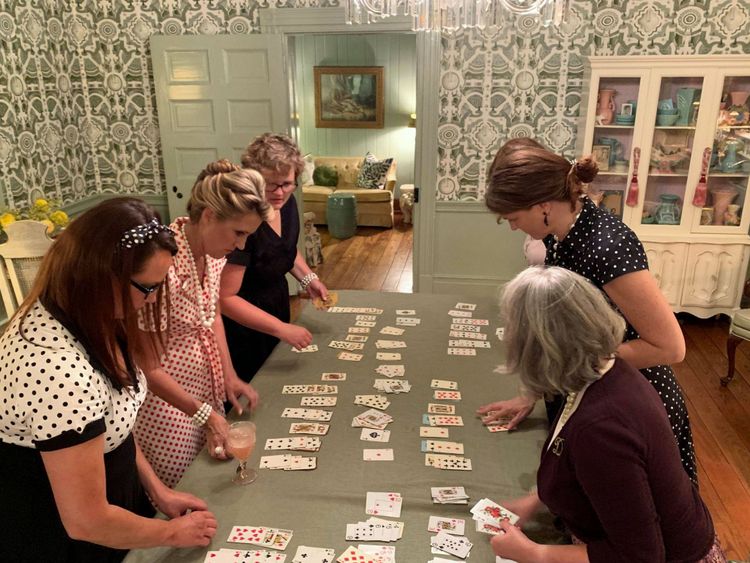 The night ended with full stomachs, full hearts, and I just may have won $4 for my card-playing skills . . .
If you have an idea for a dinner party theme, I am always looking for new ones. Be a dear, and please share with us all in the comments!