Well, friends, today's post is gonna be a weird one. REALLY weird.
Often people ask me if my daughters take after me – that is, do they love to decorate?  The answer is an emphatic NO. In fact, being in the design business is probably the absolute last thing either of them would ever choose to do. There's a lot of eye-rolling in my house when I rearrange furniture or come home with (yet another) vintage chair.
As you likely know, I'm pretty obsessed with residential architecture and historic homes. My older daughter actually has quite an obsession, too, but she prefers her historic buildings to be dilapidated and abandoned.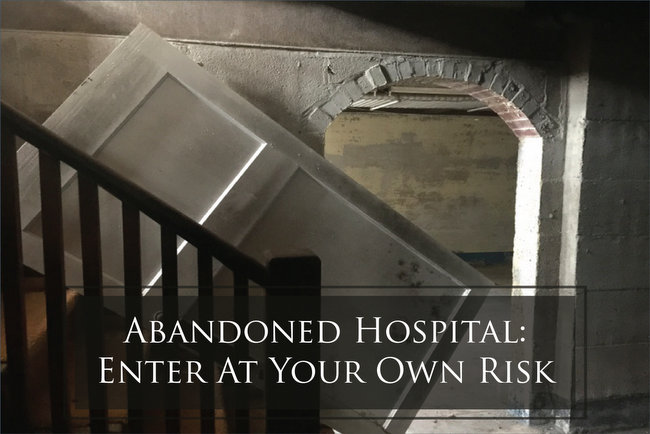 I'm just gonna let her tell you the story from her viewpoint, because I'm afraid you would think I've lost my marbles if you hear it from me. But trust me on this one – Momma did good this time!  Audrey, you can take it from here: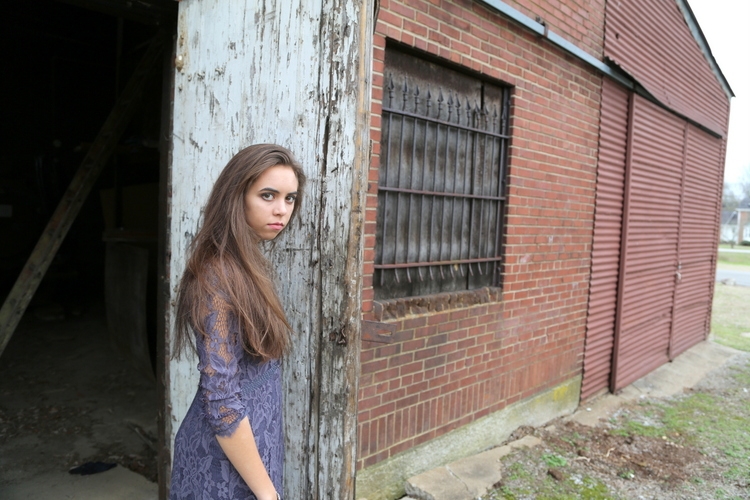 My name is Audrey, and I turned 17 years old a few weeks ago. For my past birthdays, Mom has always thrown fun themed parties. My sister and I always had the best, most unique parties at our house. They were always based on something unique we liked, but not like an obvious theme that most other kids had. We've always been a little anti-mainstream as a family.  No Disney princess parties around here. Some of my favorites have been my Mystery Birthday Party,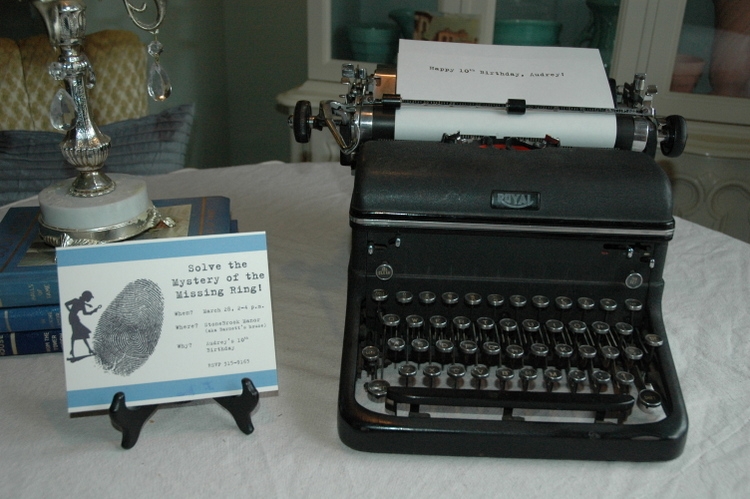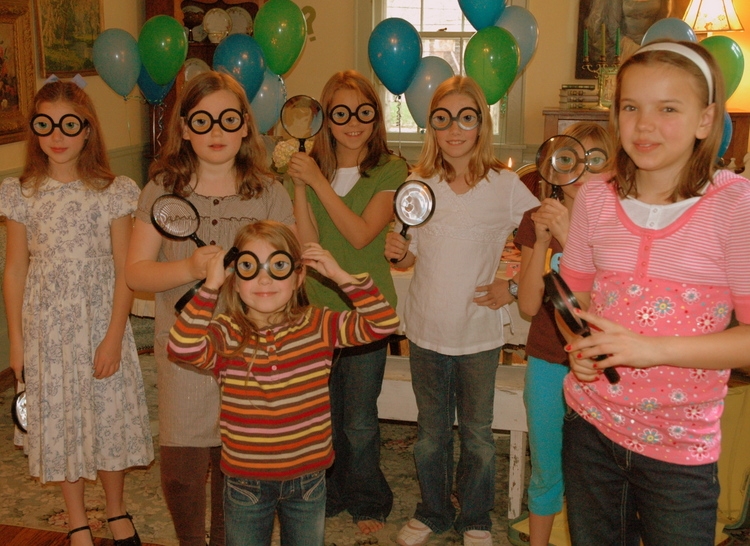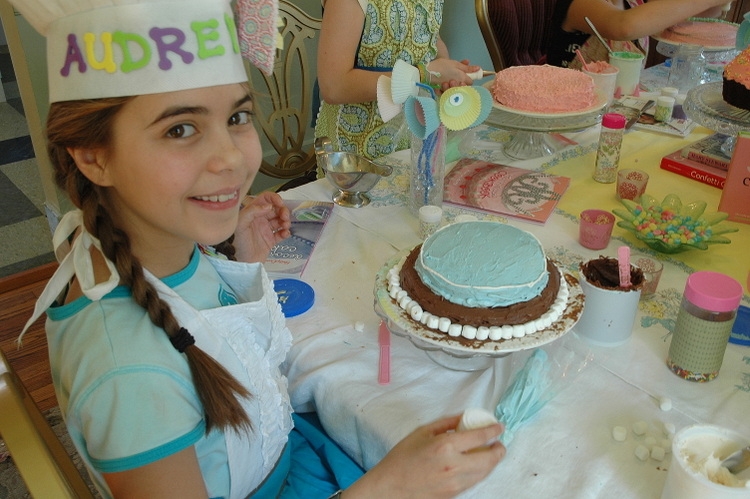 and, of course, my Little House on the Prairie Party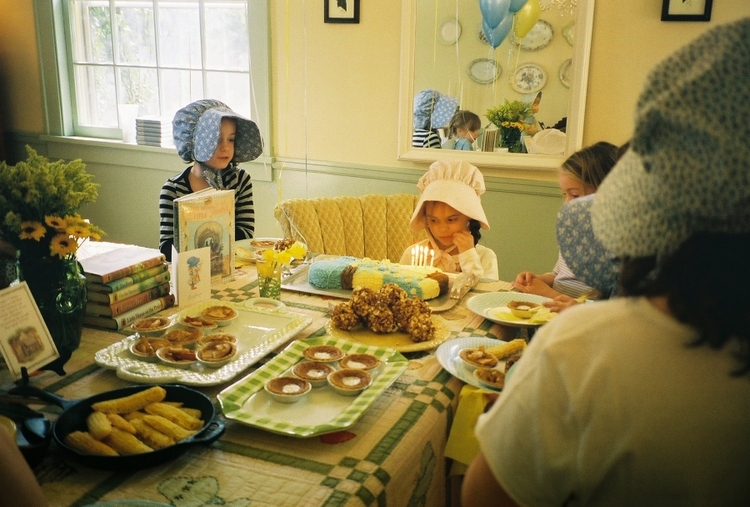 These parties were awesome when I was young, but now that I am 17, themed parties just aren't very cool anymore. You get that, right?
A few weeks before my birthday, Mom told me that rather than a party or a big present, I was going to have a "birthday experience" this year.  I had no idea what she was talking about, and she wouldn't give me any more details. As the day of the "experience" came closer, I was feeling more and more nervous that she was going to make me do something embarrassing or something that I wouldn't want anyway. What was she planning???
My friend, Millie, and her mom came to my house on the fateful day. Mom told me to go put on a dress I wore to a formal (what???), then she insisted on doing my hair and makeup. I don't usually wear a lot of makeup, and she put all this dark, heavy eye makeup on me. Millie's mom, Melanie, is a professional photographer and brought her camera to our house, so I wasn't sure what to think.  Was she gonna make me dance or something humiliating? Was this a photoshoot? A zombie photoshoot?  So now I'm getting bummed because I'm not a huge "photoshoot" kind of girl, and Mom knows it.
After getting ready, we got in the car and mom started driving. I had to close my eyes for the last half mile to our destination. When I opened my eyes, we were parked in front of a building I had never seen before. Then Mom explained how she had arranged to get us a guided tour of an abandoned hospital. Wait, what???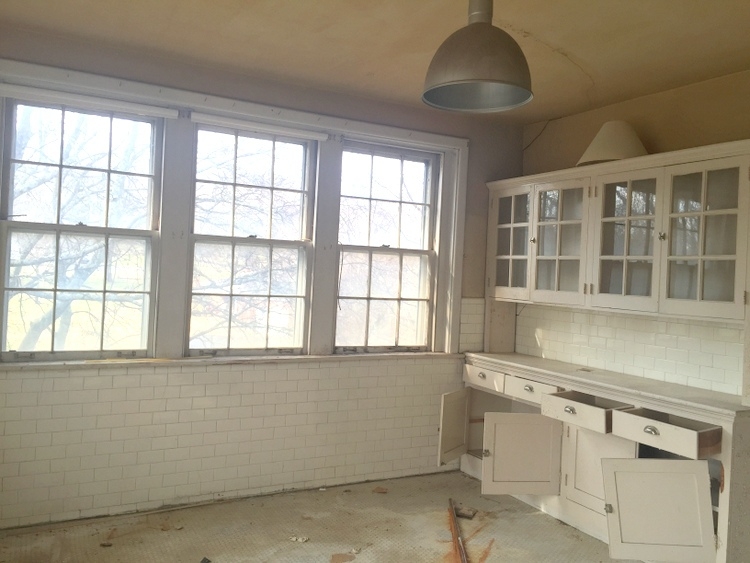 operation room in abandoned hospital
Let me explain. When I was younger, I loved history and going to historic places. Now, that love has evolved into an interest in abandoned places. I just think that it's so fascinating that buildings and possessions are just left behind, and I love to learn about the history. So yes, I know that this was a super weird birthday present, but an abandoned hospital tour was PERFECT for me. And you know how kids are doing senior pictures in front of old barns and on railroad tracks? Well, I may be the only girl having hers done in an abandoned hospital!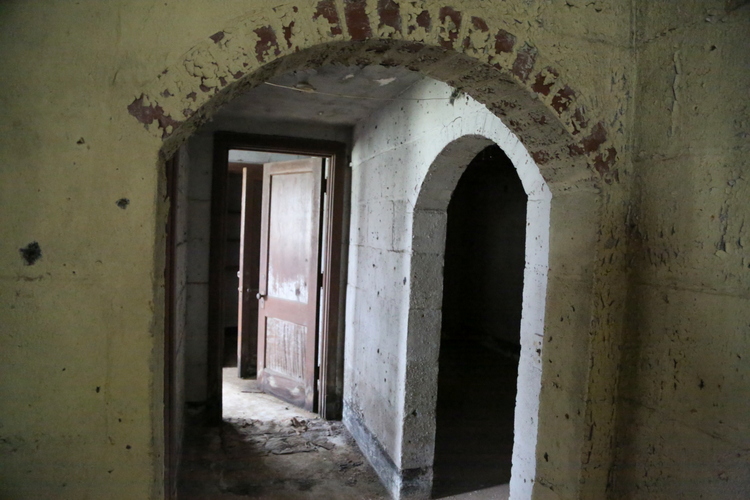 The first floor was brighter and less decayed than the rest of the building. It had been used in more recent years for afterschool tutoring. This peeling yellow paint was so awesome: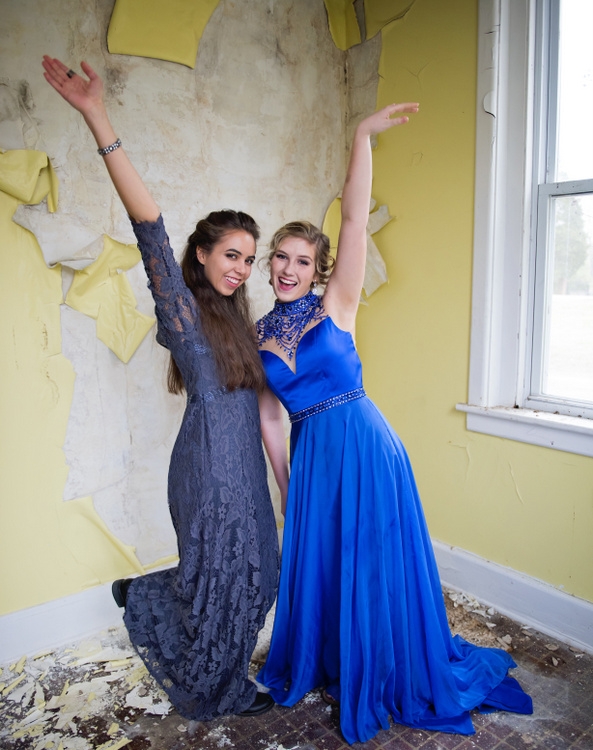 Each room was full of decay: peeling paint, dirt, mold, you name it. Mom and Melanie took lots of pictures of the rooms and of Millie and me. Here I am in one of Melanie's prop chairs, right in the middle of the operating room, white subway tile and all. The floor and windowsills are full of plaster pieces that have dropped from the ceiling over the years. Of course, Mom went on and on about how the subway tile still looks great!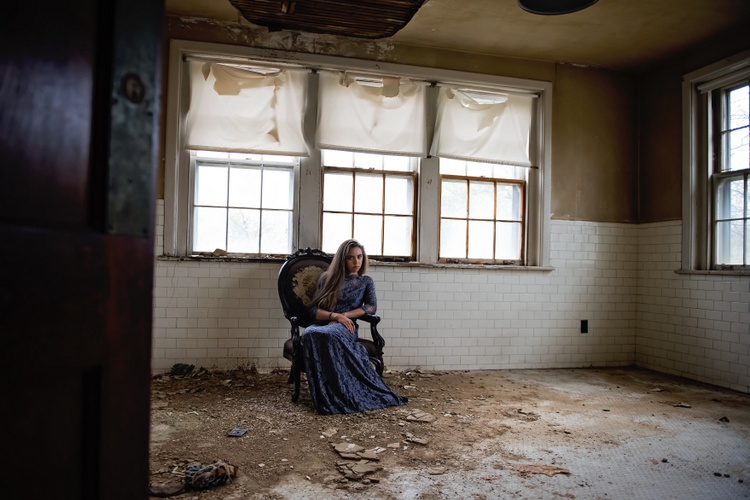 This machine was next to the operating room and was used to sanitize medical instruments. It still looks to be in great shape, even though it's from the 1930s.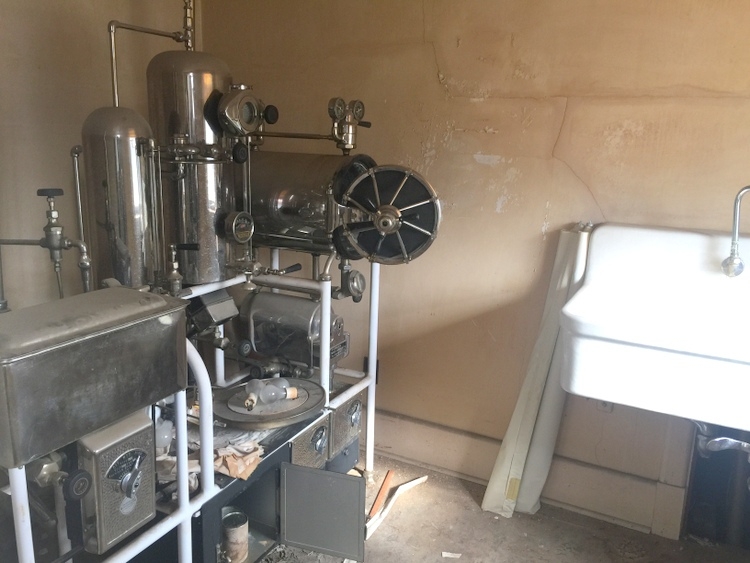 The second floor included examination areas separated by glass partitions.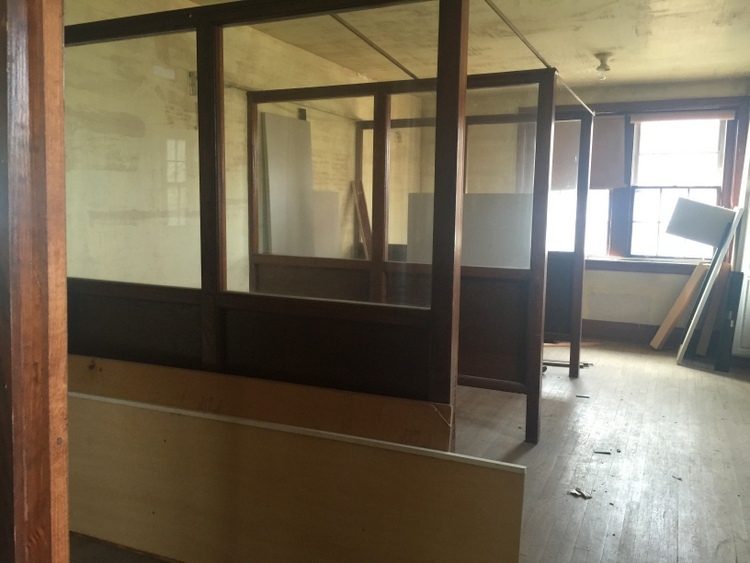 She didn't want to do it, but I made my mom take this creepy photo: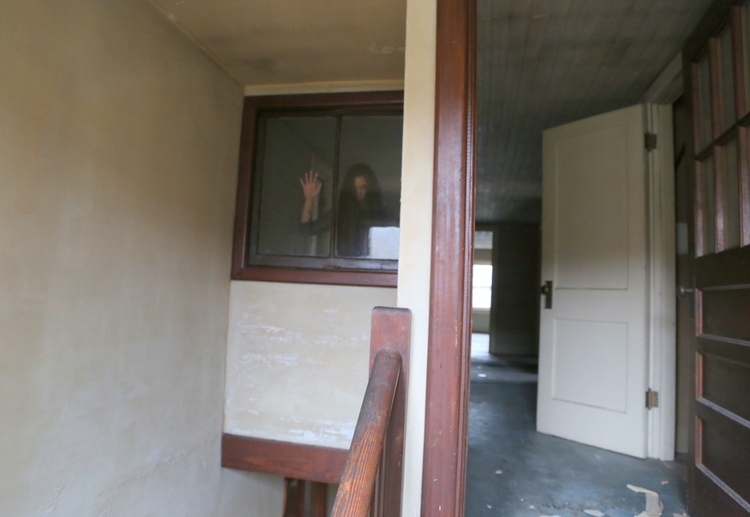 She freaked out over this awesome turquoise wall color, too, but in a good way.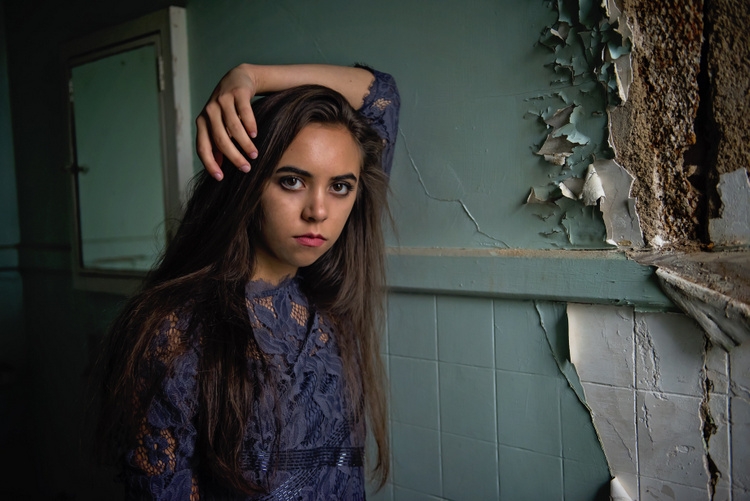 I have no idea what to say about this photo, except that I LOVE IT. We seem so happy and oblivious to our deplorable living conditions!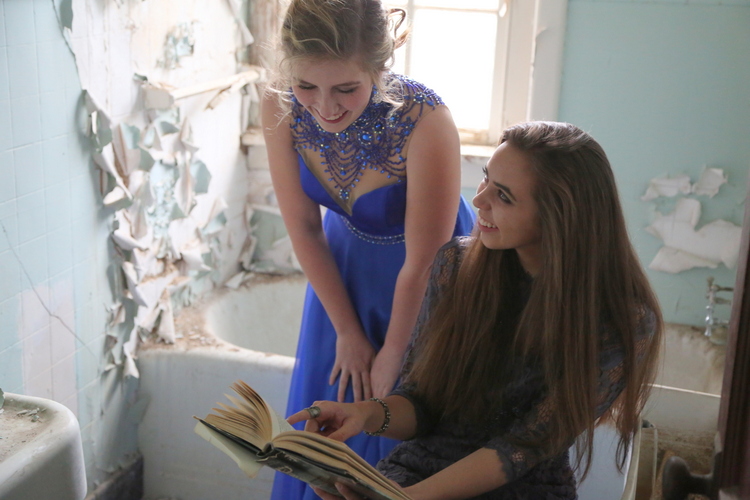 Another room, another decaying scene.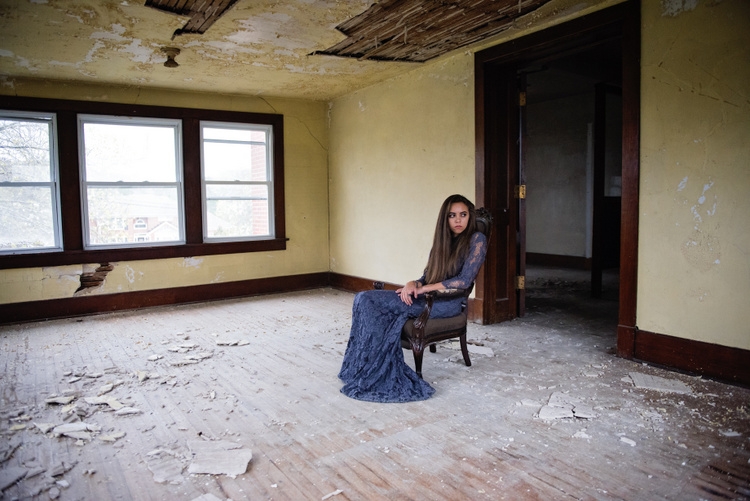 This was taken in the attic level of the building, which had narrow dormer rooms that probably held hospital beds.  Beadboard on the walls and ceilings on this entire level. Don't we look like we are on a subway train?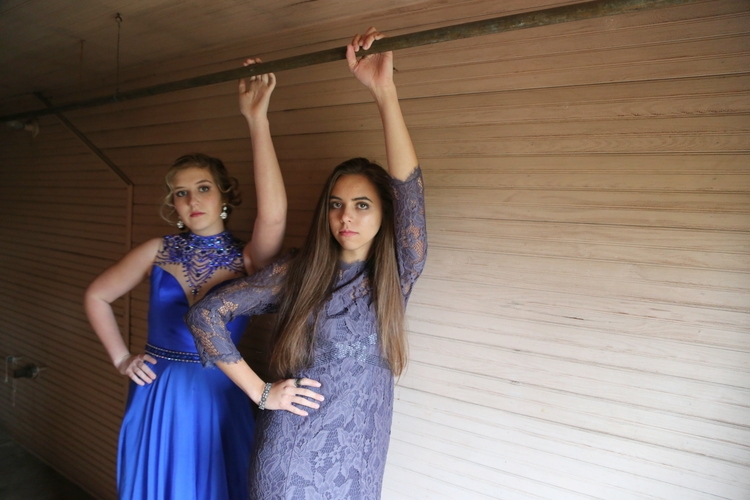 The creepiest level of the abandoned hospital was definitely the basement. A raccoon is said to live down here, and the evidence is here on on the stairs. Ewww. Luckily, it hadn't come out of hibernation yet and we got out without catching rabies.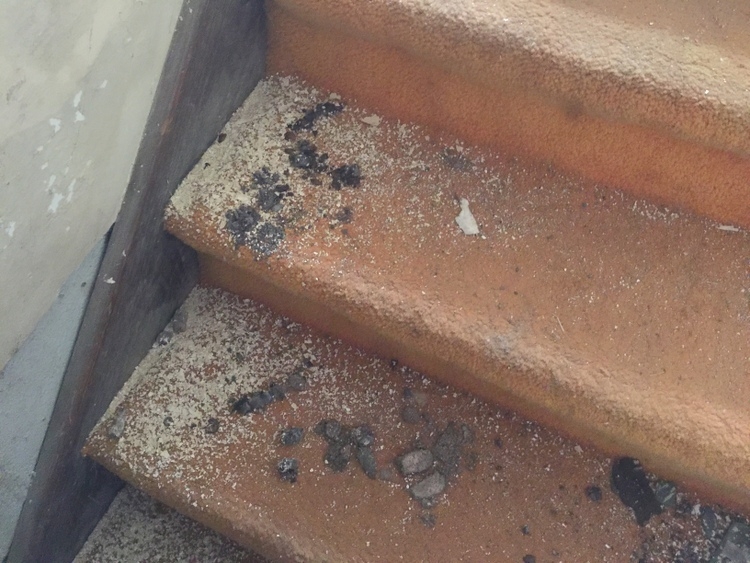 Here's something weird – see these yellow windows and doorframes? The door and window of my bedroom are nearly the same, just not quite so bright a yellow.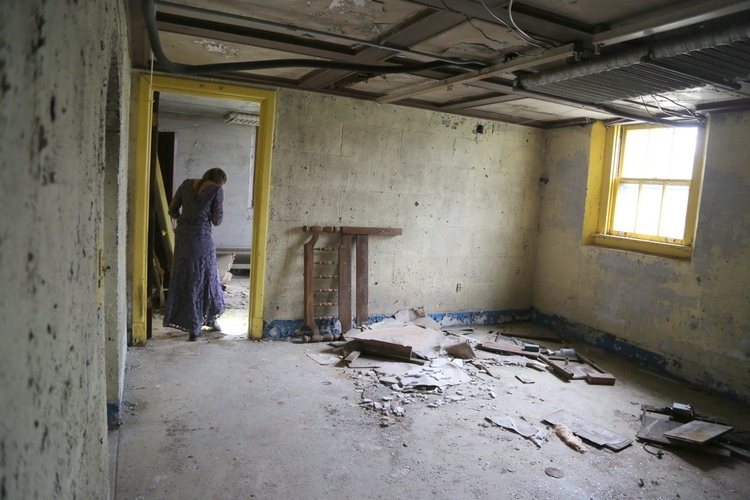 Here's the bottom of a wicked elevator shaft: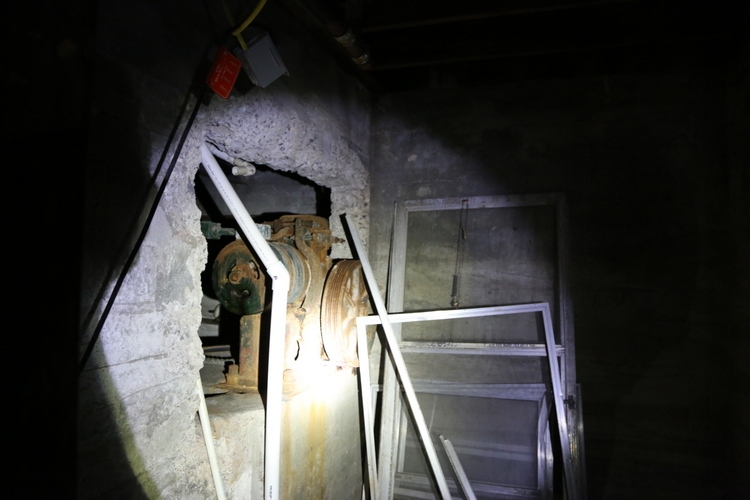 I found this jar of oil in the storage room next to it: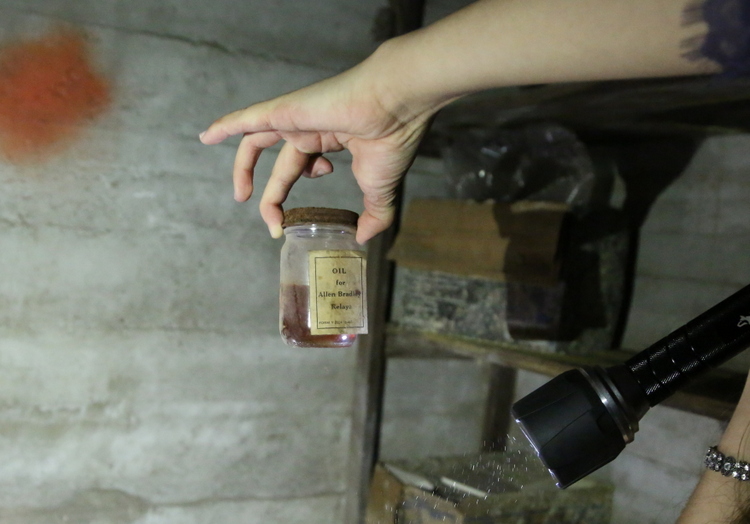 I googled "oil for Allen Bradley Relays" when we got home. Apparently, Allen Bradley Relays are part of the mechanics of elevators. Boom – mystery solved by Google.
This room appears to be where they did dental work. Yikes.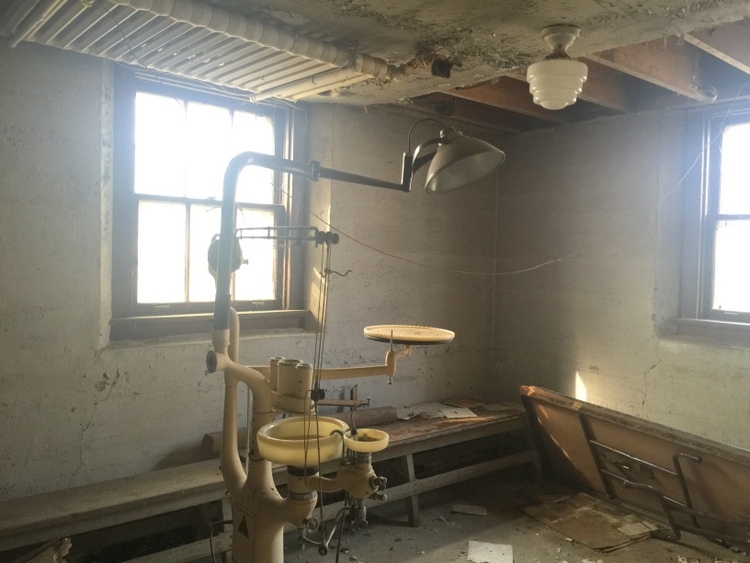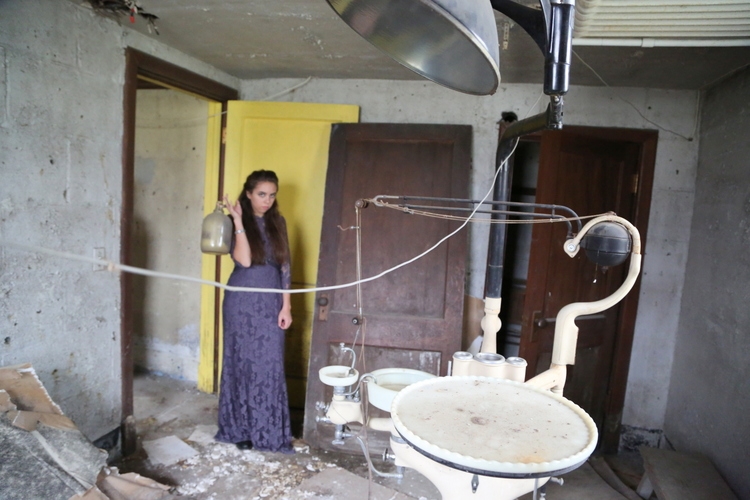 And then there was THIS room. With the old windows, exposed pipes, and peeling paint, it was a perfect setting for a horror movie. Check out this super cool vintage x-ray machine! There has obviously been a lot of water damage in this room, and it's likely we inhaled a lot of deadly black mold. Pretty sure it was worth it for this shot that could totally be the cover of my first album: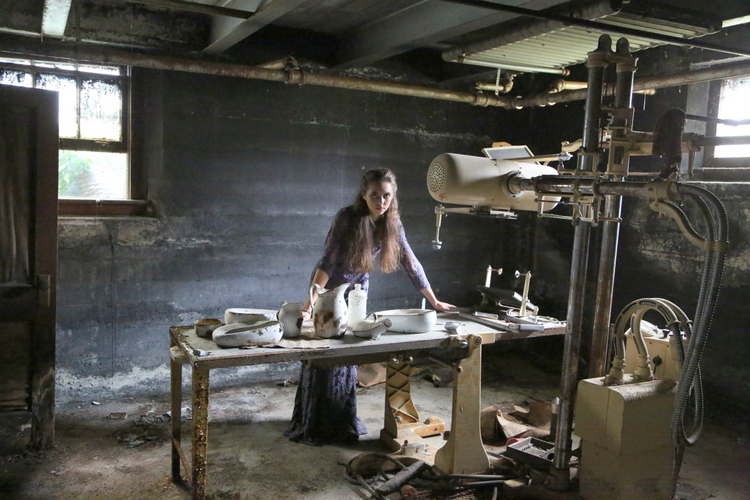 Check out all the urinals and stuff on the table: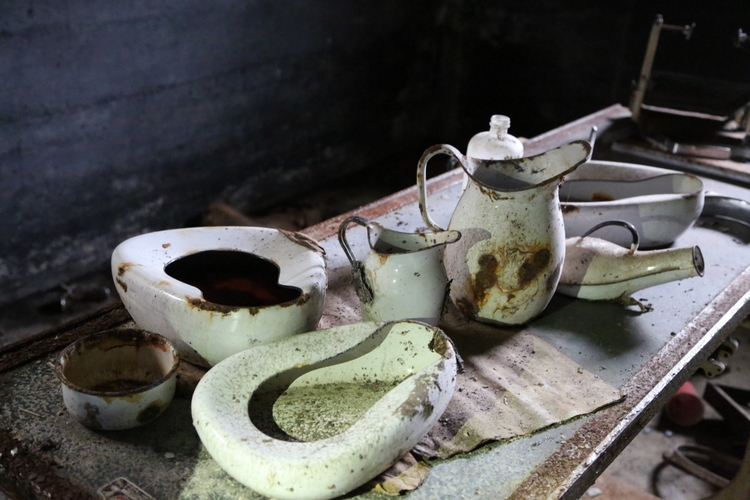 Let me give you a taste of what it was REALLY like in this creepy room with this video we took:
After exploring the abandoned hospital, we got to check out the old steam plant that kept the hospital and the surrounding buildings heated: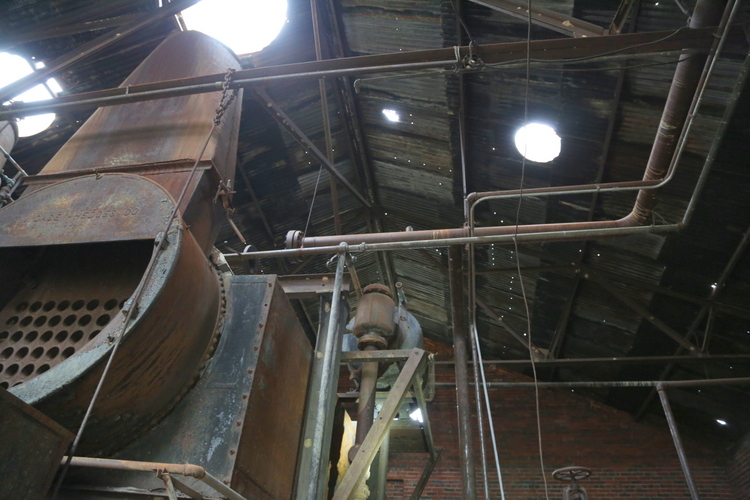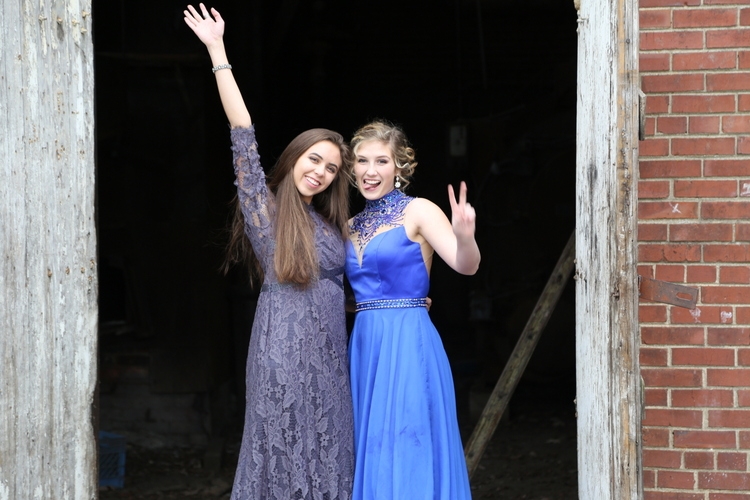 When we got home, I had one more surprise waiting for me. Mom and my little sister made an abandoned house cake for me! Not one of the prettiest cakes I have had, but my new favorite. Here's a picture of the cake right after they finished it: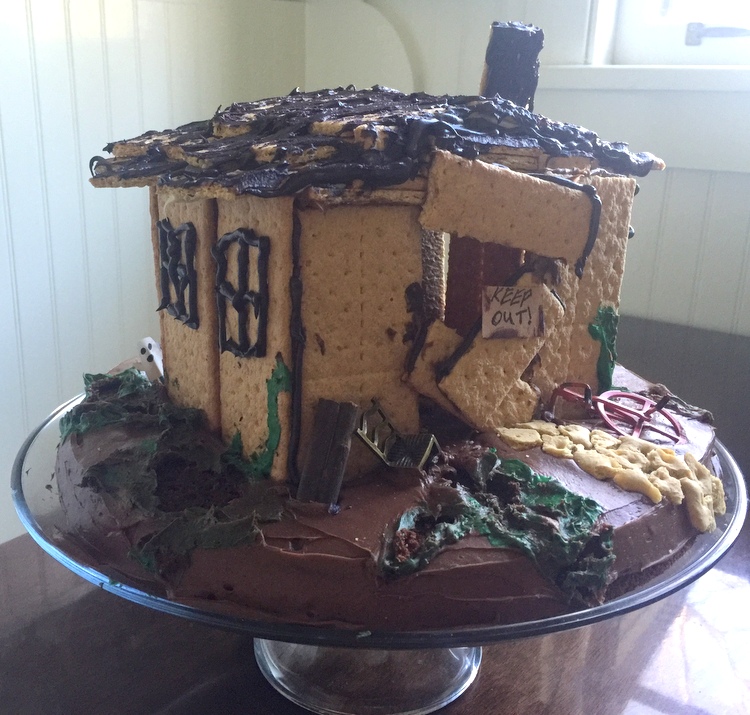 By the time I got home, the house was falling apart, just like a real abandoned house! Dad had to prop it up with kebob skewers to keep it up until our neighbors could come over and eat it with us (it's a tradition).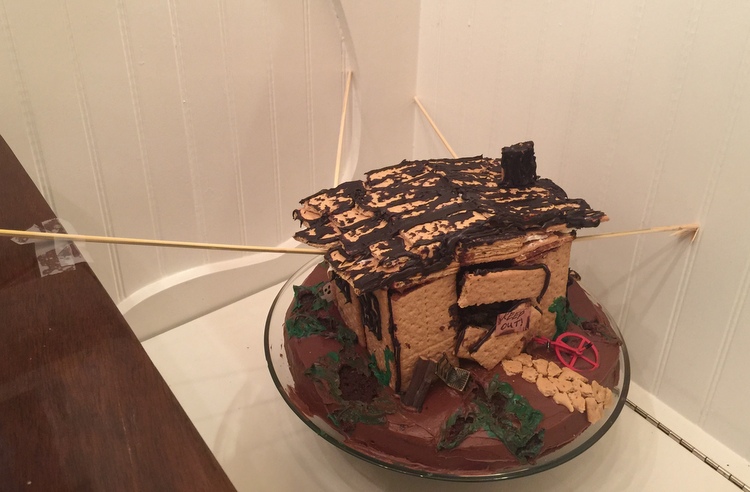 And eventually, the cake just couldn't take it anymore! Watch this quick video:
An appropriate ending to an abandon house cake, don't you think so? I'm so thankful to have a mom who knows me so well!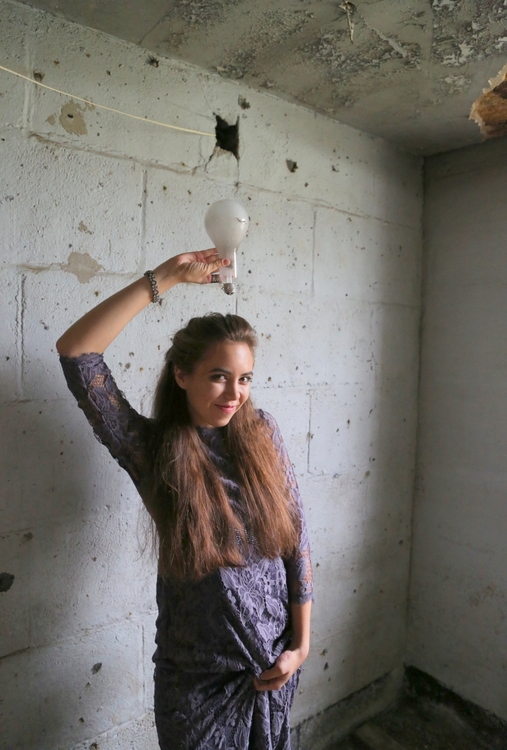 Great idea, Mom! (sorry, I couldn't resist)
Share this Post