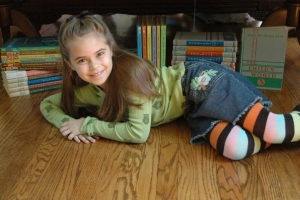 Ok, my daughter loves reading like you would not believe, so I had to find a way to take that love of books and create a birthday party to suit her perfectly.  The main theme was books, supported by owls, wise old cartoon owls are always reading a book, right?   If you preferred, you could do books with worms (bookworms, of course).

The party colors were green/blue/brown.  I used light and dark blue balloons for decor.  I found a green owl shirt at Target for Audrey to wear, and I dressed up like a nerdy librarian :).  
Invitations were little folded books I printed on cream cardstock stationery from Michaels.  I got the cover pic from an old children's book. You can download the Word documents at the end of this post to customize your own invitations.
I made an owl cake with a cake pan I found on ebay for $8 (I think it was a discontinued Wilton pan)You could also use that cake pan that is an open book, or a cake with a bespeckled bookworm.  I found an owl cookie cutter on ebay for a few bucks and made owl cookies.  I also served sliced green apples in a glass trifle pedestal bowl, strawberry blossoms (see recipe below), grapes, and a Nashville Junior League ham and biscuit recipe that rocks (see below).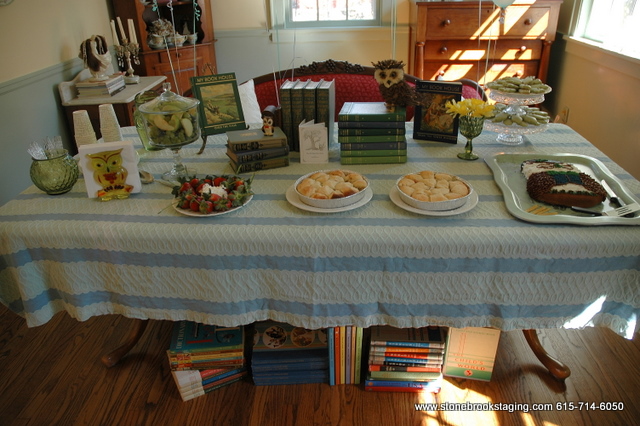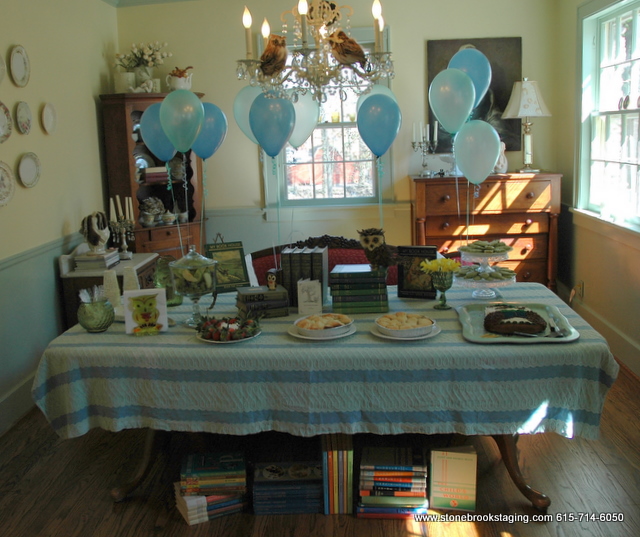 I used lots of books as props, as well as owls of all kinds.  You can always find owl stuff at yard sales and estate sales in 1970's ranch neighborhoods!  I had a lot of owls anyway, since I use them in my Halloween decorating (you'll see that in October!)  Cups and plates were a kinda mid-century mod pattern in green and blue that I found at Publix grocery store.


Activities included making slam books (see details below).  We also made a beaded bookmark with blue and green glass beads from Michael's thread on medium gage wire,  played "Who Am I" book characters (I gave some hints for them to guess some pretty major literary characters), and went on a book treasure hunt (see details below).   All the kids took home their bookmark, slam book, and a canvas bag from Oriental Trading Company with a classic paperback for a $1.50 from Dover Publications.   Great fun for 8-year-olds!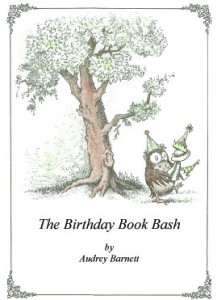 Download the Birthday Book Bash Invitation Files
Book Treasure Hunt:
Simply choose 20 or so books, display them on a table or ledge, and make up questions that relate to the books you have chosen.  Give each child a copy of the questions and pencil, and the race is on!  Here are some sample questions, based on the books I used, of course:
This Book . . .
1.        contains many animal stories
2.        has 152 pages
3.        has the same author as Alice in Wonderland
4.        has a boat in it called "The Red Dolphin"
5.        includes an interesting map containing Deerlick River 
6.        takes place in a boarding school
7.        contains a picture of an eagle
8.        has a character named Veruca Salt
9.        is part of the "Dana Girls" series
10.     takes place on Prince Edward Island in Nova Scotia, Canada 
Slam Books:
In case you never made those in jr. high, a slam book is a small notebook, usually the spiral-bound type which is passed among school students.  I found some simple fabric-covered ones from Oriental Trading Company and let the girls decorate them with stickers and sticker tape from Martha Stewart's collection at Michaels.
The first page is numbered 1-10 (or however many children are attending the party).   Just write a question at the top of each page, and then number below it (1-10 for 10 children).  Each child picks a number, puts their name next to that number on the first page of the slam book, then fills in their answer on each page beside that numbered line.   Questions for SlamBooks:  What's your favorite color?  What's your favorite food?  What's your favorite school subject?  What would be your one wish? What do you want to be when you grow up?  What's your favorite book?  What's your favorite movie/TV show?  What 3 words/adjectives best describe you?  What's the most special thing about you?  A sample page looks like this:
What 3 words best describe you?
1.   ______________________________________
2.  ______________________________________
3. ______________________________________
4. ______________________________________
Hope that makes sense.  If you don't get it, go ask a 7th grade girl. 🙂
Strawberry Blossoms:
12 large fresh strawberries
3 ounces cream cheese, softened
2 tbs powdered sugar
1 tbs sour cream
Slice off strawberry tops.  Place strawberries on cutting board, point up.  Cut each half into 3 wedges to form 6 petals.  Pull slightly apart.  Beat other ingredients and put in pastry bag with star tip.  Fill strawberries.
Junior League Ham and Biscuits:
1 lb. sliced ham
2 sticks butter
3 tsp poppy seeds
1 med onion, diced
3 tsp mustard
1 tsp worcestershire
12 oz Swiss cheese
2 rounds of Sister Schubert rolls (or) 3 pkgs small brown/serve dinner rolls
Melt butter, add mustard, poppy seeds, Worcestershire, onion.  Split rolls  (I recommend using a bread knife on slightly frozen rolls), spread mixture on both sides of rolls, then layer ham and cheese.  Wrap in foil.  350 degrees for 10 minutes.