This post is a re-vamp (pun intended) of one I did two years ago when I hosted a Twilight Dinner Party.  Since the latest Twilight movie is about to come out and it's Halloween, I just had to share this with you (and since most of you weren't following me way-back-when!).  You will LOVE this if you are a Twilight books/movie fan, but there are also lots of ideas for anyone hosting a Halloween or vampire-themed party.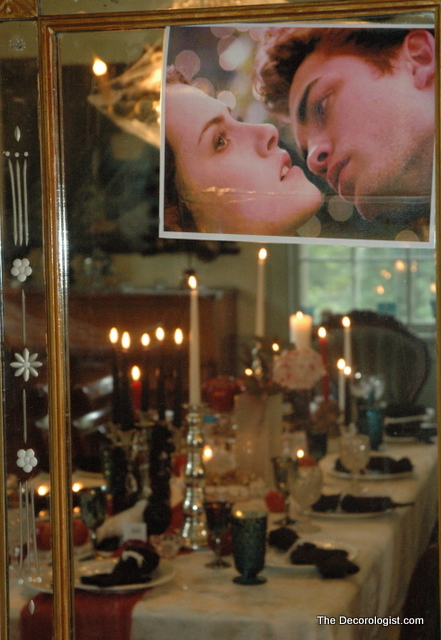 My color scheme:   white, black, and red accents.  I started gathering things that went along with the theme.  I found vampire teeth in packs of 12 at Kroger's and decided to use those for napkin rings.  I found a copy of Eclipse at a yard sale for $2.  I decided to tear out pages and scatter them across the dinner table.  I knew I needed lots of red apples.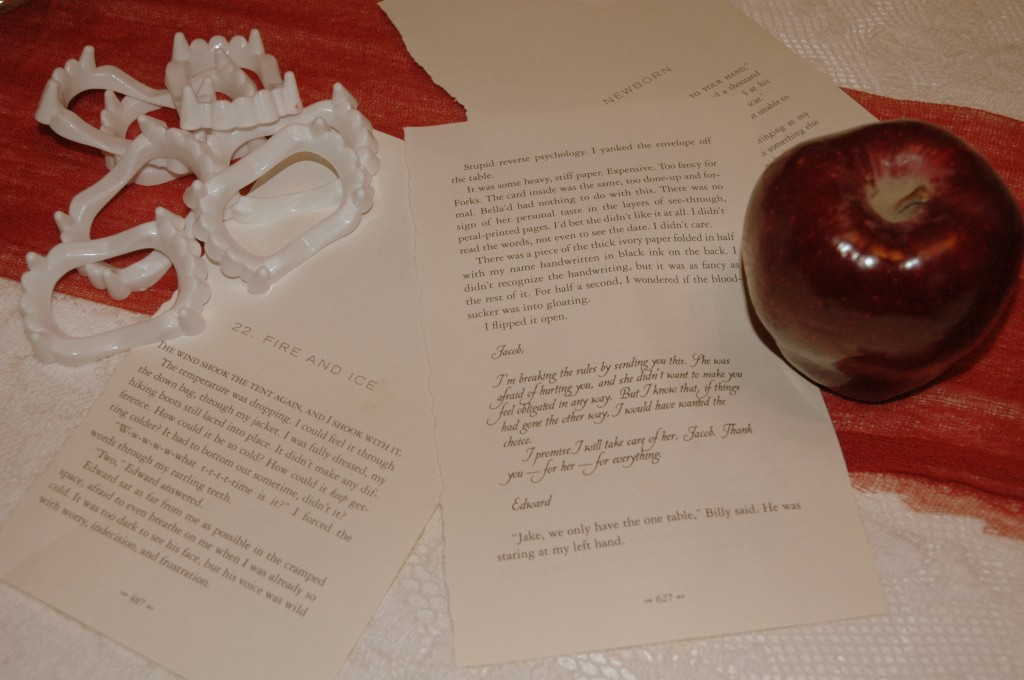 I used small apples as placecard holders.  I typed up the names of the major characters in a font that looked like Edward's handwriting called "be safe."  Click here to get them.  After printing them out, I ran them through a small laminating machine I have (from Michael's) and cut them out.  Laminating them keeps them from wicking up the moisture from the apples, which I cut slits in to hold the names.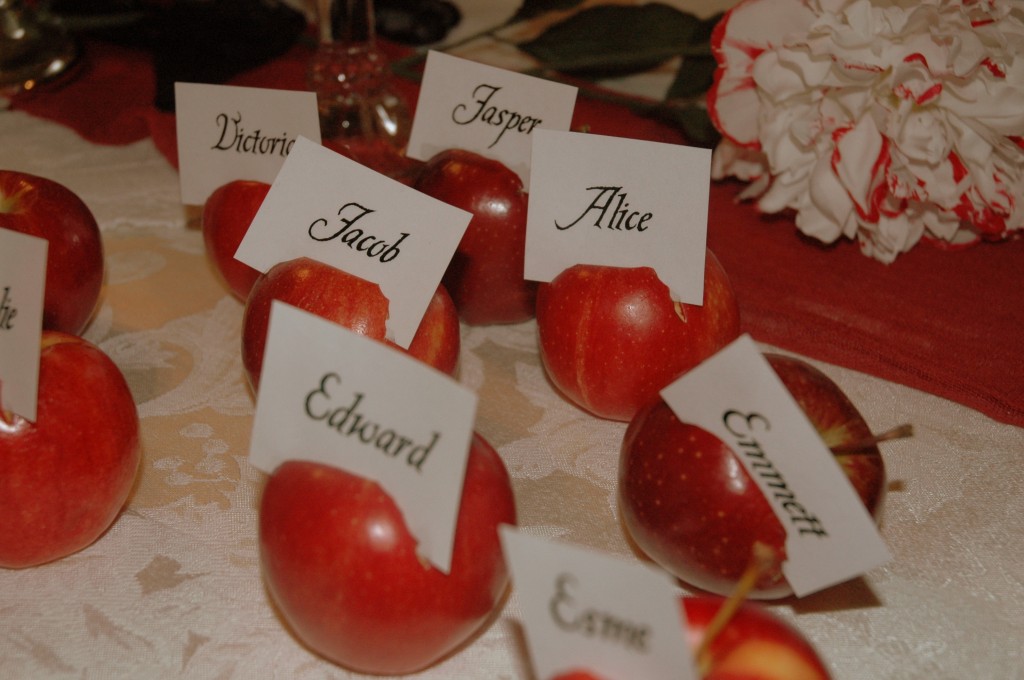 I made sure to warn any unexpected victims, I mean guests, before they entered my home.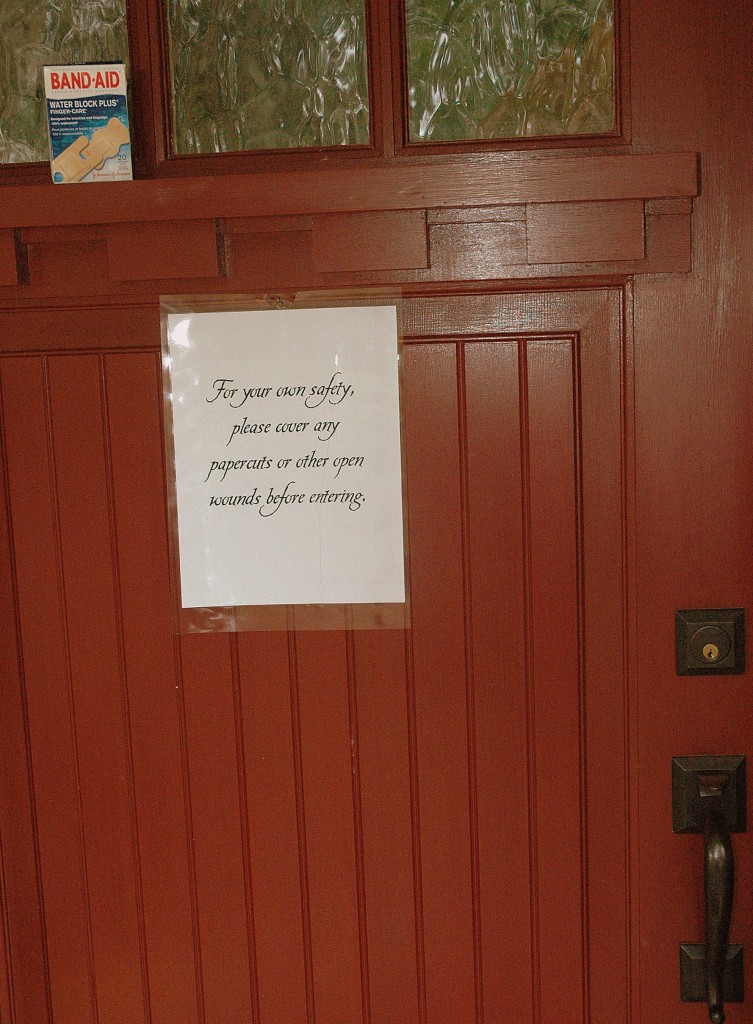 This is how I set up my dining room.  Lots and lots of candles – both candlesticks and votive candles.  Lots of fake cobwebs and general halloween decor.  I didn't have black cloth napkins, so I bought cheap black bandanas at Michaels and cut them in half.  I simply layered three off-white tablecloths – one plain, one damask, one antique crochet.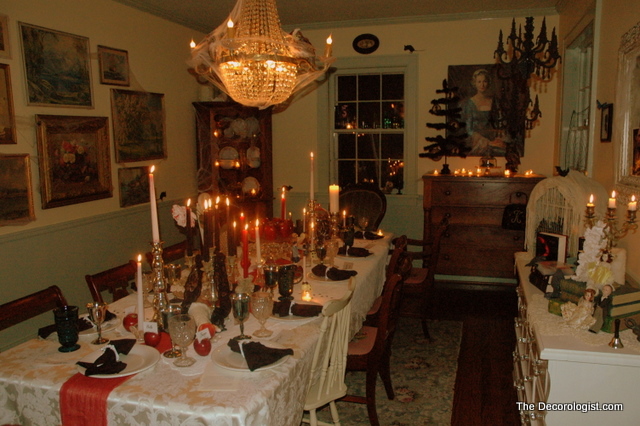 I used silver goblets, which I left tarnished on the outside because I thought it looked spookier (I did polish the insides and the rims), and vintage dark blue water glasses.  I used simple white hobnail dinner plates.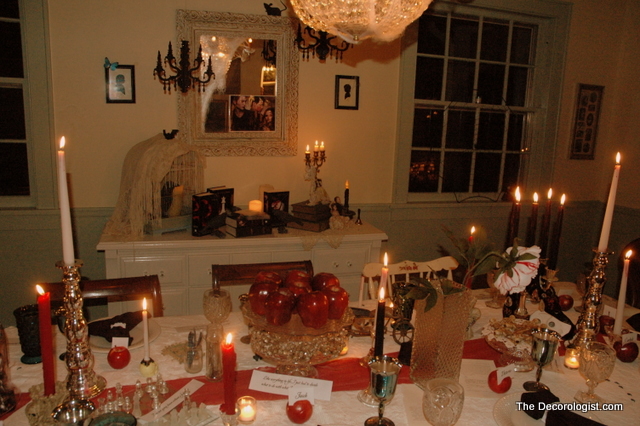 I wanted to have each of the 4 book covers represented in some way.  I made a centerpiece by stacking cake stands and topping that with large red apples, tying in with the cover of Twilight.   The red cheesecloth runner on the table represents the red ribbon from the cover of Eclipse.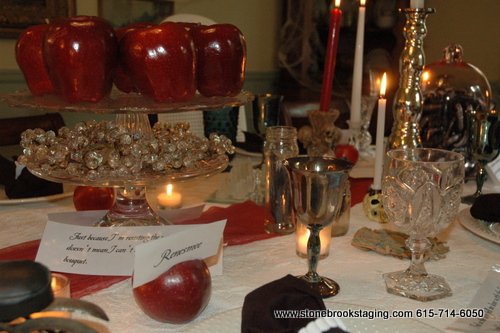 I always try to use whatever I already have, so this porcelain hand worked for representing the Twilight book cover holding the apple.  It is normally used to hold my rings and necklaces!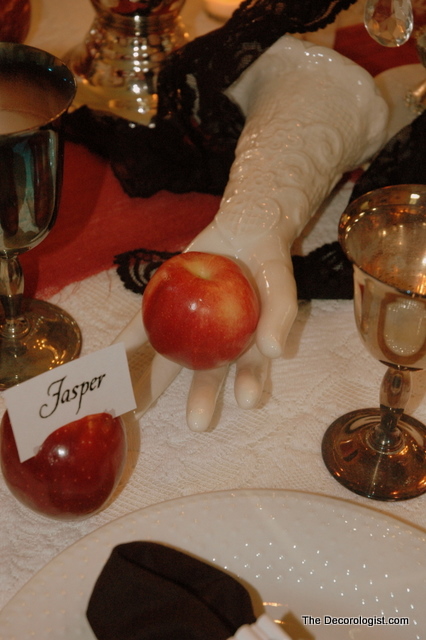 I couldn't find a parrot tulip like the one on the cover of New Moon, but I found a fake white peony at Michaels.  I handpainted the flower with red craft paint, using the book cover as a guide.  You can see it peeking out from behind some candles in this picture.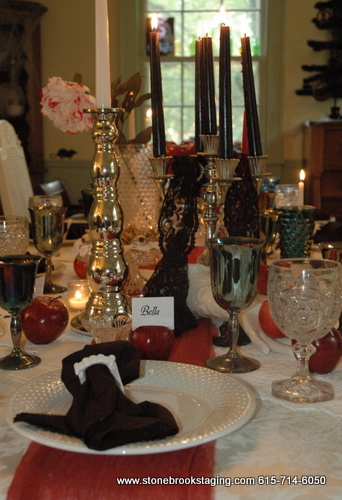 My daughter had a glass chess set, so I used it on the table to represent the cover of Breaking Dawn.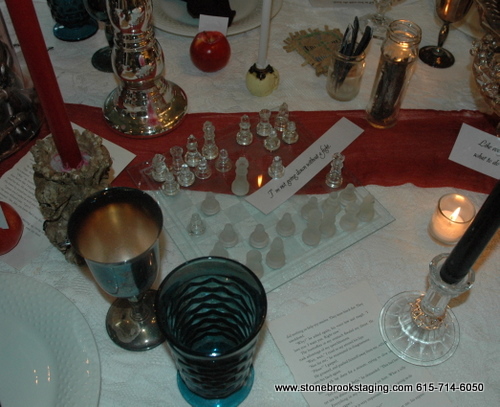 I wouldn't want to leave out the wolves, so I made sure Jacob and friends were represented with this antique motorcycle and a few American Indian artifacts on the table.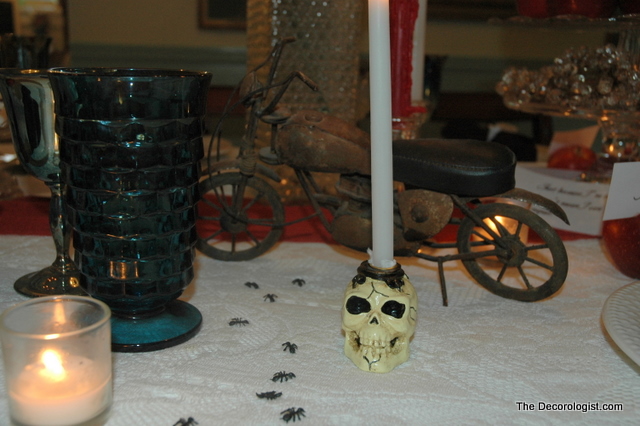 A lot of interesting characters showed up to my dinner party.   You might recognize a few of them.  Here's the evil pairing of James and Victoria: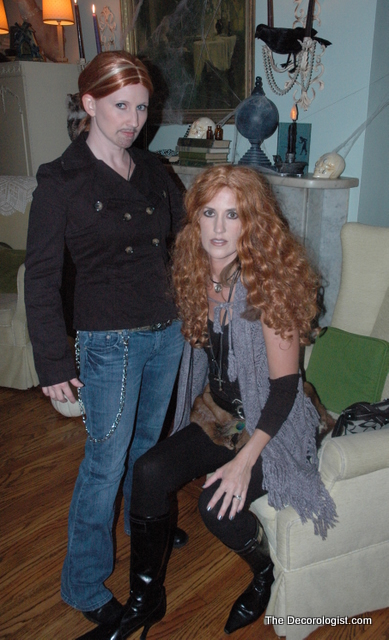 We had 2 Alices in attendance.  Both were truly darling pixy vampires.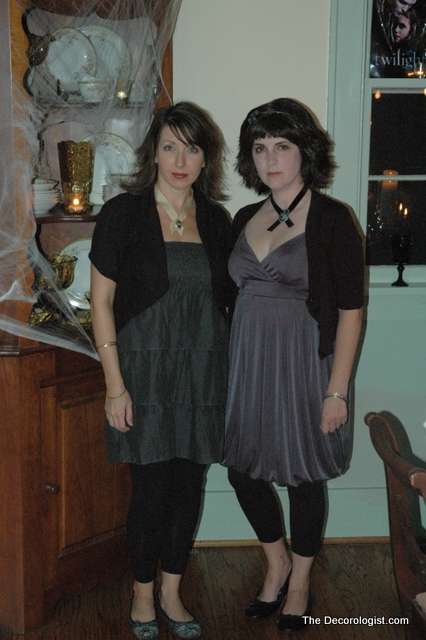 Here are all the vampires chowing down – yes, I know real vampires don't eat food!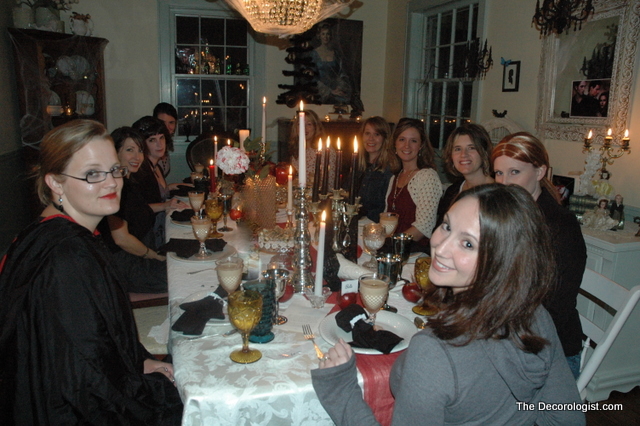 The food was to die for.  Below:  Lamb and Veggie Kebobs, Bella's Mushroom Ravioli, and Artichoke Hearts and Fennel Salad.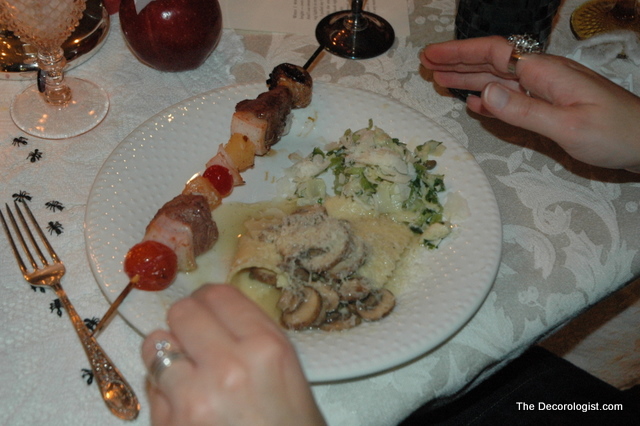 Dessert was a bloody mess!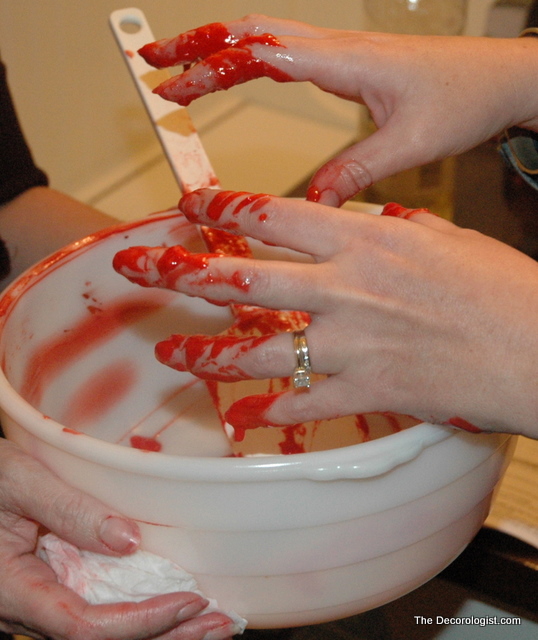 White chocolate died with lots of red food die pumped through a chocolate fountain for dipping Lady Fingers and Shortbread Doggie Bones (for the wolves, of course).  Now that's scary.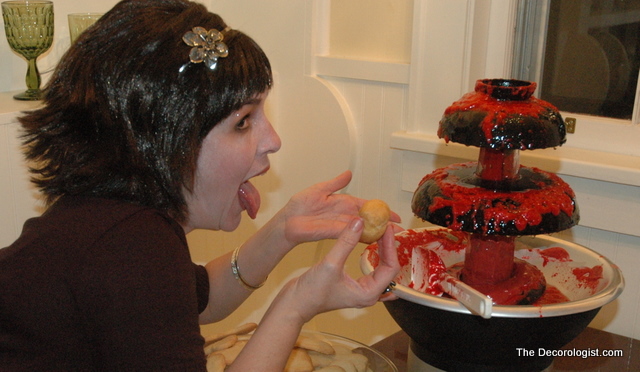 I am including the complete menu for Dinner with the Cullens for you.
I typed up some good quotes from the Twilight book series, laminated them, then scattered them on the dinner tablescape.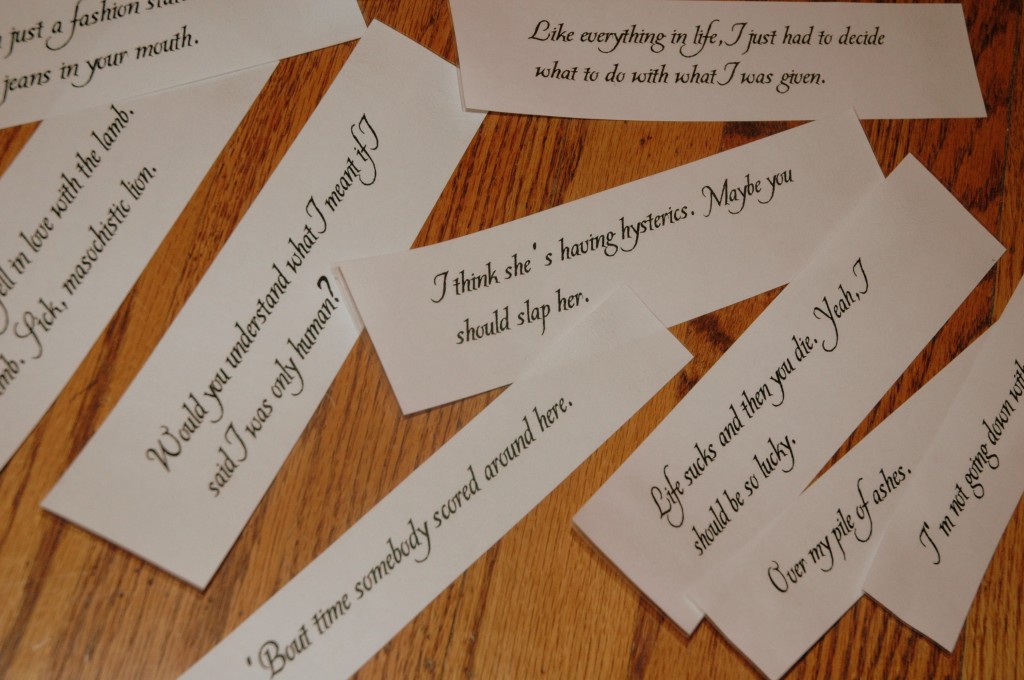 During dinner, we played a game where everyone guessed which character said what.  Click here for quotes to use at your Twilight party.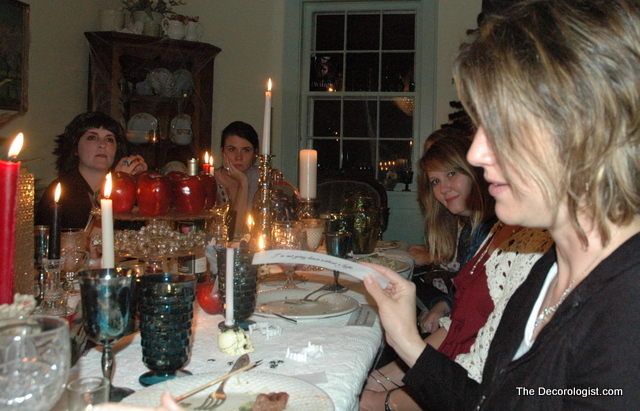 Things got a little dicey as the night progressed.  James went after a unsuspecting human that wandered into the party.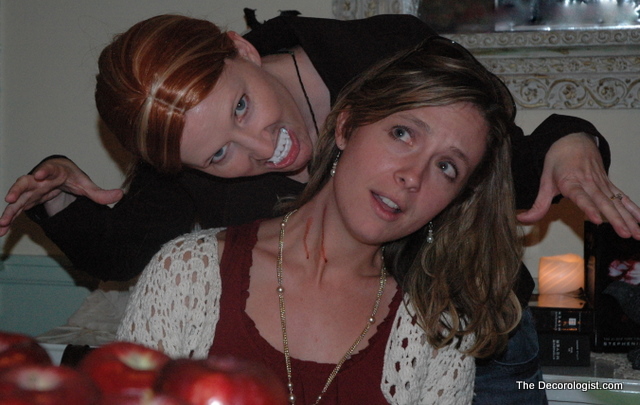 Background music is important in setting the tone for a Twilight Dinner Party.  I made a mix CD of Twilight and Twilight-inspired songs which played throughout the evening.  I made copies and gave all the girls one of their own.  Great make-out music!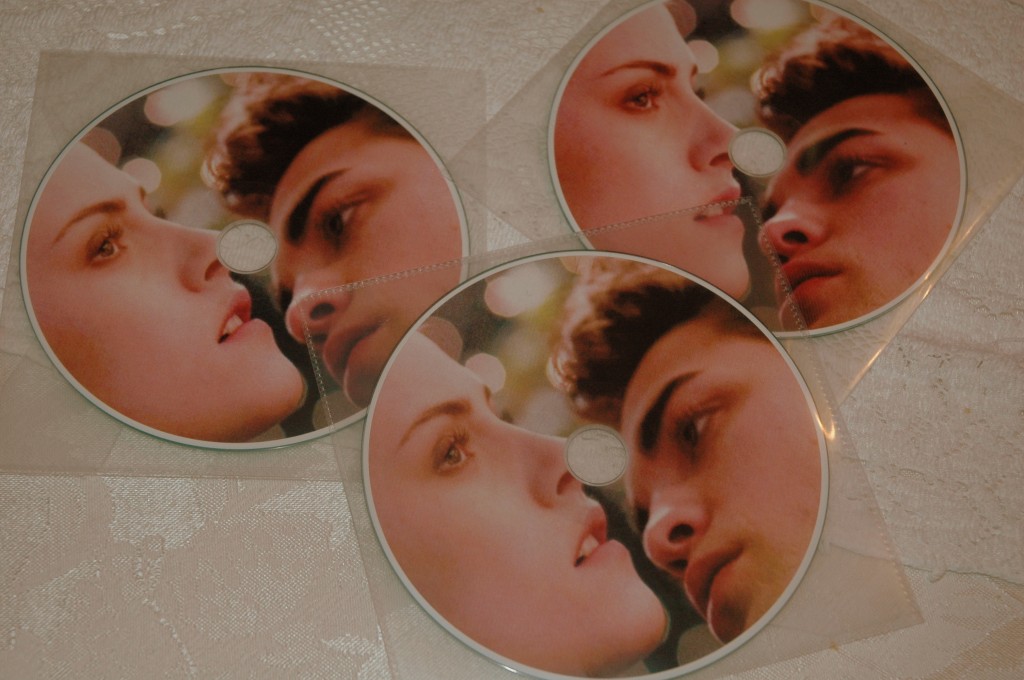 Now, tell me the truth:  Are you Team Edward or Team Jacob?